9 Creative Ways To Reuse Single-Use Items
Ditching or reducing single-use items in your life might be easier than you think. Often times, items designed for single-use can be used many times over before heading to the trash.
Read on for a whole bunch of single-use items that can be reused many times. After all, they're not single-use items if you use them more than once!
There are so many jars, containers, bottles, and bags we buy that are designed to be used one time. This is particularly true of packaging for items we buy from the grocery store. In many cases, however, these 'single-use' containers can be used way more than once.
Heck, our grandmas have been reusing grocery store packaging forever. Shout to the grandmas! And truly, "single-use" items are only single-use if you use them once.
Reusing single-use items is a really great (and free!) way to practice zero-waste living no matter your budget. We don't need to buy all the fancy containers and zero waste tools.
In many cases, we already have something that works just great, even if it's not as pretty or perfect. The most zero-waste item is the one we already own or will buy anyway.
I know that reusing single-use items is not fresh or fancy. Not only have our grandmothers perfected this skill, but people across the country and around the world live on budgets that require thrifty and creative reuse of their possessions.
Many of us, however, forget to think twice before we trash. So this post is a reminder to reuse where we can and a shoutout to all those who have already mastered this skill out of creative knack or necessity.
What Single-Use Items Can I Reuse?
We have had a few items recently that are single-use by design but we've put them to work for much more than one use. Although opportunities are endless, here are 9 ways we found new uses for single-use items.
Repurpose Yogurt Containers For A Variety of Storage and Everyday Containers
I have saved several bulk yogurt containers and use them each spring to plant seedlings for our garden. Because they are quite large relative to most seedling containers, they work best for larger plants that grow quickly like squash and melons.
Alternatively, you can cut down the tops to make them shorter and grow smaller seedlings in them. Just be sure the soil isn't so deep that water is too far from the seeds for the seeds to reach it and the soil line is high enough to get good sunlight.
I also use yogurt containers to carry the harvest from our garden. They are the perfect size to bring a batch of green beans, cherry tomatoes, or blackberries into our kitchen from the garden. There's definitely no need to buy special harvest baskets or containers for gathering food from most home gardens.
Reuse Bread Bags For Homemade Snacks
Once every few weeks, I make these homemade dried apple chips for my boys. It is one of the few healthy snacks we always agree on. I save plastic bread bags, which are otherwise tossed in the trash, to hold the apple chips.
I also store specialty breads purchased from the grocery store in our reused bread bags. Often times, the bread bags for the specialty breads that we buy, like fresh sourdough, are flimsy and break easily. Even if I'm putting a loaf in the freezer for a few days, I store it in a reused bread bag to help keep it fresh.
I only need one or two bags per batch of apple chips and a bag or two for specialty bread, so I don't reuse every bread bag we buy. But bread bags are great for so many things and save us money not having to buy reusable containers for these types of items.
Reuse Bulk Vinegar Bottle To Store Baking Ingredients
Some of my repurposing plans are a bit serendipitous, and the case of the vinegar turned sugar container is one example of this. My boys love to bake. They recently started a frozen cookie dough business and wanted containers for their baking ingredients. While the store packaging would suffice, containers with larger openings make it easier for the boys to scoop out ingredients, make fewer messes, and waste fewer ingredients.
I reached out to my local Buy Nothing group to request baking ingredient containers. A fellow member recommended using repurposed plastic containers, something I hadn't even considered, oddly enough.
That day, we happened to finish a large bulk bottle of distilled white vinegar cleaning out our bathroom sinks. After cutting off the top of the container, the remaining bucket was the perfect size for the boys baking sugar. We filled the container with their sugar and covered it with beeswax wrap, secured by a good old rubber band in our reuse collection.
Admittedly, I was pretty proud of my creative repurposing. It even looked pretty nice. We removed the label to make the container more aesthetically appealing using the same simple "running water and back of a butter knife" process I use to clean glass jars.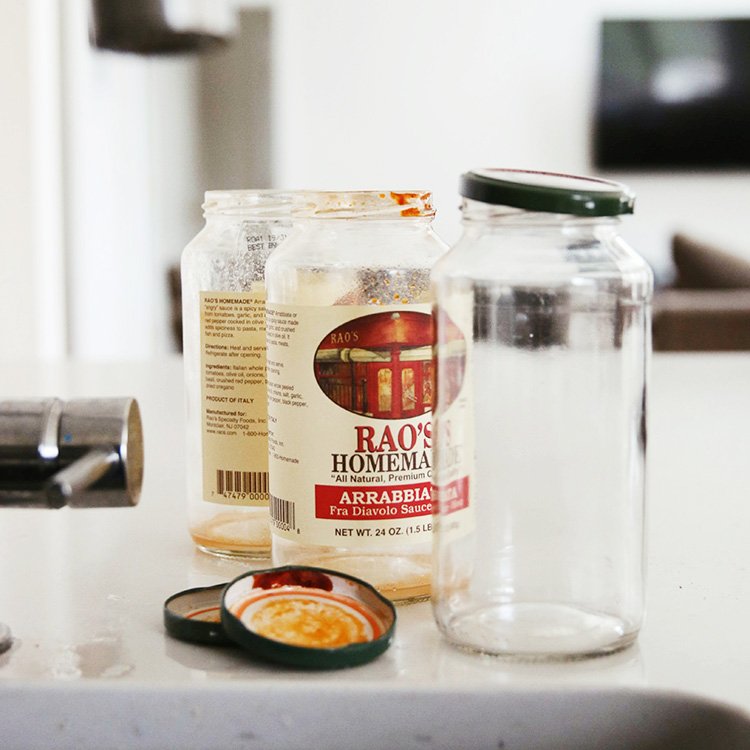 Reuse Pasta and Pizza Sauce Jars For Food Storage
We have been cleaning and reusing glass jars for quite some time. Pasta sauce and pizza sauce jars are too perfect to waste. While mason jars are all the rage on zero waste Instagram accounts and fly off Big Box store shelves, our pasta and pizza sauce jars fulfill the exact same purpose without spending a dime and reduce waste that might otherwise end up in a recycling facility or landfill.
We easily clean and reuse glass jars for all sorts of things. We store homemade chicken stock, homemade pizza sauce, excess veggies from our garden, homemade applesauce, pickled jalapeno peppers and cucumbers, and so much more in them. They're the best!
Reuse Ziptop Bags Time and Time Again
Ziptop bags are definitely designed to be used once and then thrown in the trash. However, they can often be used many times before they are worn out. Rinse and reuse your ziptop bags to reduce waste and save money on buying new ones.
We reuse them for anything we would have used them for initially! Most frequently, I use them to store veggies from our garden and extra baked goods in the freezer. I love that they are flexible in shape and can fit into a lot of small spaces.
Plastic isn't the enemy. How we use plastic and how we dispose of plastic is the problem. Ziptop bags are an awesome invention and serve so many great purposes, even helping us to reduce food waste.
Don't ditch ziptop bags just because they are made of plastic. If you can use them responsibly and wash and reuse them until they're worn out, this significantly reduces the harmful impact of your individual plastic consumption.
Reuse Take Out Containers For Food Storage and Sharing Leftovers
Some take out containers are sturdier than others. But strong plastic take out containers are great to reuse, similar to Tupperware or other plastic containers. They are especially useful for sending home leftovers with friends or dropping off treats to neighbors. The containers are simple and cheap enough that they work as reusables but don't break the bank if you give them away from time to time.
We don't keep a ton of them on hand because we already have enough glass containers for our own leftovers and food storage needs. However, I typically have one or two on hand that I don't mind passing along to a friend or neighbor.
Reuse Glass Bottles As Vases
There are some pretty fancy glass bottles from soda or juice drinks that make perfect vases for small bouquets of flowers. My younger son loves to pick flowers from our yard from time to time.
His favorite vase is a Mexican lime soda bottle he saved from a restaurant about a year ago. Every time he gathers up some flowers for me, he pulls out this bottle and displays his flower bouquet on the counter.
Reuse Condiment Bottles As Shampoo and Conditioner Containers
Ketchup bottles and other plastic squeeze bottles, like those you would use for many condiments, make great containers for shampoo and condition. If you can get your shampoo and conditioner from bulk shops, it's perfect to bring to the store to take home.
We don't have bulk shops near us that sell personal hygiene products like this. However, I can buy large bulk containers of shampoo and conditioner that are a bit larger than I'd like to store in my shower. The reusable condiment bottles, especially ones that are clear, are great for keeping smaller containers or personal hygiene products in convenient places when I might otherwise be able to buy in bulk.
Thanks to Sarah for sharing this idea. If you don't follow her, I highly recommend it. She has so many great ideas about eco-friendly living for families.
Reuse Greeting Cards As Gift Tags and Gift Wrap Accessories
Greeting cards are often made of really durable cardboard. They have amazing graphic designs (done by professionals, of course), and have far more life in them than a single-use card for a special occasion. Save your greeting cards from friends and family and upcycle them.
Greeting cards make great embellishments for scrapbooking or craft projects (for adults and kids). I especially love using greeting cards to make upcycled DIY gift tags.
Save your money on store-bought gift tags and fancy gift wrap accessories. Instead, collect greeting cards throughout the year and cut out gift tags or other gift wrap embellishments to adorn all your gifts throughout the year.
If you want more details, check out my entire post on how to create upcycled DIY gift tags!
So Many Ways To Reuse Single-Use Items
All too often, we make the quick leap to buy something new online or rush to the store to fill whatever impending need feels urgent. But in reality, we already have so much of what we need to reduce waste and live a low waste lifestyle.
A little creative thinking outside the box or the bag or the jar or the plastic container, as the case may be, and we can meet many of the needs we have without buying something new, especially when it comes to storage and organization.
The ideas above are just a few of so many ways to reuse single-use items and be "good environmentalists" for free. Now that's my kind of eco-friendly budget!
I'd love to hear how you repurpose items in your home, especially those intended to be single-use. Share all your ideas in the comments so we can flatter you by using them in our own homes. Let's all reduce waste, heal our planet, and help our communities together.