Homemade Applesauce (and a Shout Out To Grandmas)
Try this super easy and healthy zero waste homemade applesauce to please your palette and your crew. Cinnamon also optional! Read on for simple instructions and a little more about our best resources for zero waste lifestyle advice.
This is part of a series, Simply Relish, about using simple recipes to reduce waste in the kitchen.
Zero waste is trendy jargon, but you know who I think knows more about zero waste than any of us? Our grandmothers.
I haven't met your grandmother, but if she's anything like mine, she knows how to stretch her resources. She has mad sewing skills to make whatever she wants from whatever is on hand. She can turn the fruit of her home garden into meals for months for her family. And when the power goes out, she springs into action with all the skills.
Maybe that last part is just my grandmother when we're vacationing on an island in northern Minnesota during a giant thunderstorm… but the gist rings true across a generation. Our grandmas (and grandparents, to be fair), lived without all the plastic and processed luxuries that fill our landfills now.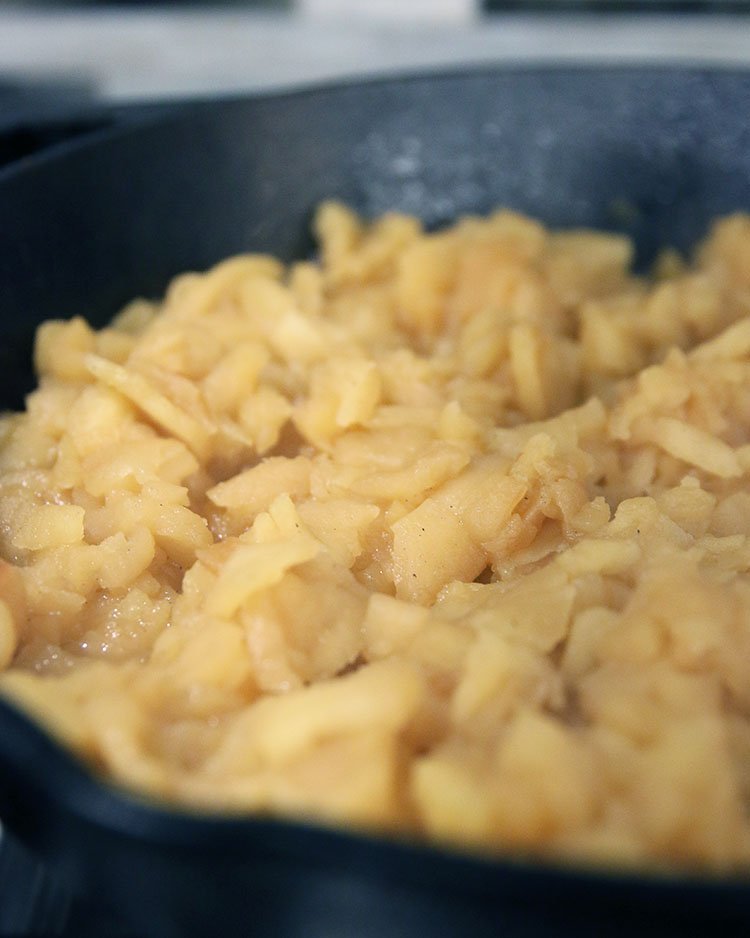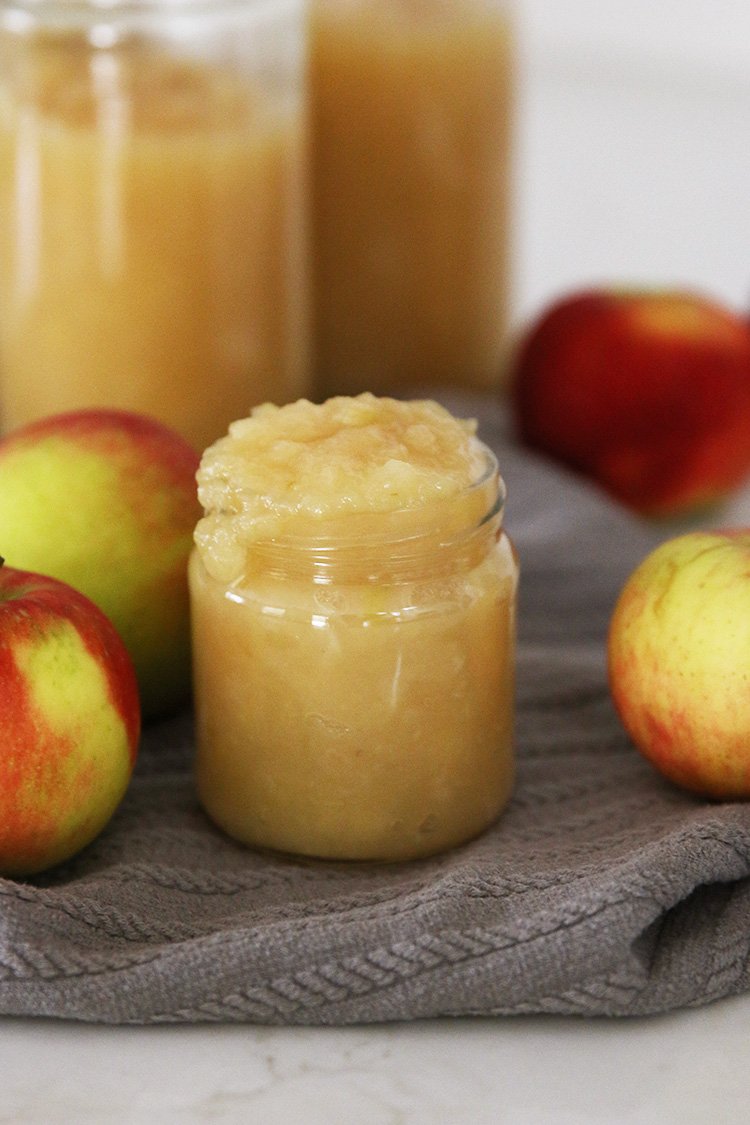 This applesauce is an ode to my grandmother who passed away peacefully in her home last week. Using her recipe and the apple peeler she gave me, I simply peeled and sliced apples, and then sauteed them in water until they were soft and delicious.
You can add cinnamon if you're feeling so inclined, though that's not a popular addition in our house. I love cinnamon but my son prefers his applesauce clean and fresh.
Compost The Apple Cores and Peels
I added the peels and cores to my backyard compost pile. If you're not already composting, there are so many reasons to compost at home. And I promise it's easier than you think! Check out all these resources to learn to compost at home and the variety of interviews I done with families who compost in so many different ways.
Zero Waste Ingredients For Homemade Applesauce
Depending on the food available in your area, you may be able to source most of the ingredients for your homemade applesauce using zero waste or low waste ingredients.
Your grocery store may offer cinnamon in the bulk section. Our apples came from a CSA (community-supported agriculture) membership we have from an orchard in our local area. It would also be fun to pick the apples from an orchard if it's the right time of year and that's accessible to your family. I discussed more the intersection of zero waste and baking in my Comprehensive Beginners Guide to Zero Waste Baking.
Applesauce is delicious on it's own and also a great replacement for oil in many recipes, which makes zero waste a bit easier if you don't have zero waste oil alternatives near you.
Emulate Our Grandparents For Low Waste Living
Not only did I get this homemade applesauce recipe from my grandmother, but she also gave me the fancy peeling and corer tool as a gift. Shortly after I mentioned that I liked the one she had, I received my own peeler in the mail from her as a gift.
As we think about how to reduce our waste and be more thoughtful about our purchases, we should reflect a bit more on how our parents and grandparents live. It doesn't make sense to "go back in time" for everything (and that's not realistic), but they can probably offer us a good bit of zero waste inspiration.
I'd love to hear the ways your grandparents inspire low waste living. Did they have any favorite recipes, tools, habits, or practices that we should all bring back into our routines? Share them in the comments!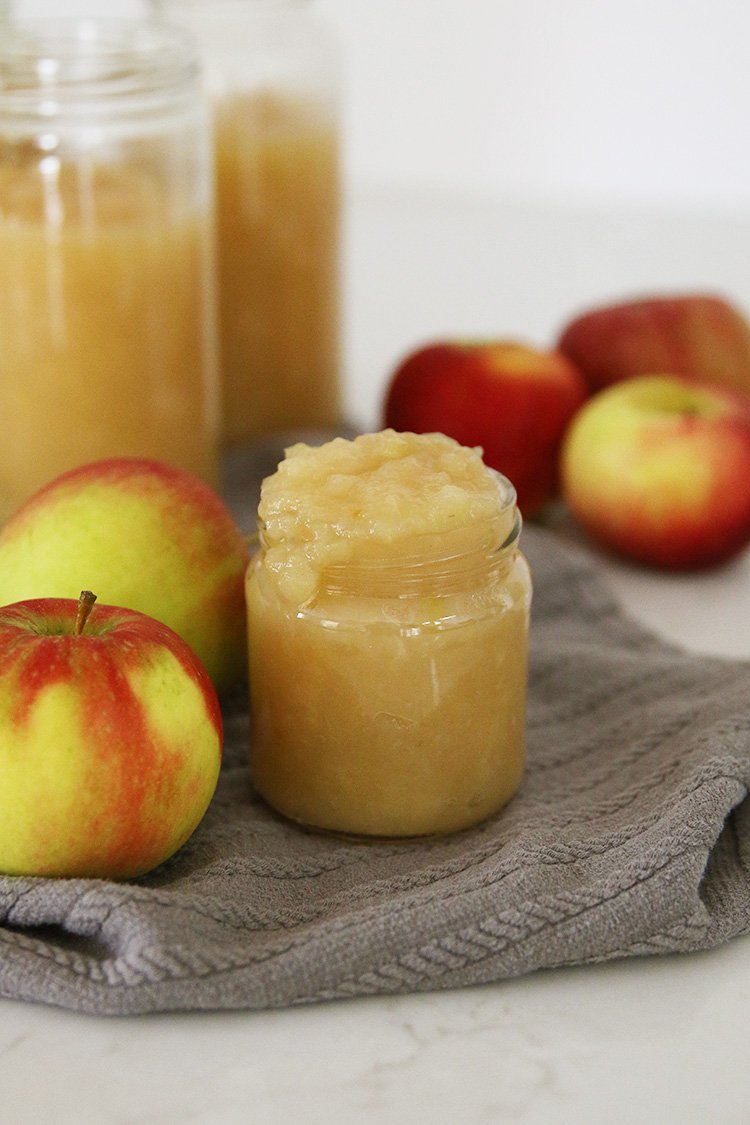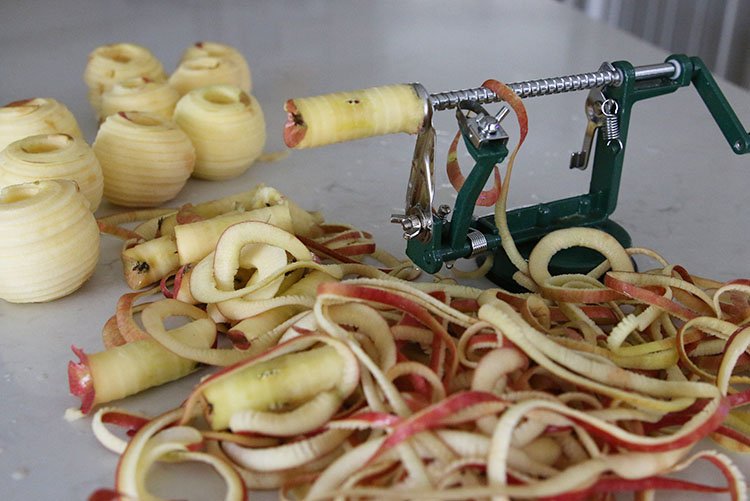 If You Like Homemade Applesauce, You Might Also Like
Easy Homemade Dried Apple Chips
9 Ways We Use Up Our Rescued Produce Box
Zero Waste Homemade Peanut Butter

Zero Waste Homemade Applesauce
Try this low waste homemade applesauce recipe to use up all the apples from your fall harvest or apple-picking adventure.
Ingredients
6-8 apples peeled and sliced
5-7 cups water
Instructions
Saute apples on medium heat, stirring occasionally. Add water periodically so it does not get dry. Continue stirring and adding water until the sauce has reached the desired consistency.
Nutrition Information:
Yield:

16
Serving Size:

1
Amount Per Serving:
Calories:

47
Total Fat:

0g
Saturated Fat:

0g
Trans Fat:

0g
Unsaturated Fat:

0g
Cholesterol:

0mg
Sodium:

22mg
Carbohydrates:

13g
Fiber:

2g
Sugar:

9g
Protein:

0g