Do you compost at home? Did you know composting is one of the best ways to practice eco-friendly living and help reverse climate change?
For many, learning how to compost at home sounds intimidating. Isn't composting hard? It's kind of gross, right? And isn't it for hippies and treehuggers? Nope. Nope. And Nope! Composting is my jam!
Composting reduces municipal waste languishing in landfills, significantly cuts down on greenhouse gas emissions that lead to global warming, and replenishes the soil. Healthier soil produces better quality food, healthier plants, and even pulls more carbon out of the air to reverse global warming relative to depleted soil.
Composting has a negative carbon footprint and increases biodiversity, meaning it actually helps to reverse climate change and make our planet healthier in so many ways! Even better, composting can be free or nearly free for almost anyone due to the many different ways we can compost, depending on our lifestyle and where we live.
Learning How To Compost At Home Isn't Hard
No matter if you're new to composting, an experienced pro, or somewhere in between, I've got tons of resources and stories to help make learning how to compost at home easier, more effective, and much less intimidating.
Before I started composting, it seemed entirely overwhelming. With plenty of trial and error, however, I know nearly all of us can learn how to compost in one way or another and make a positive impact on our planet and our communities.
Join me in my effort to make composting mainstream and something modern families practice with ease. Composting isn't new or novel. The principles have been around for thousands of years. And it's definitely not hard once you just get started!
How To Compost At Home FAQ
If you're not sure where to start, check out this How To Compost At Home Frequently Asked Questions (FAQ), a growing list of resources where I answer all sorts of common and unique questions to help you learn how to compost at home.
In this Composting FAQ series, I include articles about how to manage a compost bin at home, what can go in a compost bin, how to troubleshoot issues with composting at home, reviews of different types of compost appliances and tools, and so much more related to composting at home.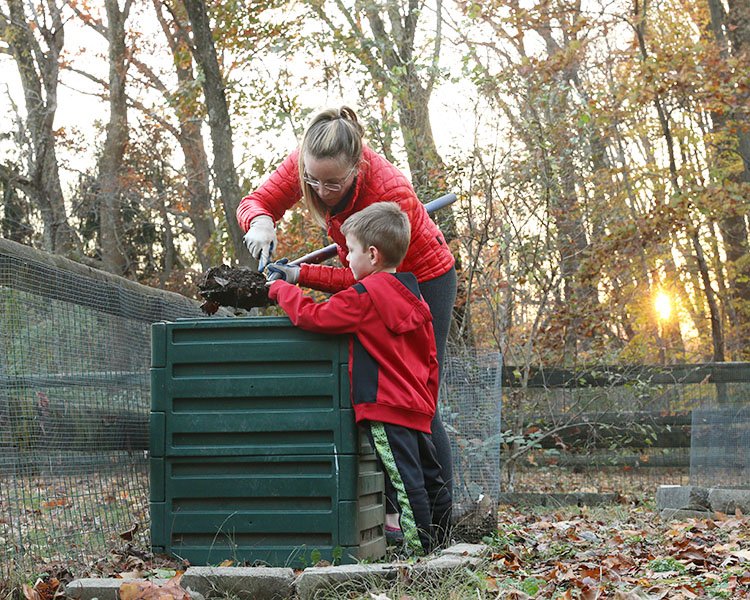 Real Life Families Compost At Home
I also feature families from around the world who compost in all sorts of ways depending on where they live, their family culture, and more.
This series, called Bring Your Trash To Life, will hopefully prove that just about anyone can make space and find a system to turn their food scraps into nutrient-rich compost to enrich our soil, feed our food cycle, and limit the food waste that ends up in landfills.
Find a few families like your own for ideas on how to compost at home with your family. Hopefully, you can be inspired to give it a go and help our planet become a little healthier.
Check out all the Bring Your Trash To Life interviews!
How To Compost At Home
If you haven't already gathered, I'm kind of a composting nerd. I love experimenting with it, teaching people about it, and helping more people incorporate it into their lives. Here are a few other articles I've shared about how to compost at home as a family that might get you all jazzed up about it as well.
Resources To Compost At Home As A Family
Lots of tips and ideas to compost at home as a family. Get your kids involved and find easy ways to keep composting laid back and accessible for as many people as possible.
More Resources To Learn How To Compost At Home
I'm not the only person on the planet who loves playing in the dirt. Check out these resources I love from others who share my passion for composting, healthy soil, and all the benefits it can bring to our world.
Great Resources To Learn About Composting At Home
Check out some of our favorite books and resources to teach kids and adults about composting.
Do you want to learn how to compost or have a family member or friend who would love to try composting at home? It's easier than you might think. To get started, check out some of the books below that offer great introductions to composting for beginners.
Looking for more resources about composting for kids? Check out this picture book list full of great picture books about composting for the little ones in your life!
Got More Questions?
Last but not least, if your composting question hasn't been answered, email me at [email protected] or DM me on Instagram @honestlymodern and let me know. I do my best to create posts to answer each and every question that comes my way!
FYI: I update this post regularly with new articles, links, and information. Be sure to Save It to your Pinterest account or your bookmarks so you can come back to it periodically to check out new resources I add.