Easy Homemade Dried Apple Chip Recipe
Looking for a simple zero waste after-school snack for kids? These simple homemade dried apple chips are a cinch to make and a fan-favorite among the littles in our house. Check out all the details and the apple chip recipe below!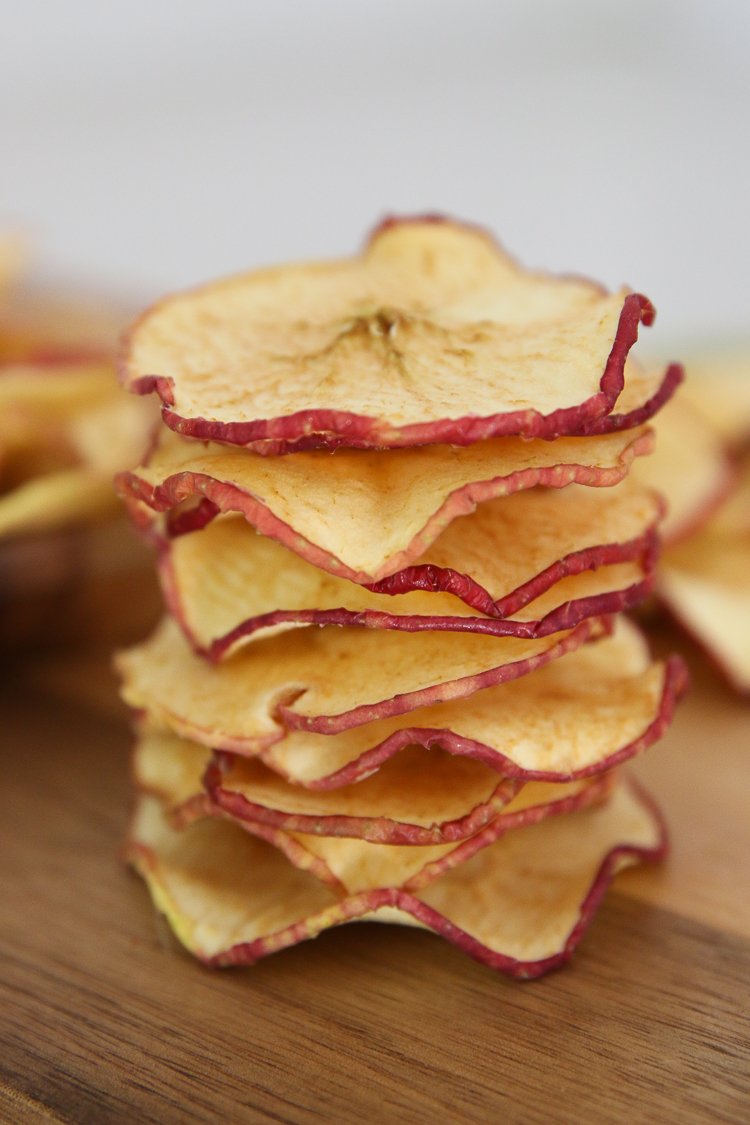 This post contains affiliate links.
Every afternoon, after a long day at school, my boys scramble to the kitchen for an after-school snack. Undoubtedly, they want junk, and I want them to eat something nutritious and delicious.
With our Excalibur dehydrator, we landed on a perfect compromise. Homemade dehydrated apple chips.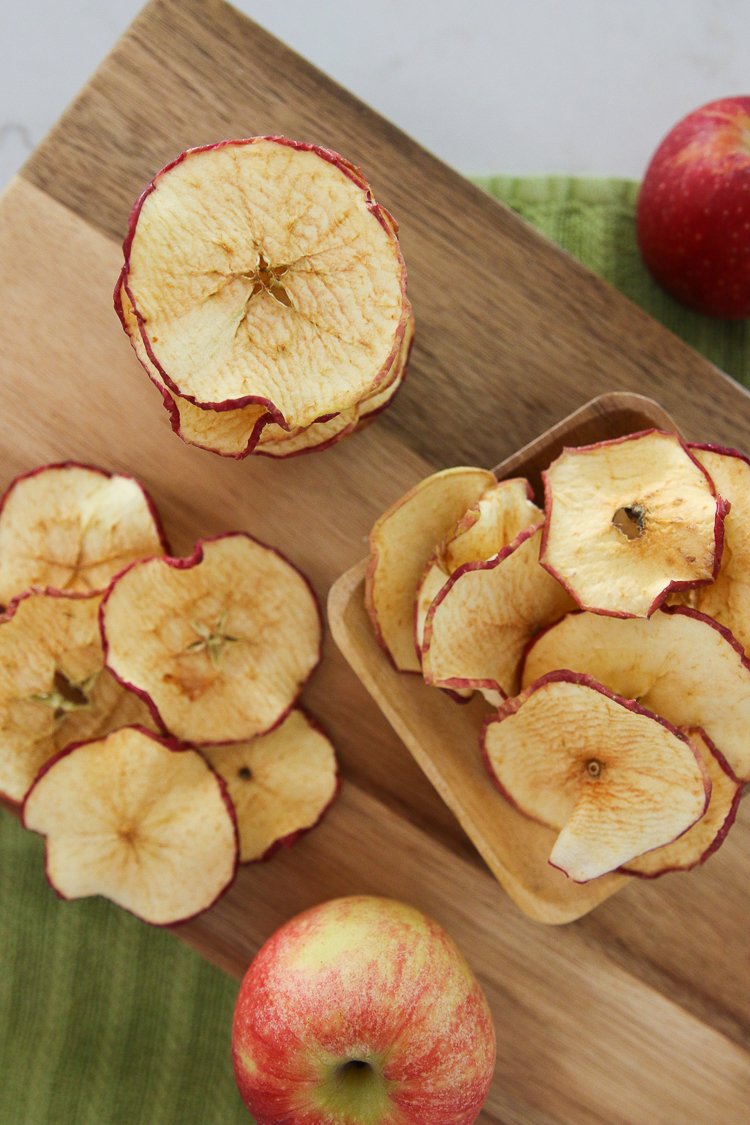 These homemade and zero waste dehydratred apple chips are super simple to prepare and my boys devour them every day. They consider these homemade dried apple chips a snack, while I secretly indulge in the fact that they're eating healthy, whole foods.
I know some dried fruits can have an increased concentration of sugar, but this homemade apple chip recipe feels like a great compromise between a sweet indulgence and a healthy snack. We add no sugar, so it's just a simple apple for the win.
Many apple chip recipes call for cinnamon sprinkled on the apple chips. While I'm sure this is delicious, my boys prefer what I'll call naked apple chips (no sugar, no cinnamon, no extras); just plain and pure apple chips.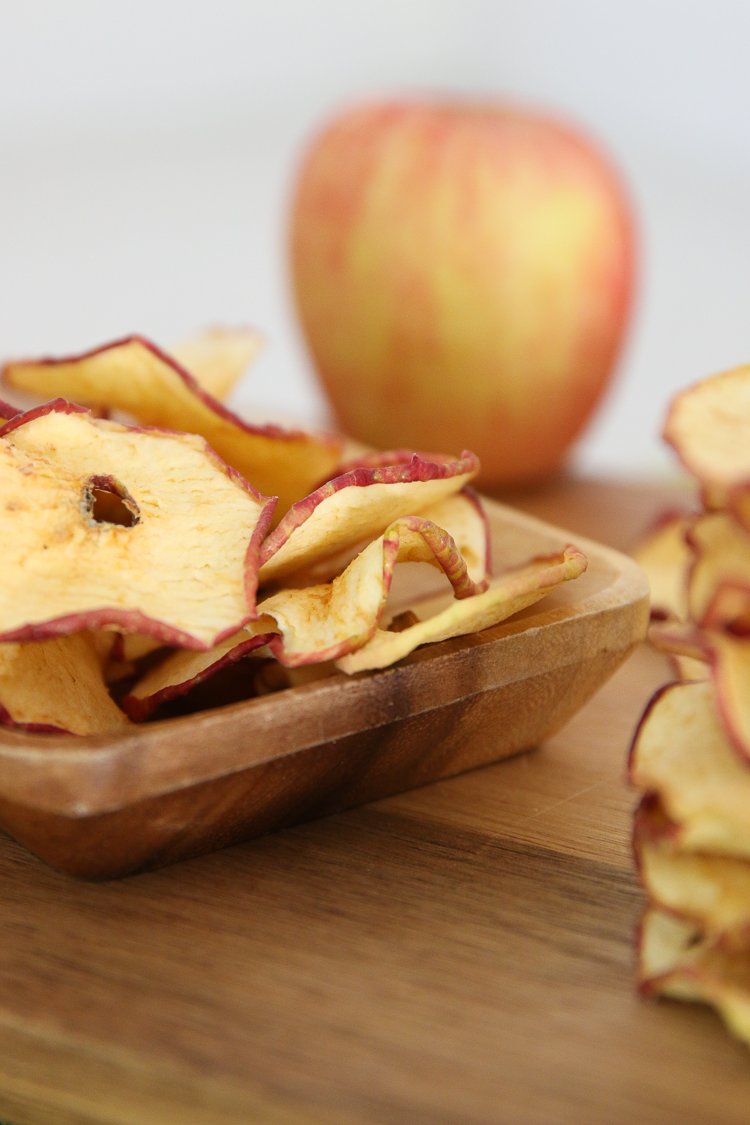 Making these homemade dried apple chips as a great zero-waste snack is super easy. I have an Excalibur dehydrator that works perfectly for this zero-waste snack. I simply slice the apples, lay them on the dehydrator trays, and let the dehydrator do the hard work for about 6 to 8 hours.
I use a mandoline to slice the apples, but you could definitely slice them manually if you prefer or if you do not have a mandolin at home.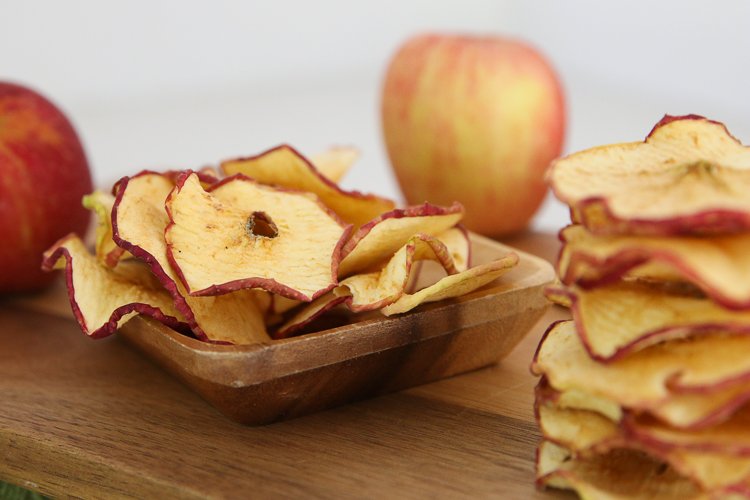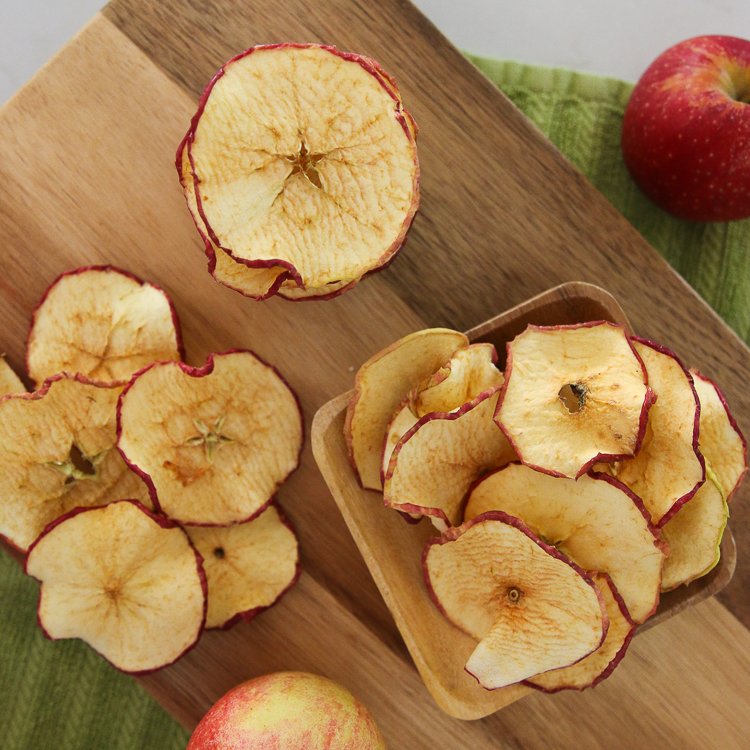 My boys eat these homemade apple chips as mid-morning snacks, after-school snacks, and as part of a zero-waste snack tray. We've also included them on our low waste leftover charcuterie boards for lunch and dinner.
If you do not own a dehydrator and think that you would use it regularly, I highly recommend buying one. We use it once every few weeks and love the healthy, low waste snacks it provides.
Can You Make Apple Chips Without A Dehydrator?
If you don't want a dehydrator or it's out of your budget (they are a bit expensive and a little large if you have limited space), you can also make baked apple chips in your oven at a very low temperature for several hours. Many recipes say that baking apple slices at about 200 degrees Fahrenheit for 3 to 4 hours will do the trick.
Even in the dehydrator, I check on the drying apples periodically because drying time can vary. The length of time to dehydrate varies depending on how moist the apples are and the humidity of the environment in which the apples are being dehydrated.
Are Apple Chips Healthy?
Eating the whole fruit is probably the best option, but as long as you don't add a bunch of sugar or other processed ingredients to your recipe, apple chips are a great, healthy snack. The recipe below doesn't include any extra sugar, so it's just the simple apple and almost as good as a full serving of fruit.
What Apples Are Best For Dried Apple Chips?
Any apples will work to make dried apple chips. Your best option to reduce waste is to choose apples you already have, apples from a local farm, or maybe something from an ugly produce box such as Misfits Market. Maybe you could even pick apples from a local pick-your-own apple orchard. That's such a fun fall family activity.
Alternatively, choose whatever looks good and fits your budget at the grocery store. I love Honeycrisp apples, but any apple will taste great when dehydrated or baked to make homemade apple chips.
Other Dehydrator Recipes You Love
Do you have a dehydrator? Have you tried making homemade dried apple chips? Or do you have any other great dehydrator recipes? I'd love to try them so be sure to share in the comments!
If You Like Homemade Apple Chips, You Might Also Like
Low Waste Baking | Pumpkin Cherry Muffins
7 Zero or Low Waste Homemade Popcorn Recipes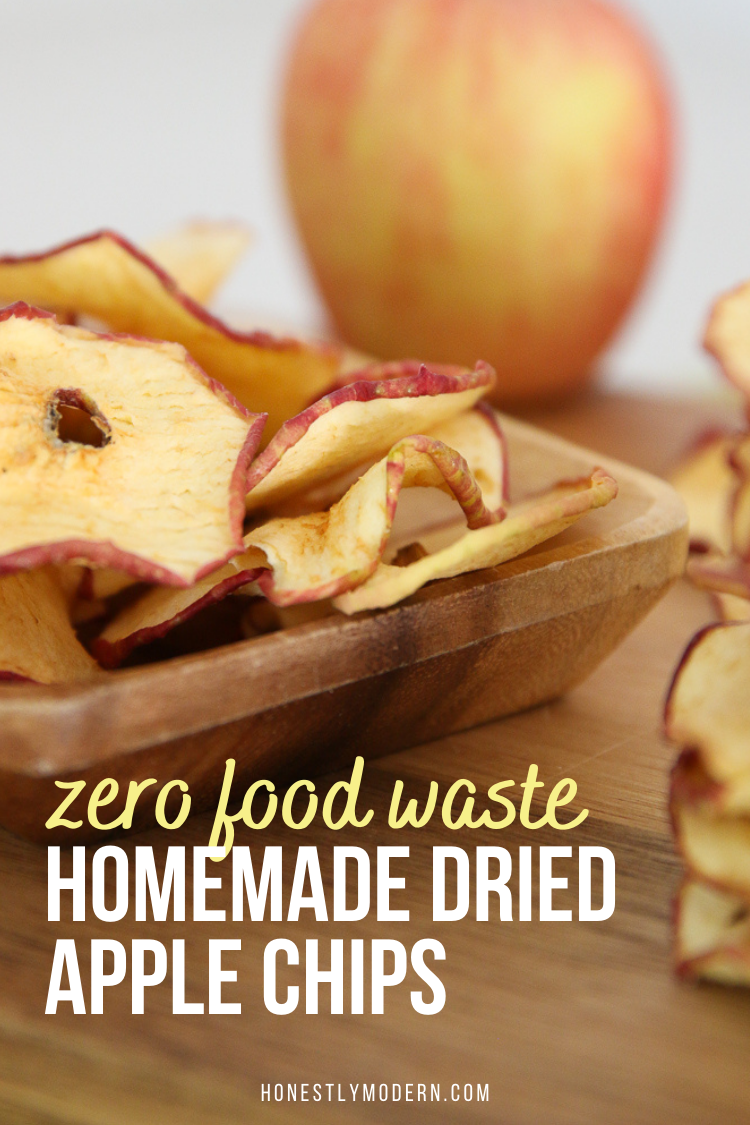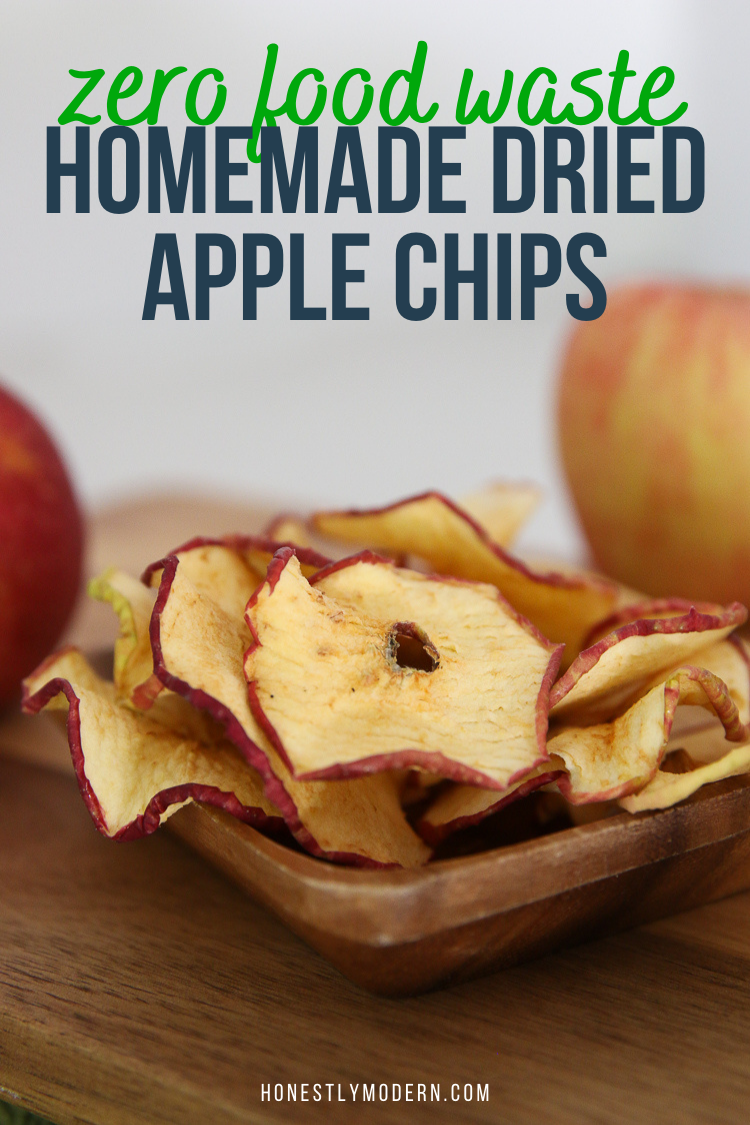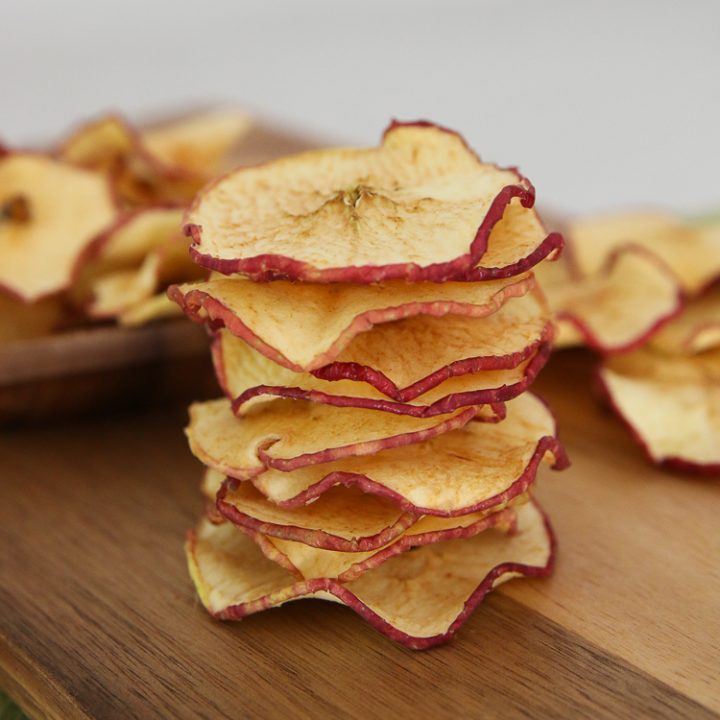 Homemade Dried Apple Chips
Cook Time:
8 hours
6 seconds
Total Time:
8 hours
20 minutes
6 seconds
Simple, homemade dried apple chips make a great back-to-school snack.
Instructions
Slice apples into 1/8" thick slices. It's easiest to use a mandolin but you can cut the slices manually as well.
Lay apple slices on the dehydrator trays without overlapping them.
Set dehydrator to temperature as noted in the appliance instructions for fruit. Our Excalibur dehydrator suggests dehydrating at 135 degrees Fahrenheit, and there is a corresponding setting for this temperature noting it's for fruits on the dehydrator.
Allow dehydrating for six to eight hours, checking periodically, until the apples are quite dry.
Store in an airtight container for up to several weeks.
Recommended Products
As an Amazon Associate and member of other affiliate programs, Honestly Modern earns from qualifying purchases.