4 Tips For Fun and Simple After School Snack Trays
Thanks to BRIANNAS Fine Salad Dressings for sponsoring this post. All opinions are my own.
Are your kids ravenous when they arrive home from school? How do you help direct them toward healthy food options when all they want to eat is junk? Try these fun and creative snack trays, including chicken wraps with BRIANNAS Chipotle Ranch Dressing for particularly hungry kiddos, to make snack time exciting and healthy.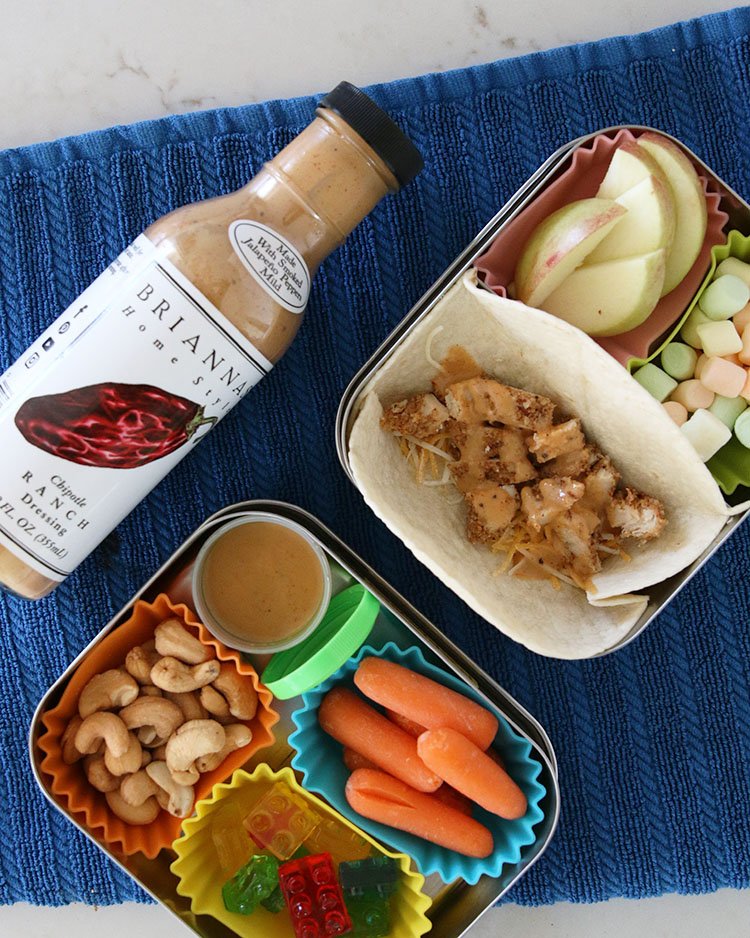 Everyday when the boys walk in the door from school, they're a little bit tired and a lot bit hungry. Typically, they head straight to the kitchen and scavenge the cabinets in search of snacks.
I'm also usually tied up finishing work as they walk in the door. If I don't keep an eye on them, they'll eat every cookie, brownie, and chocolate snack in the house in a matter of minutes. They're even getting sneaky about it. Needless to say, it's been almost two years since T started school, and we have yet to nail down the after-school snack routine.
A few months ago, I stumbled across an after-school snack tray idea on social media. This awesome mom fills a muffin tray with a variety of snacks that include healthy choices, like fruits and vegetables, as well as ultimate junk offerings like chocolate and mini marshmallows. Her boys share the snack tray and each get a variety of snacks to satiate their afternoon hunger.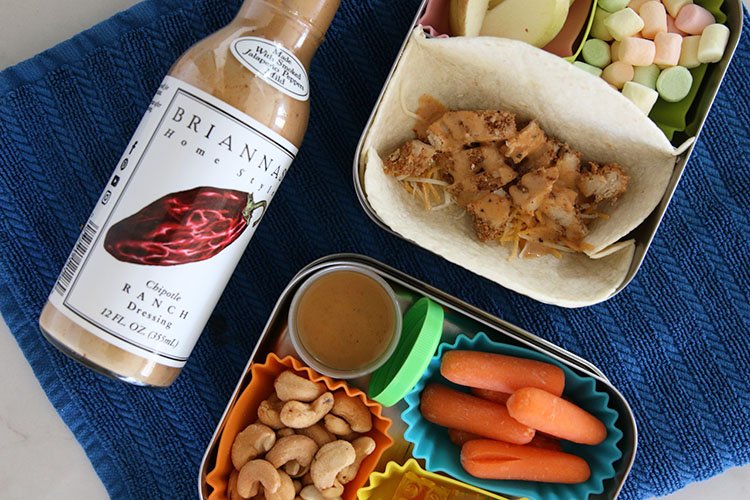 When I saw this idea, I thought it might work for us to not only find a better solution to our after-school snack dilemma but also to encourage the boys to try a few new foods.
I knew the boys wouldn't be thrilled at first about the healthy options on the tray, but I also saw the mini marshmallows and chocolate as a "peace offering" of sorts. I'm happy to report that this has been a genius after-school snack idea. Not only do I have a better idea of what to prepare, but the boys know just what to expect when they walk in the door from school. There's no fighting when we are all on the same page.
It's not a foolproof system, but it definitely sets the stage for success. Some days I get carried away on phone calls. The boys storm in the door before I've prepared a single thing and devour the contents of the cabinets.
Occasionally, they scoff at the healthy options, eat only the junk, and leave the good stuff behind, but this system limits the amount of junk they eat after school when they know they can't have anything else until the trays are empty.
When I do have my act together before their arrival, I really enjoy the little challenge of scouring the cabinets and creatively filling the trays with diverse and exciting snacks. It's an oddly satisfying task and a nice mental break from the exhaustion of work.
I've found the snack trays to be particularly amazing in the car. Sometimes I pick the boys up from school or we head to a sports practice just after they get off the bus. Captive in their car seats, they tend to eat everything on the tray (including the healthy additions).
When they are especially hungry or we're headed to practice around dinner time (an all too frequent occurrence), I add a chicken wrap in the snack box to make it more like a small meal. In this particular snack box, I used leftover breaded chicken tenders I made with this recipe.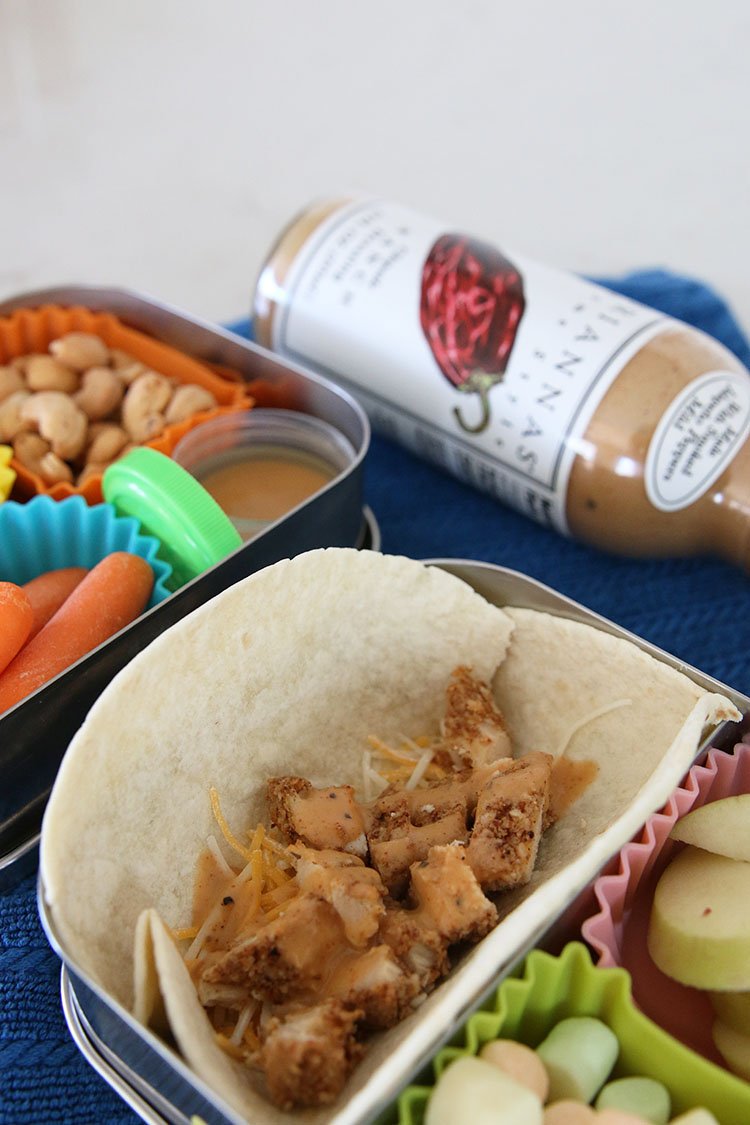 My boys are big fans of chicken, provided it's served with some type of spicy sauce, like this BRIANNAS Chipotle Ranch dressing. They also dip their baby carrots in the Chipotle Ranch dressing (just don't tell them it's salad dressing or they might rebuff the offer).
BRIANNAS has long been a favorite dressing of mine, since the time I first discovered their Blush Wine Vinaigrette with the big red strawberry on the front of the bottle that drew me right in. The company has grown significantly since those days and has many more dressing flavors, including new organic options, that can be used for much more than salads. In fact, they have several dressings that make great dipping sauces for snack trays, like Classic Buttermilk Ranch and Dijon Honey Mustard.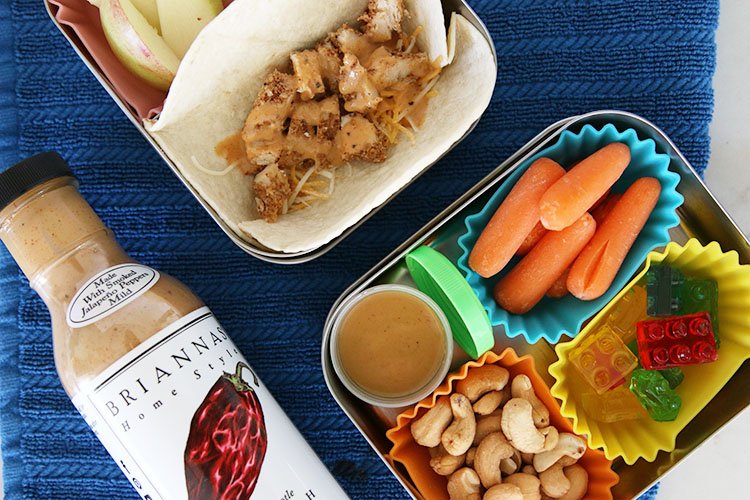 4 Tips For Fun & Simple After-School Snack Trays
Snack trays are a great way to offer your kids a variety of snacks after school or to and from sports practice. My zero-waste heart also loves that they reduce food waste by using up the last bits of things here and there that might not otherwise find a belly to fill. If you're up for trying it, here are a few tips we've learned along the way.
Offer Separate Trays To Each Kid
I give each of my boys their own snack tray. I've tried letting them share a tray, but one of them eats all the junk while the other eats more of the healthy food. Separate trays help ensure that each of the boys gets their fair share of healthier and junkier items.
No Refills Until Trays Are Empty
Nothing on the tray is refilled until all the sections are empty. That's right.. no more mini marshmallows until the baby carrots are gone.
Sometimes, the boys are happy to walk away and leave the healthy food. But it does create a deterrent for endless requests for after-school junk.
No Complaints About What's Offered
My boys love to provide feedback, and they have no qualms letting me know how they feel about what I offer them on the tray. I listen to their initial requests (though I don't always honor them). Once the tray is made, however, there is no room for complaints.
Of course, they want an entire tray full of chocolate and mini marshmallows. I don't want to hear about it.
Gauging Hunger
Sometimes the boys eat everything, but other times a full snack box is too much food. I have learned this the hard way when they eat some of the junk and leave too much of the healthy stuff because… "I'm full."
When they're coming home from school, I try to have their snacks ready before they get home, but I do my best to gauge their general hunger levels from day to day and not provide too much food. I hate seeing any of it go to waste, and I typically end up eating whatever they leave behind.
Creating little snack trays for the boys has been perfect for after-school snacks. It's generally predictable but with a dash of surprise about the details of what's on the tray. It also is a great opportunity to use up the last few of anything that might be hiding out in the cabinet (a handful of goldfish, a few extra crackers, the end of a block of cheese, or whatever you want to use before it goes to waste).
What do you do for snacks for your little ones? Anything you can amp up with a dollop of BRIANNAS dressing? Share all your ideas in the comments!