Zero Waste Food | Quick and Easy Homemade Chicken Tenders
Looking for a simple and foolproof recipe your kids will love and can help use those extra spices hanging out on your spice rack? Try these homemade seasoned chicken tenders. Your kids will thank you!
Maybe it's the minimalist in me or maybe it's just one of my quirks, but I love the satisfying feeling of finishing up the last contents of a product and tossing the packaging into the compost bin, the recycling or the trash.
In an effort to reduce the waste we create, I particularly enjoy gathering up a handful of miscellaneous ingredients that have lingered too long in our cabinets and creating a delicious meal. It's a little like an episode of Chopped, only I know the judges won't kick me off the show (because they'll have no one to cook for them). I guess that makes me the perpetual winner! Reality TV shows aside…
Many moons ago I made this spicy chicken with peach BBQ sauce and had quite a bit of leftover spice rub. I stored the spice rub in a re-purposed glass jar and placed it in our spice drawer where it sat for way too long.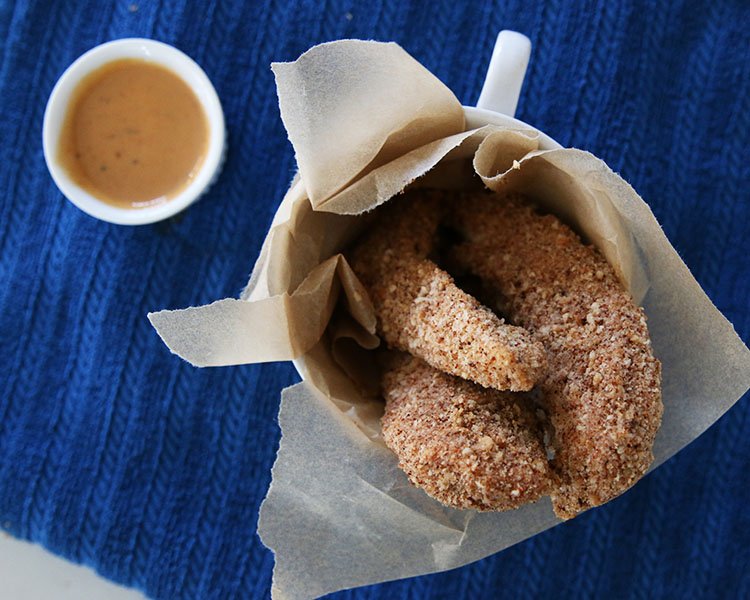 Using Up Ingredients To Prevent Food Waste
Last week, in a moment of culinary inspiration, I stumbled on the idea to make breaded chicken tenders using chicken tenderloins I already had on hand, a small batch of homemade breadcrumbs in the back of my fridge that were yearning to be used, and the leftover spice rub that long-awaited a little love.
Not only did I relish in the joy of piecing together a creative recipe with odds and ends in my kitchen, but the recipe turned out great. I've attempted to make homemade baked chicken tenders in the past, but they never really turned out. The breading always fell off or was too clumpy and uneven because I couldn't get the wash right.
This time however, I mixed milk and eggs to create a wash that wasn't too thick or too thin and held the seasoned bread crumb mixture just right. I'll call it my Goldilocks chicken tender wash.
Meals like these that come together in my head and not by following a recipe make me so happy! Of course I love using up odds and ends from my cabinets. More than that, however, it's a testament to my cooking skills. I'm no expert chef, but I've come a long way from the days when I burned just about everything I touched.
I remember looking at recipes and having no idea how to visualize the final product; I didn't know enough about basic ingredients to understand how they came together or what they tasted like. Now I can create recipes in my head, mix and match components of different recipes to create something new, and envision how things will turn out before I make them.
All that to say that… if you aren't great in the kitchen, you can totally learn if you're interested! If I can do it by watching The Food Network and checking out cookbooks from my library, so can you.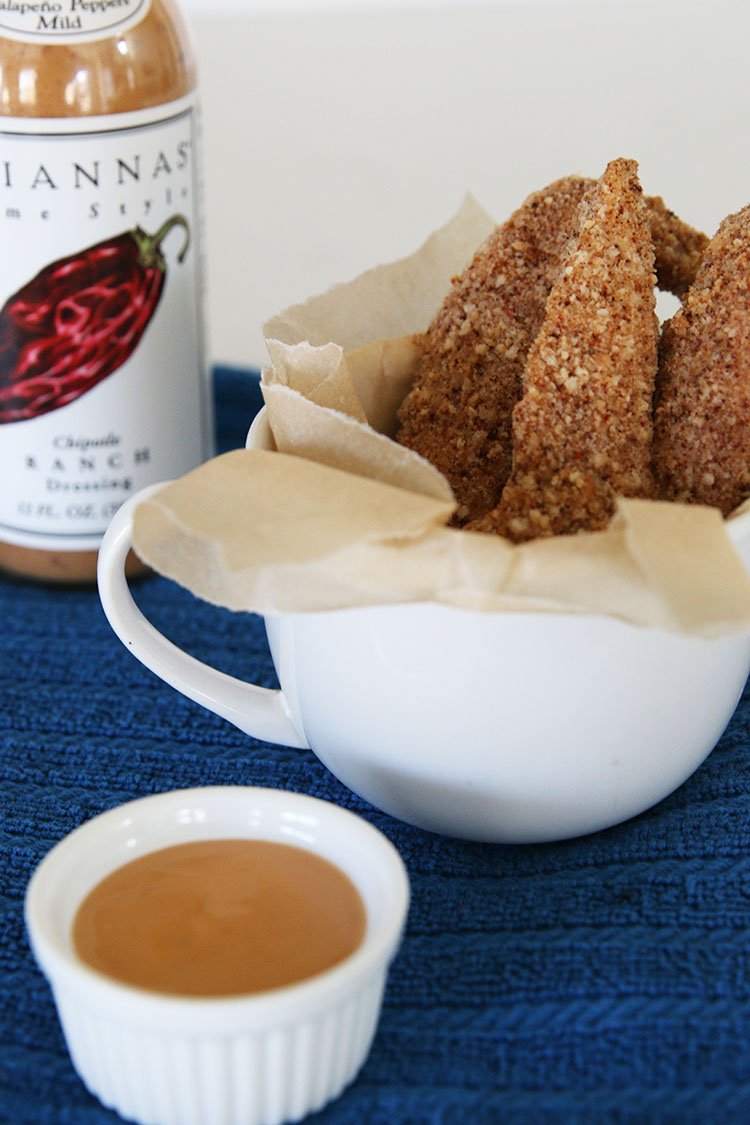 Simple Kitchen Skills Can Significantly Reduce Food Waste
In the United States, we currently waste about 40% of the food that we produce. It falls into the trash at various points along the supply chain. Some food is left in the fields, another portion tossed in the trash for not being aesthetically perfect, and more still purchased at the store and wasted by individuals in our home kitchens.
Such voluminous food waste not only leaves far too many people hungry, but it's a significant tax on the ecosystems that expend so many resources to produce the food only so we can turn around and trash it.
Having a few simple kitchen skills really helps reduce waste. With this chicken tender recipe, for example, you can substitute similar seasonings and spices you have on hand instead of the specific recipe I used. If you have extra buttermilk, swap that for the regular milk in the recipe. Any type of chicken works, and you could even use a white fish like tilapia or cod if that's in your fridge or freezer. It's almost always better to use up what's on hand before buying something new.
If you're looking for a quick and simple recipe that your kids are sure to love, try making these homemade chicken tenders and feel free to modify based on what you have in your cabinets to prevent food waste. When you try them, be sure to let me know what you think by leaving a comment or sharing and tagging me on social media. Enjoy!

Spicy Homemade Chicken Tenders
Ingredients
1 cup breadcrumbs (1), store bought or homemade, link to homemade in notes
1/2 cup spice seasoning (2), see link in notes
1 egg
1/4 cup milk
1 lb chicken tenderloins
Instructions
Preheat over to 350° F.
Cover baking sheet with foil, parchment paper or a silicon baking mat. I prefer to also use a baking rack on the pan to allow for more consistent cooking on the outside, but this is optional if you don't have one.
Mix egg and milk in a small bowl.
Mix spice seasoning and breadcrumbs in a separate bowl.
Coat one chicken tenderloin in the milk/egg mixture. Then dredge the tenderloin in the bread crumb / seasoning mixture.
Place each piece of chicken on a baking rack over the baking sheet and repeat with remaining pieces of chicken.
Bake for 15 - 20 minutes or until chicken is cooked through.
Notes
(1) I store leftover stale bread or ends that we won't eat in the fridge and periodically make homemade breadcrumbs. I store them in the freezer for several months in glass jars until I need to use them, after which time I store them in the fridge for up to a month or two. Here is the recipe I used for breadcrumbs.
(2) I used the spice rub seasoning from this recipe because I had it on hand and needed to use it up. You can use a variation of this or just mix several similar spices into the breadcrumbs based on what you have available.
Nutrition Information:
Serving Size:

1 grams
Amount Per Serving:
Unsaturated Fat:

0g