Teacher Gift: You're Worth A (Pepper)Mint To Me
Looking for a last minute holiday gift for teachers, neighbors or friends? These festive snacks are simple to make and can even be prepared with help from little ones. Read on for more about the peppermint bark and chocolate covered pretzel treats our boys gave to their teachers for the holidays this year.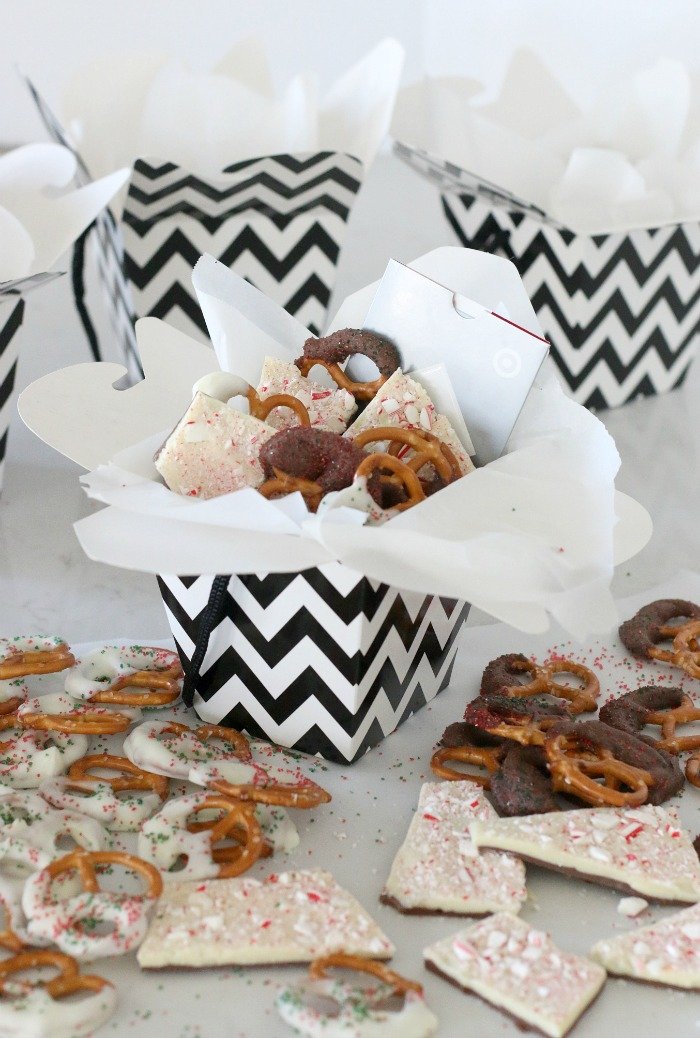 I know some parents dread holiday gift giving for teachers and caregivers, but I actually like it. I enjoy baking, especially something fun and festive, and I like it even more when I don't end up eating it all.
This year, we copied gifts from previous years (and certainly didn't go over the top with complexity). We melted a little chocolate in a double boiler and then the boys dipped pretzels in the chocolate. They placed the pretzels on a parchment-lined baking sheet, sprinkled some red and green sugar crystals over top, and let the chocolate harden in the fridge for 10 – 15 minutes.
We also made this super simple peppermint bark. I really like chocolate and mint, so I look forward to making this once a year around the holidays. I give away most of it, eat a bit of it myself, and I've had my fill until next Christmas.
After the boys and I made the treats, I added a few of each kind to this little decorative take-out box for each teacher. I probably wouldn't have purchased new boxes like these now. Instead, I might have used a repurposed option or something that was more recyclable (like festively decorated brown paper bags). But I had these lying around from a couple years ago, so I used what I had available.
Instead of buying cards, I designed mini cards using Canva (seriously the best "graphic design for non-artists" product around). If you haven't tried Canva and ever have a need for making cards, invitations, menus, or other types of digital or printed things, check it out. Basic use of the site is free and really simple. I like that I could print our own small cards on one piece of card stock easily and quickly.
Lastly, we included a gift card to Target. Gift cards might be a bit boring, but who doesn't love Target?! It's also super useful and (I think) it's what the teachers really want. A couple of years ago, I asked our daycare teachers what they wanted for the holidays. With a bit of hesitation, they mentioned a few small items. Then, with some honesty, they shyly mentioned that they'd really prefer Target and Visa gift cards. I appreciated their honesty, and we've done these each year since then.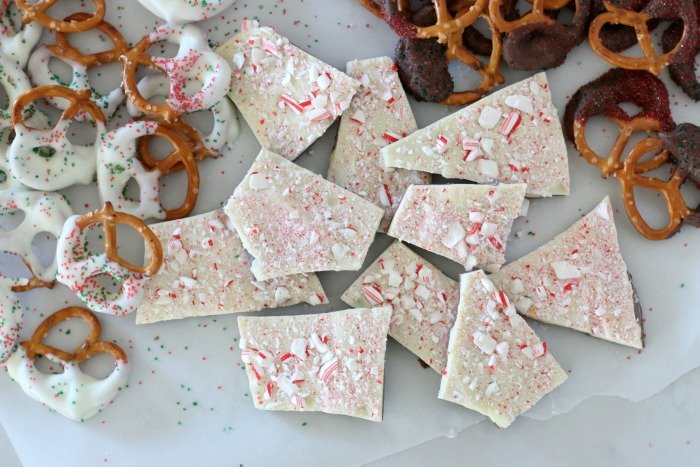 If you're looking for a small and simple gift for your kids' teachers, your neighbors, or some friends, these recipes are pretty much foolproof (and only take a few minutes to prepare). You can download the card, tie it up with your treat, and you're ready to go.
Lastly, I have to give a shout out to my mom whose business thank you cards were the inspiration for the card design. Thanks Mom!