9 Cleaner and Greener Teacher Appreciation Gift Ideas
If you're searching for a healthier, more eco-friendly or simply a more unique teacher appreciation gift, consider one of these ideas to depart from the standard kitschy or generic teacher gifts.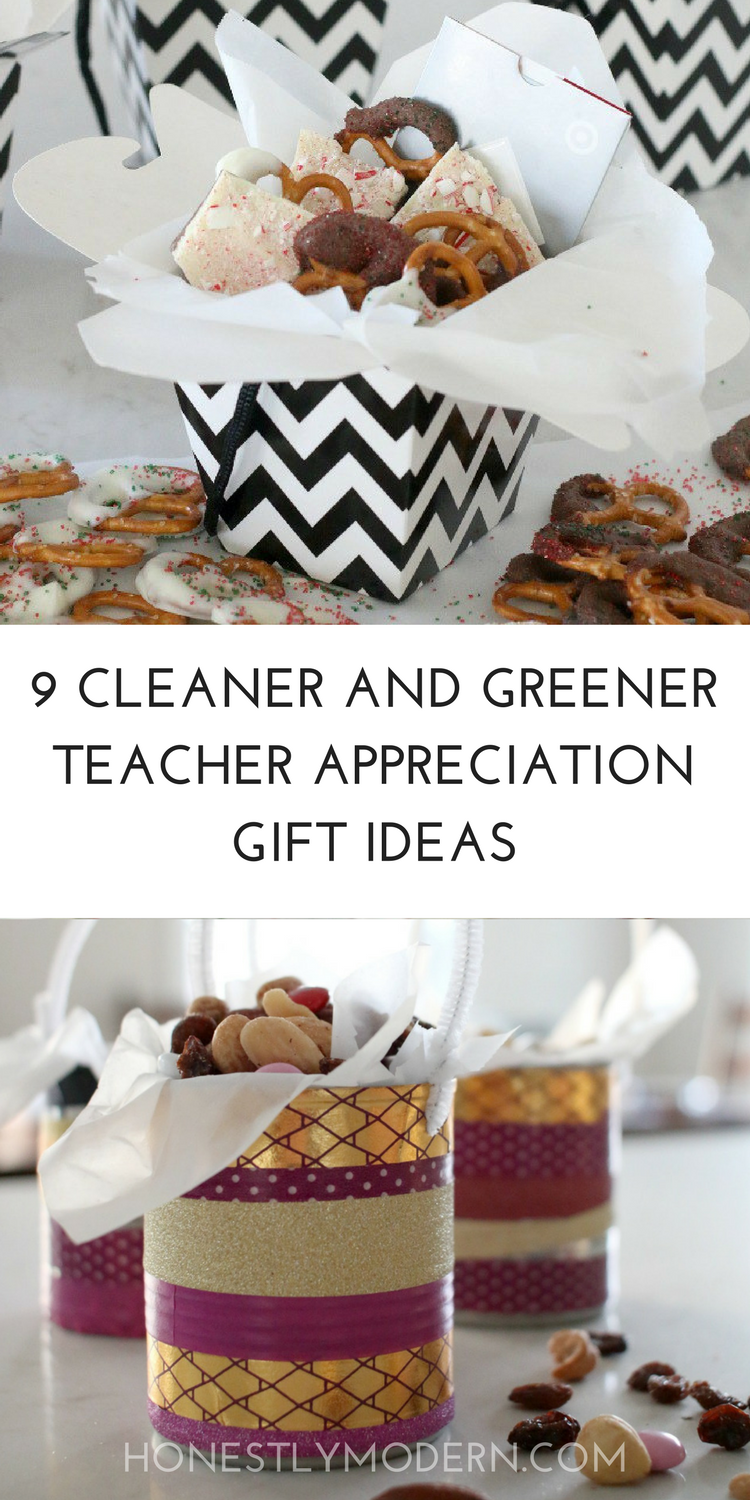 The end of the school year is approaching (or has already happened) for most of us. While not mandatory, I suspect many parents buy teacher appreciation gifts for the end of the year.
I'm not into buying all sorts of gifts for every occasion. However, I am a bit of a stickler about buying useful and thoughtful gifts whenever I do decide to take the plunge.
I really like buying gifts for others, but I kind of hate buying something impersonal for someone out of obligation. Thus, when it comes to teacher gifts, I tend not to fall back on traditional alternatives like bottles of lotion and candles or a candy bar.
At both of the preschools our children have attended, teachers provide wish lists to help parents decide what to buy for the holidays, teacher appreciation week, or other gift-buying occasions that arise. The lists include things like their favorite restaurants, favorite candy bars, favorite drinks, etc… which certainly are helpful.
But I'll never forget the year one of the teachers, when I brought up the topic of holiday gifts, implied that (more than anything) the teachers preferred something useful and simple like a Visa or Target gift card. From that day forward, we've always done a simple treat made by the boys included with a Target gift card.
9 Cleaner and Greener Teacher Appreciation Gift Ideas
As an example, the boys made chocolate covered pretzels this past holiday and filled mini decorated fun cans with trail mix for Valentine's Day a few months back.
I know these ideas might not be right for everyone, so I've included a few other simple cleaner, greener teacher gift ideas that may work for your family and your children's schools as we approach the end of the school year.
Catered lunch from a local restaurant ~ If it's a smaller school, you could simply have lunch catered in for all the teachers on a day around the holiday. Rarely does anyone complain about free lunch at work. Share this with a group of other parents and it won't break the bank.
Prepaid gift cards ~ I mentioned we have gifted Target cards with a DIY treat from the boys. You could also give a gift card with a cute package like this one.
Donuts ~ These are kind of junky, but everyone loves them, especially if they are fancy, gourmet donuts and not just the standard grocery store fare. If you take the gourmet route, it's a little something special for the teachers and you're probably supporting a local small business.
Fresh fruit platter ~ Aren't we all telling ourselves that we are trying to eat better? Instead of donuts, give the teachers a healthy treat like a couple platters of pre-cut fruit from the grocery store. They can leave the fruit in the teachers' lounge for everyone to enjoy and feel good about indulging in a sweet but healthy snack.
High-end water bottle ~ Consider giving a nice water bottle like a S'well or Hydroflask. Last year, my boss gave me a Swell water bottle for the holidays, and I thought it was awesome! I still use it today, so the gift "keeps on giving" and it contributes to a zero waste lifestyle.
Massage or restaurant gift cards ~ It's hard to go wrong with some pampering, whether it be a relaxing spa service or a good meal at a local restaurant. Most of our teachers live near the school so anything in the area works for them. I steer clear of restaurants that offer overly trendy or unusual menu items, unless I know the teachers love the particular cuisine. If the teachers don't live right around the school, you could also try a SpaFinder gift card which gives them an array of options from which to choose.
Tickets to a local event, wine tasting, brewery tour, etc… ~ If you know some of your teachers' preferences well, this could be a really cool idea and something much different than what most parents will do. Prices could vary greatly, but some brewery and coffee company tours aren't expensive at all. It's a great zero waste gift idea.
If you have other ideas, I'd like to hear about them in the comments!