19 Simple Sustainable Gift Basket Ideas for Raffles and Holidays
Looking for sustainable gift basket ideas for a charity raffle or a fun gift? Check out these themed gift basket ideas that include a handful of specific items to include in each basket while also doing a small favor for the planet.
This post contains affiliate links.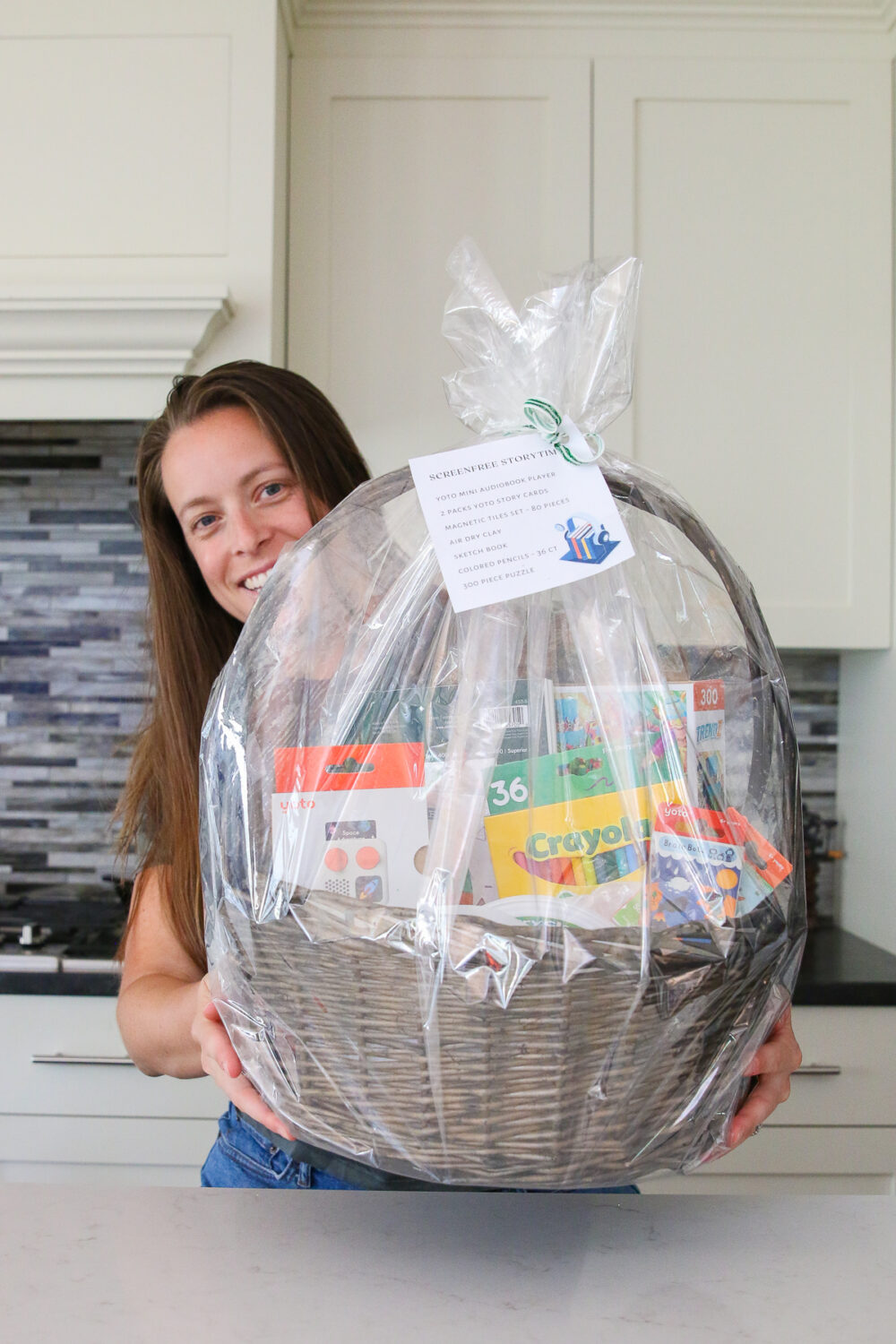 Aren't all those themed raffle baskets for charity fundraisers so cute? I love the creativity that goes into curating a basket of gifts to auction off to support a meaningful non-profit organization. I definitely appreciate the art of this task because it's not something that comes naturally to me.
This year, however, I was tasked with preparing one of several raffle baskets for the annual fundraising dinner for our local library, an organization for which I sit on the Board of Trustees. I decided to go all in on making a sustainable gift basket for our fundraising raffle that reflected my values (so as a non-drinker, this was not another wine basket).
Preparing these themed raffle baskets really pulls at my sustainability heartstrings. I want to create a sustainable gift basket people will love without feeling like it's a bunch of stuff for which their love will be short-lived. I also prefer to use this consumption opportunity to support local small businesses, promote sustainable brands, and encourage an eco-friendly lifestyle. These parameters offered unique guard rails within which I hoped to pull together a charitable raffle basket that would raise a meaningful amount of money for our local library.
While the basket I made was for a raffle, the same sustainable gift basket ideas work for holiday gifts, birthday gifts, and so much more. Some of these might even make great eco-friendly baby shower gift baskets or sustainable wedding shower gift baskets.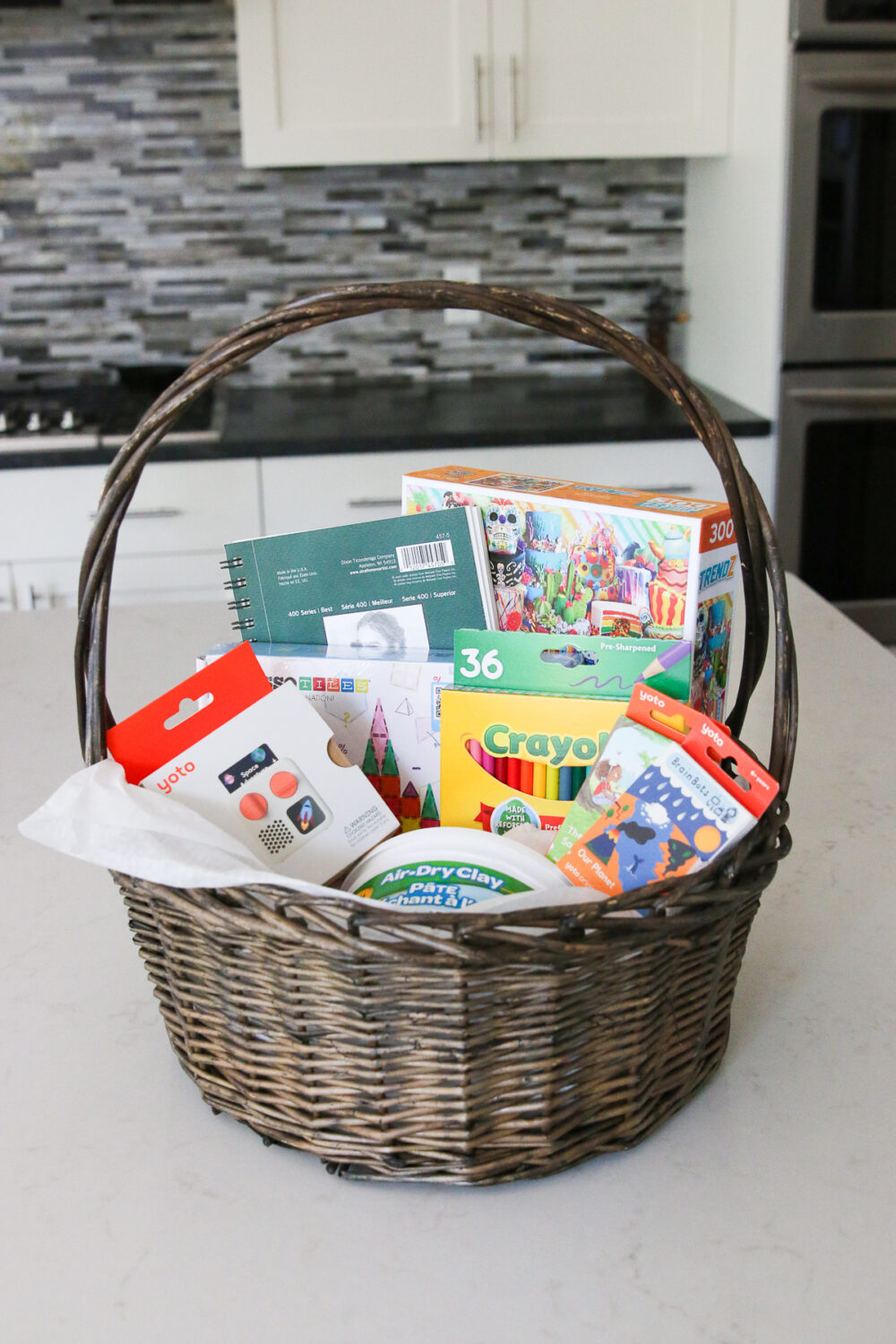 19 Sustainable Gift Basket Ideas for Raffles and Holidays
To help come up with some ideas, I reached out on Instagram to ask for your suggestions and you definitely stepped up to the plate. There were so many ideas that never occurred to me! As I said, this is really not my forte, so I was thrilled to have support from so many of you with your great green ideas.
General Tips for Sustainable Gift Basket Ideas
Some people provided very specific ideas while others offered more general tips about how to more sustainably source items for your charitable raffle baskets like:
buy items from local small businesses
purchase directly from vendors and artisans
choose items people might buy for themselves anyway
choose consumable items
purchase items secondhand (if they are in new or like-new condition)
purchase through small and sustainable marketplaces, and
avoid the quick fix of Amazon (they really don't need your business anyway)
Favorite Places to Buy Sustainable Gift Basket Items
I've included some of my favorite places to buy a lot of the items on the list below. But there are some online marketplaces that have lots of options for sustainable alternatives to the things we buy.
It's no secret I'm not a huge fan of Amazon. They have more than their fair share of questionable ethical practices, and the United States government is suing them for anti-trust violations for a reason. Amazon doesn't need our money and really doesn't care about us as customers.
How about supporting smaller shops instead? Many small shop owners appreciate each and every order we send their way to support their families and livelihoods. Check out online marketplaces like:
Without further ado, let's dive into several more specific sustainable raffle basket ideas sorted by theme, each including a handful of items you might consider including in each of the respective baskets.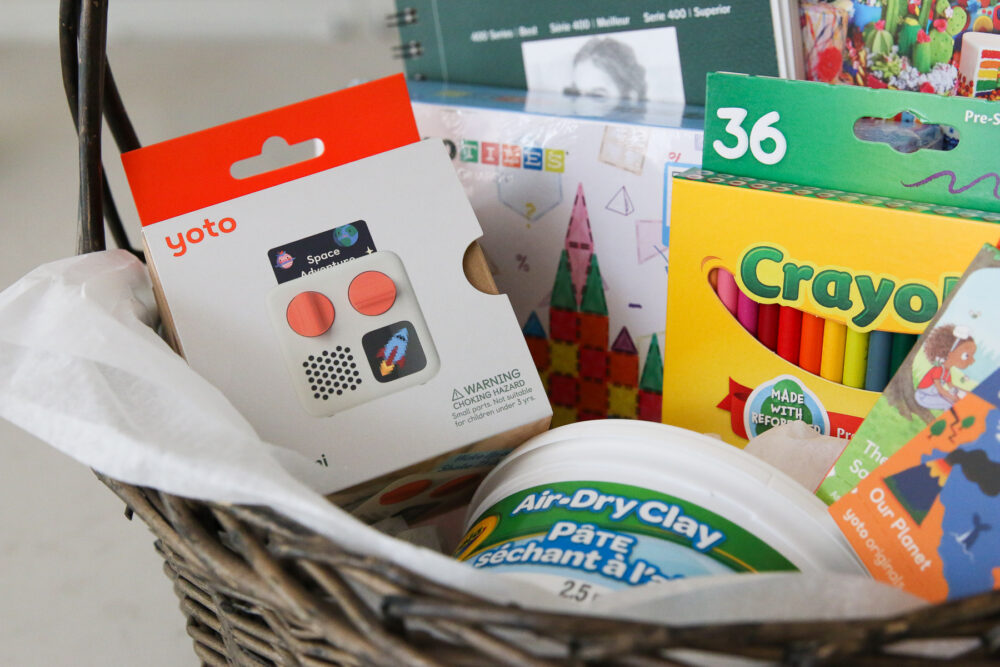 Screenfree Storytime Basket for Kids
This is the basket (minus the LEGO bricks) I ended up doing for the library. It's a mix of new items that I think can be reused again and again. I purchased most of the supplies from Target (except the Yoto Mini and Yoto cards which I got online). I got the magnetic tiles from the discount section at a store because they were an older model.
I built the basket around the Yoto Mini Player, a screen-free audiobook and music player for kids. I've only heard rave reviews about it, and I figured it would be a big hit for the library's patron group, many of whom are parents of young children.
Most years, the raffle baskets cater to adults, so I thought it would be fun to do something parents could buy for their kids. Heck, this could even be a good holiday gift if the kids haven't seen it yet!
Coloring Books
Puzzle
Art Supplies (clay, paper, scissors, etc…)
Magnetic tiles
Building block sets (like LEGO or Knex) – these are a great option to purchase secondhand and wrap up nicely in a cloth bag or fun box
Composting Kitchen Basket
Composting. You knew I was going there, right? This is like a little composting starter kit. It includes the supplies to get started in your kitchen as well as some everyday compostable kitchen items, something the basket winner can use once they start composting!
Shameless plug: you can even encourage them to come back here to our Composting Resource Hub for all sorts of information on how to get started composting at home!
Compost collection countertop bucket – I recommend one that has charcoal filters built in (I like this one and also this one).
Gift certificate to a local curbside composting service (if you have one in your area)
Dish soap in compostable packaging
Zero Waste Kitchen Basket
Zero waste living often is about using what you already have just as much as buying new reusable alternatives. But if you're giving a gift of sustainability, why not help them with some fun and lovely reusable kitchen items?
Natural Spa and Self-Care Basket
I doubt anyone will complain about a little at-home spa day, and it's even better when it's green. All of these sustainable alternatives for self-care will not only look beautiful and
Gardening Enthusiast Basket
Got a group with a bunch of green thumbs? They'll love a sustainable raffle basket with gardening tools, seeds, and other accessories to hone their garden artistry.
To keep it sustainable, consider looking for garden tools in great condition from local thrift shops or purchased secondhand on sites like Mercari or Facebook Marketplace. So long as they are in like-new condition, the raffle basket recipient will never know (and likely won't care). You can also be sure to include seeds for plants that are native to your area.
Green Cleaning Essentials Basket
Start your raffle basket winner on their way to fewer chemicals in their cleaning routine (or majorly appeal to the natural cleaners already in the habit) with some ingredients, tools, and supplies to make their cleaning routine more eco-friendly.
Outdoor Adventure and Picnic Basket
Picnics in the park are romantic but rounding up all the things can feel like a slog sometimes. Prepare this set of all the gear so they can just toss in their snacks and meals and enjoy some time together outside. An outdoor picnic doesn't need all of these accessories, but they are definitely fun to have and help reduce use of single-use plastic alternatives.
Reusable picnic set – plates, cups, utensils (We have a set of these that we use for birthday parties as well that I got from Target. That they are sturdy and will last is more important than where you buy them from.)
Stainless steel or bamboo food containers
Reusable water bottles
Biodegradable sunscreen and insect repellent
Upcycled and Handmade Crafts Basket
For the artist community and those who like to use their hands to create, consider a gift basket filled with materials and tools to make handmade crafts.
Handwoven basket made from natural fibers
Upcycled stationery or journals
Handmade beeswax candles
Eco-friendly art supplies (pencils, brushes)
Organic cotton or hemp fabric scraps
Upcycled glassware or vases
Sustainable craft guidebook or magazine
Mindful Meditation and Wellness Basket
This basket offers the winner tools and supplies to relax and spend a few moments focusing inward. In today's fast-paced world, this could be great for a community looking to slow down a bit.
Organic and fair-trade herbal teas
Meditation cushion made from natural materials
Aromatherapy essential oils in glass bottles
Sustainable yoga mat or strap
Natural incense sticks with a bamboo holder
Mindfulness or meditation book
Farmers Market Bounty Basket
If you don't need to plan the basket too far in advance of your event, a basket full of goodies from your local farmers' market is a great way to support so many local food producers and introduce your basket recipient to new artisans and farmers.
Fresh, organic produce from local farmers
Handmade jams and preserves from a local artisan
Artisanal cheese or dairy products from a nearby farm
Locally roasted coffee or tea
Handcrafted bread or baked goods from a local bakery
Natural honey from a local beekeeper
Handwoven market tote made by a local artist
Handmade and Local Crafts Basket
If you have local farmers' markets or even a seasonal holiday market in your area, that's a perfect place to find items for a basket like this. The items in this basket basically sum up the goods found at my local holiday markets which are chock full of the neatest handmade mugs, candles, jewelry, and wood crafts.
Handcrafted pottery or ceramics
Local artisanal candles made from natural materials
Unique hand-knit or crocheted items (scarves, mittens, etc.)
Handmade soaps and skin care products from local artisans
Wooden crafts made by a local carpenter – a cool mini cutting board or set of coasters could be really neat.
Hand-painted artworks or prints from a local artist
Handmade jewelry from a local artisan
Local Outdoor Adventure Basket
If your likely recipients appreciate spending time outside, consider putting together a basket to help them enjoy the best of what your community has to offer in terms of green spaces and outdoor adventure.
Guided tour or experience voucher with a local adventure company
Handmade outdoor gear (e.g., paracord bracelets, leather goods)
Locally sourced snacks and energy bars for hiking or camping
Eco-friendly sunscreen and bug repellent from a nearby brand
Reusable stainless steel or silicone water bottle from a local store
Sustainable outdoor gear cleaning products from a local supplier
Tickets or passes to local nature reserves or parks
Neighborhood Dining Experience Basket
Many local restaurants and shops will provide small gift cards to include in a basket to get their name out in the community and support local organizations. This could be a great way to help them garner interest and create a basket that doesn't necessarily cost too much to prepare.
Gift certificates to locally-owned restaurants or cafes
Locally roasted coffee beans or ground coffee
Handcrafted wine or craft beer from nearby vineyards or breweries
Artisanal chocolates or desserts from a local patisserie (no one will be upset about chocolate, right?)
Gourmet condiments or sauces from a local producer
Handmade serving platter or cutting board from a local artisan
Cooking class voucher with a local chef or culinary school
Green Gardener Kids Basket
If you have kids involved in your organization for which you're raising money or parents and caregivers who might be interested in winning a raffle basket for the youngsters in their lives, consider a basket designed just for kids spending time in the garden.
Organic, non-GMO seed packets for kid-friendly plants (e.g., sunflowers, cherry tomatoes)
Biodegradable plant pots or seed starter kits
Child-sized gardening tools made from sustainable materials
Eco-friendly gardening gloves
Children's book about gardening and nature
Reusable water bottle featuring kid-friendly designs
Recycled paper and non-toxic crayons for drawing garden scenes
Eco-Explorer Adventure Basket
If your gift recipient or raffle basket community enjoys the great outdoors, consider an eco-explorer adventure basket. Give them a bunch of tools and resources to spend time outdoors, explore nature, and find the hidden treasures Mother Nature has to offer. The items below are geared towards kids, but you could modify them to be more adult-focused if that appeals to the people entering to win the raffle basket.
Nature exploration kit with a magnifying glass, bug-catching tools, and field notebook
Eco-friendly binoculars made from recycled materials
Sustainable and toxin-free sunscreen for outdoor adventures
Kid-sized reusable water bottle with nature-themed graphics
Children's books about wildlife and conservation
Plantable wildflower seed paper for kids to grow their flowers
Backpack for carrying exploration essentials
Creative Recycler Kids Basket
The basket might feel like it contains a bunch of trash, but if you've got the right audience and the right presentation, the basket is really a bunch of supplies to create. Breathe new life into old things when you recycle materials to make something new. This basket has a bunch of items to spread that idea.
It's also worth noting that many of the basket ideas are new items made from recycled materials, not materials you are grabbing from your own recycling bin (though your bins probably have more crafting supplies in them than we might think).
Recycled paper and eco-friendly art supplies (markers, colored pencils, paints)
DIY craft kit using upcycled materials (e.g., cardboard robot or milk carton birdhouse)
Reusable cloth tote bag with fun designs for shopping or crafts
Recycled plastic building blocks or construction sets
BPA-free and reusable snack containers for waste-free lunches
Green Tech Savvy Kids Basket
My younger son is totally into tech and would love something like this basket. He's the tech department in our house – always fixing things much faster than any of the rest of us can despite being the youngest in the house.
Kid-friendly solar-powered gadget or toy
Energy-efficient LED night light with cute designs
Eco-friendly and non-toxic tablet or screen cleaner
Electronic puzzle games with eco-awareness themes
Recycled plastic or bamboo headphones
Sustainable Storytime Kids Basket:
Lottery Ticket Gift Basket
So this one is pretty self-explanatory. You probably don't need a list of what to include. Head to your local convenience store and grab a half dozen or dozen lottery tickets (or whatever amount fits within the budget you want to spend on the basket). Attach the lottery tickets to popsicle sticks, chopsticks, or wooden skewers (or display them however you'd like), and let people enter to win a chance to win some cash.
Lottery tickets aren't sustainable, per se, but they're simple and don't create much waste. And they almost certainly ensure that the winner of the basket will actually put the gift to good use!
Eco-friendly Gift Basket Wrapping Ideas
Once I decided what to put in the gift basket, my sustainability adventure still had some juice left in it. I needed to wrap everything up so that it looked appealing to raffle ticket buyers and nothing fell out. Last year, I didn't wrap up the gift basket, and I'm pretty sure the largest gift card fell out before it got to the final recipient. What a bummer!
Baskets Abound at Thrift Stores
If there's one thing I recommend you get secondhand, make it the basket. Thrift shops have tons of baskets in great condition! Head straight to the home goods section, and I bet there will be tons of options available.
I got the basket for my Screenfree Storytime theme gift basket from my local Goodwill store. It was sturdy enough for everything I wanted to include in the basket and large enough to hold everything. Last year, when I donated a gift basket of gift cards to local restaurants and shops, I found a much smaller gift basket at the same Goodwill store.
Sustainable Plastic Wrap Alternatives
Although I would prefer to limit the plastic on any gifts, I know it's important to have the gift basket wrapped in some type of clear plastic cellophane or thin mesh so that items don't fall out. In our case, we also had to ensure items were not stolen (or innocently taken by curious children) because they were on display at the library for several weeks before the fundraising dinner.
I didn't have any eco-friendly gift wrap on hand that I could use for clear wrapping paper, and I really didn't want to buy a whole roll of plastic cellophane. So I reached out to my Buy Nothing group to see if anyone had some extra cellophane I could have. While it's still plastic, I wasn't adding to the consumption cycle, so that felt like a small win.
One of my neighbors happened to have a bit left on a roll in her home, and it was just enough to cover the basket. The perfect fit was a clear sign that I made the right choice to ask to borrow from a neighbor!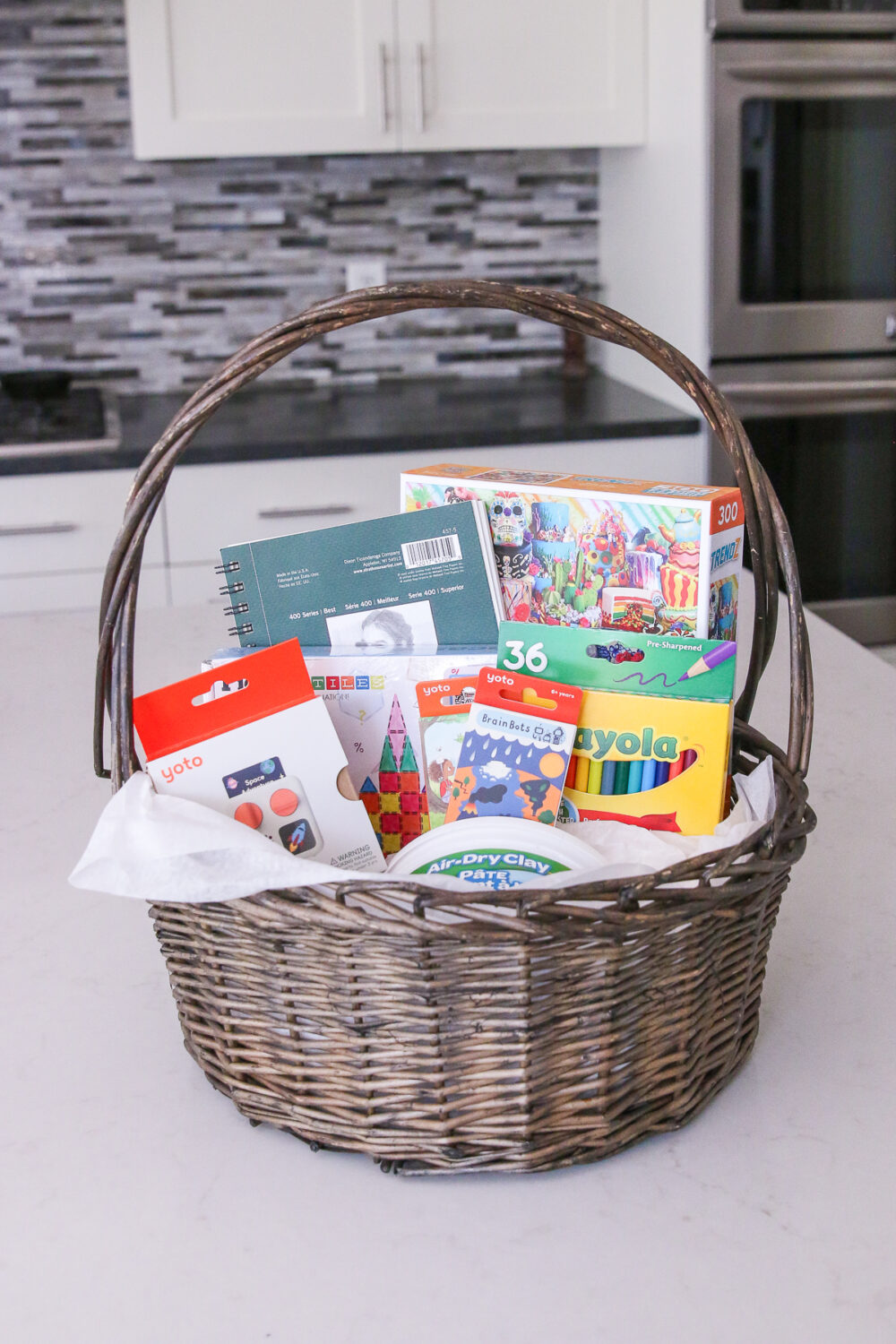 If you liked this post about Sustainable Gift Basket Ideas, you might also like
12 Questions To Find The Perfect Gift For Everyone On Your List
8 Important Reasons To Buy Gifts Secondhand
10 Free Zero Waste Gift Wrap Alternatives From Upcycled Shipping Materials
About The Author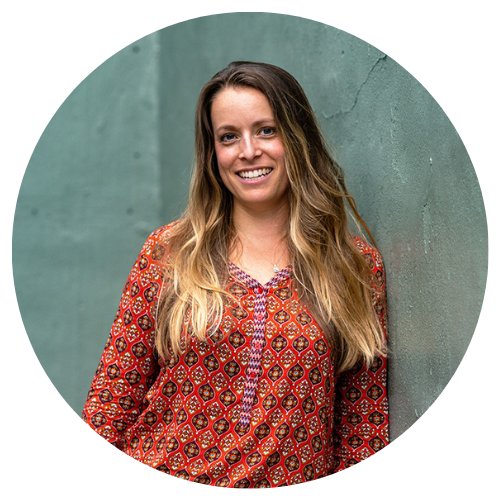 Jen Panaro
Jen Panaro, founder and editor-in-chief of Honestly Modern, is a self-proclaimed composting nerd and an advocate for sustainable living for modern families. In her spare time, she's a serial library book borrower, a messy gardener, and a mom of two boys who spends a lot of time in hockey rinks and on baseball fields.
You can find more of her work at Raising Global Kidizens, an online space to help parents and caregivers raise the next generation of responsible global citizens.