10 Free Zero Waste Gift Wrap Alternatives From Upcycled Shipping Materials
Don't throw out the packaging from your online shopping deliveries! There are tons of ways to reuse and repurpose packaging from online shopping as zero waste gift wrap to reduce waste and save money. Check out these easy and free wrapping paper alternatives to reuse shipping material as zero waste gift wrap.
Online shopping increases each year. Depending on how we shop in person and what we're buying, online shopping might be better for the environment. All those orders come with a whole lot of packaging.
More and more companies use compostable packaging, less plastic, and lower waste alternatives when shipping packages. In many cases, however, those low waste packaging options are only as good as the consumers who get the packaging into the correct waste stream after they receive it. A compostable mailer or recyclable cardboard box sitting in a landfill isn't all the helpful.
There are myriad zero waste gift wrap ideas that often highlight beautiful reusable products we have around our house that also serve as DIY gift wrap options. These are all wonderful!
Why not make it even easier to wrap gifts with limited waste by reusing shipping materials as zero waste gift wrap? How neat, right?
Why Not Use Regular Wrapping Paper?
The most sustainable thing (and often the least expensive thing) is the thing we already have. With so many people ordering items online, we have lots of shipping materials in our home that cost us nothing to reuse. What's better than free wrapping paper, right?
Because shipping materials need to survive arduous journeys and inclement weather while protecting our valuable purchases, they're typically pretty sturdy and have lots of life left in them after we open the packages.
When we use shipping materials as zero waste gift wrap, we forego the purchase and consumption of even more virgin resources (like the trees used to make the wrapping paper). Even if we opt for recycled wrapping paper, we incur production and transportation costs to make the paper and get it into our hands.
Is Wrapping Paper Recyclable?
Like most things in sustainability, it depends. Some wrapping paper is recyclable. Try the scrunch test, which is a good indication of whether or not wrapping paper belongs in the recycling bin. If you scrunch the paper and it stays scrunched, it's mostly likely recyclable. If not, it probably belongs in your trash bin.
If your wrapping paper is coated in glitter, foil, or other synthetic (and likely plastic) embellishments, resist the urge to recycle this wrapping paper. It can't be recycled and should be reused or tossed into the trash instead.
Even if your wrapping paper is recyclable, it's still better to use something you already have than buy something new and recycle it.
What About Fabric Gift Wrap Alternatives?
There are some really lovely fabric gift wrap options. Companies like Wrappr make gorgeous fabric wraps designed by independent artists and manufactured from high-quality materials that are perfect for Japanese-style Furoshiki wraps. However, they're quite expensive; a single wrap is $15 – $21. In many cases, that's more than the cost of the gift.
You could also use fabric scraps like old men's shirts and clothing or textiles from thrift stores. Local charity shops often have tons of scarves, sheets, cloth napkins, and pillowcases that could be turned into neat fabric gift wrap. These are much most cost-effective but likely require basic DIY skills to cut and make them the right sizes for your gifts.
If everyone used fabric wrap and we reused the fabric wraps we received as gifts, this would be amazing (and more affordable, because we could reuse fabric wraps from prior seasons instead of buying new ones each year).
Unfortunately, wrapping gifts in fabric wraps isn't a widely adopted practice yet. I certainly wouldn't ask for my expensive Wrappr wrap back after gifting it to a friend. But I'm also not confident most of the people in my life would reuse the fabric wraps.
If you're reading this, you probably would reuse the fabric wrap (but most people – at least in my social spheres – aren't using fabrics yet). I'm concerned that these fabric wraps would end up in the trash, which feels worse than traditional wrapping paper landing in the recycling bin.
If your friends and family are likely to reuse the fabric wraps, then this could be a great idea for you. If not, fabric might not be the best idea for your current gifting habits.
Collect & Save Shipping Materials Throughout The Year
The holiday season brings with it an abundance of gift wrapping. Despite the many packages we order online and receive on our doorstep during the holidays, it still may not be enough to wrap each of the gifts for your family and friends.
Save your favorite reusable shipping materials throughout the year. If you find something novel (like the decorative paper filler from Gamewright below) or especially practical (like brown kraft paper filler), gently fold or roll it up and store it in a box until you need it.
We store our upcycled shipping materials in a diaper box from years ago (my boys have been potty trained for at least 3-4 years), but use whatever you have available. Amazon boxes and food delivery boxes, like those from Misfits Market, are generally quite sturdy as well. You probably don't need to buy anything fancy to store these supplies.
10 Ways To Reuse Shipping Material For Zero Waste Gift Wrap
As you unbox all the items you order online, try to reuse the packaging as much as you can. Your gift recipients will certainly not care if their gifts are wrapped in repurposed kraft paper instead of kitschy holiday wrapping paper.
Many of the shipping materials can be used to wrap packages, a really easy way to repurpose these materials that are often single-use. Here's are 10 ways you can reuse shipping materials as zero waste gift wrap this holiday season (or any time of year!).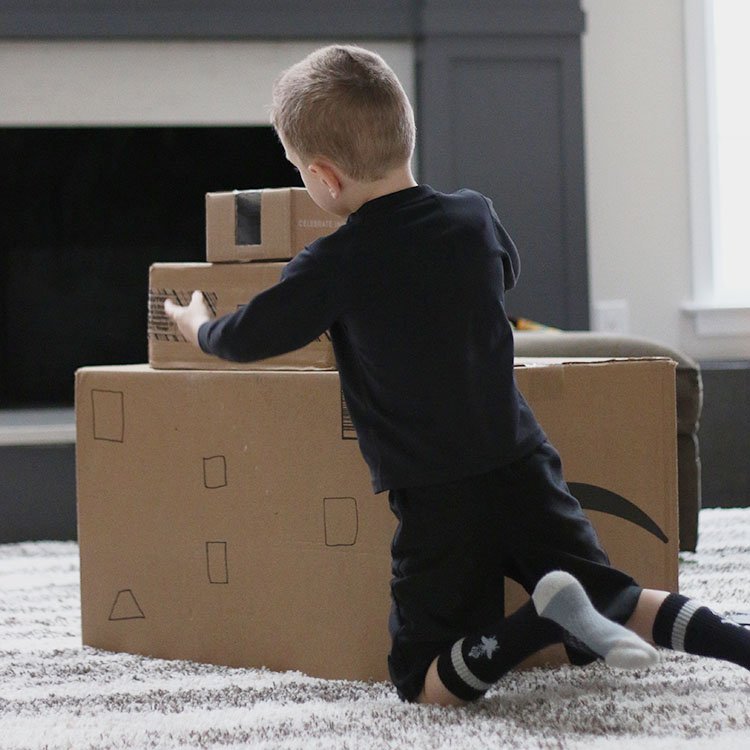 1. Reuse Cardboard Boxes As Gift Boxes
Cardboard boxes are so commonplace, and they can be really useful beyond their lives as shipping containers. They have so much value that I've written an entire blog post on ways to reuse and repurpose cardboard boxes. Cardboard boxes make great toys, home organizing containers, weed prevention materials, composting material, and more. Head over to check out 10 ways to reuse cardboard boxes.
As for gift wrap, don't buy another gift box again (depending on how much you buy online, I suppose). Reuse cardboard boxes from shipping as gift boxes to save money and reduce waste.
2. Reuse Packaging Peanuts or Try Packing Peanuts STEM Experiments
Packaging peanuts are the small, white filler pieces that some companies add to their boxes to protect items during travel. Traditionally, packaging peanuts are made of polystyrene but, increasingly, more companies use starch-based compostable packaging peanuts.
The compostable packaging peanuts tend to be a bit more ivory in color (instead of the stark white polystyrene) and a little softer. You can confirm they are compostable, however, by dipping them in water. Once in the water, the compostable packaging peanuts break down pretty quickly while the polystyrene peanuts just hang out and float.
If you receive packaging peanuts with your online order, first try this science experience for kids all about testing and comparing polystyrene and compostable packaging peanuts. Through this simple science experiment, kids learn about comparison, identifying descriptive properties, and making hypotheses. The workbook also includes a fun STEM building activity to try with compostable packaging peanuts.
Once you've determined what type of packing peanuts you have, reuse them as much as you can. If you're sending gifts to others, use the packaging peanuts you already have before adding things like extra tissue paper.
If you have compostable packaging peanuts, don't throw them in the trash. Add them to your compost bin or let them dissolve in water before washing them down the drain (if you really don't have another use for them).
3. Upcycle Plastic Shipping Bags and Envelopes
Hang on to plastic shipping bags to reuse them. If you turn them inside out, they work perfectly well to ship something to someone new. Tape a piece of white paper onto the outside of the package to cover the sticker from the shipping company and you're off to the races.
Turned inside out, these plastic shipping bags could also be used to wrap holiday gifts. I've even used them to pass along items to new owners through my local Buy Nothing group.
4. Reuse Crinkle Cut Shredded Filler Paper
Many sustainably-minded companies have started filling smaller boxes with crinkle-cut paper instead of plastic bubble wrap or similar alternatives. I love this because I can add the filler paper to my compost bin if I don't need it.
However, it's also great to add a bit of color and protection when wrapping your own gifts. I wrapped a few handmade soap bars in an upcycled plastic fruit container and filled the container with crinkle-cut filler paper from a separate online order to protect the mini bars of soap.
If you receive crinkle-cut filler paper, don't toss it in your recycle bin. Save it for your own holiday wrapping and save money on tissue paper or similar paper you might otherwise buy in this scenario.
5. Compost or Repurpose Cardboard Shipping Envelopes
Cardboard shipping envelopes can also be reused as packaging for both sending something in the mail or as gift wrap. If you'd like, remove the stickers carefully so you don't rip the cardboard. You can also put a sticker or piece of paper right over any original stickers.
If you don't need them for packaging or they're not durable enough to be reused, be sure to compost them if you can. There are so many ways to compost at home that just about anyone can find a way to do it in their community. Here are 13 ways to compost at home you might consider if you're interested in trying it out.
6. Use Brown Kraft Paper Inside Shipping Boxes As Wrapping Paper
Many packages come with crumpled brown kraft paper inside to protect the product. This brown paper is a great alternative to wrapping paper. Although it is crumpled and won't have a perfectly clean look, incorporate the crumpled look as part of an intentional design if that's important to you. You could even have kids color or paint the paper to make it more festive or personal.
Over the years, we've collected quite a bit of this brown packaging paper. We don't need all of it for gift-wrapping, so we compost any excess brown paper. It's a perfect carbon compliment to the nitrogen in our compost pile from all of our food scraps.
7. Wrap Gifts in Decorative Filler Paper
A few weeks ago, I ordered several games as gifts from a company called Gamewright, one of our favorite game companies. Instead of using traditional kraft filler paper or plastic bubbles, they added decorative paper to protect the games.
The paper was covered in silly versions of vintage ads for things like baking soda, pickles, soup, and more. Although the paper wasn't compostable due to the sheen on it, it made great wrapping paper. I wrapped the games in the filler paper that came in the box, and it was so easy (not to mention free!).
The decorative filler paper definitely doesn't have any holiday theme to it, but I think that's great. It makes it perfect for use any time of year by people celebrating all sorts of holidays from a variety of cultures.
After wrapping up the games, I also used some repurposed twine to add a gift tag to the package. I punched these gift tags from the holiday cards we received in prior years. Check out the simple tutorial for these DIY gift tags you can use any time of year.
8. Upcycle Metallic Box Liners as Wrapping Paper
When we order food online, we often receive metallic liners inside the boxes that help regulate temperature. This has always been one of my very favorite ways to repurpose materials for zero waste gift wrap.
I stumbled upon it somewhat accidentally and love how it looks. It's completely unique and looks totally different than so many of the typical DIY gift wrapping ideas that abound on Pinterest and Instagram.
9. Layer Bubblewrap As Wrapping Paper
Bubble wrap makes a great gift wrap for kids, especially since they'll probably enjoy the wrap as much as the gift itself. Even as an adult I still enjoy popping those little bubbles. If you ship things yourself, hang on to the bubble wrap and reuse it to protect your precious cargo.
Bubble wrap also makes a really cool DIY gift wrap. You might need a couple of layers if you want the contents of the gift to remain a surprise. But bubble wrap covers a gift deceivingly well.
If you want some extra protection to cover the gift, add a layer of newspaper (the comics work well) or even the front of a holiday card under the bubble wrap to make it look more festive before wrapping your gift. I have been surprised how little you can see through it when it's wrapped around packages. It would be novel and fun even if it's not the most sophisticated of wrapping options.
10. Reuse Decorative and Festive Boxes and Containers
Some online orders come with sturdier boxes or containers. For example, pre-packaged gift baskets may come with an actual basket or sturdy box in which all the items were held together. Flowers or edible food arrangements often come in a reusable vase or pot. Don't dismiss these!
Keep vases or pots and reuse them exactly as they are or pass them along with fresh flowers or a snack as a gift to a family member or friend. We have used containers from edible food arrangements for Easter baskets for the boys for many years.
Reuse boxes for gifts as well. Alternatively, use them for storage organization in an office or closet. Save the money that you might otherwise have spent on store-bought organizers!
How do you repurpose shipping materials to reduce waste, especially around the holidays when so many items are ordered online? I'd love to hear all of your ideas in the comments.
If You Like Zero Waste Gift Wrap, You Might Also Like
How To Repurpose Greeting Cards As Upcycled DIY Gift Tags
30+ Eco-Friendly White Elephant Gift Ideas
Easy DIY Christmas Table Decorations: Upcycling Ideas for an Eco-friendly Holiday

About The Author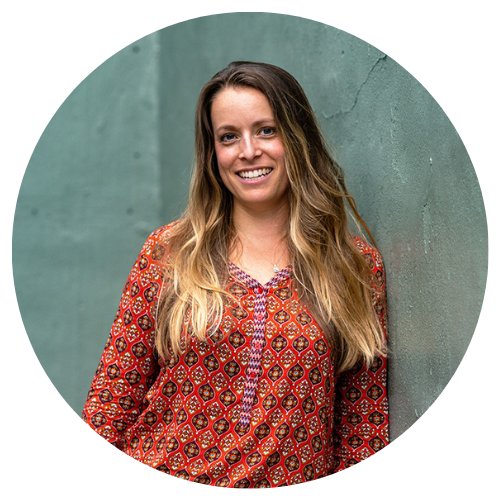 Jen Panaro
Jen Panaro, founder and editor-in-chief of Honestly Modern, is a self-proclaimed composting nerd and an advocate for sustainable living for modern families. In her spare time, she's a serial library book borrower, a messy gardener, and a mom of two boys who spends a lot of time in hockey rinks and on baseball fields.
You can find more of her work at Raising Global Kidizens, an online space to help parents and caregivers raise the next generation of responsible global citizens.