8 Ways To Reuse Shipping Material As Zero Waste Gift Wrap
Don't throw out the packaging from your online shopping deliveries! There are tons of ways to reuse and repurpose packaging from online shopping as zero waste gift wrap to reduce waste and save money. Check out these easy DIY gift wrap ideas to reuse shipping material as gift wrap.
Online shopping increases each year. Depending on how we shop in person and what we're buying, online shopping might be better for the environment.
Especially this year, we're all receiving more and more packages at our front door. Of course, all those orders come with a whole lot of packaging.
More and more companies use compostable packaging, less plastic, and lower waste alternatives. In many cases, however, those low waste packaging options are only as good as the consumers who get the packaging into the correct waste stream after they receive it. A compostable mailer or recyclable cardboard sitting in a landfill isn't all the helpful.
There are myriad zero waste gift wrap ideas that often highlight beautiful reusable products we have around our house that also serve as DIY gift wrap options. These are all wonderful!
Why not make it even easier to wrap gifts with limited waste by reusing shipping materials as zero waste gift wrap? How neat, right?
8 Ways To Reuse Shipping Material For Gift Wrap
As you unbox all the items you order online, try to reuse the packaging as well as care for the products. Many of the shipping materials can be used to wrap packages, a really easy way to repurpose these materials that are often single-use. Here's are 8 ways you can reuse shipping materials as zero waste gift wrap this holiday season (or any time of year!).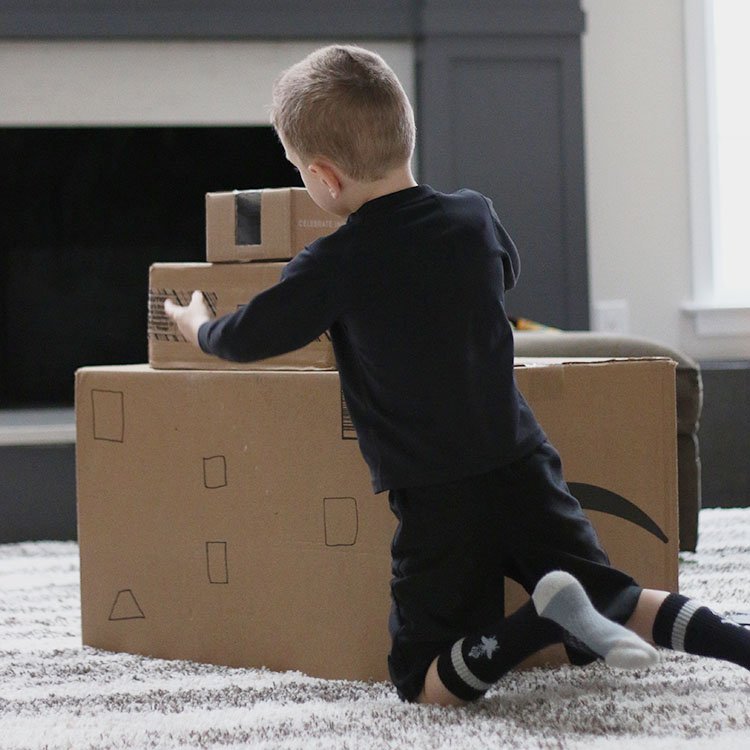 Cardboard Boxes
Cardboard boxes are so commonplace, and they can be really useful beyond their lives as shipping containers. They have so much value, I've written an entire blog post on ways to reuse and repurpose cardboard boxes. Cardboard boxes make great toys, home organizing containers, weed prevention materials, composting material, and more. Head over to check out 10 ways to reuse cardboard boxes.
As for gift wrap, don't buy another gift box again (depending on how much you buy online, I suppose). Reuse cardboard boxes from shipping as gift boxes to save money and reduce waste.
Packaging Peanuts
Packaging peanuts are the small, white filler pieces that some companies add to their boxes to protect items during travel. Traditionally, packaging peanuts are made of polystyrene but, increasingly, more companies use compostable packaging peanuts.
The compostable packaging peanuts tend to be a bit more ivory in color (instead of the stark white polystyrene) and a little softer. You can confirm they are compostable, however, by dipping them in water. Once in the water, the compostable packaging peanuts breakdown pretty quickly while the polystyrene peanuts just hang out and float.
If you receive packaging peanuts with your online order, first try this science experience for kids all about testing and comparing polystyrene and compostable packaging peanuts. Through this simple science experiment, kids learn about comparison, identifying descriptive properties, and making hypotheses.
Once you've determined what type of packing peanuts you have, reuse them as much as you can. If you're sending gifts to others, use the packaging peanuts you already have before adding things like extra tissue paper.
If you have compostable packaging peanuts, don't throw them in the trash. Add them to your compost bin or let them dissolve in water before washing them down the drain (if you really don't have another use for them).
Plastic Shipping Bags and Envelopes
Hang on to plastic shipping bags to reuse them. If you turn them inside out, they work perfectly well to ship something to someone new. Tape a piece of white paper onto the outside of the package to cover the sticker from the shipping company and you're off to the races.
Turned inside out, these plastic shipping bags could also be used to wrap holiday gifts. I've even used them to pass along items to new owners through my local Buy Nothing group.
Cardboard Shipping Envelopes
Cardboard shipping envelopes can also be reused as packaging for both sending something in the mail or as gift wrap. If you'd like, remove the stickers carefully so you don't rip the cardboard. You can also just put a sticker or piece of paper right over any original stickers.
If you don't need them for packaging or they're not durable enough to be reused, be sure to compost them if you can. There are so many ways to compost at home that just about anyone can find a way to do it in their community. Here are 13 ways to compost at home you might consider if you're interested in trying it out.
Brown Paper Inside Shipping Boxes
Many packages come with crumpled brown paper inside to protect the product. This brown paper is a great alternative to wrapping paper. Although it is crumpled and won't have a perfectly clean look, incorporate the crumpled look as part of an intentional design if that's important to you. You could even have kids color or paint the paper to make it more festive or personal.
Over the years, we've collected quite a bit of this brown packaging paper. We don't need all of it for gift-wrapping, so we compost any excess brown paper. It's a perfect carbon compliment to the nitrogen in our compost pile from all of our food scraps.
Metallic Box Liners
Especially when we order food online, we often receive metallic liners inside the boxes that help regulate temperature. This has always been one of my very favorite ways to repurpose materials for zero waste gift wrap.
I stumbled upon it somewhat accidentally and love how it looks. It's completely unique and looks totally different than so many of the typical DIY gift wrapping ideas that abound on Pinterest and Instagram.
Bubblewrap
At the very least, bubble wrap makes a great gift for kids. Even as an adult I still kind of like popping those little bubbles. If you ship things yourself, hang on to the bubble wrap and reuse it to protect your precious cargo.
Bubble wrap also makes a really cool DIY gift wrap. You might need a couple of layers if you want the contents of the gift to remain a surprise. But bubble wrap covers a gift deceivingly well. The gift recipient will probably also enjoy popping the bubbles after they open their gift.
If you want some extra protection to cover the gift, add a layer of newspaper (the comics work well) or even the front of a holiday card under the bubble wrap to make it look more festive before wrapping your gift. I have been surprised how little you can see through it when it's wrapped around packages. It would be novel and fun even if it's not the most sophisticated of wrapping options.
Reusable Boxes and Containers
Some online orders come with sturdier boxes or containers. For example, pre-packaged gift baskets may come with an actual basket or sturdy box in which all the items were held together. Flowers or edible food arrangements often come in a reusable vase or pot. Don't dismiss these!
Keep vases or pots and reuse them exactly as they are or pass them along with fresh flowers or a snack as a gift to a family member or friend. We have used containers from edible food arrangements for Easter baskets for the boys for many years.
Reuse boxes for gifts as well. Alternatively, use them for storage organization in an office or closet. Save the money that you might otherwise have spent on store-bought organizers!
How do you repurpose shipping materials to reduce waste, especially around the holidays when so many items are ordered online? I'd love to hear all of your ideas in the comments.