How To Make a DIY Egg Carton Succulent Garden
Are you looking for a sustainable craft to do with kids? Are you interested in a fun egg carton project? You'll love this cheap, creative DIY artificial egg carton succulent garden including a variety of different types of succulents!
This post contains affiliate links.
Confession: I am a serial succulent killer. I've drowned cacti, starved jade plants, and mysteriously yet fatally ticked off an aloe plant. I've murdered so many overpriced succulents, I'm waiting for my own Dateline episode.
That doesn't mean I don't love the look of those jaunty little desert plants, however, so when I found myself in the mood for an egg carton project, I decided to make a DIY artificial succulents!
Egg cartons are one of my favorite sustainable craft supplies for their versatility. They're biodegradable (making them suitable for gardening projects), sturdy, recyclable, and easy to paint, and their unique shape makes for endless possibilities.
If you've clicked through any of my projects here on Honestly Modern, you know I love diverting items from the waste stream for my creations instead of hitting the big box craft store down the road.
Everyone enjoys a good DIY, but so many art supplies are mass-produced with questionable processes overseas and utilize an absurd amount of landfill-bound packaging. Dealing with all that trash at the end of the project can be a downer.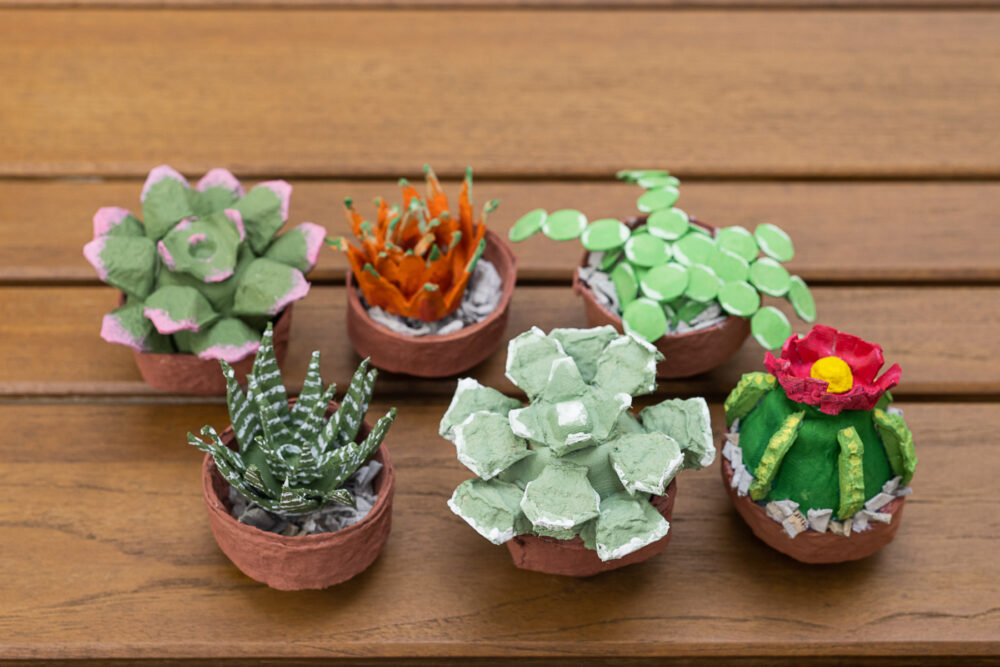 Here's Why You Should Try This Egg Carton Project (with Kids!):
Your recycling bin and trash can are full of ready-to-be-revamped items, saving you money and helping the environment.
The waste product from this craft is recyclable and compostable.
All you need is a few basic art supplies, like paint and a glue gun, that you probably have on hand.
You'll work your creative muscles.
You can teach your littles about the entertaining and playful aspects of an eco-friendly lifestyle.
You'll finally have beautiful succulents that no one can kill.
Are you ready to let your imagination run wild? Let's do this!
Note: This craft can be as intricate and time-consuming as you want. You can make 6 really detailed small succulents and pots with gravel as I did, or you can make one simple cactus and pot and be done. The world is your oyster!
Materials for DIY Artificial Succulent Garden from Egg Cartons: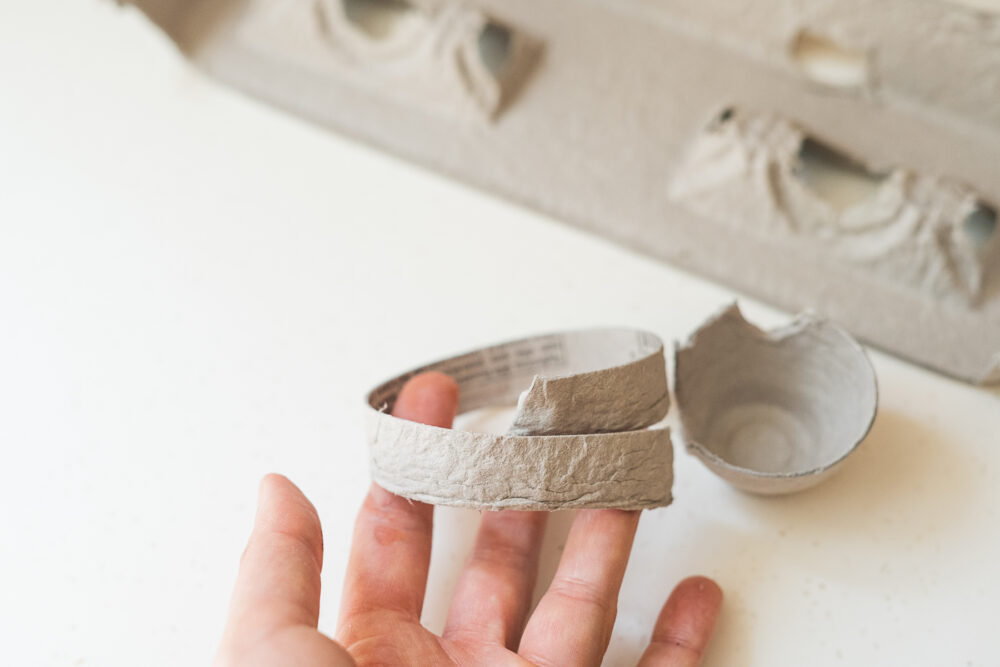 Instructions for DIY Artificial Succulent Garden from Egg Cartons:
If desired, pull up a photo of your favorite succulents or cacti for inspiration on your phone or laptop.
Take a moment to look over your egg cartons, making note of the patterns and shapes on the bottom of the carton, between the cups, and on the lid of the cartons. These parts are easily overlooked but make great succulent leaves or flowers.
How to Make Terracotta Pots from Egg Cartons
Cut free the egg cups to serve as the base of your pots from the corners of your egg carton(s) by cutting vertically between the adjoining egg cups. (You want to preserve as much of the height of your pots as possible.)
Then use a small pair of scissors to trim up the top and edges of your pots, but do note that it's ok for the top of the pot to have several dips from where it was attached to the other egg cups. The lip of your pot will cover these.
Cut an approximately 3/4 inch wide strip of cardboard that runs along the length of the lid of your egg carton.
Wind the strip of cardboard around your finger so it will more easily wrap around your pot.
Position the edge of your cardboard strip along the top edge of your pot and secure it with a dot of hot glue. Wind the cardboard strip around the rest of the pot, securing it in several additional places with dots of hot glue. Trim the strip as needed to create a flush circle.
Let your glue cool and set (usually 1-2 minutes), then paint your pots. Set aside and let dry completely.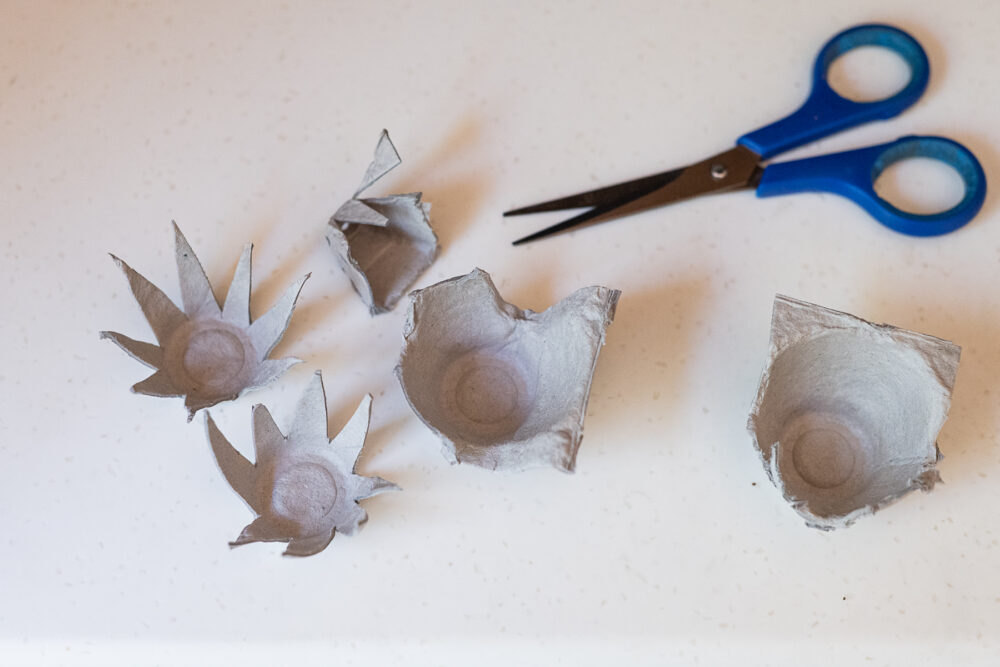 How to Make Succulents from Egg Cartons
Decide which succulents you'd like to make. Some DIY succulents are easier than others based on their shapes, so here are a couple of options:
Haworthia, Firestorm, or Aloe Egg Carton Succulent
If you're in a time crunch, opt for simple succulent patterns like the Haworthia or "zebra plant," a colorful firestorm plant, or an aloe. Cut free two egg cups from your carton. Then cut it into a "crown" shape by snipping away little triangle-shaped wedges.
When you're done, you can nest the cups into each other and secure them with a generous dab of hot glue. Let the glue set and cool for 1-2 minutes, then paint your succulent. They really pop if you add additional color to the tips or center.
Alternatively, you can create a similar shape by cutting one cup into a "crown," as described above, and then cutting a strip of flat cardboard from the lid. Cut away triangles from one length-wise edge of the strip, and then wind it into a spiral around your finger. Dab hot glue onto the flat edge, and quickly secure it to the flat bottom of the crown-shaped egg cup (see pictures).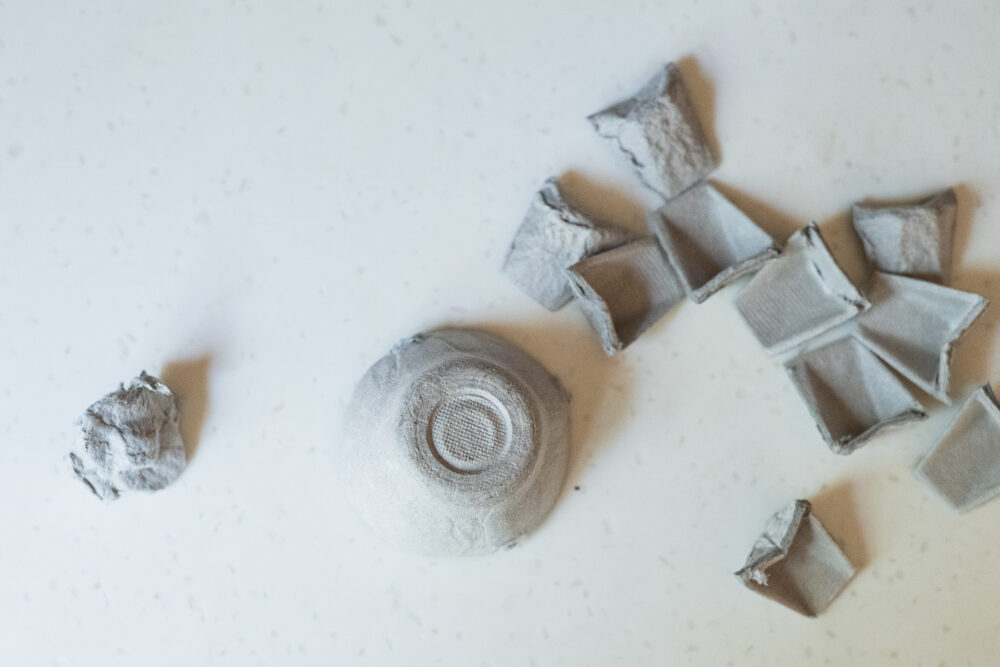 Echeveria Egg Carton Succulent
To make an echeveria, take an egg cup and trim the base until it fits inside a pot. For the leaves, choose a repeating pattern from your egg carton, such as the tabs on the closure of the carton's lid or the embossed center motif of the lid (see pictures).
Attach your leaves to the upside-down egg cup in two layers using dabs of hot glue. Use a square decorative piece for the center, cutting the seams of a square to form baby leaves if desired. (I used the top of the triangle spacer form between the egg cups. I flipped it upside down and cut the sides free.)
Apply your base layer of paint once the glue has set and then add highlights and details with a small brush. Let dry completely.
Jade or Trailing Elephant Egg Carton Succulent
To make a jade plant or trailing elephant bush, cut free an egg cup and trim it to fit comfortably inside your pot. Then cut several thin strips of cardboard to various lengths from your lid or closure tabs and glue them in a star pattern from the center of the bottom of the cup.
For the leaves, cut out the circle motifs from the bottom of your egg cups. Starting at the center of the "stem star," add your leaves down the length of the stems with a dab of hot glue. Trim any overhanging stem bits with small scissors. Add additional cardboard cutouts to the base of the plant (optional). Let your glue cool and set, and then paint your jade or trailing elephant plant. Use white highlights to create texture and volume (optional).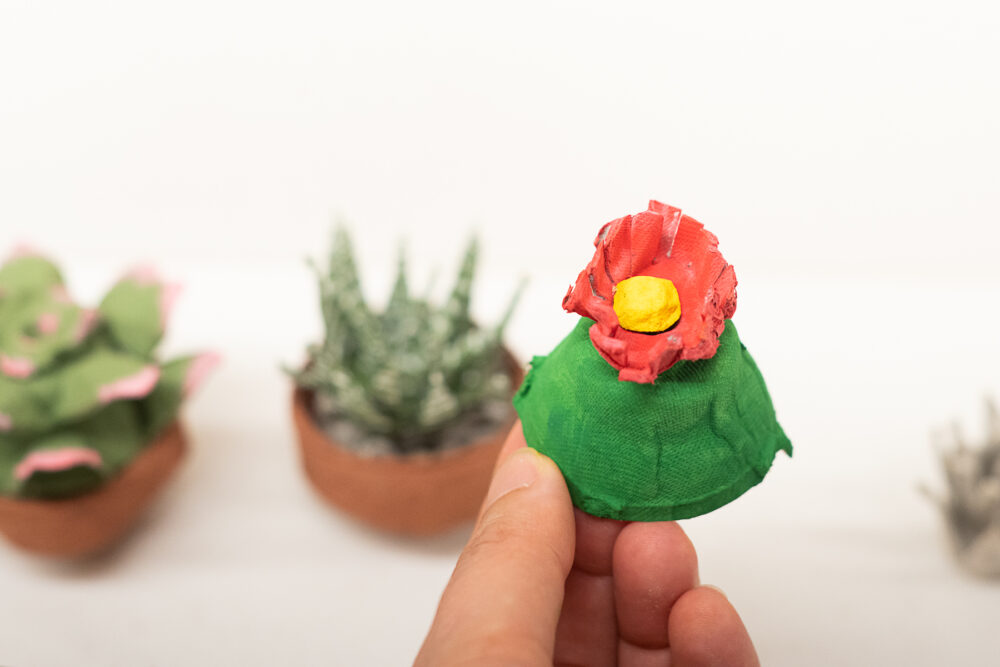 Baby Cactus Egg Carton Succulent
To make a baby cactus, you'll again start with an upside-down egg cup that's trimmed to fit inside your pots. Then use a repeating embossed motif for the ridges (mine came from the lid of the egg carton) and secure them with hot glue.
To make the flower, snip the top off of one of the triangular spacers between the egg cups. Flip the piece upside down, and cut little slits along the edges of the cube to form petals. Paint your flower the desired color, and either paint a yellow center or add a circular embellishment from the bottom of an egg cup and paint it yellow.
How to Assemble Your Egg Carton Succulent Garden
First, make your gravel. Pour the scrap pieces of cardboard into a small bowl and roughly chop them with a sturdy pair of scissors. Set aside.
Your succulents may fit easily inside your pots. If so, simply secure them with a few dabs of hot glue and assemble them.
If your succulents are slightly too big for your pots, you can cut a tiny slit into the side to compress the edge. Squeeze the top in as best you can, and then attach it with dabs of hot glue.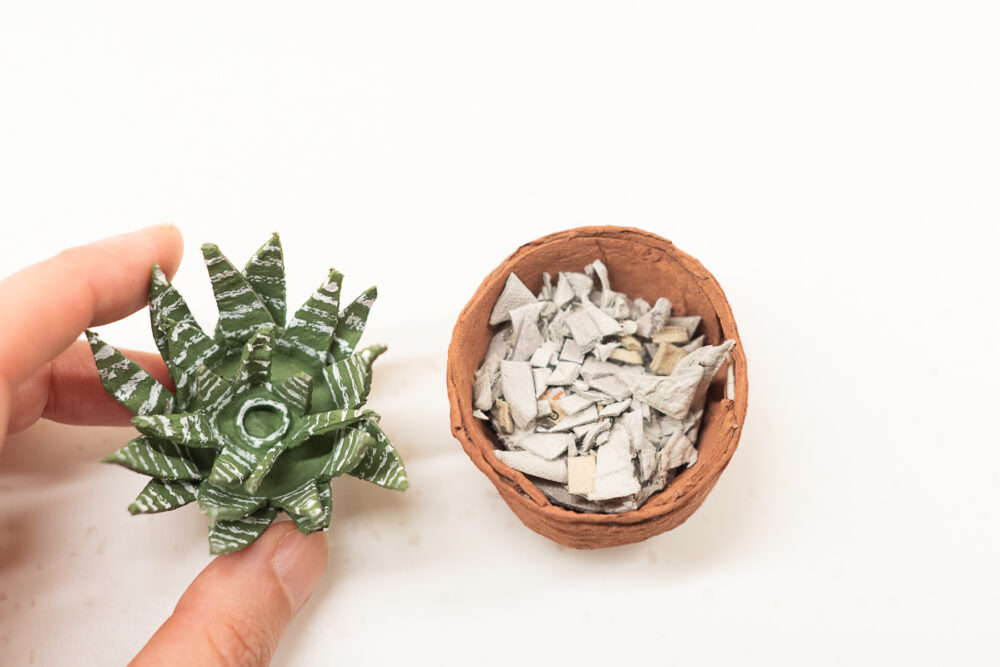 If your succulents are too small and sinking too deep into your pots, cut a circle of cardboard from your egg carton lid to serve as a riser. Working quickly, apply a generous spiral of hot glue to your riser and dunk it in the bowl of "gravel." Fill in any blank spots by adding dabs of hot glue and using the tweezers to attach extra gravel. Then glue the base of your succulent to the center of the gravel side of the riser with a generous dab of hot glue. Secure the succulent into the pot with a couple of dabs of glue around the edges of the riser.
Once your succulents are inside their pots, you can add decorative gravel or hide any imperfections in the "fit" by applying dabs of hot glue and gravel around the edge.
Enjoy! We've loved ours arranged along the mantle, clustered in the center of our dining room table as a centerpiece, and tucked into the corners of the window over the kitchen sink.
Once you're done enjoying your DIY egg carton succulents, you can use them as decorative flourishes on top of a gift wrapped with craft paper. You can also use them as place cards by adding your friends' and families' names to each pot and placing them in the center of each place setting.
All photos via Reese Moore Photography
A Note on Buying and Borrowing Supplies
Note from the Editor: We've included affiliate links to some of the products used in this project. If you purchase through one of these links, Honestly Modern earns a small commission that has no impact on your purchase price.
Overconsumption is one of the key contributors to the climate crisis. With a focus on eco-friendly living, reducing consumption is an important principle of our content. We encourage you to use supplies you already have on hand, borrow tools or materials from friends, and shop secondhand when possible. We love Buy Nothing groups for lending requests, shared a bunch of ways to get sustainable craft supplies, and we have a full guide on all things secondhand shopping.
For ease of knowing which products to use in tutorials, we have included affiliate links to specific product recommendations. Despite a preference to support other retailers besides Amazon, we do include links to Amazon products at times when other links are not reasonable or useful for readers. Sustainability requires finding a balance that works and is sustainable itself. Gather supplies in the way that is most accessible to you.
As you set out to complete your project, we encourage you to remember the many R's of sustainable living like reuse, reduce, recycle, repair, and more.
If you enjoyed DIY Egg Carton Succulent Garden, you may also enjoy:
Egg Carton Halloween Craft: Give Your Christmas Lights a Halloween Aesthetic
Everything to Know about Making Aromatic Homemade Fire Starters
Sustainable Gifts for Kids | Young Artist Edition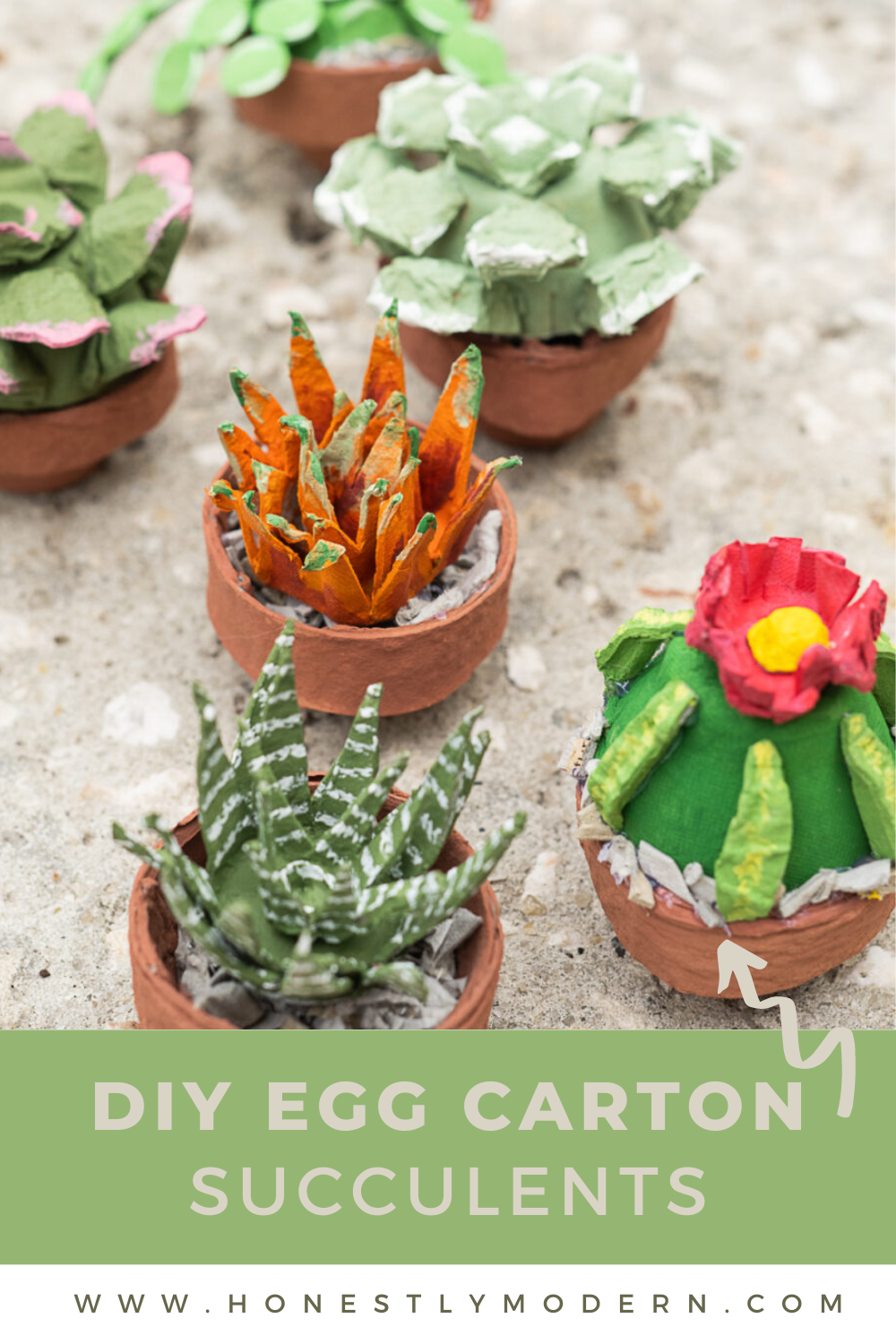 About the Author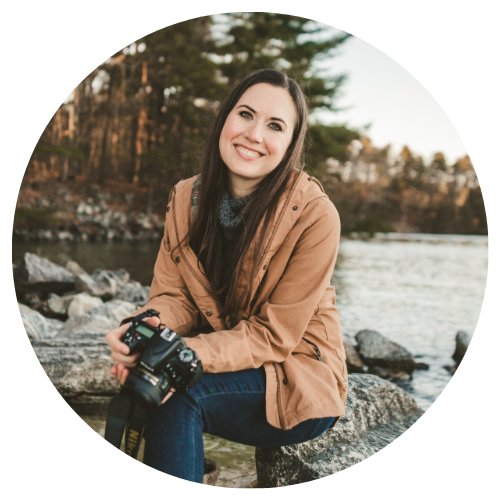 Reese Moore
Reese Moore is a photographer, content creator, and pickle connoisseur who divides time between Charleston and Lake Lure. When she's not behind the lens shooting stunning images for Reese Moore Photography, Reese loves to spend her time wandering the woods with her dog Gatsby or adventuring with her husband Logan in their Airstream Basecamp.