Simply Relish | Healthy No Bake Chocolate Almond Butter Granola Bites
This is part of a series, Simply Relish, about limiting waste and making the most of what we have in our kitchens to create simple and tasty recipes while reducing our impact on the planet.
Update: Since writing this post, I now make these tasty and zero waste granola balls at least once a month, and they get devoured every time!
Wouldn't it be nice if every time we wanted a snack, or a simple breakfast or not-too-sweet dessert, we could just pull it out of the fridge in no time flat? I've got a solution for you. Meet these quick and easy, no-bake healthier granola bites that can also be zero waste!
Short of a personal chef, we all need to expend a little effort to eat well. As life continues to move along and cooking isn't my only priority (you can relate?!), I've been experimenting with new recipes and ways to streamline the "grocery store to mouth in a tasty and respectable manner" process.
Homemade Granola Bars Coming Right Up
This past weekend, M asked me to make homemade granola bars. Not only might they make a good snack for him but also for the boys (and me of course, who am I kidding?).
I just finished reading I Quit Sugar by Sarah Wilson. I also read Year of No Sugar by Eve O. Schaub last year, and it's still resonating with me.
By no means am I ready to quit sugar. As Schaub mentions in her book, sugar is deeply ingrained in our culture, and I'm not currently committed enough to go all-in against The Sugar Machine that is our food system. I have, however, been working on a slow and steady decrease in the amount of sugar hiding in our cabinets and refrigerator. Sugar's a sneaky thing (and has a host of aliases) so it's not always easy to spot by quick glance.
If you've ever thoroughly read the ingredients of most store-bought granola bars, it's evident that they aren't really a healthy food. There's actually quite a bit of sugar in them, even when they're deemed to be the "healthy" alternatives.
After scanning Pinterest for some good recipes, I found nothing that seemed just right. Even the most seemingly healthy options had honey or maple syrup in them (i.e. liquid sugar), so I decided to take matters into my own hands.
Essentially, I pieced together a few notes of inspiration from other recipes, focused on using things we already had in our pantry, and decided to replace the honey or maple syrup component (the "glue") with almond butter. Nut butters are sticky, right?
What's the Verdict?
They turned out, in my opinion, really well! They're a little more fragile or crumbly than commercial granola bars because the almond butter doesn't act like quite as strong a glue as store-bought ingredients (though I'm not sure how I feel about eating "glue" so maybe that's a good thing). For preservation of both shape and freshness, we keep ours in the fridge in an airtight container.
I love the taste and the texture (and I'm a bit ruthless as a critic of texture… a.k.a. I'm picky). They're not overly sweet despite the small doses of chocolate chips and raisins. The almond butter makes me a bit thirsty (which I actually like, because I never drink enough water). And they definitely don't leave me with the 'craving for more' aftertaste of which so many sugary granola bars are guilty.
All in all, I think I nailed it. But you can certainly make them for yourself and be your own critic.
Aren't Make Ahead Meals and Snacks the Best?
Here's another added bonus about this recipe. You can make a giant batch all at once and freeze some of them for weeks or months later. Then, you really can just pull a little nugget of golden goodness out of your freezer at a moment's notice! You like that?
In our house, we double or triple many recipes and store a portion in the freezer for another week. That allows us to make two or three meals a week, pull a couple others out of the freezer, and we've got fresh and healthy food on the table just about every night.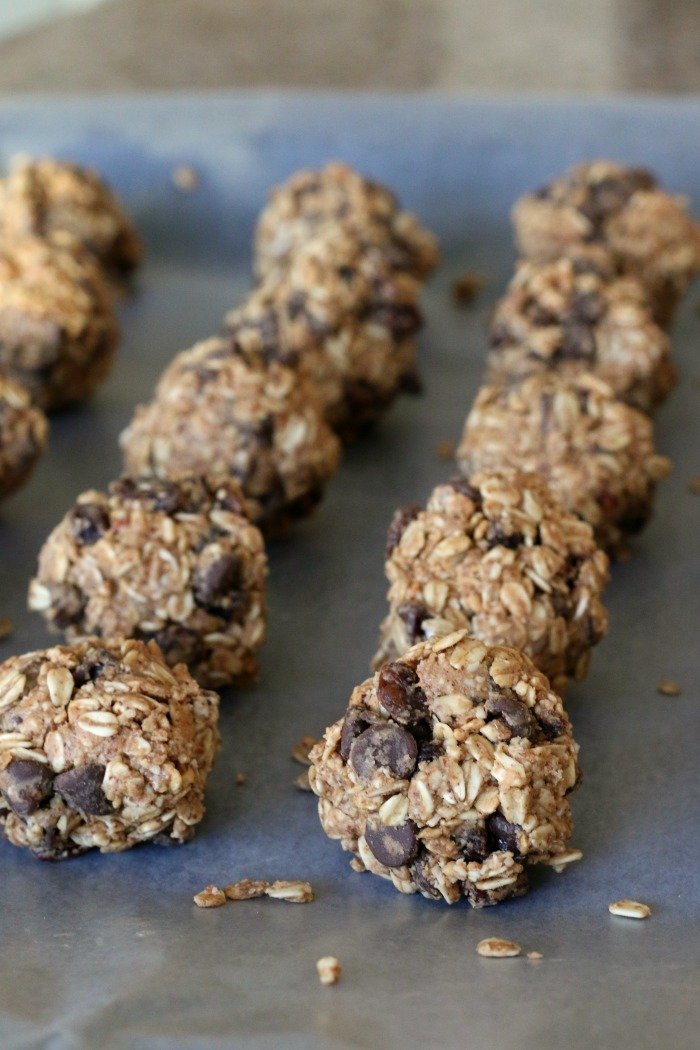 M and I joke that if we don't know what's for dinner by 8 am, there's little chance we're eating at home and even smaller likelihood it's something healthy. With two full-time jobs, we don't have time or energy to figure something out in the evening with four hungry stomachs patrolling the kitchen. We need to get home, know the plan, and execute.
Zero Waste Bonus
With some help from the bulk food section at your grocery store, this recipe can be made zero waste fairly easily. Bring your own containers or bags to snag each of the ingredients in the recipe and you're golden.
Here's to a little diligent planning earning us some seriously healthy grub!
Healthy No Bake Chocolate Almond Butter Granola Bites
Total Time:
3 hours
15 minutes
Ingredients
12 oz almond butter
2.5 cups rolled oats
1.5 cups raisins
4 oz chocolate chips
2/3 cups unsalted cashews, ground
Instructions
If your cashews are whole, like mine where, grind them up in a food processor. They'll be good to go in no time.
Stir all ingredients together in a large bowl, until well mixed.
Chill in the refrigerator for about an hour.
Form the mixture into balls about 1 1/2 inches in diameter. I found it was easier to push and hold the mixture together instead of roll them to create more sturdy bites.
Let set in freezer for 2 - 3 hours. Store in fridge for up to a week or so or in the freezer for up to 3 months.
Nutrition Information:
Yield:

24
Serving Size:

1 grams
Amount Per Serving:
Unsaturated Fat:

0g