Simple Garden-Fresh Homemade Pizza Sauce
Not sure how to use up all the tomatoes from your garden? Try this super simple and delicious homemade pizza sauce recipe to use up tomatoes before they go to waste.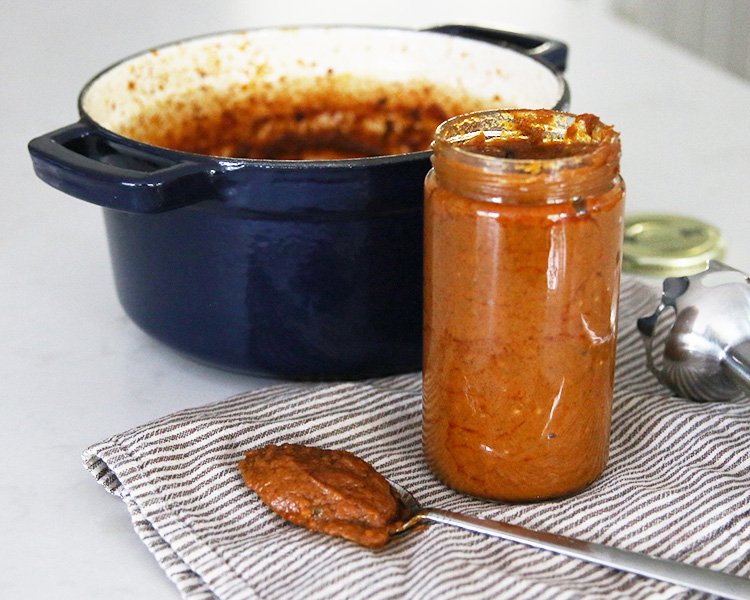 Each weekend, I browse the fridge to prepare our menu for the next week. I'm always on the lookout for produce that's nearing expiration. Last fall a container of a couple of dozen cherries tomatoes from the garden needed a little love or it would have been in the compost bin by the end of the week.
Using Up Tomatoes
I don't love tomatoes and planted them for J. He loves popping the little guys in his mouth but hadn't eaten many of this batch.
Not sure what to do with the tomatoes, I headed to trusty Google and landed on a recipe for pizza sauce, something we use regularly. I loved this idea (and it allowed me to used up the rest of the onion, a remaining bit of tomato paste in the fridge, and some of the red peppers in our freezer).
As with many of the "use it up" recipes I concoct when fighting food waste, I didn't follow the recipe specifically. I replicated the recipe for the most part, but the recipe below is adjusted based on what I had on hand. If you have slightly different ingredients that are close but not exactly the same as below, they will probably work just fine.
As an example of how I modify recipes to use up ingredients, I have made this twice. The first time I made it, I used 7 Roma tomatoes and 24 cherry tomatoes because that is what I had on hand. The second time I made it, I made a double batch and used 17 medium – large tomatoes I picked up from a late season farmers market. Be flexible and use whatever types of tomatoes you have available to you.
Fresh Herbs from Frozen Cubes
For the herbs, I used frozen cubes of parsley and basil for the first batch of sauce. Last fall, I harvested fresh parsley and basil from our garden. I froze it in ice cube trays, mixing each pocket of herbs with olive oil. I dropped three cubes of each herb directly into the mixture. The second time I whippped this up, I mixed frozen and dried herbs and it still turned out great.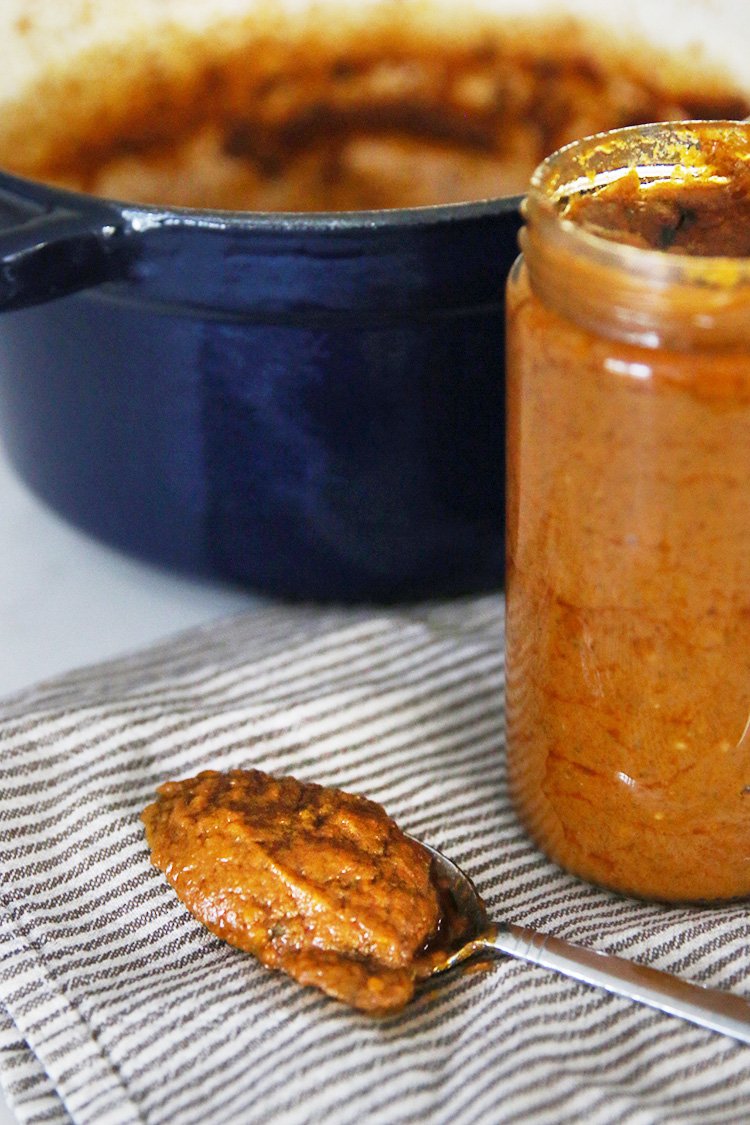 Storing Homemade Sauce
I typically make the pizza sauce in large batches. I store it in glass jars that we clean and reuse. I've shared ideas and tips for cleaning repurposed glass jars from things you already buy here.
I freeze most of the jars of pizza sauce from each batch and take them out as we use up what is in the fridge. I add DIY tags wrapped around the jar with a rubber band to label the jars. Once frozen, it can be hard to tell pizza sauce from tomato soup and other similar items, so the labels help keep my freezer stock organized.
The sauce stays fresh for a few weeks in the fridge but does not typically last as long as store-bought sauce because it has no preservatives in it.
We waste some 40% of the food produced in this country between the farm and our trash. Recipes like this one that use up and re-purpose items in a way that helps them last longer also help save us money and prevent food waste.
If you try it out, let me know what you think. Share it on Instagram and tag @honestlymodern so I can check it out!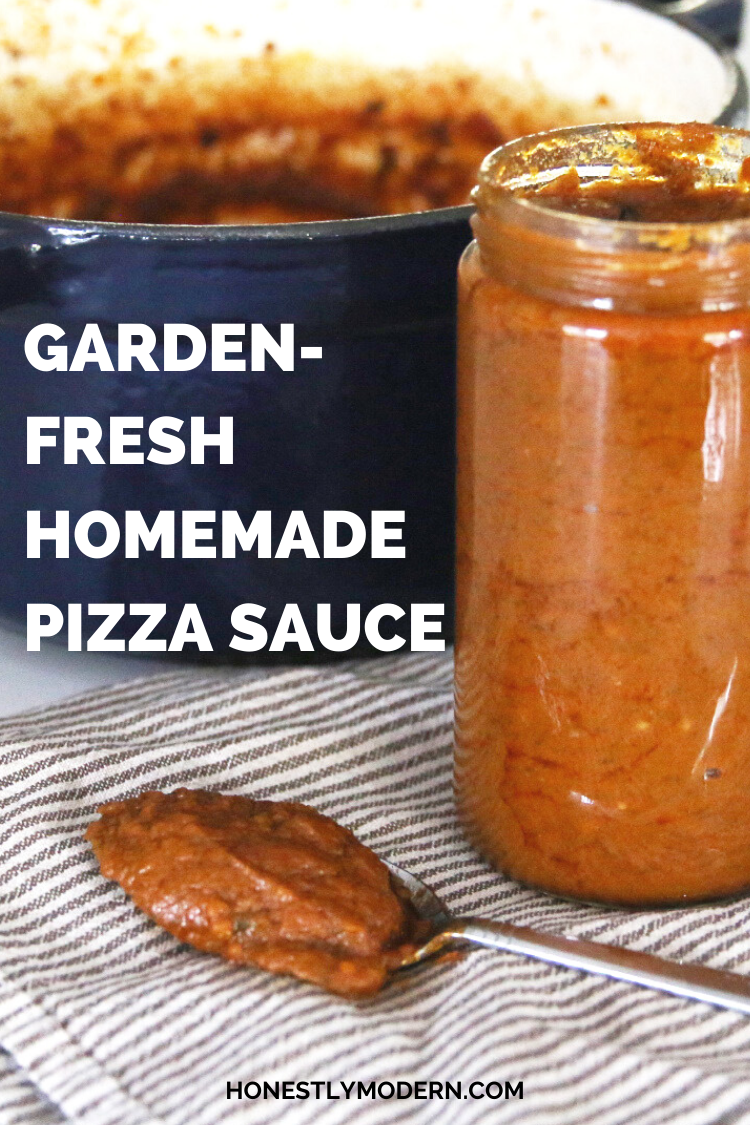 8-10 cups tomatoes (roughly chopped)
1/2 red pepper (sliced)
1/2 small white onion
3 cloves garlic (chopped)
3 tbsp fresh parsley (chopped (mine was frozen in 1 tbsp Olive oil))
3 tbsp fresh basil (chopped)
1 tbsp tomato paste (optional)
1 tsp salt
Add tomatoes through garlic to a dutch oven or medium sauce pan. Saute on medium-high heat until all items are softened, about ten minutes. Stir occasionally so the mixture does not burn to the pan. Add a cup of water if it starts to get dry.
Add tomato paste, parsley, basil and salt. Reduce heat and let simmer for about 3 hours. Stir occasionally throughout the simmer time.

After simmering, use a hand blender (or add the mixture to a regular blender) to make the stewed ingredients into a puree. Serve on pizza (or any other way you want to enjoy this deliciousness)!
Reduce food waste by using ingredients that you have on hand. You can remove or add the peppers, use different types of tomatoes, or swap dry and fresh herbs (though dried herbs are much more potent so you need much less dried herbs to replace fresh herbs).
In this type of recipe, the amount of ingredients used for the veggies and the herbs depends a lot of preference for taste. Feel free to get creative and just use this recipe as inspiration to make your own pizza sauce!