Chocolate & Peanut Butter Chip Cookies
Most of us can agree that chocolate and peanut butter is a pretty divine combination. It's definitely a popular request in our house, especially when it comes to dessert. If you're a fan of marrying chocolate and peanut butter in a sweet treat, be sure to try these peanut butter chip and chocolate chip cookies with sea salt. They were delicious!
I bake chocolate chip cookies once every few weeks. If I'm feeling particularly ambitious, I might make these salted, triple chocolate Nutella stuffed cookies or try a slightly fancier version of chocolate chip cookies depending on what we have on hand.
A few weeks ago, we opted for a new modification to our standard chocolate chip cookie recipe. I had great intentions of using peanut butter chips in a different recipe, but when my family caught wind of this addition to our baking ingredient pantry, those peanut butter chips disappeared quickly.
Before I got out around to the other recipe, my son dumped the peanut butter chips into the chocolate chip cookie dough. My boys are no stranger to dipping their hands into bowls of batter and dough. I bake with my kids regularly, and they love to personalize their favorite desserts. Thus, it came as no surprise when one of them made the executive decision to add peanut butter chips to our classic chocolate chip cookie dough recipe.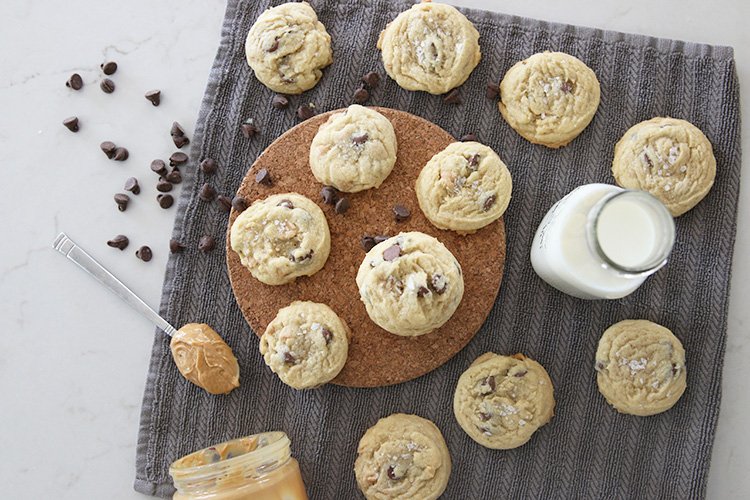 I started baking with my older son when he was just over a year old, and we haven't looked back. Just before he turned two, we even took a kids' cooking class together.
Although there are many things kids that young can't do in the kitchen, you might be surprised how much baking young kids can do with a few special tools, plenty of adult supervision, and a pinch of patience. They can also learn a thing or two about low waste baking habits like the ones in my Comprehensive Beginner's Guide to Zero Waste Baking while diving into dough and batter.
I've shared a whole bunch of tips for baking with kids that I've learned over the last seven years baking with my boys. First and foremost, I don't force my kids to come into the kitchen with me. I invite them in to cook or bake with me and don't push them to participate if they pass up the opportunity.
For now, they are young enough that I want the experience to be fun and not a drag. They will learn the necessary life skills in the kitchen in due time as they get older. If I ensure that they enjoy the experience as a preschooler or elementary-aged child, hopefully learning important basics about preparing their own healthy food in the future will come with ease.
Our Peanut Butter Chip & Chocolate Chip Cookies with Sea Salt
After the ingredient audible, our creative cookies turned out amazing. They were so delicious, and not a single person complained about the chocolate and peanut butter combination. (Big surprise.)
If you want to bake with your kids, I highly recommend checking out all the tips about baking with kids I've shared before and trying this peanut butter chip and chocolate chip cookie with sea salt recipe. The end product will be so tasty, they won't even realize how much they are learning on their way to chocolate and peanut butter indulgence.
How have you welcomed your kids into the kitchen lately? Do you have any favorite kid-friendly recipes that are always a hit for your family? Share them in the comments below so we can all experience the joy of baking with kids.

Peanut Butter Chip and Chocolate Chip Cookies with Sea Salt
Ingredients
2 3/4 cups of flour*
1 tsp baking soda
1 tsp salt
1 cup (2 sticks) of butter, softened to room temperature
1 cup of brown sugar
1/2 cup of granulated sugar
1 tsp vanilla extract
2 eggs
2 cups chocolate chips (we use milk chocolate or semi-sweet, either works)
1 cup of peanut butter chips
Instructions
Preheat oven to 350 degrees.
In a medium sized bowl, combine the flour through salt and set aside.
In a large bowl or stand mixer bowl, combine the butter, sugars, and vanilla extract. Mix together until fully combined.
Add one egg and mix until full combined.
Add the second egg and mix until fully combined.
Slowly add the the flour mixture while the stand mixer continues to mix the dough (or add in about 1/4 cup at a time and mix with each addition if not using a stand mixer). Combine ingredients fully, scraping edges of bowl if needed, to ensure that all ingredients are incorporated.
Add chips and mix together.
Grease pan or use a silicone baking mat. I think the silicone baking mat helps the cookies bake a bit better and reduces waste, but use what you have available.
Scoop balls of dough that are about 1" wide in diameter and place on baking sheet.
Bake for 9-11 minutes or until edges of cookies just start to brown. The tops may look a bit undercooked but this is ok. This will result in softer cookies.
Let the cookies cool and set for at least 3-5 minutes.
Enjoy!


Notes
*The required amount of flour for fluffy, soft cookies can vary depending on the altitude where you live, the weather, etc.. This is a starting point that we use, but you may use a little more or less as you try this recipe a few times. If you find the cookies turn out flat, you need more flour. If they are too dense, try a little less flour.
Recommended Products
As an Amazon Associate and member of other affiliate programs, I earn from qualifying purchases.