Candy Cane Kiss Holiday Cookies
Here's a simple yet really festive holiday cookie that you can make this season without sending (almost) any waste to the landfill. Forgive the wrapper from the butter ending up in your trash, and you have a great zero waste holiday cookie to share with family and friends.
This is part of a series, Simply Relish, about limiting waste and making the most of what we have in our kitchens to create simple and tasty recipes while reducing our impact on the planet.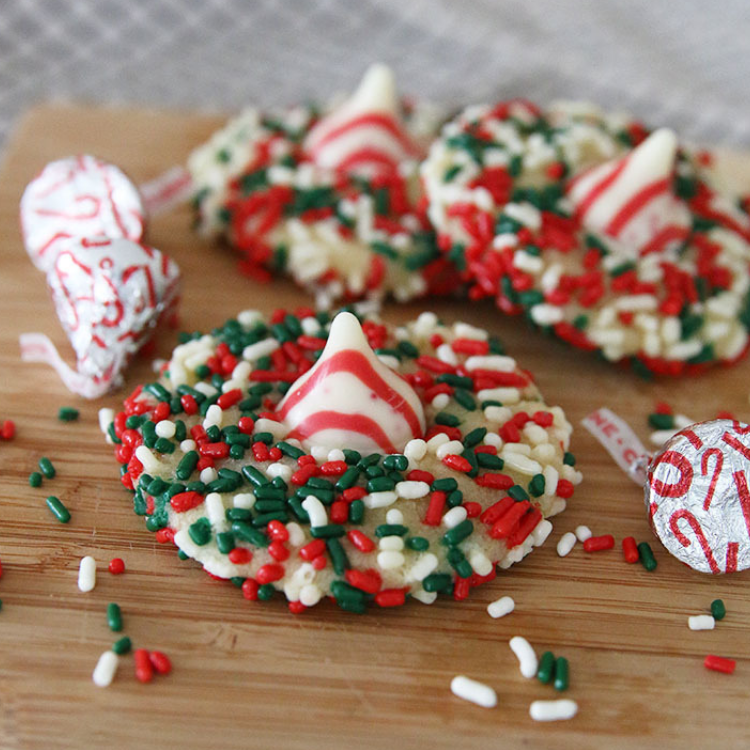 Each Christmas, the family that lived next door to my parents brought over a plate of a dozen or so holiday cookies of all different varieties. The idea of making a plate full of various holiday cookies seemed like so much fun. The time and leftover mess of creating a dozen batches of different types of cookies, however, seemed entirely overwhelming and… not so much fun.
Although we won't be making 12 different types of holiday cookies this year, I knew it would be fun to make a couple of zero waste and festive holiday treats to celebrate the season.
In our house chocolate is definitely the queen of desserts; without chocolate is it even dessert?! I'm kidding of course; there are many awesome desserts that don't include chocolate. But in our house, chocolate always takes the cake.
After making super simple 4 ingredient zero-waste peppermint bark, we pulled out the electric stand mixer and whipped up a batch of zero waste peppermint candy kiss thumbprint cookies.
For all the details on zero waste baking ingredients, tools and more, head to my Comprehensive Beginner's Guide to Zero Waste Baking. I shared all the details about how I get my each of my ingredients low or zero waste.
By the time I'm sharing this with you, all of the peppermint bark and peppermint candy kiss thumbprint cookies are gone. They've been lovingly devoured! Until next Christmas… (or next week, when I bake another batch… you know).
More Eco-Friendly Holiday Cheer From Ethical Writers & Creatives
I've collaborated with several other eco-friendly and zero waste creators from Ethical Writers and Creatives who I know you will love. They are also sharing ideas about how they celebrate the holidays in an eco-friendly way. Be sure to check out all of their posts!
The Green Hub | Easy Eco-Friendly DIY Christmas Tree
Going Zero Waste | The Ultimate Guide to an Eco-Friendly and Zero Waste Christmas
Mindful Mom Blographer | How to Have a Holly, Jolly Sustainable Christmas (That Aligns with your Values)
Lindsay Dahl | The Ultimate Holiday Gift Guide for the Socially Conscious Consumer
If You Liked This Post, You Might Also Like
Comprehensive Beginner's Guide To Zero Waste Baking
Simple 4-Ingredient Zero Waste Peppermint Bark
10 Sugar Sweet Zero Waste Valentine's Day Ideas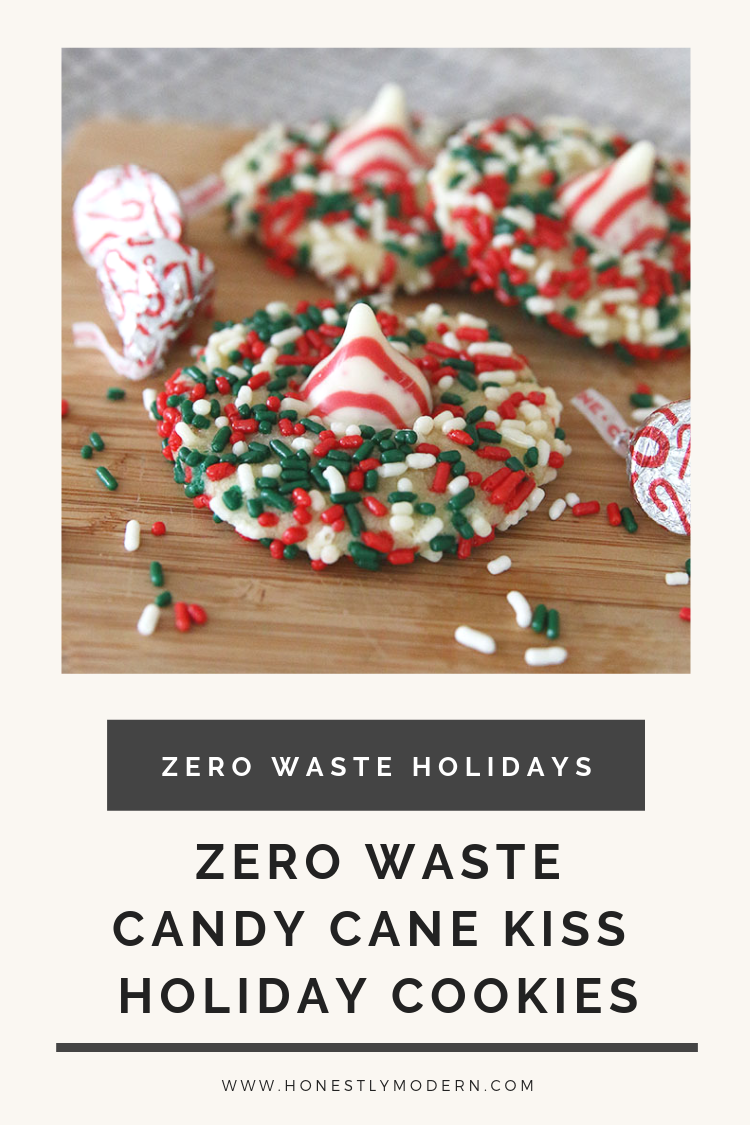 Zero Waste Peppermint Candy Kiss Thumbprint Cookies
Chilling Time:
45 minutes
Total Time:
1 hour
15 minutes
Ingredients
5 tbsp unsalted butter, softened to room temperature
1/2 cup sugar
1 egg yolk, room temperature
1/2 tsp vanilla extract
3/4 cups flour
3/8 tsp baking powder
1/8 tsp salt
1/4 cup sprinkles
12 Candy Cane Hershey Kisses
Instructions
Preheat the oven to 350 degrees F. Cover one large baking sheet with a silicone baking mat. Set sprinkles aside in a bowl.
Combine the flour, baking powder and salt in a medium bowl and set aside.
In a stand mixer with the paddle attachment, mix the butter and sugar on medium speed for 5 minutes. Add the egg yolk and vanilla, then continue to mix on medium-high until the ingredients are fully combined.
Add the flour mixture to the wet ingredients and mix on low until combined. This produces a thick dough. Chill for at least 45 minutes.
Roll dough into balls that are slightly less than one tbsp in size, and then roll the dough balls in the sprinkles.
Bake for 8 - 10 minutes. The cookies will look very under baked, which is good.
Let the cookies cool for 5 minutes on the baking sheet, and then press a candy cane Hershey Kiss into the center. Immediately put the cookie sheet in the freezer for 5 minutes to prevent the kisses from melting.
Nutrition Information:
Yield:

12
Serving Size:

1 grams
Amount Per Serving:
Unsaturated Fat:

0g