11 Sweet Ideas for An (Almost) Zero Waste Valentine's Day With Kids
Try one of these simple zero waste Valentine's Day ideas that are fun, inexpensive, and great for everyday families. They all have a little extra sugary sweetness the whole family will love.
Do you exchange gifts for Valentine's Day? Historically, my husband and I haven't been big on gift exchange, especially outside of Christmas and birthdays. As we've started to think about gift-giving in broader terms beyond just buying something new, we've been landing on small and more meaningful tokens of appreciation to share as gifts with each other.
We both have a serious sweet tooth (mine worse than his), and we've passed it along to our kids. This Valentine's Day, consider trying one of these sweet and zero waste (or almost zero waste) simple and inexpensive gift ideas. They are all easy and simple enough to make with kids.
11 Sweet Ideas For An (Almost) Zero Waste Valentine's Day With Kids
Pancakes with Maple Syrup
As a kid, I remember having one friend who always had real maple syrup when we ate breakfast at her house after sleepovers. I grew up on pancake syrup and didn't understand the maple syrup affinity. It tasted kind of weird to me.
Since those days, I've become a total convert. Pure maple syrup tastes so. much. better, and I'll never go back. We can buy maple syrup for many local and regional farms. It's often available in glass bottles too, which is a great zero waste win!
While I'm a fan of maple syrup on pancakes, does anyone really like breakfast in bed? I really don't like food anywhere near my bed. I definitely love a breakfast production, and especially one I'm not leading, so bring on the pure maple syrup and the buttermilk pancakes… just not in my bed.
If your kids are up for it, have them help make the pancakes. Fluffy buttermilk pancakes are a pretty easy recipe to whip up with just a bit of help from an adult when it's time to flip them on the stove. You could also try something fancier, like these whole wheat banana spice pancakes if you want to up the ante.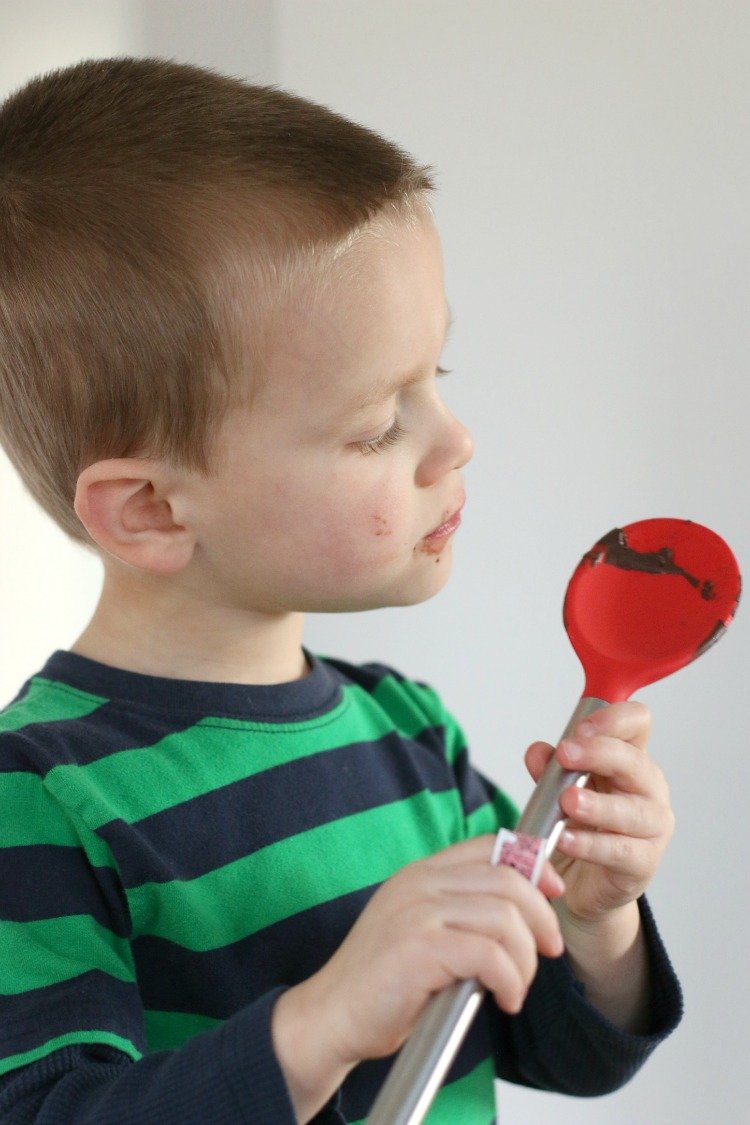 Fair Trade Chocolate
I know this is a bit cliche, but who doesn't love good chocolate? It's popular for a reason. I'm essentially an addict, so maybe I'm not the most objective chocolate promoter. On the contrary, I do have a lot of experience with the sugar "drug" which makes me a well-informed advocate of the stuff. I've even taken the liberty of doing unscientific taste tests a time or two.
Litterless wrote a great article contemplating zero waste chocolate and the pros and cons to weigh when deciding how to indulge.
Biscuits and Honey for Breakfast
I love a good biscuit, and I suspect I have a lot of company. Biscuits and honey is a great, unique way to celebrate Valentine's Day with someone you love, sharing something delicious, that isn't overly sweet.
Most of us have pretty mundane breakfasts each day. Breakfast seems to get the shaft because we're always in a rush to start our day. Set aside a few extra minutes to make fresh biscuits that make one morning a little extra special. I've been eyeing these biscuits for a while. It's too bad Landen can't make them for me. 🙂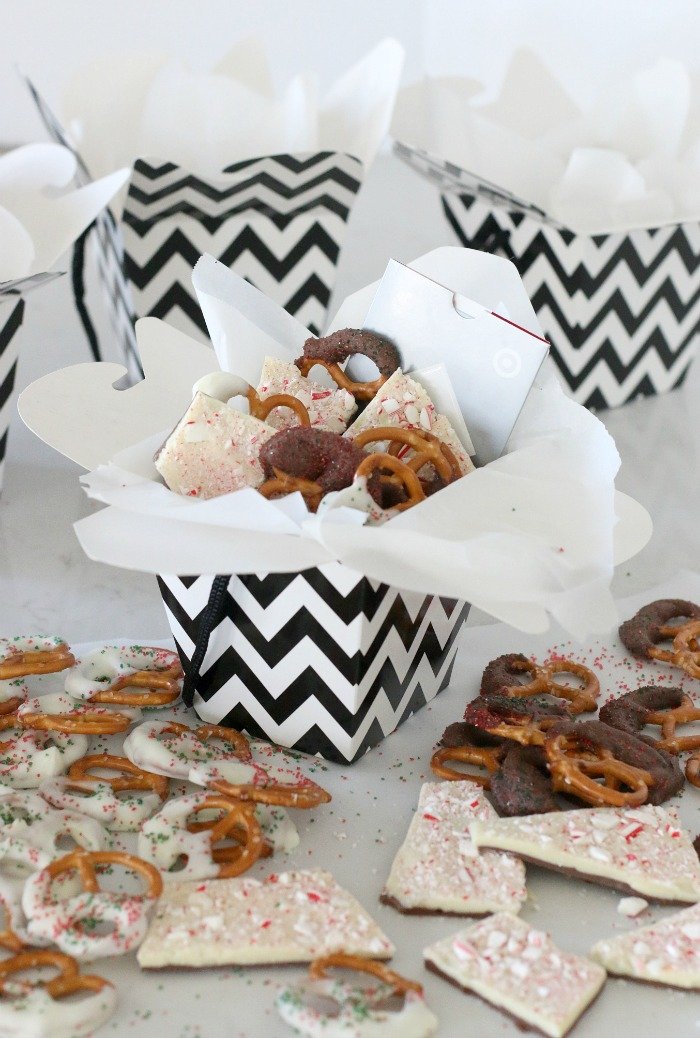 Homemade Chocolate Covered Pretzels or Chocolate Covered Raisins
You can buy chocolate-covered raisins or chocolate-covered ptrezels from the bulk section if you're in a bind, but I think they're super fun to make with kids. My boys think it's just divine when they have a spoon, a bowl, and a bag full of chocolate to melt (that they know they're going to get to eat).
Be sure to use chocolate wafers or baking bars intended for melting because they create a better layer of chocolate that hardens faster and more easily. We used Ghirardelli Dark and White Chocolate Melting Wafers. They were delicious and really easy to work with.
If you only have chocolate chips available, add a few tablespoons of butter when you melt the chocolate. This will help create smoother melted chocolate in which to dip your goodies.
Whether you buy chocolate-covered snacks or whip them up on your own, gift them in small, decorated tins or little mason jars. The boys and I made these holders with small cans and washi tape. They had a blast putting them together, and I loved how they turned out.
Honey Bee with Heart Wings
What zero waste aficionado doesn't love a good toilet paper tube craft? Turn an empty toilet paper roll into a honey bee with heart-shaped wings. Fill it with candy from the bulk section of your grocery store by covering the ends with paper. It's super easy and something you can make with little ones too!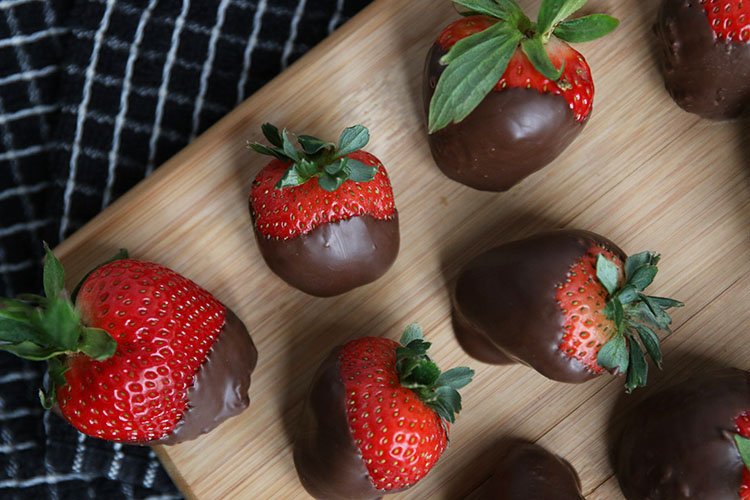 Homemade Chocolate Covered Strawberries
I'm not such a huge fan of store-bought chocolate covered strawberries. I don't like the texture of strawberries after they've been covered in chocolate for very long.
But homemade chocolate-covered strawberries, just after the chocolate sets, are delicious. They only take about 30 minutes to make and are really easy, so you could definitely do this the day you want to eat them.
The boys and I have made chocolate covered strawberries a couple of times. We used the same Ghirardelli Dark and White Chocolate Melting Wafers for these treats that we used for the chocolate covered pretzels.
Grab strawberries from the farmers' market if they are available. Alternatively, grab a container of strawberries from the grocery store and reuse the clamshell as a gift box to share your chocolate-covered strawberries with someone special.
Many bulk food sections sell chocolate wafers, so there's a decent chance you can make these a simple zero waste treat for Valentine's Day!
Sugar Scrub in a Mason Jar
Sugar scrub might be the easiest DIY project you've ever done. To keep this simple, try my two (or three) ingredient sugar scrub recipe that I also shared on Instagram. It's really as easy as mixing sugar and melted coconut oil. My six-year-old son and I made it together a couple of weeks ago in less than two minutes.
If you prefer something with a bit of color, some grocery stores sell sugar scrub mixes that come in various colors. The boys each wanted a colored sugar scrub of their own recently, so I let them choose a bit of their own sugar mixture. We brought it home, added coconut oil, and sent the boys off to get squeaky clean (and well exfoliated).
DIY No-Sew Drawstring Bag
Make a small bag from leftover fabric scraps, an old t-shirt, or any fabric-like material you've got on hand. You can see a tutorial for an easy version that requires no sewing and isn't all that large. Fill it with a Target gift card and a handful of small sweets for a teacher or babysitter.
Sugar Cookies (or Cookie Cutters)
Recently we made these soft ninja sugar cookies. Opt for a heart cookie cutter with pink or red icing and you're good to go for Valentine's Day.
When deciding how many to make, be sure to consider the size of the batch of cookies. Our recipe makes quite a few cookies, so sometimes we only make a half batch or plan to freeze several of them for another time. I hate seeing food go to waste. Don't forget to be cognizant about what you'll actually eat (or share with friends) before the cookies get stale.
If your Valentine is the baker, consider buying metal heart-shaped cookie cutters for them or finding something secondhand. Metal cookie cutters often work better than the plastic ones, and they don't use petroleum in production.
DIY Honey Vanilla Lip Balm
The ultimate natural sugar and sweetener, honey also makes a great addition to lip balm. I recently bought the materials to make this Honey and Vanilla Lip Balm, and the boys are pumped to make their own as well. Especially this time of year, I feel like I could always use an extra lip balm tube to keep in my bag or on my desk. They never seem to be where I need them when I need them.
Chocolate Fondue
A couple of years ago, we made our own version of simple chocolate fondue with the boys. We dipped fruit and marshmallows into a homemade chocolate sauce. It got a bit messy, but it was so good and the boys absolutely loved it!
Check out the recipe and a few highlights from our kid-friendly chocolate fondue fun. If you're feeling ambitious, make your own homemade marshmallows to really step up your sweets game.
Each of these gifts are easy to share with family and none are particularly expensive. Several you can probably pull together with things you already have at home. A few of the ingredients come in packaging, but you can find pretty much everything either package-free or in recyclable packaging.
Although we aren't big on gift-giving, especially for holidays outside of birthdays and Christmas, making a little production out of smaller holidays mixes up the mundane. It adds a little spice to the everyday and gives everyone a reason to smile.
If you share one of these fun ideas with your family, let me know how it goes. Tag me on Instagram or Facebook at @honestlymodern so I can see what you did!