Easy Chocolate Fondue with Kids
Looking for a perfect low waste Valentine's dessert with kids? Try this homemade chocolate sauce to pair with fresh fruit and, if you're feeling generous, a handful of mini marshmallows. It's simple and a big hit with the little ones!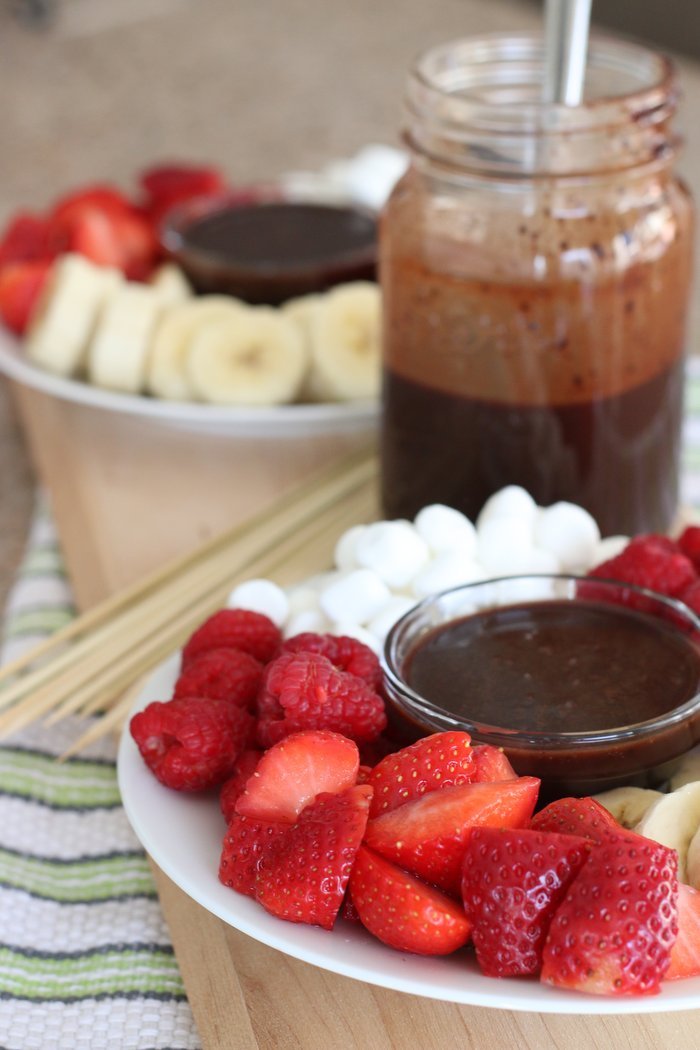 M and I have never been big on making a production out of Valentine's Day. I find it's often full of small, prie fixe menus I don't really like with higher-than-normal prices… simply because restaurants can do it and there's demand for it.
As I was thinking about our plans for this year, I thought it would be nice to do something fun and simple with the boys. Of course, my chocolate addiction kicked in and led me down a sweet path. Despite my sweet tooth, I aimed for a treat that was a little healthier than the typical desserts we have like chocolate peanut butter chip cookies or caramel-covered brownies.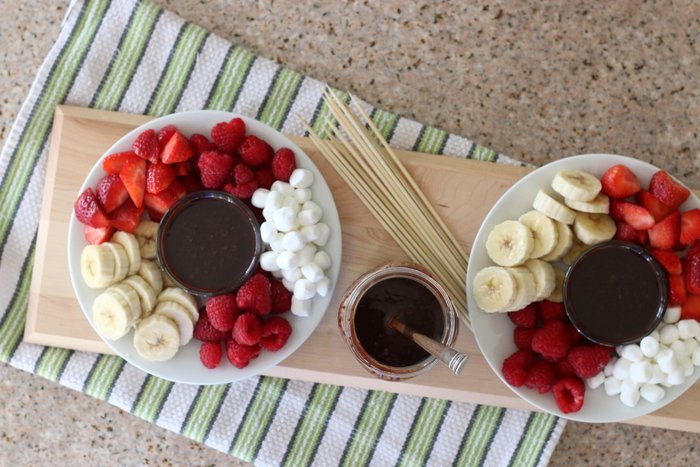 I decided to try fresh fruit dipped in a homemade chocolate sauce. Even though it's not exactly fondue, I'm calling it fondue because it sounds much fancier. I ended up adding some mini marshmallows, which T loves, so that was a big win. He basically inhaled them.
J focused on the strawberries and bananas and left the marshmallows pretty much untouched. Leaving the marshmallows for dead is definitely M's influence. I might have a weakness for marshmallows too…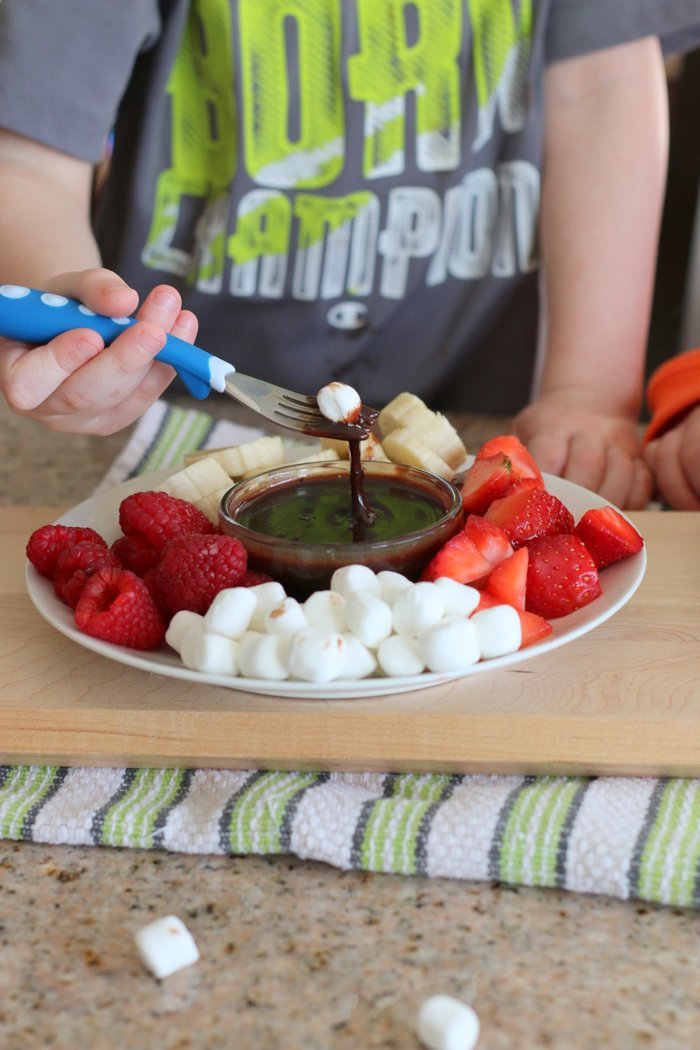 In any case, the healthier yet still indulgent dessert was a huge hit with the boys. We even had some extra chocolate sauce that we saved in the fridge for dessert a couple nights later.
Valentine's Day can become a really big headache, and I definitely don't think it should be. So if you want a low-key but fun and festive snack, give this a try. It's super easy and you can use whatever fruit suits your fancy.
Fruit & Treats To Pair With Chocolate Fondue
You can find the recipe for the chocolate sauce at the end of the post. Pair your chocolate sauce with whatever treats you like, but here are a few ideas to get you started.
Fruit To Go With Chocolate
Strawberries
Raspberries
Bananas
Blueberries
Pineapple
Mango
Apple Slices
Blackberries
Kiwi
Peaches
Treats To Go With Chocolate
Marshmallows
Shortbread Cookies
Pretzels
Rice Crispy Treats
Pound Cake
Graham Crackers
Pirouettes
Madeline Cookies
Popcorn
Bacon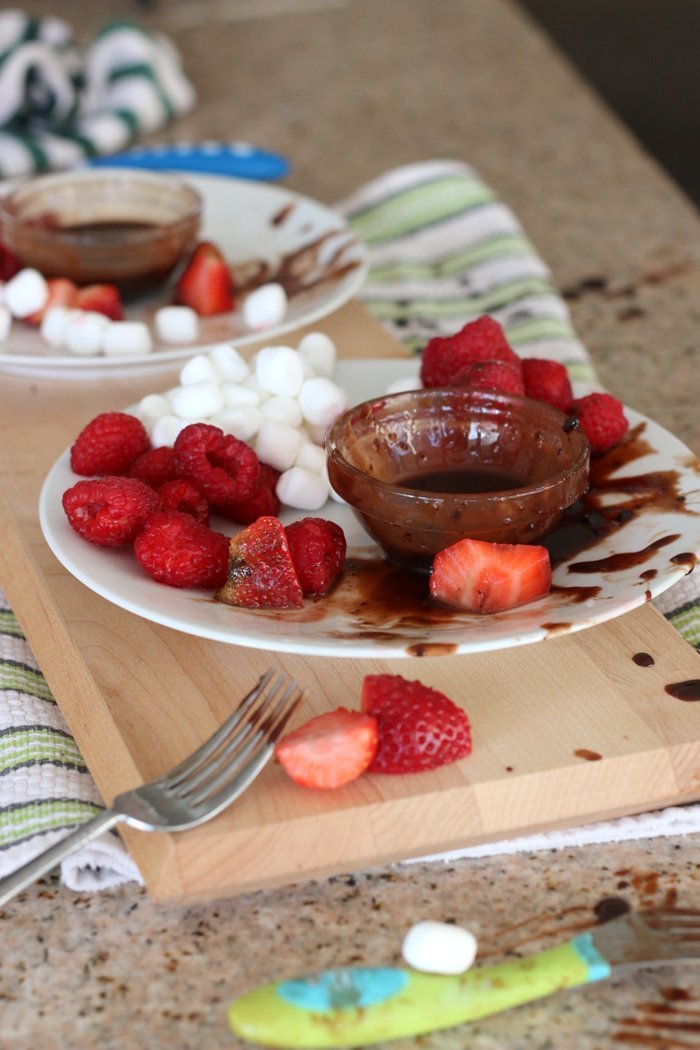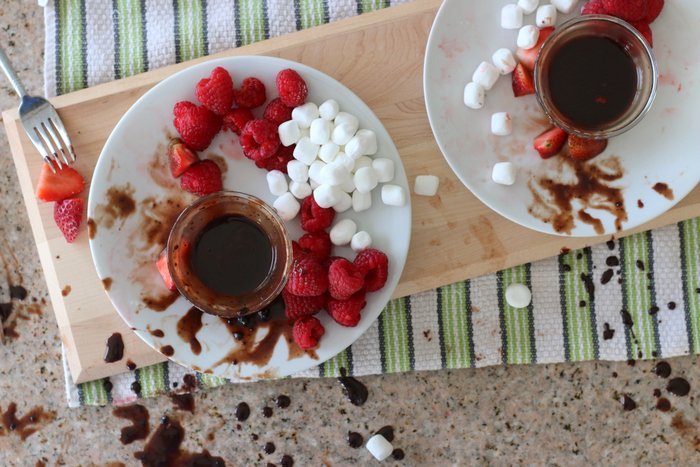 Oh yeah. This totally happened while I was making the chocolate sauce.
Ugh! I really don't care for cleaning or doing dishes. I despise cleaning messes that never should have happened in the first place.
At least we enjoyed the delicious fruits of this cleaning labor…

Easy Chocolate Fondue with Kids
Simple and low waste chocolate sauce for chocolate fondue or a fun dipping sauce.
Ingredients
⅓ c. cocoa powder
1 c. sugar
¾ c. evaporated milk
¼ c. butter
½ tsp. vanilla
Instructions
Combine the cocoa powder and the sugar in a small saucepan. Stir in the evaporated milk.
Add butter and continue to stir until the mixture begins to boil.
Remove the sauce from the heat and stir in the vanilla extract.
Serve warm and store in the refrigerator.
Notes
This sauce can be reheated as desired.