Homemade Strawberry Ice Cream
Searching for a perfect family dessert for Valentine's Day that you can make with low to zero waste? Try homemade strawberry ice cream! I've got all the details below to bring homemade strawberry ice cream to life in your house for Valentine's Day (or any time of year – let's be honest)!
Typically I'm a chocolate girl through and through. Recently, however, I've been gravitating towards more fruity desserts, and a couple of weeks ago I got the urge to make homemade strawberry ice cream.
We already had frozen strawberries in our freezer. I almost always have sugar in our pantry. The recipe called for whole milk, and we drink 1% milk. I swapped for the 1% milk we already had on hand that I wasn't sure we were going to finish before it expired.
Fruit. Check.
Milk. Check.
Sugar. Check.
Ice Cream Maker and Ice Cream Scooper. Check and Check!
Homemade strawberry ice cream. Done!
Not only was it an easy dessert to whip up (almost literally), but homemade ice cream proved to be the perfect solution to prevent food waste and satiate my sweet tooth. I don't have a ton of recipes in my 'zero food waste arsenal' to use up nearly expired milk, but homemade ice cream is definitely a food waste prevention winner!
When my boys watched me pull our ice cream maker out from the shadows of our cabinet, they immediately begged to make chocolate ice cream. It's a rare moment when I turn down a request to make a chocolate dessert, but my strawberry sweet tooth called for fruity, pink deliciousness just in time for Valentine's Day.
I'm not particularly festive, especially when it comes to holiday decor. We won't have a single Valentine's Day decoration in our house unless my boys bring home an art project from school. So long as I can find the time, however, I'm generally game for making a festive little dessert for my family.
With 1% milk, frozen strawberries and sugar in hand, we were on our way to screaming for homemade strawberry ice cream. Despite diverging from the recipe's call for whole milk, we scored creamy, dreamy scoops of strawberry ice cream deliciousness while also preventing food waste. Win-win-win.
Earlier this week, I shared our strawberry ice cream sandwiches, complete with homemade chocolate chip cookies and red, white, and pink M&Ms for Valentine's Day. The first time we made it, we used store-bought ice cream (and no one is judging). This year, we will make our homemade strawberry ice cream sandwiches again, but with the last bit of the homemade strawberry ice cream that I haven't yet devoured.
For Valentine's Day, M and I have never done a big date night or lavish gift exchange. It's just not for us. While we won't drop a fortune on a fancy dinner, we will celebrate our loving family with a dessert that is too die for, at least according to my boys.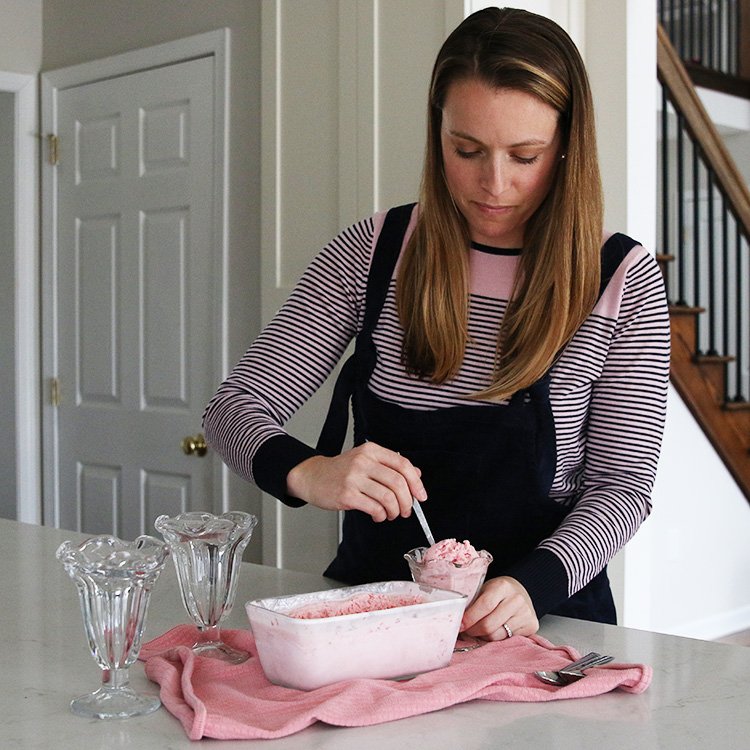 What's on your agenda for Valentine's Day? Share all your low waste and eco-friendly ideas in the comments to make this post even more useful for everyone who reads it.
If You Like Valentine's Day Family Desserts, You Might Also Like
Salted Triple Chocolate Chip Cookies (swap out chocolate chips for red, pink, and white M&Ms to make it just right for Valentine's Day)
10 Sugar Sweet Zero Waste Valentine's Day Ideas
Easy Homemade Chocolate Sauce Paired with a Fruity Snack with Kids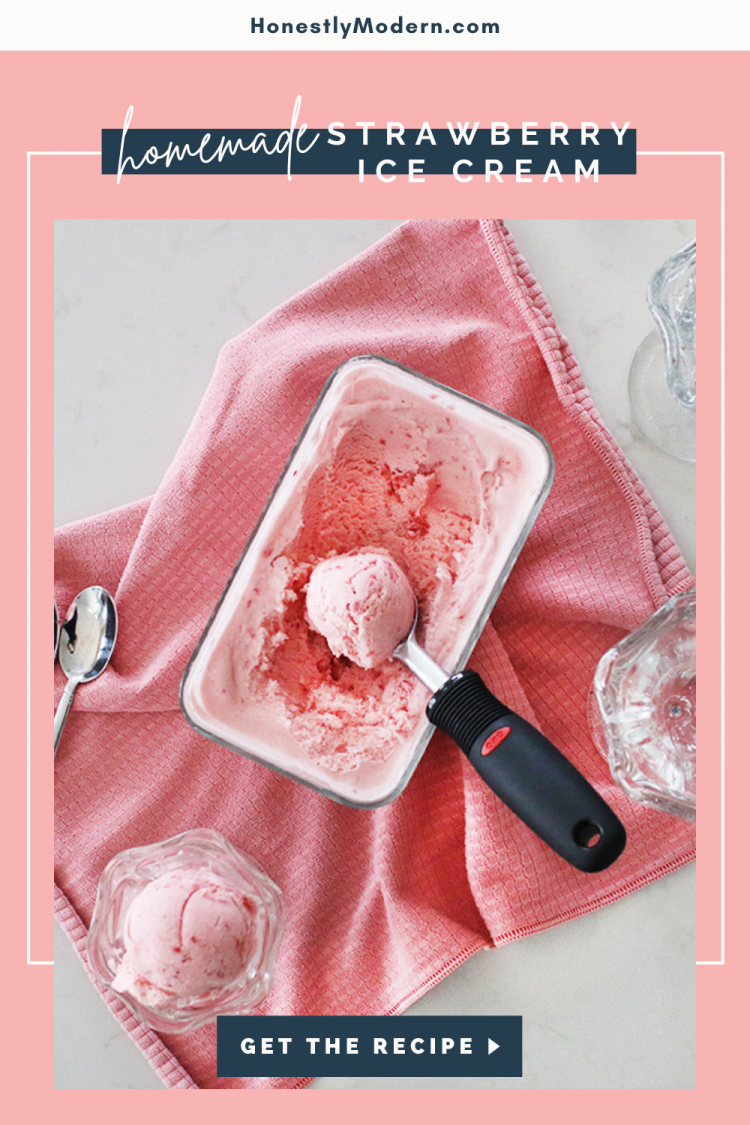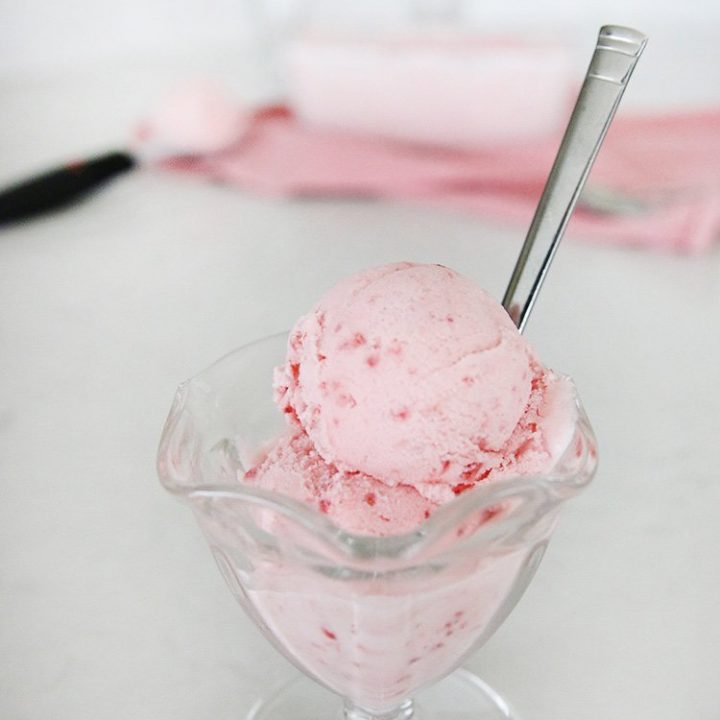 Homemade Strawberry Ice Cream
Additional Time:
30 minutes
A simple. low waste strawberry ice cream that's bright and pink. Perfect for Valentine's Day (or any day of the year, really).
Ingredients
3/4 cups milk
3/4 cups sugar
1 1/2 cups heavy cream
3 cups frozen strawberries (thawed, slightly mashed)
2 tbsp lemon juice
1 tsp vanilla extract
Instructions
Follow instructions for your ice cream maker to prepare the machine in advance. Our machine requires the inside bucket to be frozen for at least 24 hours prior to use.
Allow frozen strawberries to thaw for an hour or two. The juices will collect in the bowl and the strawberries will be softer than fresh strawberries. (If you prefer fresh strawberries, they will work just fine, but I recommend chopping them up so the pieces mixed into the ice cream aren't too large).
In a medium mixing bowl, combine milk and sugar and mix for 1-2 minutes or until the sugar is dissolved into the milk.
Add heavy cream, strawberries, lemon juice, and vanilla. Mix until combined.
Add mixture to the ice cream maker and follow instructions on your ice cream maker.
Many ice cream makers create soft ice cream. However, if you prefer a harder ice cream like ours above, place the soft mixture into the freezer in an airtight container for a couple of hours and allow it to harden.
Scoop and enjoy!
Notes
A few notes about the ingredients:
Strawberries: We used frozen because we had them on hand. I chose to let them thaw out and mash them a bit so the pieces in the ice cream were smaller than full-size strawberries. As they thaw, they are much softer than fresh strawberries. However, any strawberries will work.
If you have fresh strawberries, you can cut them into small pieces before mixing them. Some recipes call for letting the strawberries sit in sugar to macerate. While it might be technically correct, it's certainly not necessarily, particularly if the strawberries were frozen and then thawed.
Further, if you don't have a full three cups of strawberries on hand or you want to add more, by all means, go with the flow. 3 cups of strawberries are quite a bit of strawberries so the fruity flavor is quite rich. Feel free to modify it to suit your preferences.
Lemon Juice: If you have fresh lemons, squeeze away. If you have store-bought lemon juice on hand, use what you already own. They will both work just fine. Fresh lemon juice may taste a bit fresher (and of course has less waste because there is no plastic bottle and you can compost the lemon peel), but use what you have on hand. One lemon is plenty to squeeze 2 tbsp of fresh lemon juice.
Milk: Whole milk may make the ice cream a bit creamier but it's not necessary to make delicious ice cream. The 1% milk with some heavy cream was absolutely delicious and creamy.
Recommended Products
As an Amazon Associate and member of other affiliate programs, Honestly Modern earns from qualifying purchases.
Nutrition Information:
Yield:

9
Serving Size:

1
Amount Per Serving:
Calories:

233
Total Fat:

15g
Saturated Fat:

9g
Trans Fat:

0g
Unsaturated Fat:

4g
Cholesterol:

46mg
Sodium:

24mg
Carbohydrates:

25g
Fiber:

1g
Sugar:

21g
Protein:

2g