How about a fun and slightly special treat you can share with the ones you love on Valentine's Day but won't break the bank or stress you out? Try these strawberry ice cream sandwiches, affectionately called You Make My Heart Melt Homemade Ice Cream Sandwiches.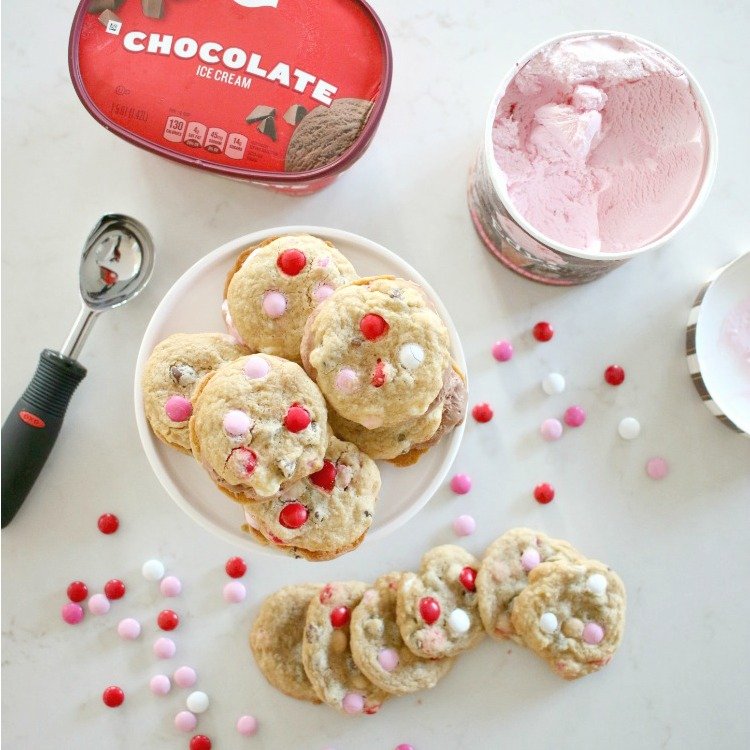 As my boys get older, we've started to do some little activities that are a bit more festive around the holidays. Going all out for holiday celebrations has never really been my M.O. but the boys seem to like it, so it's growing on me (and it's way more fun with young kids, at least for me).
A couple of years ago, I made homemade ice cream sandwiches with Valentine's Day red, white, and pink M&Ms and chocolate chip cookies. The boys devoured them and still ask homemade ice cream cookie sandwiches on the regular.
Typically, dessert in our house is ONE cookie OR a small bowl of ice cream. An ice cream cookie sandwich turns dessert into two cookies AND a serving of ice cream. I'm not willing to indulge my little guys in that much sugar every day, but for a special occasion, I'll make an exception. #BestMomEver (according to me).
As we approach Valentine's Day, I might bring these delicious and festive Valentine's Day M&M cookies back in action. When I made them a while back, I used ice cream I purchased from the store. Later this week, we're going to get really fancy around here. I've got a homemade strawberry ice cream recipe lined up to share with you that will pair perfectly with these cookies.
Zero Waste Baking
Baking and cooking from scratch can be great ways to reduce the waste we create when baking. We don't aim for perfectly zero waste eating in our house, but we do make a concerted effort to choose lower waste alternatives.
For all the staple baking ingredients in this recipe, like flour, sugar, and eggs, check out my Comprehensive Beginner's Guide to Zero Waste Baking for ideas on how to purchase most baking ingredients with little to no waste.
Our local grocery store, Wegmans, has a decent bulk section that often includes basic baking decoration like sprinkles as well as seasonal baking toppings like crushed peppermint around the holidays and festive-colored M&Ms (or the generic candy-coated chocolate versions) for each major holiday.
Zero waste ingredients or not, consumable holiday gifts are always a win! You can check out the recipe for the cookies below. If you try it, let me know by leaving a comment below or tagging me @honestlymodern on Instagram so I can see it!