Valentine's Day Strawberry Ice Cream Sandwiches
How about a fun and slightly special treat you can share with the ones you love on Valentine's Day but won't break the bank or stress you out? Try these strawberry ice cream sandwiches, affectionately called You Make My Heart Melt Homemade Ice Cream Sandwiches.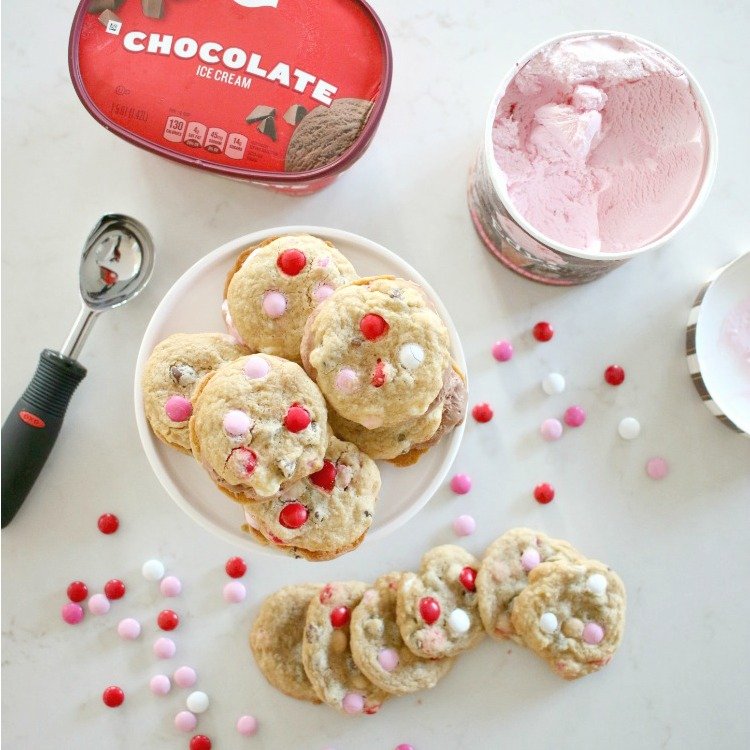 As my boys get older, we've started to do some little activities that are a bit more festive around the holidays. Going all out for holiday celebrations has never really been my M.O. but the boys seem to like it, so it's growing on me (and it's way more fun with young kids, at least for me).
A couple of years ago, I made homemade ice cream sandwiches with Valentine's Day red, white, and pink M&Ms and chocolate chip cookies. The boys devoured them and still ask for homemade ice cream sandwiches on the regular.
Typically, dessert in our house is ONE cookie OR a small bowl of ice cream. An ice cream cookie sandwich turns dessert into two cookies AND a serving of ice cream. I'm not willing to indulge my little guys in that much sugar every day, but for a special occasion, I'll make an exception. #BestMomEver (according to me).
As we approach Valentine's Day, I might bring these delicious and festive strawberry ice cream sandwiches back into action. When I made them a while back, I used store-bought ice cream. This time, we're going to get really fancy around here and use homemade strawberry ice cream.
We have a bunch of frozen strawberries that I tossed into the freezer right before they went bad. We also have a bunch of milk that I'm not sure we will be able to use up before it spoils. Homemade strawberry ice cream is a win-win to use up these extra ingredients to prevent food waste and indulge in an extra special Valentine's Day dessert.
Zero Waste Baking
Baking and cooking from scratch can be great ways to reduce the waste we create when baking. We don't aim for perfectly zero waste eating in our house, but we do make a concerted effort to choose lower waste alternatives.
For all the staple baking ingredients in this recipe, like flour, sugar, and eggs, check out my Comprehensive Beginner's Guide to Zero Waste Baking for ideas on how to purchase most baking ingredients with little to no waste.
Our local grocery store, Wegmans, has a decent bulk section that often includes basic baking decoration like sprinkles as well as seasonal baking toppings like crushed peppermint around the holidays and festive-colored M&Ms (or the generic candy-coated chocolate versions) for each major holiday.
Zero waste ingredients or not, consumable holiday gifts are always a win! You can check out the recipe for the cookies below. It's pretty similar to my delicious chocolate and peanut butter chip cookies, though with a little Valentine's Day flair.
If you're up for it, make homemade strawberry ice cream for these strawberry ice cream sandwiches. But if that's not in your wheelhouse, opt for store-bought and enjoy the sweet dessert with family and friends.
If You Like Strawberry Ice Cream Sandwiches, You Might Also Like
10 Sugar Sweet Zero Waste Valentine's Day Ideas
Easy Homemade Chocolate Sauce Paired with a Fruity Snack with Kids
Easy Chocolate Covered Strawberries With Kids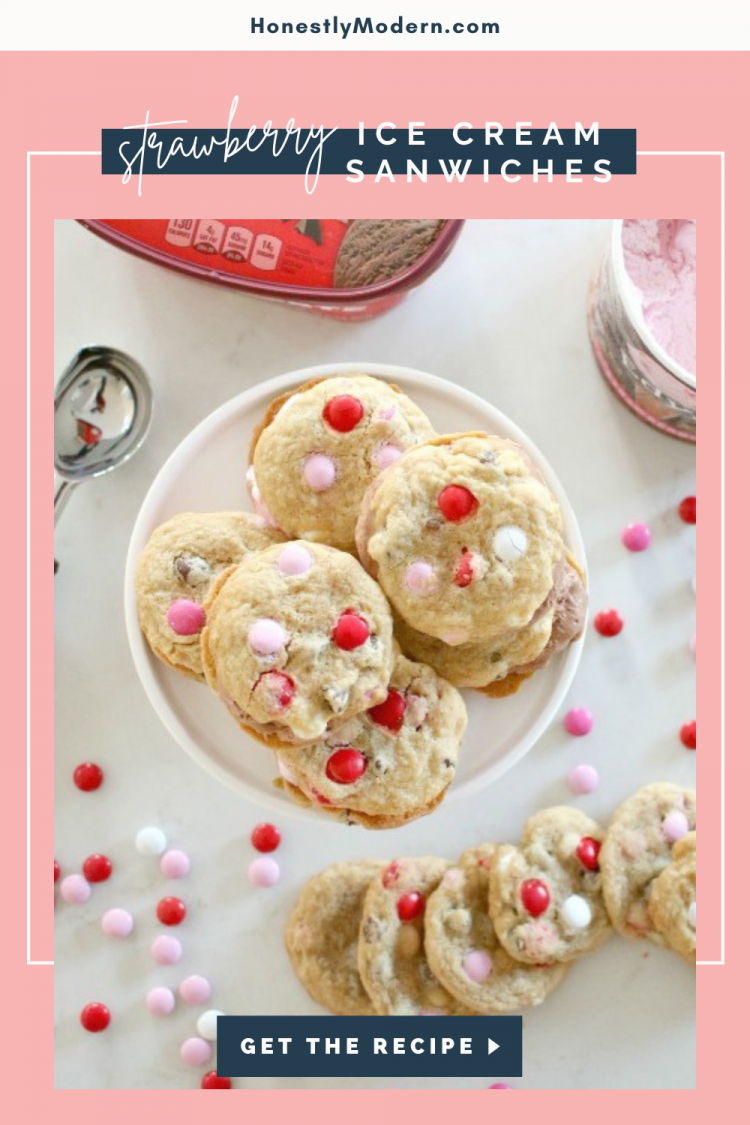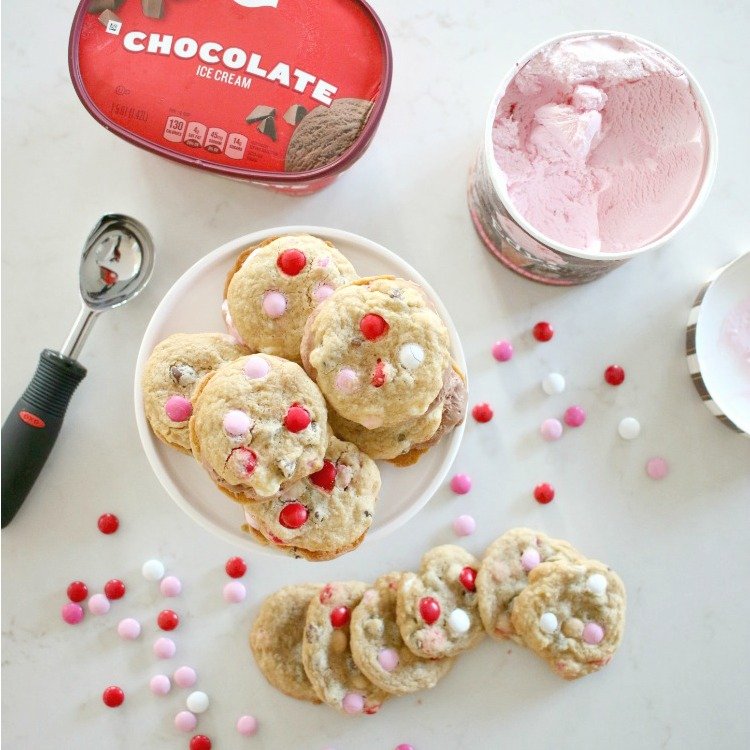 Strawberry Ice Cream Sandwiches
Yield:
12 ice cream sandwiches
Additional Time:
30 minutes
Total Time:
1 hour
30 minutes
Easy and fun homemade strawberry ice cream sandwiches for Valentine's Day or any day!
Ingredients
2 3/4 cups of flour*
1 tsp baking soda
1 tsp salt
1 cup (2 sticks) of butter, softened to room temperature
1 cup of brown sugar
1/2 cup of granulated sugar
1 tsp vanilla extract
2 eggs
2 cups red, white, and pink M&Ms (or candy-coated chocolates)
Instructions
Preheat oven to 350 degrees.
In a medium-sized bowl, combine the flour through salt and set aside.
In a large bowl or stand mixer bowl, combine the butter, sugars, and vanilla extract. Mix together until fully combined.
Add one egg and mix until fully combined.
Add the second egg and mix until fully combined.
Slowly add the flour mixture while the stand mixer continues to mix the dough (or add in about 1/4 cup at a time and mix with each addition if not using a stand mixer). Combine ingredients fully, scraping edges of the bowl if needed, to ensure that all ingredients are incorporated.
Add M&Ms and mix together.
Grease baking sheet or use a silicone baking mat. I think the silicone baking mat helps the cookies bake a bit better and reduces waste, but use what you have available.
Scoop balls of dough that are about 1" wide in diameter and place on the baking sheet.
Bake for 9-11 minutes or until the edges of the cookies just start to brown. The tops may look a bit undercooked but this is ok. This will result in softer cookies.
Let the cookies cool fully (or your ice cream will melt in no time)!
Scoop a generous ball of ice cream onto one cookie, set another cookie on top, squeeze gently together.
Enjoy!