9 Favorite Etsy Sellers for Halloween Costumes For Kids
Looking for a perfect Halloween costume for kids? Skip the cheap, plastic costumes at big box stores and support small makers by purchasing Halloween costumes and Halloween accessories on Etsy. Read on for nine of my favorite Etsy sellers for Halloween costumes for kids.
This post contains affiliate links.
I definitely don't go all out for holidays. Between my aversion to knick-knacks and limited-use decor in conjunction with my lack of natural eye for cute design, festive styling feels way out of my wheelhouse. Consequently, we tend to keep holiday celebrations fairly simple, and Halloween is no exception.
Each year, as my boys decide on Halloween costumes, we brainstorm a list of ideas the boys find interesting. They have dressed up as superheroes, Incredibles characters, ninjas, sports stars, and wild animals, like this easy white tiger costume.
On several occasions, we've pulled together great costumes starting with simple sustainable basics from Primary kids' clothing and added a few accessories to bring the costumes to life.
For the Captain America costume, I made accessories from felt and cardboard to complete the costume. But when my older son asked to dress up as a white tiger, the accessories sounded a bit out of my league.
Instead of defaulting to Amazon for a quick white tiger costume, I popped over to Etsy to search for white tiger costume accessories. I found this awesome set of gloves, a mask, and a tail. They were perfect, and two years later we still have them.
Before settling on a boring costume from a big box store (that many other kids will probably also be wearing) or throwing more money at one of the biggest behemoth businesses on the planet, consider shopping Etsy and supporting a small maker who will be thrilled when your order shows up in their inbox.
9 Favorite Etsy Sellers for Halloween Costumes For Kids
I've included some great Etsy sellers below. Some sell full Halloween costumes while others sell cute accessories that would pair well with basics from Primary you could repurpose as regular clothes and pajamas. Check them out to find a few great Halloween costume ideas for your little ones this year (and be sure to order soon – many have deadlines so they can guarantee delivery in time for the holidays).
Magical Attic made the white tiger accessories I mentioned above. They have tons of Halloween costumes for kids as well as costume accessories if you prefer to start with something you already have.
You can even request custom accessories, especially if they are similar to something you already see in the shop. After seeing the white tiger costume accessories, my younger son wanted to dress up as a black jaguar. I messaged the seller and requested a black mask, gloves, and a tail, similar to the white tiger option. A few weeks later, we received the custom black jaguar order and it was just as perfect as the white tiger pieces.
Rating: 5 Stars, Buyers Are Raving!
Pricing: $14.50 and up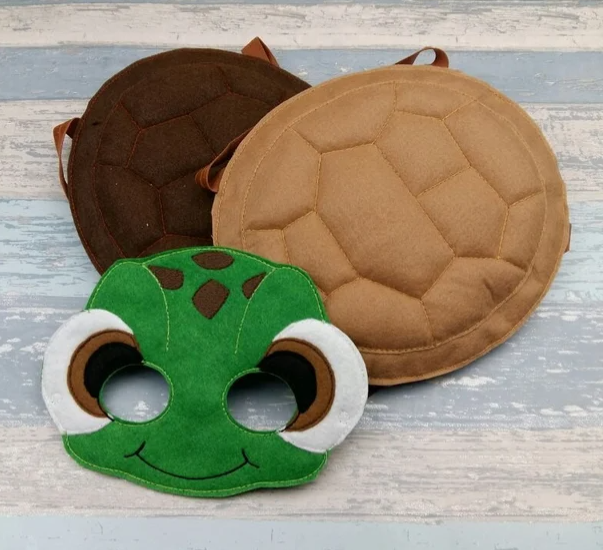 This Etsy seller from London has so many cute costumes. How adorable is this turtle costume and mask that goes well with so many simple pieces of clothing you probably already own!
I love that they have simple masks to pair with Primary pieces to turn regular clothes into Halloween costumes without breaking the bank.
Rating: 5 Stars, Star Seller
Pricing: $11.00 and up
If your little one loves fantasy characters like unicorns or dragons or is a big fan of Pokemon, you're sure to find some great accessories from their Etsy shop.
This Pikachu tail and ears can go with solid clothes or even be paired with a fun black top and yellow tutu if you want to make it more fun.
They have lots of different ears and tails to go along with regular clothes. Find the costume you want and pair it up with Primary basics in a corresponding color, and you're all set for a simple but special Halloween costume.
Rating: 5 Stars, Star Seller
Pricing: $11.00 and up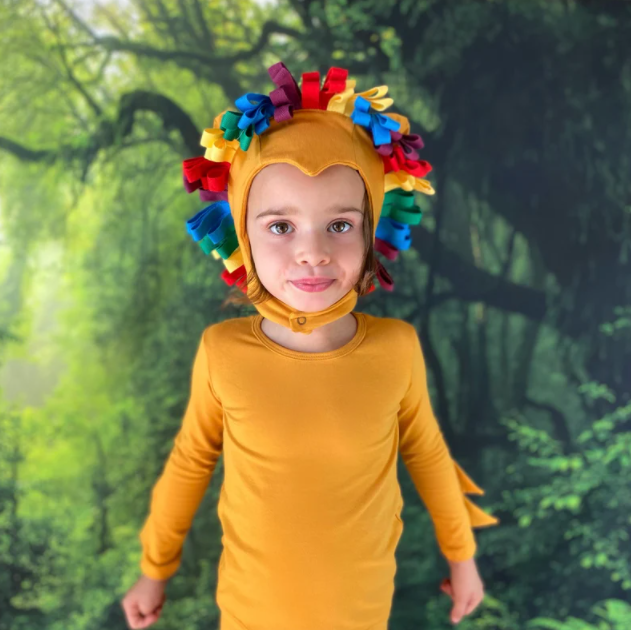 Do you have little ones that want to dress up as bright, colorful lions, unicorns, butterflies, mermaids, and dragons? This is the Etsy shop for you!
Head on over and check out so many of their great accessories to complete a unique and magical Halloween costume in so many great colors of the rainbow.
Rating: 5 Stars, Buyers are Raving!
Pricing: $50.00 and up
Tree and Vine has lots of different costumes but seems to have a specialty in wings and masks. They have some really intricate wing sets for owls, birds, butterflies, and even a flying pig costume (why not, right?)
Most of their wings costumes connect on the back and the wrists so kids can fly while they wear them (and exercise their active little imaginations)!
The costumes are quite intricate, so they are a bit more expensive than some other alternatives. But handmade costumes will last for many wears and can be shared year and year with siblings and friends.
Rating: 5 Stars, Buyers are Raving!
Pricing: $52.00 and up
This Etsy shop has some really adorable handmade costumes for little kids, most of which are made in romper styles. I love this cookie monster costume! The store owner also makes costumes from the Monsters, Inc. movie for Mike, Sully, and Boo. If you're a Flintstones fan, check out the Pebbles and Bam Bam costumes.
Because most of the costumes are rompers, you can easily add Primary pajama layers in a matching color underneath the costume if you need warmer alternatives, depending on the weather where you live during the Halloween season.
Rating: 5 Stars, Buyers are Raving!
Pricing: $50.00 and up
If you have a little one that prefers frilly princess dresses, there are some super cute Disney princess-inspired dresses from this Etsy seller. The shop owner has really pretty Belle, Cinderella, Elsa dresses, and more.
They are a bit more expensive than some other options, but the reviews rave about the quality of the dresses. These would be super fun to use for Halloween, wear for a birthday party or special photoshoot, and then pass along to a sibling, cousin, or friend.
Rating: 5 Stars, Top Shop For Gifts!
Pricing: $25.00 and up
Spicy up a t-shirt or a simple black outfit with accessories from this Esty seller. She has several cute costumes for kids.
My favorite one is this Pink Ladies jacket. You can choose to purchase the pink jacket with a hair accessory and black pants, or you can purchase just the jacket. The jacket alone is perfect to pair with a black pajama top and black pajama bottom from Primary to complete a fun Halloween outfit.
I also love these superhero accessories that would be perfect with a simple blue or red dress from Primary.
Rating: 5 Stars, Buyers Are Raving!
Pricing: $11.00 and up
One of my favorite ways to create great (and easy!) Halloween costumes for kids is to pair a few amazing accessories with some really basic clothes that can be worn again and again. This Etsy seller has some really amazing accessories at a variety of price points that would pair well with basic pants and tops to make easy and accessible costumes.
I love this bumblebee mask, these ladybug accessories, and these giraffe accessories. Match the bumblebee mask with a yellow top and black pants for a simple bee costume. The ladybug mask is a perfect match for this red dress and black tights (or pants, if you want something a bit warmer). And the giraffe headband, tail, and tutu will finish off a brown dress or brown pajamas to make the cutest and comfiest Halloween costume.
If you're feeling ambitious, you could also repurpose some old fabric to add black stripes, black dots, or brown patches to the clothing for each costume to make it even fancier.
Lastly, check out this fun watermelon skirt. Add a green shirt and some red pants, and you've got a seriously cool costume without a lot of work!
You can even order this in an adult size if you want to step up your costume game or match your little ones.
Rating: 5 Stars, Buyers Are Raving!
Pricing: $6.00 and up
After searching many other Etsy sites, I also found a few ideas you could probably recreate on your own. How about trying one of these ideas that start with my favorite sustainable basics for kids from Primary?
Burglar: Add a homemade felt mask to these navy and white striped pajama pants and pajama top. Add a little bag with a money sign on it, and your little one is a cute little burglar for Halloween.
Peter Pan: Pair olive joggers or green leggings with a green top and a Peter Pan hat. You could also add a brown felt belt and brown felt covers over their shoes using simple felt from a local craft store for a complete look!
Have you ever shopped Etsy or Primary for Halloween costumes for kids? If so, I'd love to hear what your kids dressed up as.
Note 1: Pricing estimates are in US dollars and are based on relevant Halloween items listed in the shop at the time was post was written. Pricing and product availability may change at the shop owner's discretion. Seller ratings are also listed as of the time the post was written.
Note 2: All photos, except the white tiger accessories photo, are property of the respective Etsy sellers they represent and are not owned by Honestly Modern.
About The Author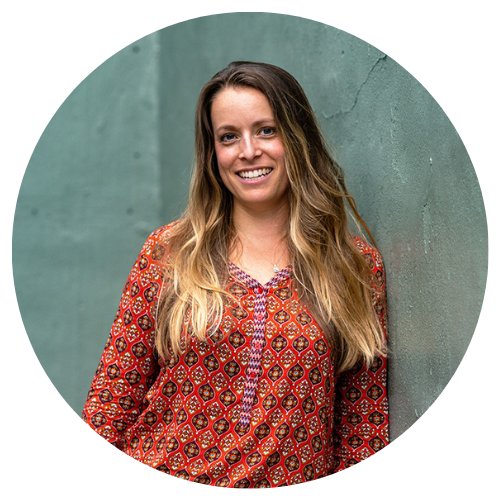 Jen Panaro
Jen Panaro, founder and editor-in-chief of Honestly Modern, is a self-proclaimed composting nerd and an advocate for sustainable living for modern families. In her spare time, she's a serial library book borrower, a messy gardener, and a mom of two boys who spends a lot of time in hockey rinks and on baseball fields.
You can find more of her work at Raising Global Kidizens, an online space to help parents and caregivers raise the next generation of responsible global citizens.