How To Make a Semi-Homemade Easy DIY White Tiger Costume
Looking for an easy DIY white tiger costume? Try this simple semi-homemade Halloween costume for a quick and low waste Halloween costume idea.
This post contains affiliate links.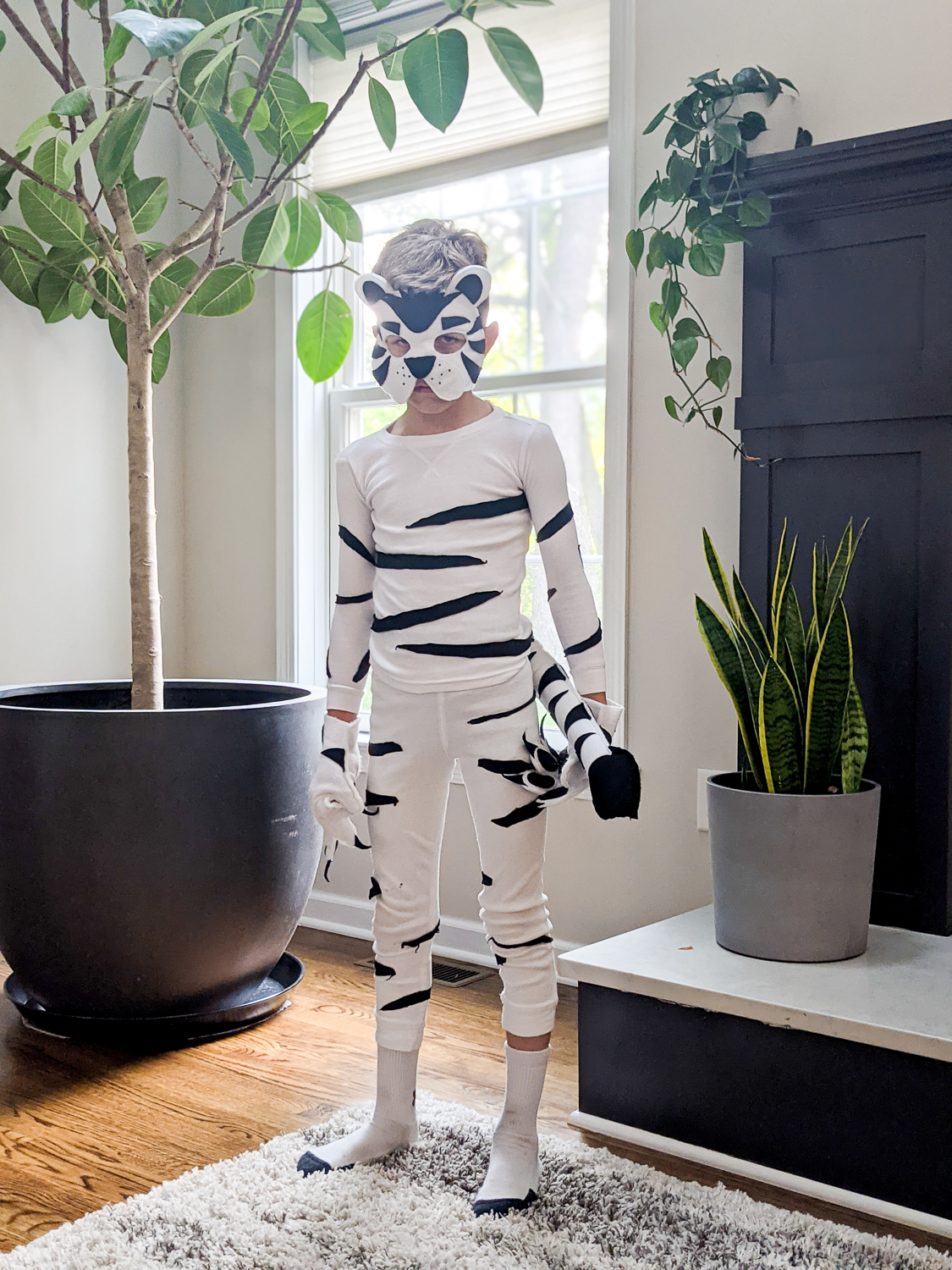 A few weeks before Halloween two years ago, my older son told me he wanted to dress up a white tiger. I didn't have interest in buying a cheap, single-use costume and didn't expect I'd be able to find it anyway. With a few quick searches, however, I found a pretty easy-to-make semi-homemade white tiger Halloween costume.
If you're looking for something similar, here are the easy steps and resources I used to make a kid's white tiger Halloween costume.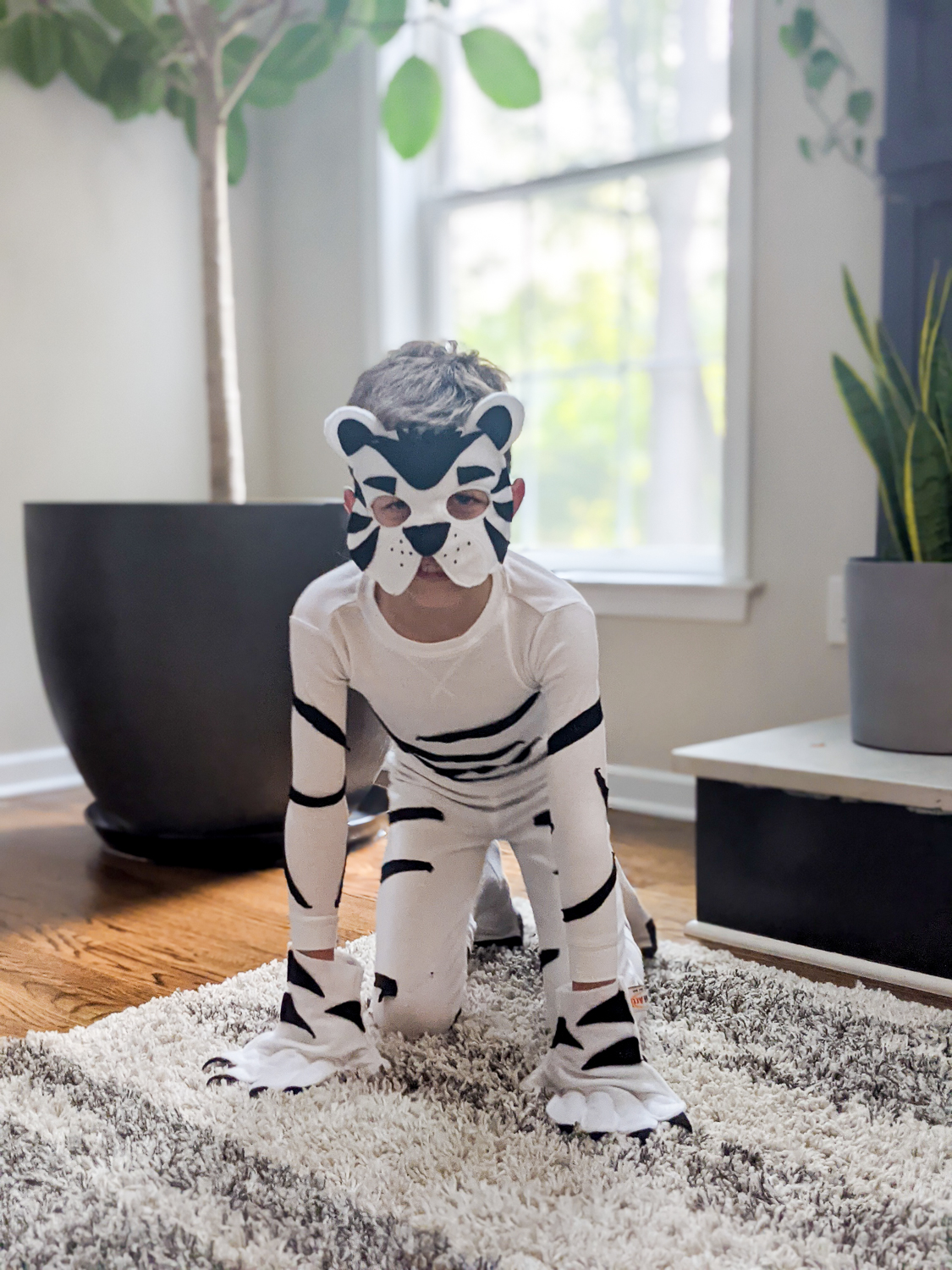 Easy DIY White Tiger Halloween Costume
To make this costume, I used basic white pajamas, black fabric scraps from an old undershirt, and purchased accessories from Etsy to go along with the base outfit.
Primary Clothes For Halloween Costume Bases
I used white Primary pajamas – this white pajama top and these white pajama bottoms – as a base for the costume. Primary has really great basics in all sorts of solid colors, so they make great foundations on which to build so many Halloween costumes.
Many people have come to love Primary for their Halloween costume inspiration. Primary shares lots of ideas that their customers created on their site and also has a DIY concierge service to help you find a way to bring your Halloween costume idea to life.
Black Tiger Stripes From An Old Black Undershirt
My husband had several old, black undershirts he no longer wore. I intended to drop them at a textile recycling bin, but instead cut up one of them into strips to create black tiger stripes for the shirt and pants. I cut the stripes in different sizes and of varying thickness so they would most resemble tiger stripes.
I could have sewn the stripes onto the white Primary pajamas with a sewing machine or by hand, but I thought it easiest to use fabric glue. I simply glued the stripes onto the top and bottom of the pajamas to complete the kids' white tiger Halloween costume.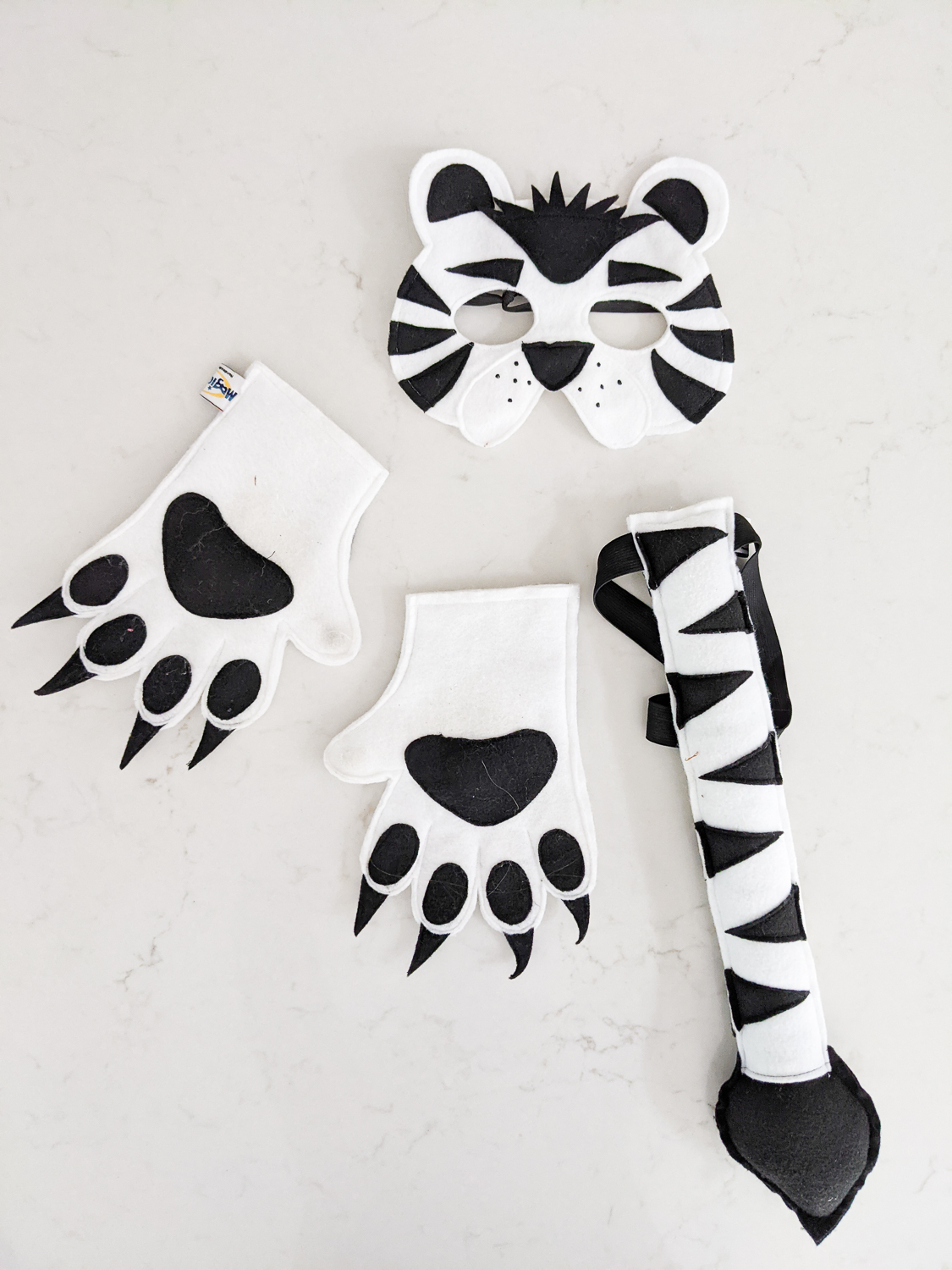 White Tiger Costume Accessories from Etsy
I thought about making the white tiger mask and tail accessories on my own, but life just got ahead of me. After a quick search on Etsy, I found a super cute and high-quality white tiger mask, tail, and gloves.
For a single-use Halloween costume, they were a bit expensive. But my son has worn them a few times for costumes, and we plan to pass them along to another family when he longer wants to dress up as a white tiger.
This Etsy seller, Magical Attic, has a lot of really great Halloween costume accessories. After ordering the white tiger accessories, my younger son wanted to dress up as a black jaguar. We custom ordered the same type of accessories but for a black jaguar and they turned out just as great!
In the spirit of zero waste, I'm not a fan of purchasing cheap, single-use Halloween costumes on a whim. Most years, we try to create costumes from clothes the boys already have. They seem to like these better anyway (though, of course, every kid is different).
If you're looking for a fun and unique Halloween costume, considering using the props and accessories from an Etsy seller to supplement things you already own or things you can reuse many times (like the Primary pajamas that work as pajamas year-round).
I'd love to hear your ideas for low waste Halloween costume ideas, especially those that support small businesses and creators when you are buying pieces to create the look.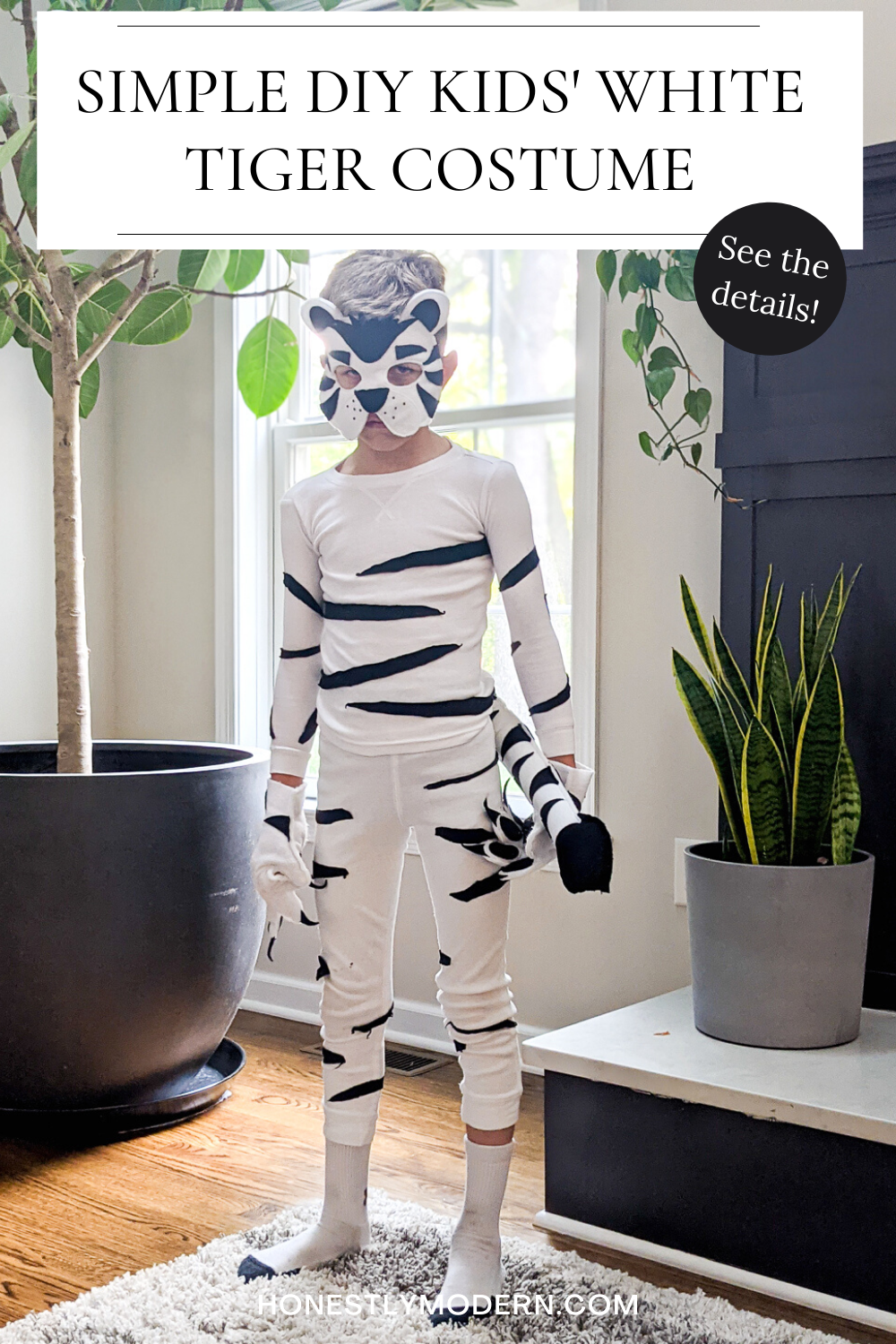 How To Make a Semi-Homemade Easy DIY White Tiger Costume
A simple, semi-homemade kids' white tiger costume. Perfect for Halloween or just playing and imagining.
Materials
White Primary pajama top
White Primary pajama bottom
Black fabric scraps larger enough to make stripes on the costume (we used an old, adult size Large black undershirt)
White tiger mask, tail, and gloves set from Etsy seller
Instructions
Cut black stripes, that end in a point instead of a flat end, from black fabric.
Glue the black stripes onto the white pajama top and bottom to create the striped look you desire. Embrace your child's creativity in this simple design step.
Recommended Products
As an Amazon Associate and member of other affiliate programs, Honestly Modern earns from qualifying purchases.
About The Author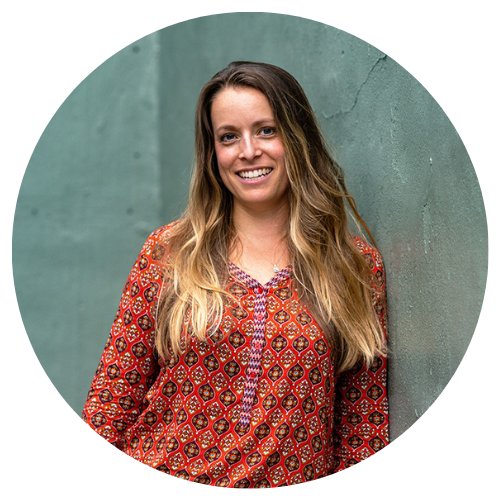 Jen Panaro
Jen Panaro, founder and editor-in-chief of Honestly Modern, is a self-proclaimed composting nerd and an advocate for sustainable living for modern families. In her spare time, she's a serial library book borrower, a messy gardener, and a mom of two boys who spends a lot of time in hockey rinks and on baseball fields.
You can find more of her work at Raising Global Kidizens, an online space to help parents and caregivers raise the next generation of responsible global citizens.