21 (+71) Ways To Use Up Extra Tomatoes and Reduce Food Waste
Wondering what to do with extra tomatoes this time of year? Here are 92 ways to use tomatoes to ensure the season's bounty doesn't go to waste.
Right now, our garden is overflowing with tomatoes. I planted several cherry tomato plants and found four more plants that "planted themselves" when they popped up from last year's compost spread. One of these rogue tomato plants even showed up in the middle of our garden walkway. I suspect its location right next to the compost bin offered some top-notch soil in which to flourish.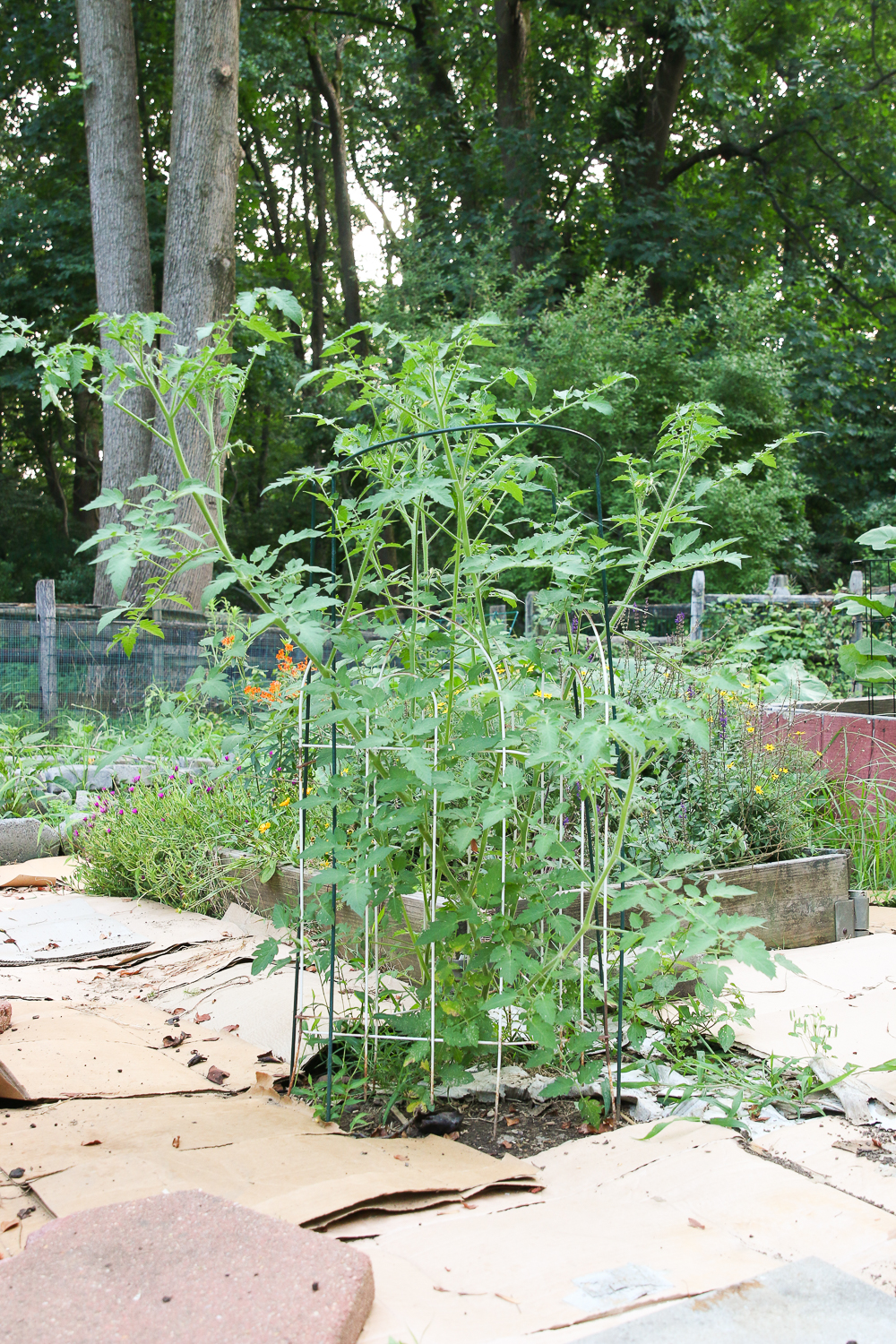 Our tomato situation really got crazy after I hosted a table at the local farmers' market for WasteWell and a neighboring farmer gifted me three containers of speckled Roma tomatoes. The tomatoes were gorgeous, and the farmer said they were great for sauce. So of course, we set out to make homemade Arrabbiata sauce. The boys in our especially are big fans of spicy food, so this spicy sauce is a staple in our weekly dinner menus.
With so many tomatoes, I set out to find ways to use them up. Food waste is the worst (according to me), so I really didn't want them to spoil. In all likelihood, the extra tomatoes would end up right back in our compost pile and grow again next year all over the garden!
To make matters worse, I don't even like tomatoes. I enjoy red sauce, ketchup, barbeque sauce, and bruschetta, but I don't eat raw tomatoes. I've tried and tried, but my palate just doesn't find them fanciful. So I set out to figure out how to use up all these tomatoes and ensure they didn't go to waste.
If you have a harvest of red, ripe tomatoes from your garden, your local farmer's market, or even just a regular grocery store trip, consider one of these ways to use up tomatoes and reduce food waste in your home.
92 Ways To Use Tomatoes
Tomatoes are a really versatile ingredient. You can eat them fresh in so many ways while also freezing them, canning them, cooking them, and more.
3 Ways To Share Your Tomato Harvest
Of course, you can keep all the tomatoes for yourself (no judgment if that's what you choose), but consider sharing your abundance with a friend or neighbor.
Pick Tomatoes Together
If you grow your own tomatoes, invite a friend or neighbor over to pick the tomatoes together. Then they can take home whatever they pick. Split the work of harvesting the food, make it more fun to do together, and offer them excess that you might not otherwise use.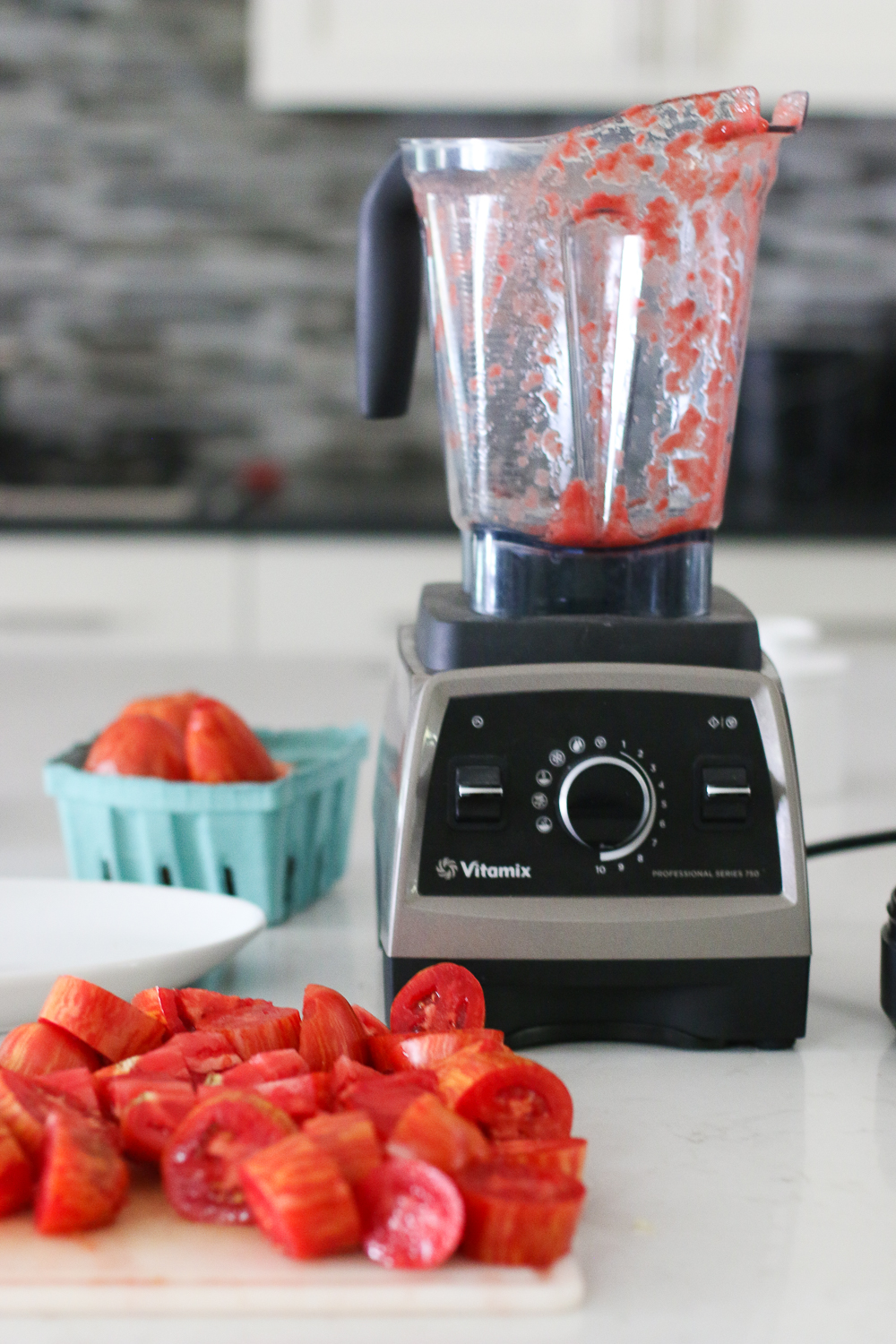 Donate Tomatoes To Your Local Food Cupboard
Many food cupboards take fresh produce from the garden. Call or email your local food pantry to find out if they will accept your donation. Most likely they will be happy to pass it along to their clients.
Some families have even taken this practice to new heights. Chip Paillex, a resident in New Jersey not far from where I live, started donating extra produce to his local food shelf nearly two decades ago. He turned this generous act into a non-profit organization called Grow A Row, and they now have a variety of plots and programs to connect local residents with farming and food insecurity in their community.
Offer Extra Tomatoes To Your Buy Nothing Group
If you have a local Buy Nothing group or swap/trade group in your area, offer up extra tomatoes to your neighbors through this channel. Last year, I offered up extra chicken of the woods mushrooms and received habanero peppers from a neighbor who had more than they could use. It's a really easy way to pass along extra produce and prevent it from going to waste without having to leave your home because recipients generally come to your house to pick up the gift.
9 Ways To Use Frozen Tomatoes
If you prefer to keep the tomatoes for your family but can't use them right away, freezing tomatoes is an excellent way to store them for later. Some people blanch or peel tomatoes before freezing them. If that's your preference, go for it. Check out this helpful guide to freezing tomatoes for more details on those methods.
I pass on the hassle of freezer preparation. I simply rinse the tomatoes, lightly dry them, and then toss them into a plastic zip-top freezer bag or a repurposed glass jar for sauces, soups, or stews throughout the winter. I freeze small tomatoes, like cherry tomatoes, whole. I cut larger tomatoes into chunks so they take up less space in the freezer and thaw more quickly.
I know I can't use these tomatoes for quite as many things when I freeze tomatoes without blanching or removing the skin, but I'm not one for fancy recipes anyway. We eat plenty of pasta and pizza sauce in our family, so the tomatoes work well for those recipes, even with the skin on them.
Marinara or Arrabbiata Sauce (+ 6 recipe ideas)
Using tomatoes to make pasta sauce is my absolute favorite way to use up a whole bunch of tomatoes. Recently, I made a batch of arrabbiata sauce from the tomatoes in our garden. I started with this arrabbiata sauce recipe from Gimme Some Oven, one of my favorite food blogs.
I swapped out the 2 (28-oz) cans of whole tomatoes with 10-12 medium-sized speckled Roma tomatoes I received as a gift at our local farmers' market. After roughly chopping them, skin on, I pureed them in our Vitamix and used the tomato puree in the recipe just as I would have used the two cans of store-bought whole tomatoes. The sauce was delicious and the texture great.
If you prefer a sauce that's not spicy, skip the crushed red peppers from this recipe. You could even add some extra basil, parsley, and oregano seasonings (fresh or dried) to amp up the flavor.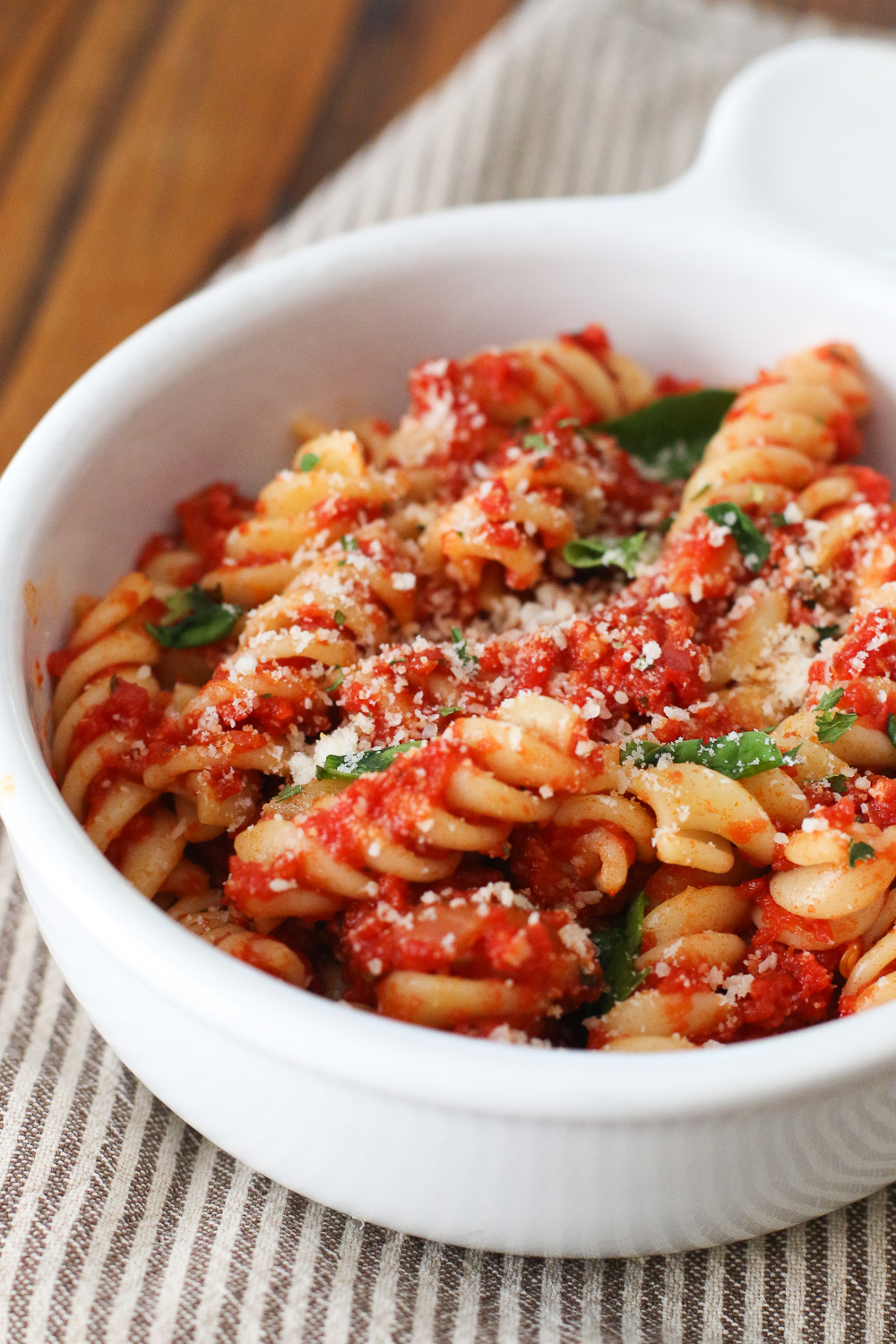 Use the pasta sauce to make pasta with noodles (of course), pasta with zoodles, or lasagna. You could make chicken parmesan or eggplant parmesan. My husband loves this unbreaded eggplant parmesan recipe and tries to convince all his friends to try it.
If you're feeling adventurous (and it's not really that crazy), pair this Penne with Superfood Seaweed pasta from Blue Evolution with your homemade pasta sauce. We tried this for the first time a few weeks ago, and my boys came back for seconds. It's just pasta with a bit of seaweed added into the ingredients. It's delicious (and tastes just like regular pasta after you add sauce).
Seaweed (and specifically kelp) has the potential to be a pretty amazing regenerative farming crop if we manage it properly and create larger markets into which kelp farmers can sell their products. In other words, the more ways we can eat kelp, the better it is for the planet! So go get some seaweed pasta for your fresh pasta sauce!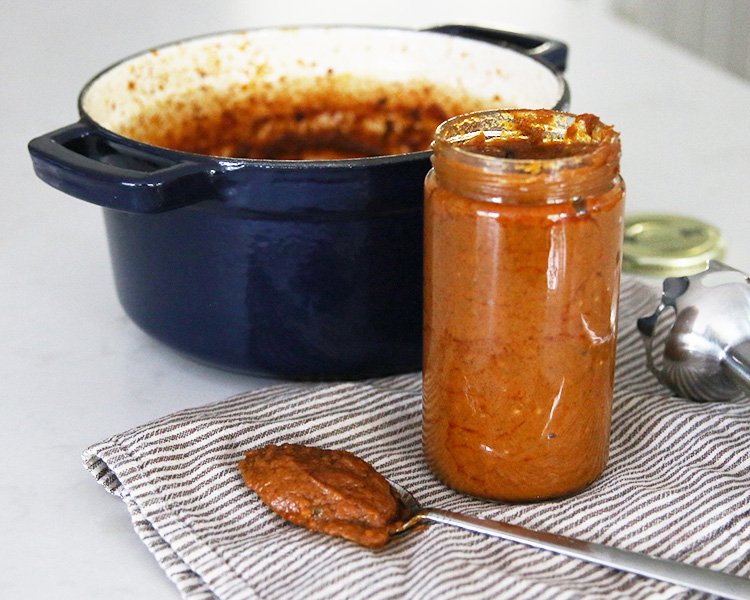 Pizza Sauce
Instead of pasta sauce, you could also make pizza sauce. We made this homemade pizza sauce last year, and it was delicious.
Chili
We eat chili on its own, with tortilla chips, and on top of nachos. Chili is a staple to have in the fridge whenever we go home to my parents' house (and have 15 people to feed all day long). Our favorite recipe is this sweet potato chili. I have been making it for years, and M looks forward to it each time.
Like with the pasta sauce above, simply puree tomatoes in a Vitamix, a blender, or using a hand blender to replace the canned tomato sauce. We typically use about 5-7 medium-sized tomatoes to replace one 28-29.5 oz can of tomato sauce, but you can eyeball it and do your best. Chili is not a recipe that requires a precise amount of tomato sauce, as long as you are in the ballpark.
2 Ways To Use Canned Tomatoes
If you prefer to can your tomatoes instead of freezing them, here are some pretty simple instructions to show you how to can tomatoes. I have never tried it because it's easier for me to freeze them. But canning might be a better option depending on the volume of tomatoes you have to store and your space limitations in your freezer.

When you're ready to use all the canned tomatoes, you can definitely go back to any of those recipes that use frozen tomatoes. Here are a few more ideas for using up canned tomatoes.
Tomato Soup
I never loved tomato soup growing up, though I loved (and still love) a simple grilled cheese sandwich. As an adult, I've come to appreciate that a well-made tomato soup is very different than the soup I was served from a can as a child. Pair this homemade tomato soup, from another of my favorite food blogs, with a grilled cheese sandwich on sourdough, and you're golden.
Homemade Ketchup
My grandmother used to make homemade ketchup growing up. She had all sorts of garden-fresh recipes in her arsenal and a storage cabinet in the basement full of her canned and preserved produce to carry their family through the winter. Check out this homemade ketchup recipe if you're up for trying it.
7 Ways To Use Fresh Tomatoes
Eat Tomatoes Plain (or with a bit of salt)
Growing up, my mom loved fresh tomatoes for a snack. She sliced up a big tomato, added a bit of salt to each slice, and indulged in the fresh tomatoes when they were in season.
Salsa
We love chips and salsa, salsa on nachos, and many other simple ways to use homemade salsa. Try this homemade salsa recipe when you have lots of fresh tomatoes and are looking for a refreshing summer snack.
Guacamole
There are many different guacamole recipes, some that include tomatoes and some that don't. If you have a bit of extra tomato to use up, chop it up and add it to your guacamole recipe. We love Frontera guacamole mix. You can find it at many grocery stores or purchase Frontera guacamole mix in bulk too. They have spicy and regular options, so choose what suits your family.
Bruschetta
I love a good piece of toasted bread, so I'm happy to add balsamic-marinated tomatoes to the top of that snack for a fresh treat. There are so many ways to make bruschetta, though I'm a fan of a classic mix of tomatoes and balsamic vinegar on toasted bread.
Caprese
It's pretty simple, which is what makes it delicious I think. A while back, I shared about our meatless Monday Caprese dinner that even I liked (despite not being a huge fan of raw tomatoes). I love that you can use so many different types and colors of tomatoes, and it looks gorgeous.
Baked Orecchiette with Sausage and Spinach
Years ago, M and I used to make baked orecchiette with hot Italian sausage and spinach. We haven't made it in years, and I'm not quite sure why. I'm thinking we should add it back into our dinner rotation. I don't have a formal recipe for you, but it's so easy to make. It goes a little something like this:
Bake the orecchiette according to the package instructions.
Just before it's done boiling, add a bag of spinach (as much or as little as you'd like, really) to the water to cook it up a bit.
While the noodles cook, brown one pound of ground Italian sausage.
Drain the noodles and spinach.
Mix the sauce (marinara or arrabbiatta), noodles and spinach, and browned sausage in a 13″ x 9″ baking dish.
Sprinkle with a bit of mozzarella on top, if you'd like.
Bake for 30 minutes at 350 degrees Farenheit.
Enjoy!
Zucchini Tomato Soup
If you're in the mood for soup, this zucchini tomato soup would be a delicious option that also incorporates other fresh veggies. You can add zucchini as well as broccoli, bell peppers, squash, and more.
Shakshuka
I wasn't familiar with this dish until a couple of years ago. Shakshuka is a Mediterranean dish of poached eggs in tomato sauce. We use the Shakshuka recipe from The Whole 30 Cookbook (which I can't seem to find online anymore), but this Shakshuka recipe looks quite similar.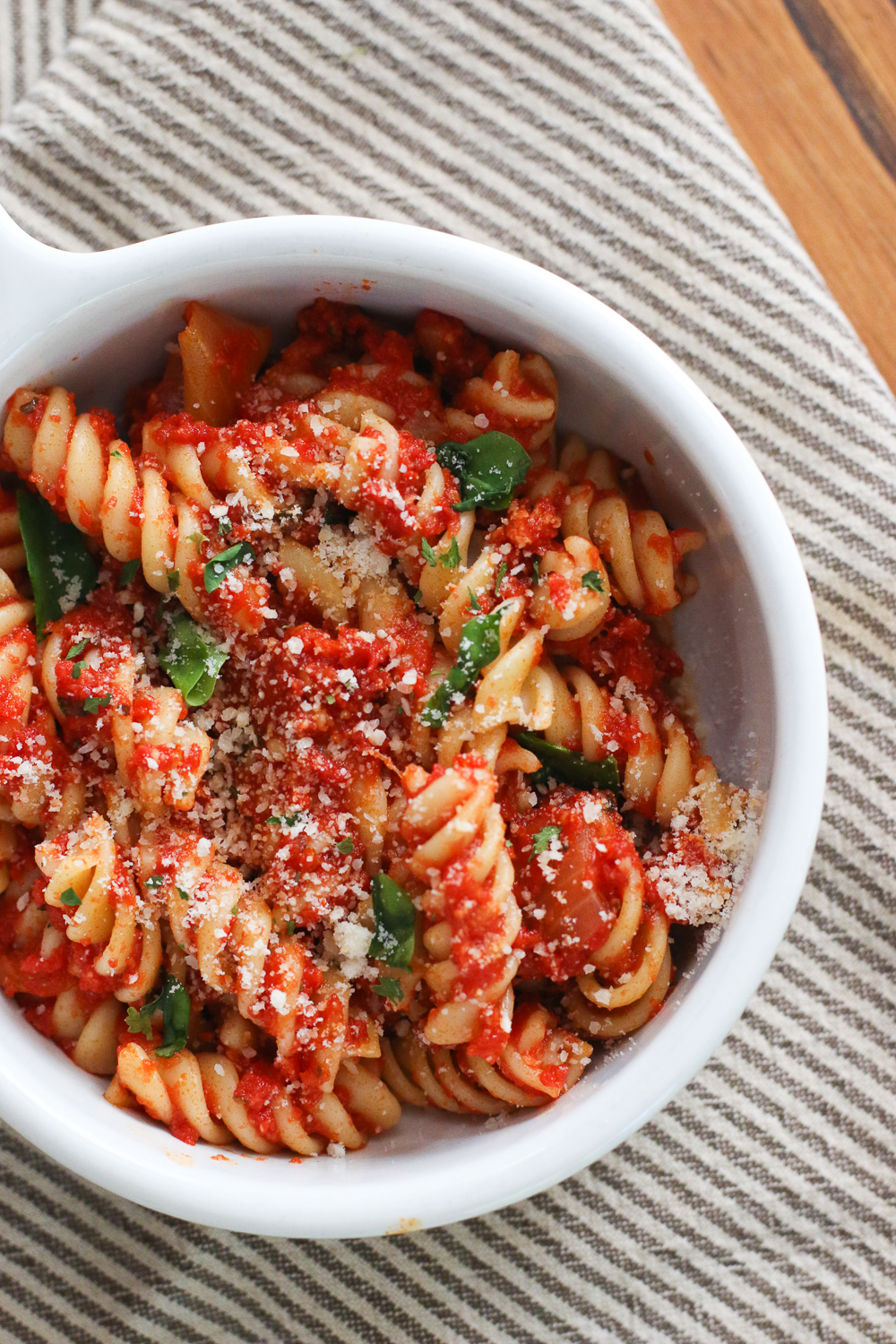 71 Additional Recipes To Use Fresh Tomatoes
Instead of recreating the wheel, Buzzfeed curated 27 delicious ways to use tomatoes in a variety of different recipes, most of which use fresh tomatoes. You can also check out this round-up of 44 recipes to use up leftover tomatoes for more ideas if prefer something a little fancier.
While a few of these recipes use quite a few tomatoes as the main ingredients, most of them using tomatoes as complementary ingredients. They offer a lot of ways to use tomatoes, but not necessarily all of them will solve your conundrum of a bounty of tomatoes with no mouths to eat them. Scan through and find one or two to try out.
How do you use extra tomatoes? Do you have a favorite recipe or a favorite storage method to make sure that your tomatoes don't go to waste? I'd love to hear in the comments. The more ideas the merrier (and tastier).
About The Author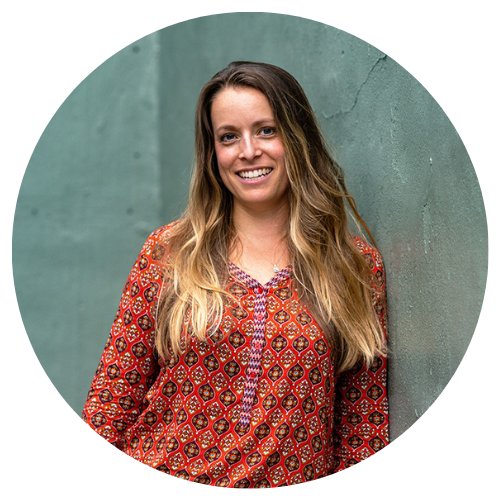 Jen Panaro
Jen Panaro, founder and editor-in-chief of Honestly Modern, is a self-proclaimed composting nerd and an advocate for sustainable living for modern families. In her spare time, she's a serial library book borrower, a messy gardener, and a mom of two boys who spends a lot of time in hockey rinks and on baseball fields.
You can find more of her work at Raising Global Kidizens, an online space to help parents and caregivers raise the next generation of responsible global citizens.