2 Simple DIYs for (Almost) Zero Waste Halloween Costumes
Make your Halloween more sustainable with these (almost) zero-waste easy DIY Halloween costumes, including some general tips that can be applied to make any costume more eco-friendly. These step-by-step tutorials for simple low waste Captain America and Elmo costumes are so easy just anyone can complete them.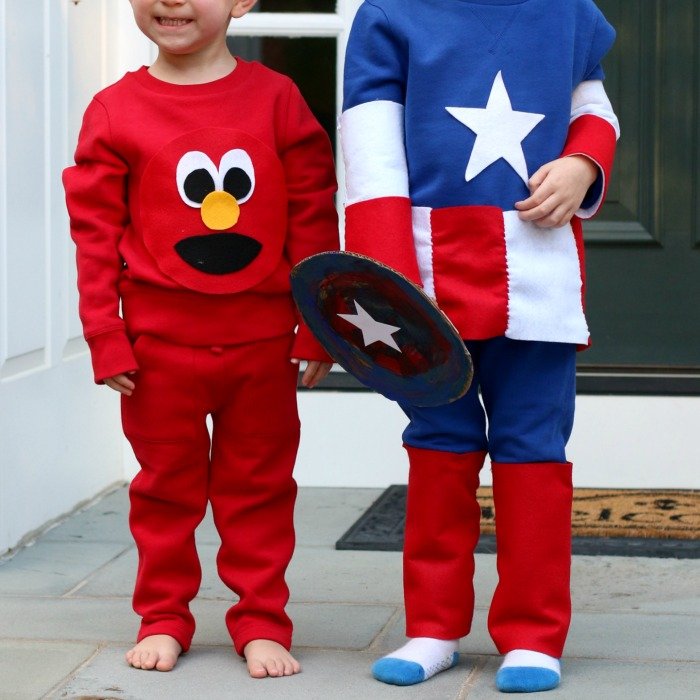 This post contains affiliate links.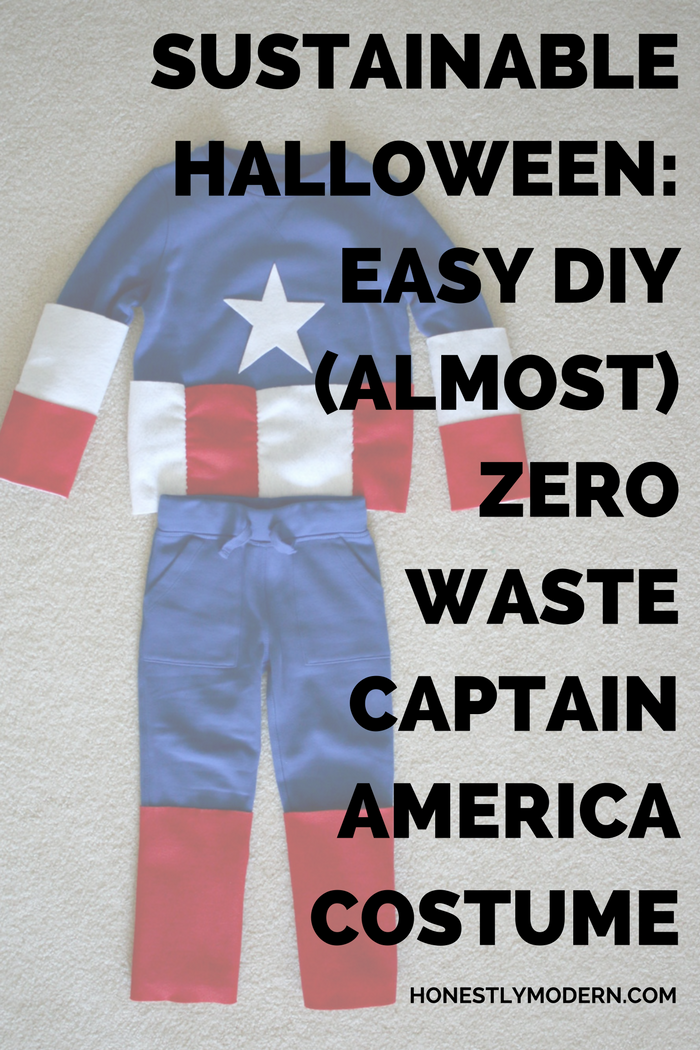 Every year when Halloween rolls around, I get a little nervous about the "costume situation" and the "candy situation". I'm not the super creative mom that easily whips together matching family costumes that go viral on social media. I'm barely the costume mom at all.
As you might expect if you've been around the blog for a hot minute, I cringe at the excessive levels of poorly made, one-time use costumes that flood store shelves and ultimately languish in our landfills.
I want costumes that will have more than a day of life in them. I want costumes that last and can be reused time and again. I also prefer to put my kids in costumes that are comfortable and feel like regular clothes as opposed to ornate costumes that make it hard to maneuver.
And the "candy situation"? I don't want my kids to miss out on the fun, but I also don't look forward to loads of sugar pouring into the house around the holiday. I love chocolate and junk just as much as the next person (which is maybe why I get a little wide-eyed when it floods our kitchen cabinets).
While I recognize I make it harder for myself, I refuse to succumb to the wasteful and uncomfortable costume craze. I wanted my boys to love their costumes, but I was willing to invest a few hours of my time to make them costumes that would stick around and be useful for longer than one night.
We made these simple DIY and low waste Captain America and Elmo Halloween costumes three years when the boys were 6 and 3. This year, they are dressing up as a black jaguar and a hockey player or baseball player (TBD on the athlete selection). I look forward to sharing more about those costumes soon. But in the meantime, I thought revisiting this DIY might be helpful for those of you who haven't seen it!
Solid Halloween Basics from Primary Kids
For both of these costumes and every year since I discovered Primary, I have used pieces from Primary Kids as the base for their Halloween costumes. I loved that I could reuse these pieces as normal clothes after trick-or-treating. Primary makes great sustainable basics for kids in solid colors across the rainbow (and you get 20% off your first purchase with code AFF20PCT!).
I've touted my affinity for Primary several times in the past when I shared my favorite sustainable kids' clothing brands as well as our favorite sustainable underwear for kids. Primary makes high-quality sustainable kids' clothing that lasts in my boys' wardrobe.
When it comes to Halloween, Primary makes so much sense. The basic pieces provide a foundation for so many Halloween costumes and can be worn again and again.
Encouraging Sustainable Halloween Costumes For My Boys
Each Halloween, I do my best to direct my boys toward costumes that can be worn again, made from things we already have at home, or made with basic pieces like Primary items that will become regular items in their wardrobe.
While I don't specifically tell them they were limited, I gently push them in certain directions that make it easier to create sustainable Halloween costumes. I know as they get older, they'll start to be more specific with their requests. But for now, I'll go with what works. 🙂
Ultimately, I encourage the costumes I like and that can most easily be made with Primary pieces. The boys ultimately pick what they want, but I definitely direct them down certain paths that better suited my Halloween costume preferences.
[the_ad id="27452″]
A couple of weeks before Halloween the year the boys wore these costumes, T settled on Captain America and J opted for Elmo. I ordered the sweatpants and joggers from Primary, stopped by JoAnn's to pick up the felt and embroidery thread, and got to work just a few days before the big day. I was pretty pumped when I found Eco-fi felt, which is made of post-consumer recycled plastic bottles.
Both of the projects below were quite simple. The Elmo costume only took about 20 minutes to make. The Captain America costume took a couple of hours (and I completed it over the course of two afternoon naps), but none of the steps are especially difficult. All the supplies are everyday items you can find in your local Target or craft stores.
Let's start with the Elmo costume which, I promise, is ridiculously easy.
Easy DIY Sustainable Elmo Costume Tutorial
Supplies for DIY Low Waste Elmo Halloween Costume
Step-by-Step Low Waste Elmo Halloween Costume Instructions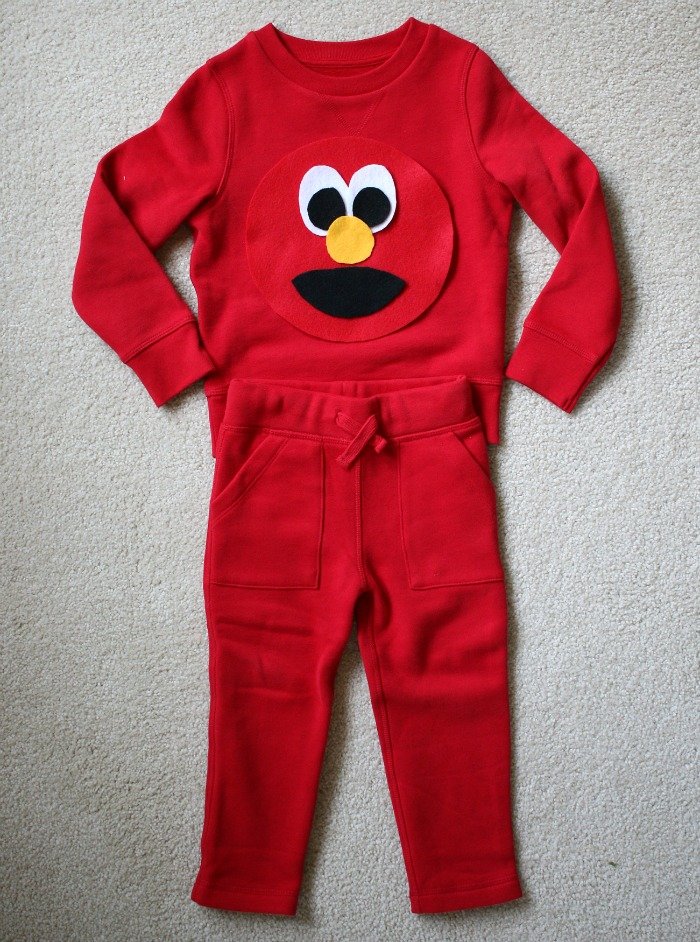 Using a plain red sweatshirt and red sweatpants from Primary Kids as the base, I cut a red circle of felt for the face. I traced around a mixing bowl to get a more accurate shape. For the rest of the pieces, all made from felt, I cut freehand.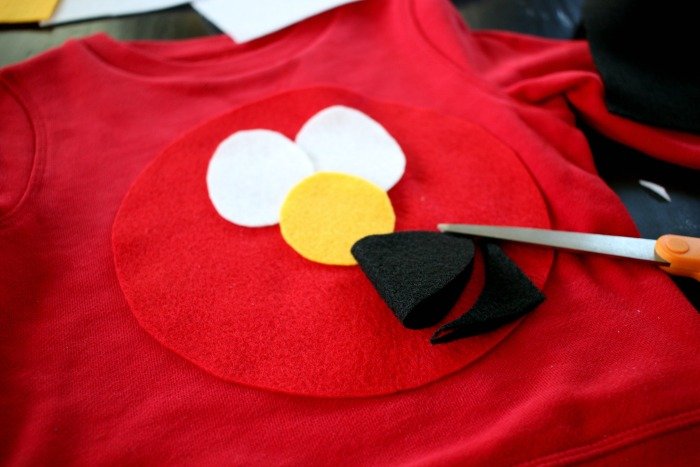 I attached each of the white, black, and gold pieces to the red felt circle with permanent bonding fabric tape. In order to preserve the sweatshirt for future use, I adhered the red felt circle to the sweatshirt with temporary adjustable hem tape.
That's it. This DIY Elmo Halloween costume is so simple, and you can reuse the pieces as regular clothes after Halloween. My son, who loves Elmo, thinks it's just the greatest thing ever.
On to the second costume…
Easy DIY Sustainable Captain America Costume Tutorial
This Captain America Halloween costume was a bit harder than the Elmo costume, though that's not saying much. It's still so easy that just about anyone can do it. You don't need a sewing machine or any fancy crafting skills.
Like the Elmo costume, I started with a solid blue sweatshirt and blue joggers from Primary that I knew the boys would continue to wear as regular clothes long after Halloween. The single-use Halloween costumes create so much waste!
Supplies For Simple DIY Low Waste Captain American Halloween Costume
Step-by-Step Tutorial For Simple DIY Low Waste Captain American Halloween Costume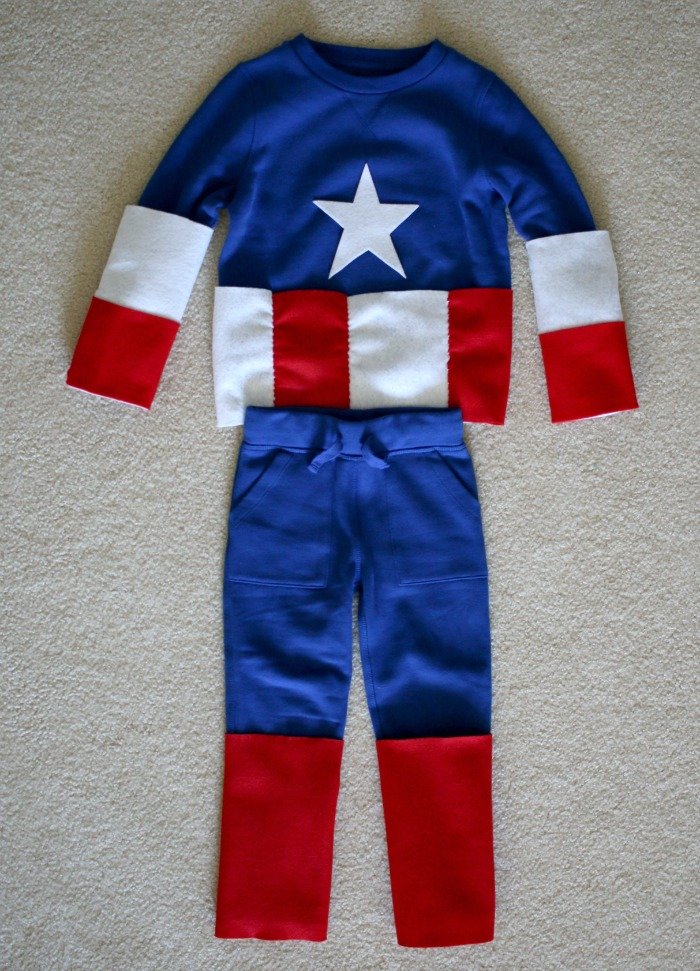 1. Measure the desired height of the red and white waistband that will wrap around the waist over the sweatshirt. Height is optional and depends on the size of the costume, but it should cover from the bottom hem of the sweatshirt to just about the belly button.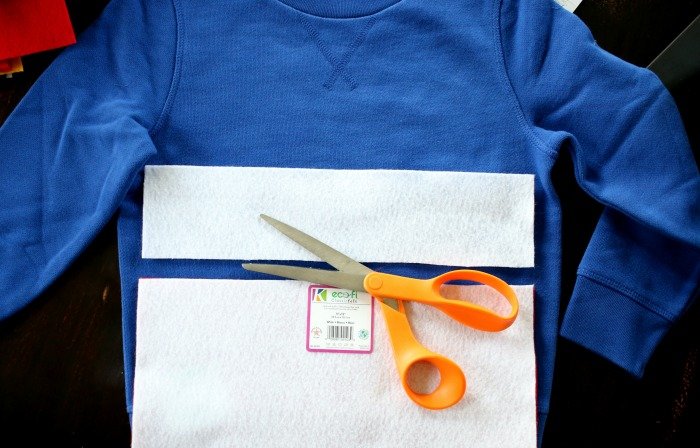 2. Create rectangles in both red and white felt that are 3 -4″ wide. These will be sewn together to create the waistband. After sewing together, the striped felt strip should be double the width of the sweatshirt when it's laid flat. Thus, create enough strips to cover double the width of the sweatshirt, including about 1/2″ seam allowance on each rectangle.
I ended up needing to add two extra strips in the back, so you can add width if needed, as you sew the rectangles together.
Note: It's important to perform measurements for these pieces based on the sweatshirt and not the person wearing the clothes. You'll want to be sure felt pieces aren't too tight and don't scrunch the fabric too much when worn.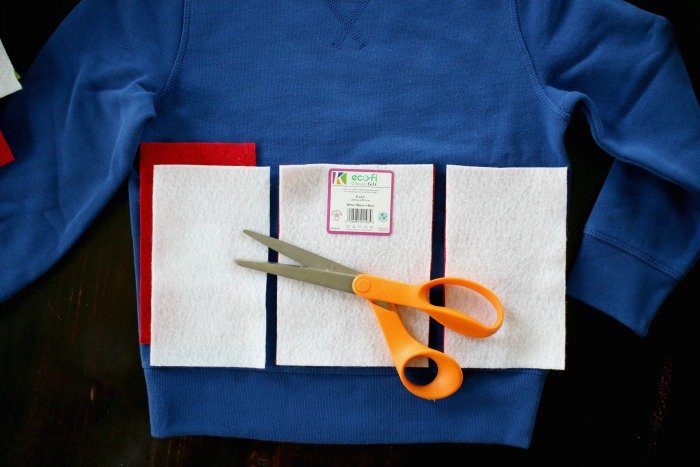 3. You can sew together the felt rectangles with a sewing machine if you have one. To keep it simple (and because my machine was in storage when I made these), I used embroidery thread and hand-stitched the edges of each rectangle together to create a strip. There were some uneven edges that I trimmed up once they were together.
Here's a closer view of the stitches. I included a bit more about the stitches down below.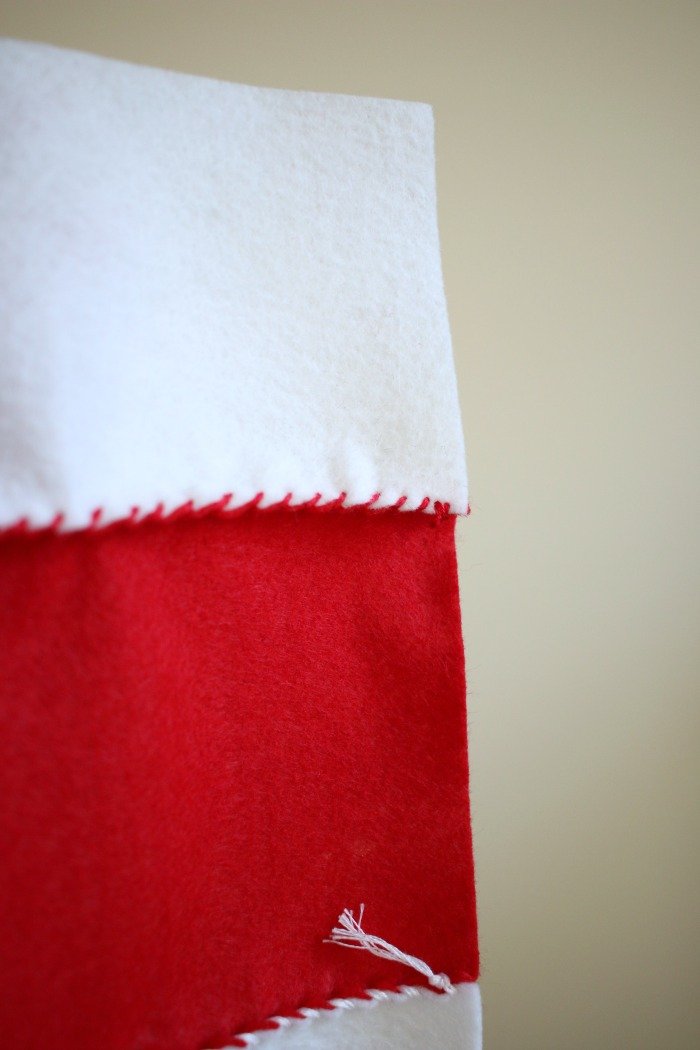 4. To create the sleeve covers, cut a white layer the length from the wrist hem up to about 1″ under the armpit. You can create these layers to your desired length, however, depending on the size of the clothes and the child. To ensure proper width, fold the white felt in half and measure it wide enough to cover the sleeve as it lays flat.
5. Cut a red rectangle, folded in half, to cover about 1/2 of the white sleeve cover, as shown below.
6. Use the permanent fabric tape to attach the red rectangles to the white rectangles
7. Fold the red and white sleeve covers in half (like a taco) and stitch the ends together. Stitch around the edge of the felt (i.e. along the "top of the taco") so the stitches will ultimately go along the length of the sleeve. Shown below, create knots at the beginning and the end by threading the embroidery thread through the loop from the previous stitch.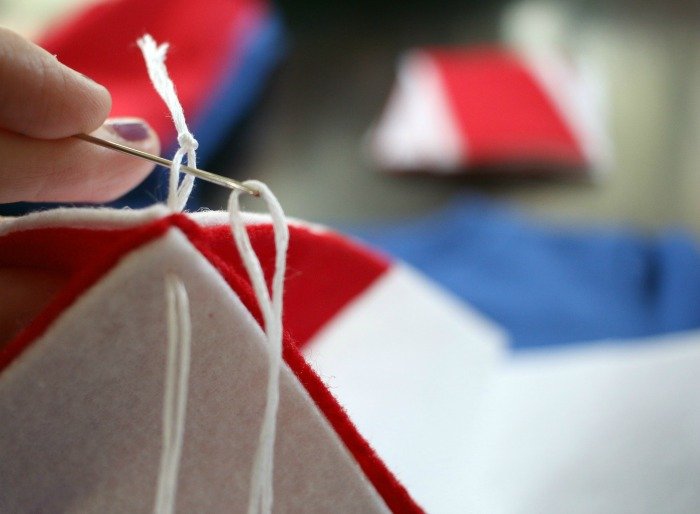 8. Pull the top end of the sleeve cover through the middle of the tube and out the other end to turn the entire sleeve cover right side out.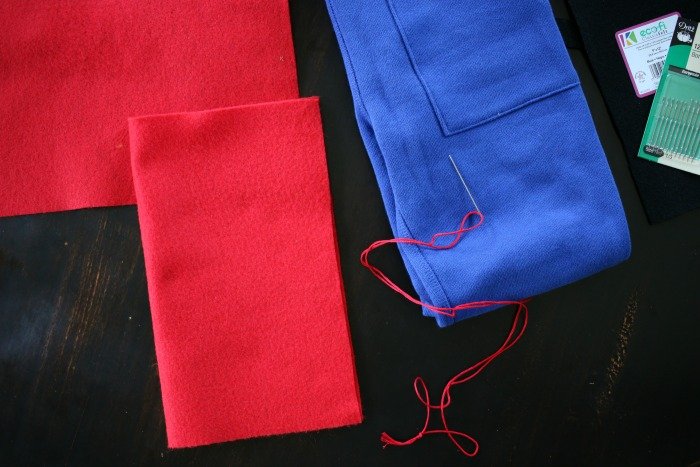 9. Similar to the white sleeve cover above, fold the felt in half and measure wide enough to cover the width of the pants, laid flat. The top of the leg cover should start an inch or two under the knee and continue to the bottom of the leg hem. Trim off the excess felt.
10. Hand stitch along the open edge of the leg cover, tying knots at the beginning and end, as described above.
11. Pull one end of the cover through the middle to turn the cover right side out.
12. To create the star, draw the star on the felt and cut around the edges. The ink will be on the back of the star, so as long as it's not too dark, it won't show through to the front.
13. With my son wearing the sweatshirt and joggers, I put the waistband strip, leg covers, and sleeve covers on the clothes. Having the clothes on him made it much easier to determine where they should sit. I attached each of the pieces with adjustable hem tape. The adjustable tape won't hold up against washing and tough wear, but I didn't want the full costume to stay together beyond Halloween.
14. Although there are no tutorial photos, my son made the Captain America shield out of cardboard from a diaper box. We cut out a circle and taped a small cardboard strip on the back to use as a handle. He painted the brown side of the cardboard with red and blue circles. We added a white star from regular printer paper. He loved the ever-so-simple, upcycled shield to finish off his costume.
If You Try It…
If you give it a shot, let me know how it goes. I'd love to see you share any similar costumes on Instagram and tag me (@honestlymodern) so I can see them.
Other Sustainable Easy Halloween Tutorial Ideas
If you like these tutorials and want to take steps toward a more sustainable Halloween, also check out either of these DIY drawstring bags that are perfect for trick-or-treating.
The white bag requires a sewing machine. The blue ones are really simple, no-sew drawstring bag alternatives made from an upcycled t-shirt using the same permanent bonding fabric tape I used in the Halloween costume tutorials above. The no-sew drawstring bags are also one of 15 Easy Steps Toward Zero Waste You Can Take Today.
Do you have any great low-waste or eco-friendly Halloween DIYs? I'd love to hear about them in the comments!