My Favorite Sustainable Underwear For Kids
If you're in the market for sustainable underwear for kids, we've got you covered. Here are all the details on our favorite eco-friendly and sustainable underwear brand for kids.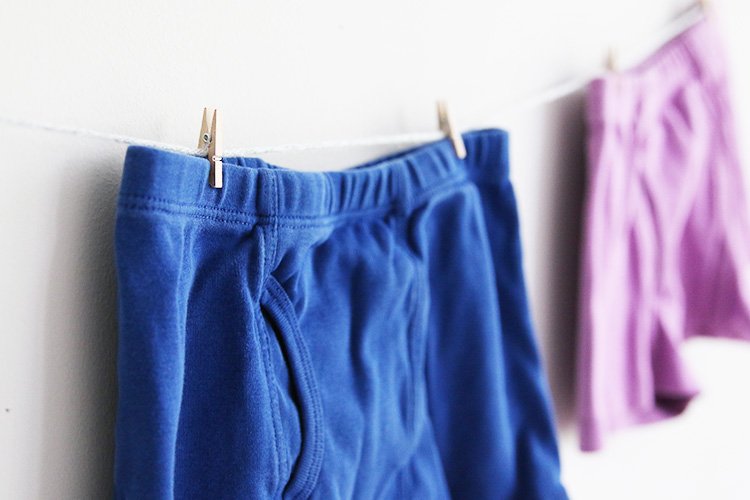 This post contains affiliate links. These links have no impact on your purchase price.
Last week, we cleaned out and rearranged the boys room. There's something so refreshing about simply rearranging furniture and cleaning out drawers and closets.
Among other things, we packed up some of their underwear that no longer fit them. Despite being well over a year old, the boxers were still in pretty decent condition. For several years, the boys have been wearing almost exclusively these boxers from Primary. I love that they are simple, super soft, and well-made.
Buying underwear for my kids is not something to which I have any interest in dedicating time. I just want one solution that's reliable and easy. For us, that has been Primary through and through.
I included Primary in my list of great brands for sustainable basics for kids. They are also our favorite sustainable pajamas for kids. Their clothes are free of logos and silly phrases. Instead, everything is solid colors and stripes in just about every color of the rainbow and gender-neutral. Styles and silhouettes are simple and functional. Fabrics are soft and super kid-friendly.
The clothes are designed to never "go out of style" and be loved by kids. In our experience, they've nailed it.
Primary is a great sustainable brand for a variety of reasons. First and foremost, they have styles and quality that last. Part of the reason fashion has such a dismal environmental record is a result of quickly transitioning trends and atrocious quality that lasts just a few washes, especially for kids' clothes. When we can invest in a few reasonably-priced garments that mix and match well and last a long time, we significantly reduce the impact of our wardrobes on the environment and send far fewer textiles to landfills.
More specifically, Primary uses fabrics that meet the OEKO-Tex Standard 100 Certification indicating they are free from over 300 chemicals and known irritants. Certain of their products are made from recycled materials and they have plans to incorporate more recycled and eco-friendly materials into their products, including their denim. Denim historically is a material with a significant environmental footprint, so reducing the economic impact of that material can be really meaningful for customers and the environment.
All in all, I've been really pleased with Primary for my boys and we've been purchasing their clothes for many years. They even have a School Giveback program which is great!
If you're in the market for sustainable underwear for kids, Primary is a great option. Their kids underwear and boxers have been of high-quality, consistent quality and sizing, and my boys love them. They are soft and do not have tags, so we get no complaints about itchy or uncomfortable boxers. Also, you get 20% off your first purchase Primary purchase with code AFF20PCT.
Let me know if you have tried them and what you think! I expect Primary boxers will be the go-to sustainable underwear for our boys for the foreseeable future.