My Favorite Sustainable Underwear For Kids
If you're in the market for sustainable underwear for kids, we've got you covered. Here are all the details on our favorite eco-friendly and sustainable underwear brand for kids.
This post contains affiliate links. These links have no impact on your purchase price.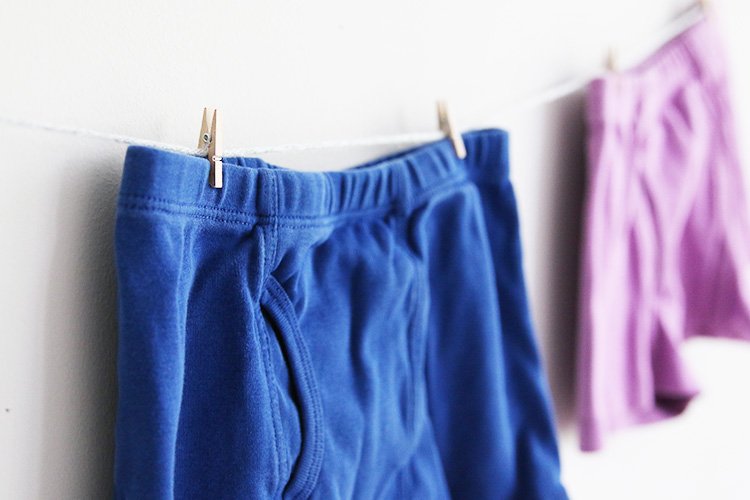 Periodically, as we wash and fold laundry, we go through the boys' clothes with them to see what's still working, what needs to be donated, and what needs to be replaced. Recently, our very (non) scientific laundry analysis led us to the conclusion that our boys needed a full underwear refresh.
In the past, I generally stuck to a single brand for their boxers. Buying underwear for my kids is not something to which I have any interest in dedicating time. I just want one solution that's reliable and easy. For a good while, that was been Primary. It was sustainable, familiar, and an easy default option whenever they need a few new pairs in their drawer.
Recently, however, I connected with the owner of a new sustainable kids' clothing brand, Crann Organic, who started her company and focused first and foremost on the softest, most sustainable kids' underwear she could create.
She struggled to find boxers soft enough for her son on the market, so she set out to solve her own problem and create them herself. Now, she produces what has become my boys' absolute favorite boxers too!
Crann Organic (Most Favorite Sustainable Boxers for Kids)
It took my boys a hot second to proclaim that Crann boxers were their new favorite boxers (and I don't say that lightly). My younger son put them on and immediately said "Oh my gosh! These are so soft!!" And he's not wrong. Maybe one day they will have such soft underwear in adult sizes.
A bit more about Crann
Starting from the very basics – the boxer collection – the company's owner focused on sustainable fabrics that were also incredibly soft to suit her children. Crann Organic uses fabrics that are OKEO-Tex® Standard 100 certified and made of sustainable materials like TENCEL™ Lyocell fibers and organic cotton.
Crann has expanded to include sweatshirts, sweatpants, dresses, and more, though my boys are partial to the boxers. I also love that the boxers are made in the United States and the rest of the clothes are manufactured in a GOTS-certified facility in India.
My only struggle with Crann is that products can be out of stock at times. It's a fairly new business, so the owner seems to still be working to find the right inventory mix and streamline production. Given her commitment to sustainability, I know this entails a lot of moving pieces.
Because the product is so darn good though, I'm willing to wait to purchase when that works for me. I am sure that with growth, the product availability will smooth out, and we will continue to find more options in her shop!
Primary (Second Favorite Sustainable Boxers for Kids)
Until we discovered Crann, the boys wore almost exclusively these boxers from Primary. I love that they are simple, super soft, and well-made. As a more established company, they have a greater variety of colors than Crann and they also have more consistent stock.
Thus, when you really need to replenish the underwear drawer and Crann it out of stock, Primary is a worthwhile second option. (Though to be sure, my boys will unwaveringly confirm that Crann boxers are the BEST and the softest!)
It's worth noting that I found Primary pretty early on in their business, and they had the same inventory issue with boxers. It took some time before they seemed to find a good cadence to ensure the availability of some of their most popular products.
A bit more about Primary
I included Primary in my list of great brands for sustainable basics for kids. They are also our favorite sustainable pajamas for kids. Their clothes are free of logos and silly phrases. Instead, everything is solid colors and stripes in just about every color of the rainbow and gender-neutral. Styles and silhouettes are simple and functional. Fabrics are soft and super kid-friendly.
The clothes are designed to never "go out of style" and be loved by kids. In our experience, they've nailed it.
Primary is a great sustainable brand for a variety of reasons. First and foremost, they have styles and quality that last. Part of the reason fashion has such a dismal environmental record is a result of quickly transitioning trends and atrocious quality that lasts just a few washes, especially for kids' clothes. When we can invest in a few reasonably-priced garments that mix and match well and last a long time, we significantly reduce the impact of our wardrobes on the environment and send far fewer textiles to landfills.
Certain of their products are made from recycled materials and they have plans to incorporate more recycled and eco-friendly materials into their products, including their denim. Denim historically is a material with a significant environmental footprint, so reducing the economic impact of that material can be really meaningful for customers and the environment.
All in all, I've been really pleased with Primary for my boys and we've been purchasing their clothes for many years. They even have a School Giveback program which is great!
If you're in the market for sustainable underwear for kids, Primary is a great option. Their kids underwear and boxers have been of high-quality, consistent quality and sizing, and my boys love them. They are soft and do not have tags, so we get no complaints about itchy or uncomfortable boxers. Also, you get 20% off your first purchase Primary purchase with code AFF20PCT.
Let me know if you have tried them and what you think! I expect Primary boxers will be the go-to sustainable underwear for our boys for the foreseeable future.