12 Great Brands For Sustainable Kids Clothes
Wish you could easily find better, more eco-friendly kids' clothing and sustainable clothes for kids? These brands all offer high-quality sustainable basics for kids. Should we call them the "clean" dozen? 😉
Spoiler Alert: Primary is my very favorite sustainable kids' clothing brand for preschool and elementary-aged kids, and you get 20% off your first order at Primary.com with code AFF20PCT!
And BeyaMade is my jam for baby and toddler clothes. I share more details below, but this small yet mighty company has such a unique and incredible knack for making clothes that grow with your kids. How cool, right?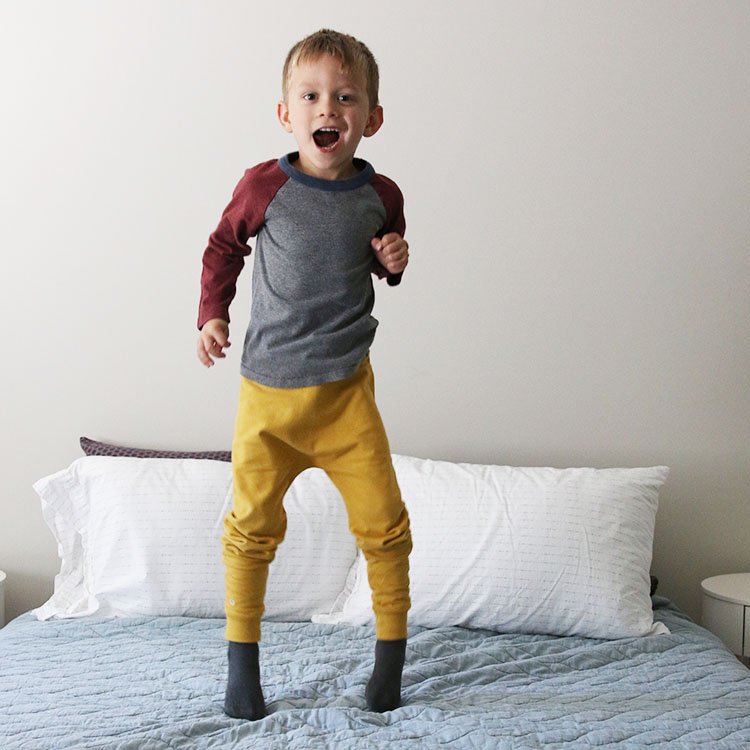 This post contains affiliate links, which have no impact on your purchase price.
Can anyone explain to me why it's so hard to find high-quality, sustainable basics for kids? When I shop for clothes for my boys, nearly everything is covered in phrases like "Dad's MVP" or "Mom's Cutie Patootie". Particularly when my boys were younger, I had the hardest time finding clothes for them that didn't say something silly.
As they get older and more into sports, they gravitate toward clothes that are covered in sports logos and images (when I let them peruse clothing themselves). At this age, I still do most of the shopping for my 7 and 8-year old boys. I haven't offered them too many choices yet. In due time, I'm sure they will ask to be more involved, but for now, it's smooth sailing.
12 Brands That Sell Great Sustainable Kids Clothes
Like many parents, I prefer simple and sustainable kids' clothing that isn't drowning in logos, embellishments, and glitter. Luckily, there are a handful of sustainable kids' clothing brands that offer simple but stylish basics for kids made with eco-friendly materials and with ethical supply chains in mind. Here are a few of our favorite eco-friendly kids' clothing brands.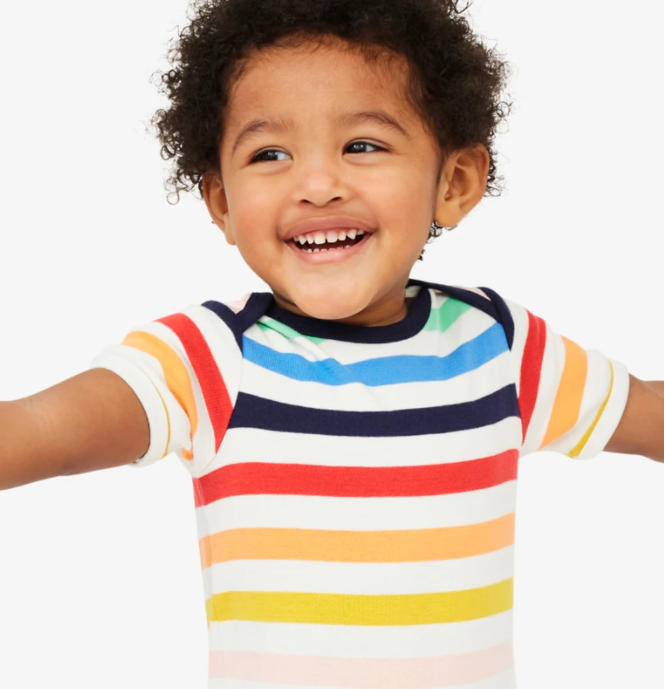 We have many pieces from Primary that we've had for a while. The boys love them. I think they are great, and they've held up well to the wear and tear of two young boys. (That's saying something.)
They also fit my boys well. Both my boys are quite thin, so I have a hard time finding clothes (especially pants) that are long enough but don't fall down to their ankles. Primary clothes fit my thin little guys well, and the pieces have been great additions to their wardrobe.
I love Primary as an eco-friendly kids' clothing option for a few reasons. First and foremost, they make seasonless, gender-neutral clothes that last. The most sustainable kids' clothes our youngsters can wear is the thing that's already in their closet, so long-lasting clothes that survive wear and tear is eco-friendly in and of itself.
Further, Primary is actively striving to make their product lines increasingly more eco-friendly by using recycled materials in their swimsuits and denim and transitioning to organic cotton. Since inception, their clothes have met the OEKO-Tex Standard 100 Certification indicating they are free from over 300 chemicals and known irritants. They also have several products made of Certified Organic Cotton that are manufactured in Certified GOTS facilities.

I also love that Primary has a reasonable price point. Many eco-friendly kids' clothing brands have really high price tags, often due to the labor and materials costs. By keeping its products simple and entirely seasonless, Primary keeps its prices down relative to other eco-friendly kids' clothing brands.
Primary also has a fantastic collection of Halloween ideas because their basic pieces make great bases for Halloween costumes that can be dressed up for the one-day celebration and then worn again on regular days. I'm always on the hunt for good alternatives to the cheap, junky Halloween costumes that end up in the trash not long after they are worn.
Last year, my boys both wore Primary basics as the foundation of their Halloween costume, which I shared about on the blog last year. FYI: I have a whole page of Halloween ideas if you're interested.
If you have not checked out Primary for sustainable kids' clothes, I highly recommend popping over to see the Primary collections!
Shop Primary | Get 20% off your first order at Primary.com with code AFF20PCT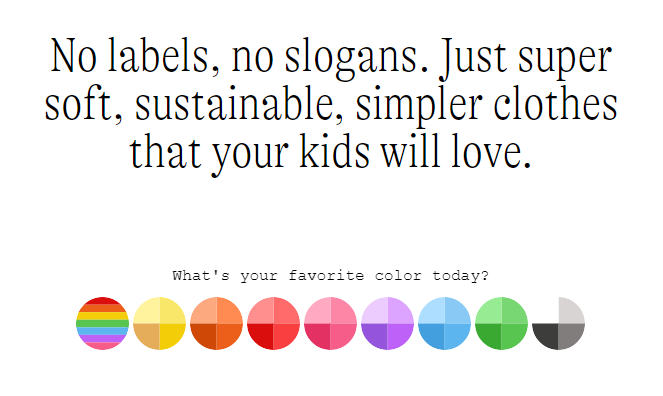 Style Superpower | Quality clothing made from incredible fabrics that lasts and grows with your child; includes pants, shirts, rompers, overalls, and more.
Age Range | 0 – 4T
Price | $$
BeyaMade is a small but mighty sustainable kids' clothing brand that makes pieces that grow with kids. It sounds crazy, but it's true. Laurel, the owner, creates pieces that have extra snaps or buttons or elastic to allow pieces to grow and expand as the child grows.
All the pieces are handmade with sustainable materials and so adorable. Many are gender-neutral pieces. I've shared more about BeyaMade in the past and the adorable pink BeyaMade romper I gifted to my sister last year.
BeyaMade clothing is so gorgeous! It's tempting to buy it for your own kids but makes a phenomenal, cherished gift for someone adding a new little one to their family. Although it's not the least expensive sustainable kids clothing brand on the market, it's a steal for the quality of construction and fabric as well as attention to detail and care with the design. Laurel uses amazing linens, cotton, and more that make for clothing that feels amazing and also lasts.
We've had a few clothing pieces from BeyaMade as well as three face coverings I ordered from BeyaMade this past year. They are seriously the best, most comfortable, and high-quality masks we've had. If you order a thing or two from BeyaMade, you won't regret it!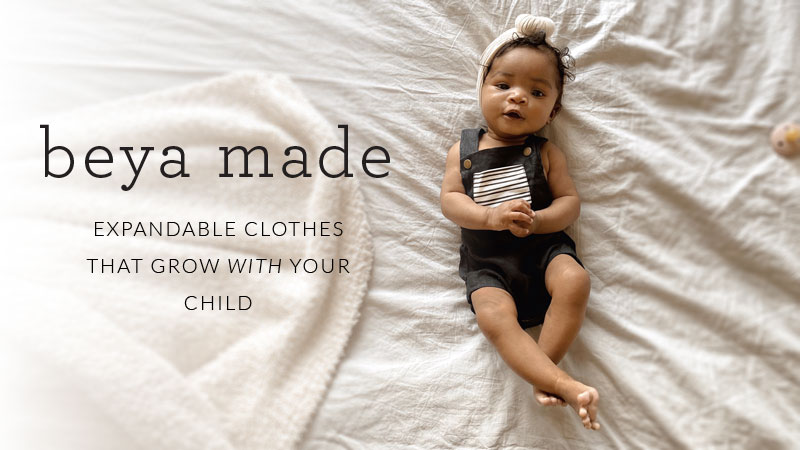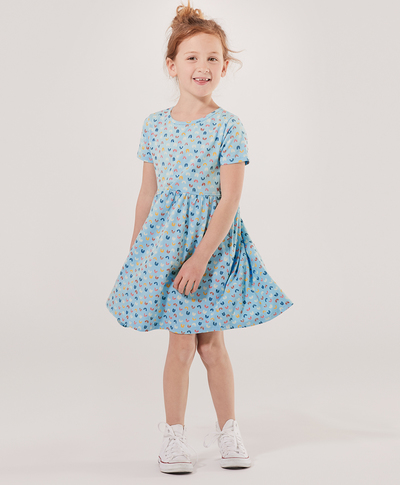 Pact strives to make sustainable kids' clothing affordable, and they've been quite successful in achieving this mission. Relative to most other ethical or sustainable kids' clothing brands, they are less expensive. Despite using organic cotton and partnering with Fair Trade Certified™ factories, they keep their costs to customers down in part by creating really simple clothes and sustainable basics. They also sell basics in bundles to further reduce the cost per item.
All pieces from Pact are made with organic cotton that is GOTS certified. GOTS, or Global Organic Textile Standard, certification ensures that Pact products are meeting criteria for being organic as defined by the standard.
Pact also prioritizes fair treatment of those who make their clothes. By using Fair Trade Certified™ factories, consumers gain confidence that the people who make the clothes are working in safe, amenable conditions and receiving fair wages for their labor.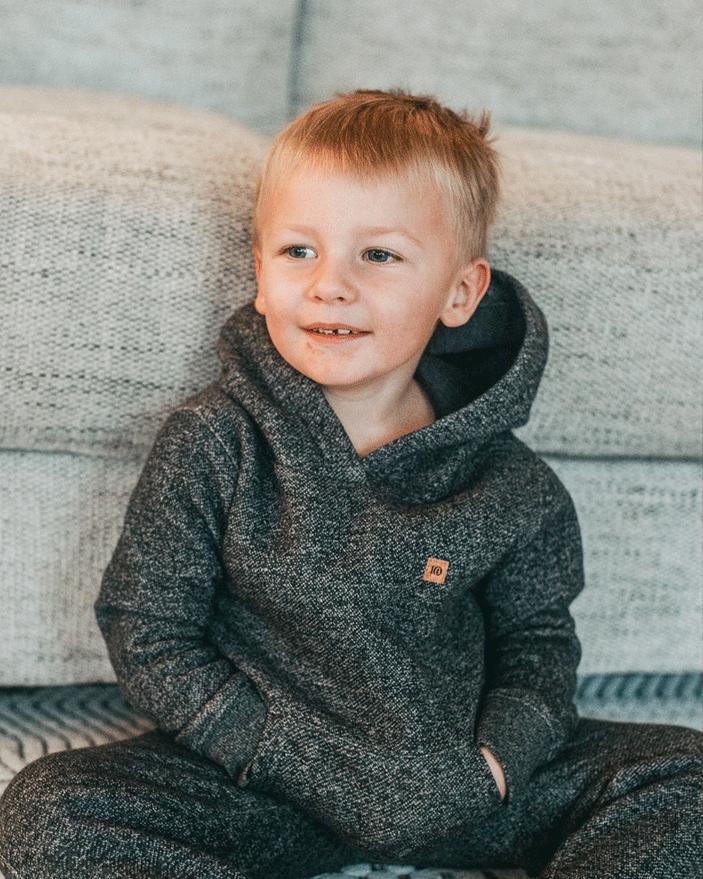 Style Superpower | Comfy clothing made of organic cotton; ten trees planted with each purchase
Age Range | 1T – 5T
Price | $-$$
tentree has a mission to protect the Earth through all facets of the company. They created the company with the goal to plant ten trees for each purchase and have added a sustainable kids clothing line made from organic cotton. The collection is fairly small, but includes some cozy items like sweatshirts as well as a line of apparel celebrating our role as protectors of the forest (like in the story The Lorax).
To ensure trees are planted in a way that is sustainable and helpful, they partner with various charitable organizations dedicated to restoring our forests and protecting the ever-important trees we already have on our planet.
Style Superpower | Long-lasting and well-made playclothes; includes dresses, pants, tops, hair accessories, and more
Age Range | 4Y – 14Y
Price | $$-$$$
Jackalo has a fun collection of unique pieces for boys and girls. Sustainability runs through the fabric of all aspects of this family-owned company. They use organic cotton to reduce the impact of pesticides and fertilizers on the communities where the cotton is grown. They also prioritize energy-efficient production processes and the reduction of material waste through their manufacturing and production.
Jackalo also offers a Trade Up program through which you can return your Jackalo pieces that no longer fit to receive a discount on new pieces from the company. Their clothing is a bit more expensive than fast fashion due to the quality of the products as well as their focus on the sustainability of the manufacturing and production process. Organic fabrics are more expensive to produce, and products are more expensive when made by artisans being paid fair wages.
Not only do I love the benefits of their Trade Up program for family budgets, but I also appreciate that the company is increasingly taking responsibility for the end life of their products. Currently, most companies have very little skin in the game once their products are sold. They don't care nor are they held responsible for the waste generated by their products or how the products are handled when no longer needed.
It's important that companies maintain at least some of the responsibility for the life cycle of the products they put out into the market, and ensure those products don't pile up in landfills. Consumers will almost always need to be part of the solution, but companies can play a big role in creating an easy infrastructure through which customers can close the loop on the life cycle of the products they buy.
If you're looking for some great, high-quality investment pieces for your kids, Jackalo is a great option to build a sustainable wardrobe for kids.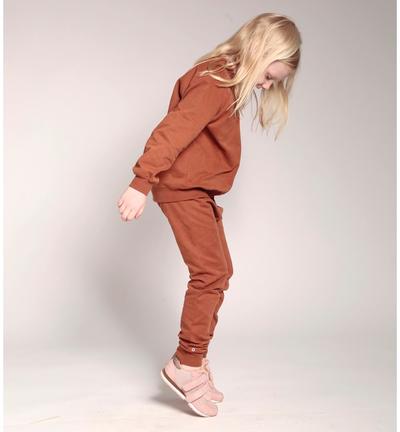 Style Superpower | Soft, simple, gender-neutral clothes made from organic cotton; includes pants, tops, shorts, and more
Age Range | 1Y – 9Y
Price | $-$$
Or.Basics offers a line of great, simple pieces that are gender-neutral, made with 100% organic cotton, and built to last. All of the organic cotton is certified under Global Organic Textile Standards (GOTS).
GOTS Certification means that the cotton is grown without the use of genetically modified seeds, harmful pesticides, chemicals or toxins, which is great for the planet and also for our children's skin. As the largest organ of our body, we often forget about the chemicals our skin may absorb from our clothes.
My younger son has a pair of OrBasics pants (he's wearing them in the photo at the top of this post). They are a really durable material that feels great for kids and also will hold up to many washes and wears. As we think about buying sustainable clothes for kids, it's important to think about the cost per wear. A while back, I shared more about this on the Or.Basics blog, and why cost per wear considerations matter.
After working with Or.Basics and getting to know some of their team, I was very impressed and think their small but simple line of clothing for kids makes a great component of any sustainable kids wardrobe.
Style Superpower | Durable, organic cotton clothes that incorporate designs from independent artists
Age Range | 2T – 14Y
Price | $-$$
Mightly is the product of moms with extensive experience in the apparel industry searching for well-made and comfortable clothes that could also endure tough play of active kids. The company makes organic cotton clothes that are Global Organic Textile Standard (GOTS) certified. GOTS certification ensures that our cotton is truly organic and that every step in the manufacturing process complies with safety and environmental standards.
Further, Mightly products are manufactured in Fair Trade Certified factories to ensure that the makers of their clothes have fair working conditions and earn a living wage. For every Fair Trade Certified product sold, Mightly pays an additional Fair Trade Premium directly back to the workers who make our clothes. Collectively, they vote on how to spend the funds on projects that address local needs, so that their families and children can thrive for generations to come.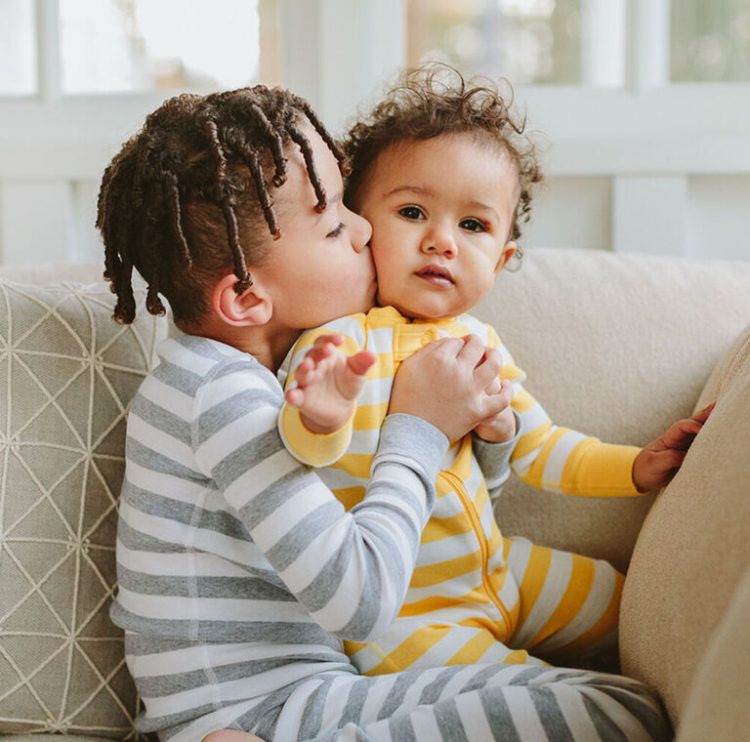 Style Superpower | Pajamas and a huge variety of everyday styles for kids across a range of ages; super soft clothing in fun, bright colors kids love
Age Range | 0 – 14
Price | $-$$
Hanna Andersson is well-known for their pajamas and so many cute kids' clothes. They also have a line of Bright Kids Basics. Nearly all of their clothes are made with fabrics that are Certified by OEKO-TEX® Standard 100.
The STANDARD 100 by OEKO-TEX® is a worldwide consistent, independent testing and certification system that helps ensure various harmful chemicals are not included in raw, semi-finished, and finished textile products.
Additionally, in accordance with the California Transparency in Supply Chains Act, they also share information about the Code of Conduct they use and the procedures they have in place to help ensure their products are not manufactured with child labor.
Hanna Andersson clothes are long-lasting and great to pass along as hand-me-downs. They're gems to find in secondhand and resale shops because you can bet they're in great condition.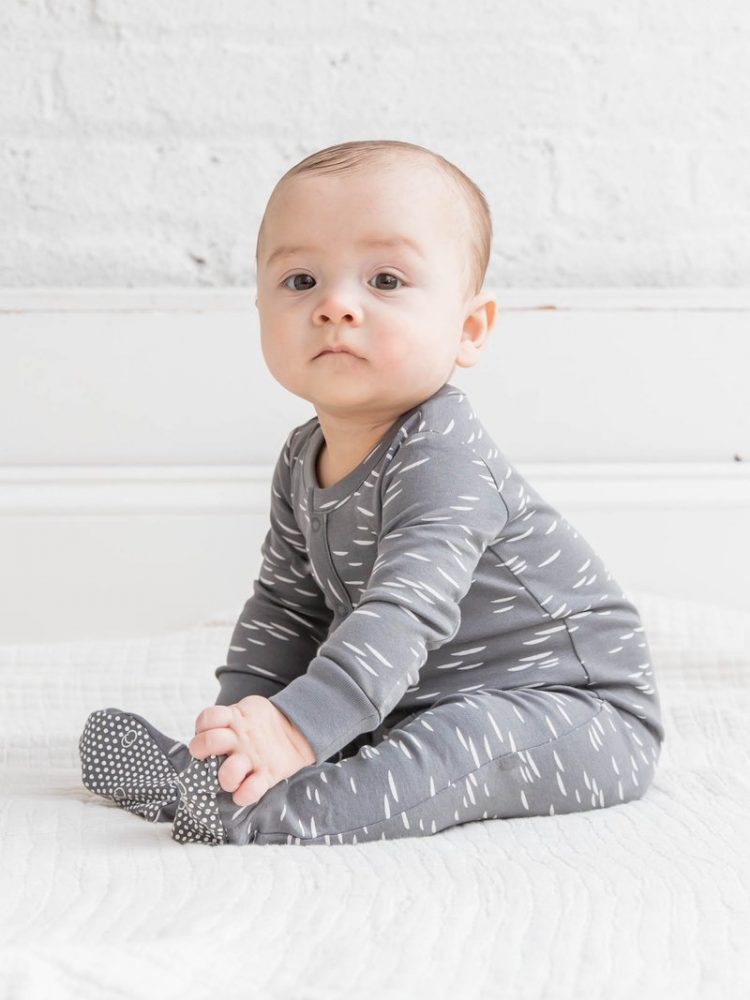 Style Superpower | Super soft, organic cotton basics; they have pajamas, pants, shirts, overalls, dresses, tights, and lots more
Age Range | 0 – 6
Price | $-$$
Colored Organics makes all of its clothing with 100% GOTS-certified organic cotton and also places an emphasis on ethical working conditions for its employees and makers. The company only works with factories that provide fair wages and appropriate working environments for their employees. They also use a portion of their proceeds to help a featured non-profit organization each month. (They are based in my hometown, so that might hold a special place in my heart.) 🙂
Lark Adventurewear makes ethical and sustainable basics for infants and toddlers that are made from 60% cotton and 40% bamboo fabric. The fabric is Oeko-tex 100 Certified, and they are made in the United States. They have really cute pieces like onesies and fun but simple dresses with adorable prints that aren't at all obnoxious or overdone.
The brand focuses on providing clothes to children that they can wear outdoors, especially in warm weather. They use an exclusive Softek™ bamboo fabric (that is Oeko-Tex 100 Certified) that wicks moisture away from delicate skin, regulates temperature, and is UPF 50+. Bamboo is a much less resource-intensive crop than cotton, so it can be a more sustainable alternative to cotton with respect to the resource and chemical use during the production of the raw materials.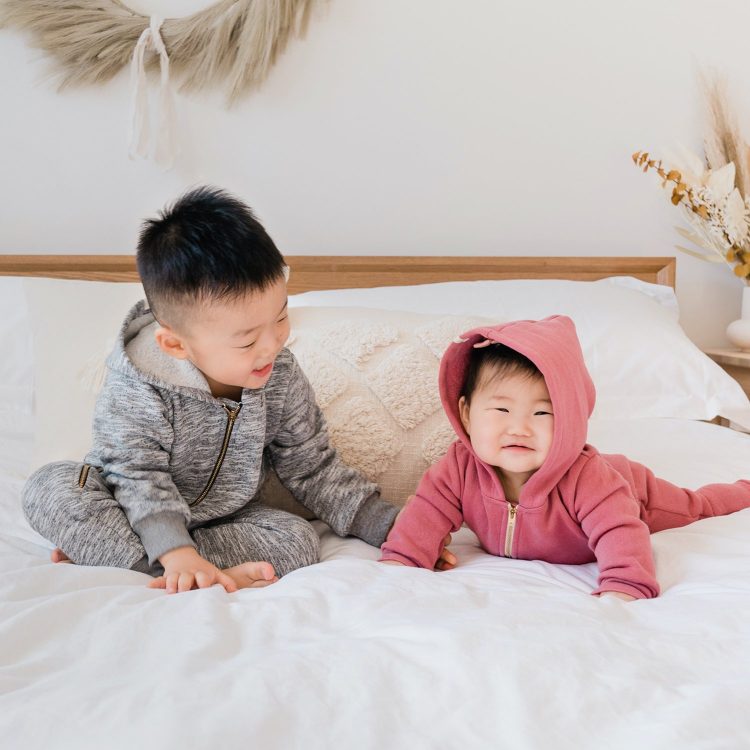 Style Superpower | Organic cotton basics in super cute styles, including an adorable gender-neutral cardigan; collection includes many accessories not available at other sustainable kids clothing retailers
Age Range | 0 – 12Y
Price | $$
Based in Toronto, Canada, Mini Mioche makes a host of basics in lovely colors that are gender-neutral. All of their pieces are made from organic cotton and manufactured locally. They have a wide range of styles that expanded over the last decade from an initial collection of nine items.
Mini Mioche uses fabrics that are knit locally and ethically in Toronto using GOTS organic cotton. All of their fabric dyes are non-toxic and come from natural sources. Further, all of their clothing is made in local Toronto factories, so it's easy for them regularly visit and monitor the factories to ensure the makers are fairly paid and work in safe conditions.
The company extends its sustainability commitment to its packaging as well. Orders are shipped with no plastic in packaging that is either recyclable or compostable.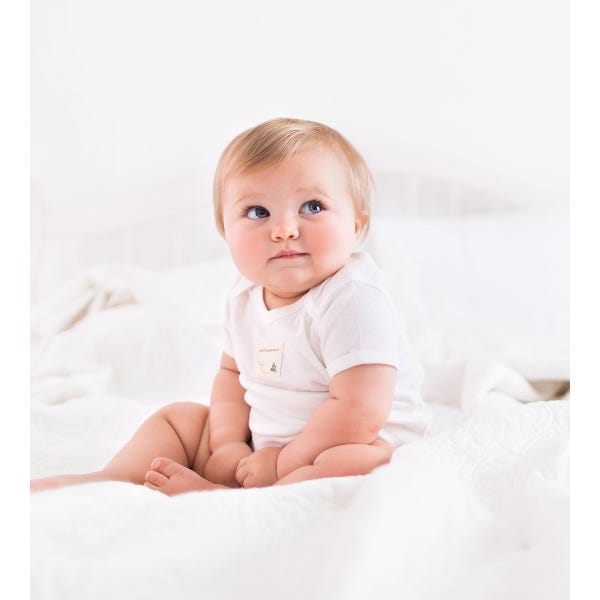 Style Superpower | Affordable organic cotton basics that are widely available online and in-store
Age Range | 0 – 7Y
Price | $
Burt's Bees Baby uses organic cotton for its affordable and readily available lines of apparel and other textiles designed for babies and young children. Throughout their collection, they use recycled materials and GOTS-certified materials,
They also note that they use factories that prioritize sustainable manufacturing processes as well. Their factories recycle water supplies, use renewable energy sources, and reuse byproduct where possible to limit non-renewable resource consumption.

Note: This post was originally published in October 2018 and updated in April 2021.