Decent Work + Economic Growth | Picture Book List For United Nations Sustainable Development Goal #8
Picture books are a great entry point to many difficult conversations with our kids. Read on for more about this creative project to help kids connect with and understand the global social and environmental justice goals as defined by the United Nations Sustainable Development Goals in an age-appropriate way.
This picture book list is part of a series of picture book lists that align with the United Nations Sustainable Development Goals. We've created a picture book list for each of the 17 United Nations Sustainable Development Goals as well as a FREE coloring poster to track progress and explore the United Nations Sustainable Development Goals with kids.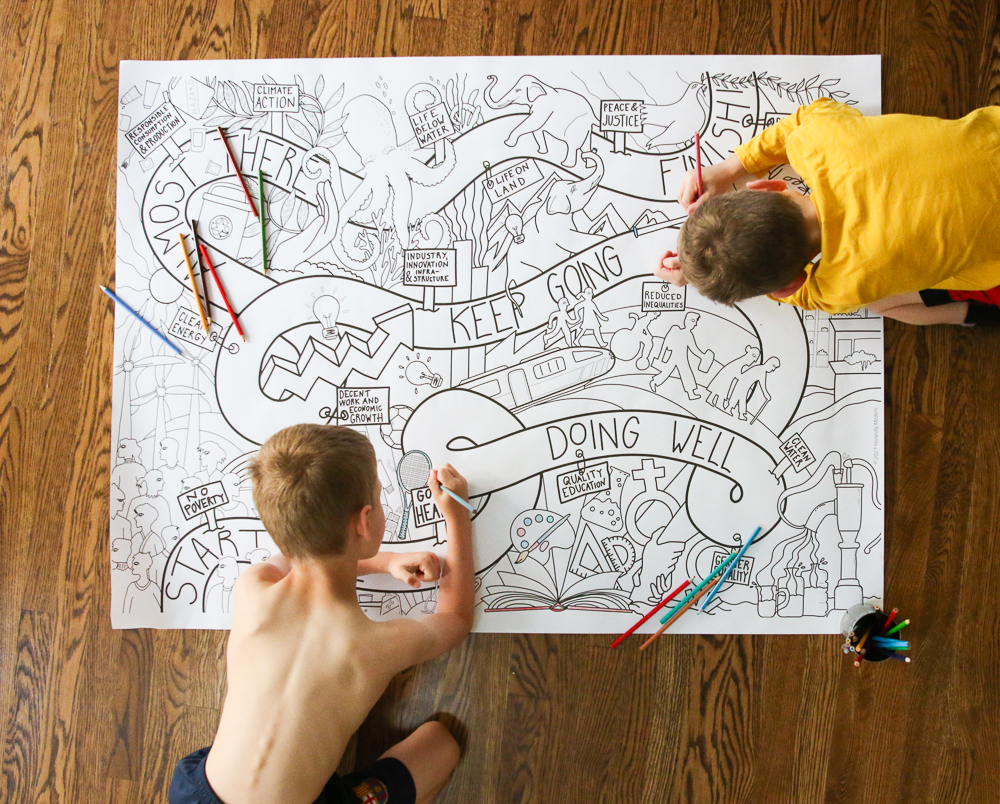 Learn More & Download The Free Coloring Poster
To learn more about the FREE coloring poster and see all 17 picture book lists, head to the United Nations Sustainable Development Goals Coloring Poster and Picture Book List homepage. Alternatively, simply sign up for our email list below and receive a link to download the FREE coloring poster.
What Are The United Nations Sustainable Development Goals?
In 2015, the United Nations adopted 17 Sustainable Development Goals (SDGs), a collective framework for peace and prosperity for people and the planet, now and into the future. The Sustainable Development Goals have broad intentions to end poverty and other deprivations while recognizing the need to simultaneously improve health and education, reduce inequality, spur economic growth, and tackle climate change.
Decent Work + Economic Growth | United Nations Sustainable Development Goal #8
The 8th United Nations Sustainable Development goal prioritizes decent work and economic growth for everyone around the world. Specifically, it outlines ideas about promoting sustained, inclusive, and sustainable economic growth while providing full employment and decent work for all who wish to be employed.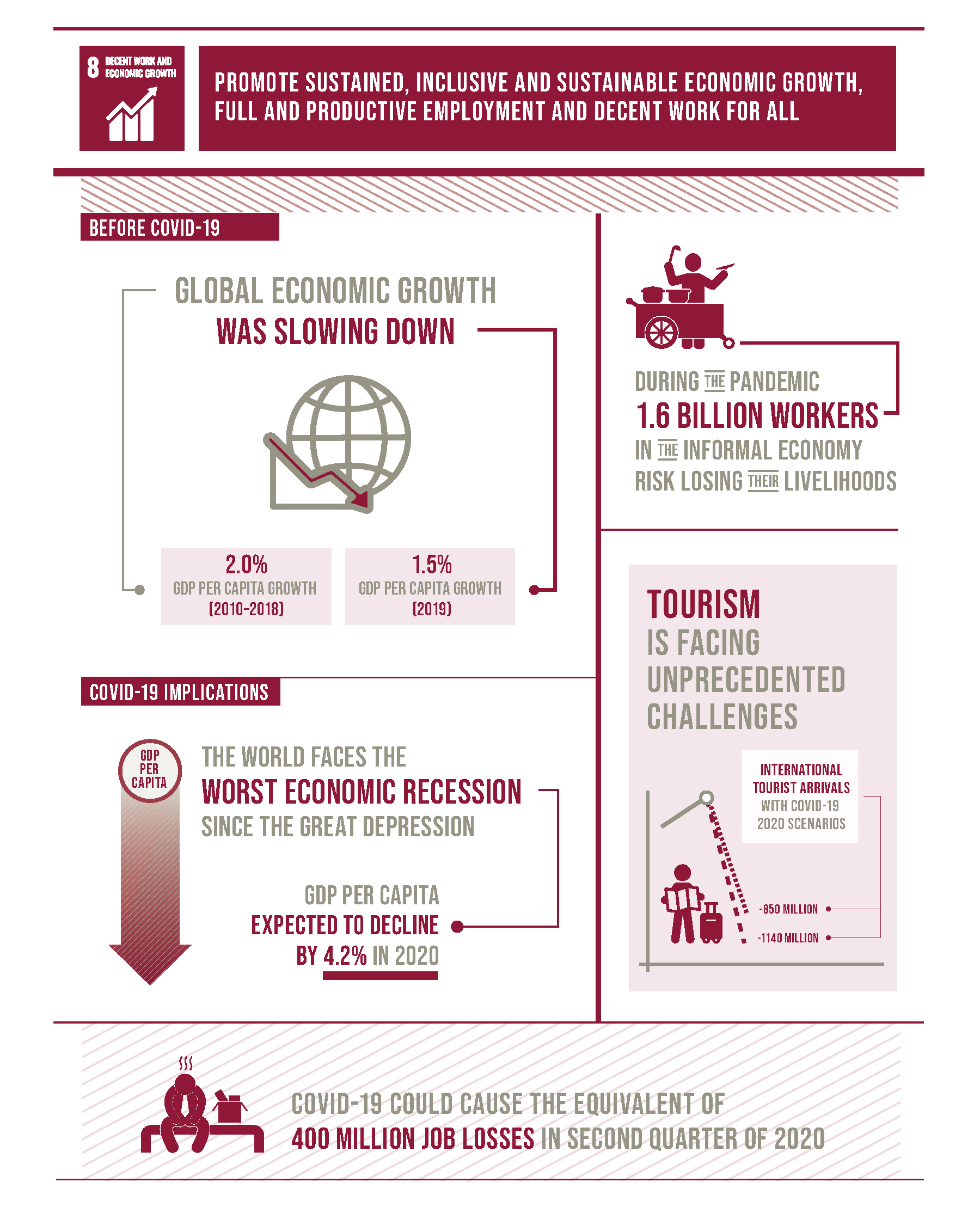 A Note on Buying and Borrowing Books
We include affiliate links to books we recommend. If you purchase through one of these links, Honestly Modern earns a very small commission that has no impact on your purchase price.
If you can find the books from your local library, from a friend, at an independent bookstore, or through a used book shop, those sources are ideal. Using the library is zero waste, saves money, and saves space in your home because you can read all the books without storing all the books on your bookshelves. If you're not sure of the best way to use your local library, check out these tips to make the most of your local library. With a little exposure, your kids will learn to LOVE the library!
If you prefer to listen to audiobooks, we recommend using Libro.fm, our favorite audiobook app. We've tried several audiobook apps and love that Libro.fm supports independent bookstores and offers a great user experience.
Picture Books About Decent Work And Economic Growth
The following list of picture books helps readers connect with those with a variety of different jobs and understand why it's important to treat workers with respect and ensure workers are treated fairly and earn just wages. It's also important to acknowledge that all work is valuable and people work to support their families in a variety of ways.
Brave Girl: Clara and the Shirtwaist Makers Strike in 1909 by Michelle Markel
A young girl who immigrates to the United States arrives in the country and begins working in a garment factory to support her family. The conditions are terrible. She sacrifices her education to be locked in windowless factories for long hours to sew shirts. Eventually, she encourages thousands of garment workers to strike and ultimately fights for garment workers to unionize and receive better labor conditions.
One Hen: How One Small Loan Made a Big Difference by Katie Smith Milway
A young boy and his mother don't have much extra money for food to eat. One day, they have a bit of extra money from a microloan they received, and the little boy buys a hen. The hen gives them extra eggs to sell at the market and also a source of food for their family. One small loan used to buy this hen helps establish prosperity for this family.
Little Dreamers: Visionary Women Around The World by Vashti Harrison
This book is not a story. Instead, it profiles about fifty women from around the world who were leaders in their time and area of expertise. They saw the world differently and paved paths for new ideas to flourish. While you likely won't sit and read this book all at once, it's a great reference to have at home and read a few pages each day.
A Day's Work by Eve Bunting
A little boy heads out with his grandfather, a day laborer, to find work. They find a job working in gardening, even though they do not know anything about gardening. They complete the project poorly and have to redo the work the next day. While readers see a glimpse into the life of a day laborer, the boy learns a lesson from his grandfather about honesty and integrity.
My Rows and Piles of Coins by Tololwa M. Mollel
A young boy helps his mother at the market each weekend and sees a bike he wants to buy to help his mother carry their goods to market to sell each week. He saves for many months to afford a bicycle and is so proud when he finally has enough money to help his family carry their wares to the market to sell to earn money for their family.
Brick by Brick by Heidi Woodward Sheffield
A young boy admires his dad for all the hard work he does as a bricklayer. He knows his dad works hard to save money for a special house for their family, one that includes a space for a garden for his mother. This story highlights the value of a decent job for all in an effort to build a life for a family.
Night Job by Karen Hesse
For some families, earning enough to support themselves is a family affair that involves the children and may also involve a second job. In this story, a young boy accompanies his dad to a second job cleaning a local school overnight. Although the work is hard, the story is told through the eyes of the boy. He loves his father and the time they spend together while he works.
The Red Bicycle: The Extraordinary Story of One Ordinary Bicycle by Jude Isabella
Bicycles are an important part of economic success for people in certain towns and countries. This story highlights how one bicycle helps a family better manage their crops and take goods to market to make money for the family. Something as simple as a bicycle greatly enhances their quality of life.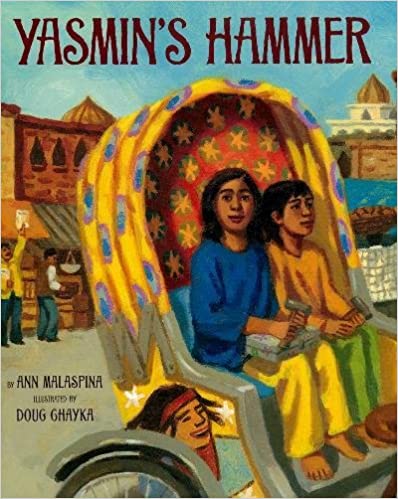 Yasmin's Hammer by Ann Malaspina
Two young girls lose their farm to a cyclone in Bangladesh and move to the city with their family in search of jobs. Unfortunately, they do not have enough money to send the sisters to school. Instead, the girls must work each day to earn money for the family. This story highlights how, for many families, making money to support the family is a responsibility born by all members of the family, including children.
Have you read any other books about working, supporting families through hard work, or economic growth for young readers? If so, share them in the comments!
And if you have not done so already, be sure to check out the other booklists aligned with the United Nations Sustainable Development Goals and print out the FREE Coloring Poster!