How do we make the world a better place? How do we encourage our children to partake in actions for social and environmental justice? How do we raise good global citizens? Having conversations with our kids about the difficult circumstances that exist in our communities and around the world isn't always easy. It can be hard to know what to say, how much to share, and when to get them involved in taking action for a better and more just world.
Picture books are a great entry point to many difficult conversations with our kids. Read on for more about this creative family project to help kids connect with and understand the global social and environmental justice goals as defined by the United Nations Sustainable Development Goals in an age-appropriate way.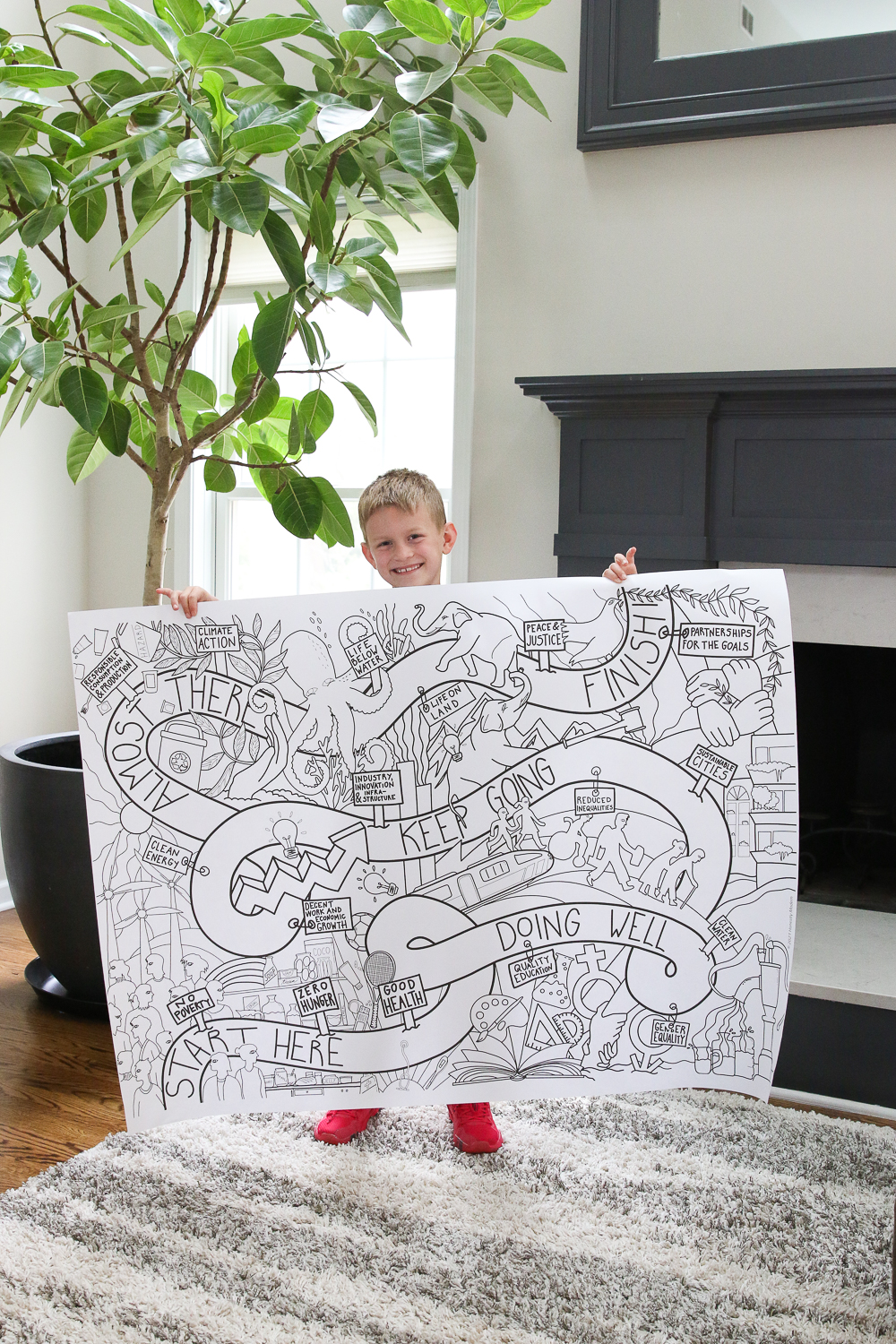 Quickly Download The Coloring Poster
Love the poster and want to download it right away? Just drop your email address in the form below and you'll receive an email with information to download it. When you sign up, you'll be added to our Honestly Modern community and receive emails twice a week with lots of tips and ideas about eco-friendly living for families. We respect your inbox, so you're always welcome to unsubscribe after you download the coloring poster if our email content isn't a good fit for you (though of course, we hope you stick around for all the goodness)!
What Are The United Nations Sustainable Development Goals?
In 2015, the United Nations adopted 17 Sustainable Development Goals (SDGs), a collective framework for peace and prosperity for people and the planet, now and into the future. The Sustainable Development Goals have broad intentions to end poverty and other deprivations while recognizing the need to simultaneously improve health and education, reduce inequality, spur economic growth, and tackle climate change.
The goals are ambitious, broad, and call for action from every country in the world: rich, poor, and middle-income alike. Further, successful pursuit of these goals requires the will and commitment of citizens of all ages, including us and our children. But with goals so massive, where do we start?
Books can be amazing resources to help introduce the context of the United Nations Sustainable Development Goals to children. Especially in recent years, so many authors and illustrators have created wonderful picture books that help put myriad issues addressed by the SDGs into context for children.
Books can help kids (and adults) better understand the world from other perspectives, introduce and examine difficult topics, and consider possibilities they might not be able to see in their own lives. In that way, books are a wonderful entry point to the United Nations Sustainable Development Goals.
Picture Books To Introduce Difficult Topics & Conversations
My boys aren't ready to tackle the 17 United Nations Sustainable Development Goals head-on, but they are plenty old enough to start hearing and reading picture books that introduce them to the topics in a developmentally appropriate way. Picture books create a wonderful foundation for introduction to realities outside our own, topics that are hard to discuss, and new issues we might not have the words to explain as parents on our own.
To help introduce our children to the underlying issues and potential solutions the United Nations hopes to address with their 17 Sustainable Development Goals, I've created a really fun coloring chart and a picture book list aligned with each goal that I will be sharing over the next several days. Hopefully, the coloring page, which aligns with the SDGs, will encourage kids to read many of the books and learn more about the heavy issues behind each SDG.
For each goal, I will share at least six or seven (and sometimes many more) books that relate to the topic. Not every book will address the goal directly. Especially with certain of the topics, this would be a bit too mature or complicated for our little ones to grasp.
In each case though, the books create a foundation for awareness of the issue and discussion related to both the problems and potential solutions. The books help normalize topics that might seem foreign or distant. Some of the books even begin to introduce solutions to challenges the goals seek to overcome in a variety of different ways.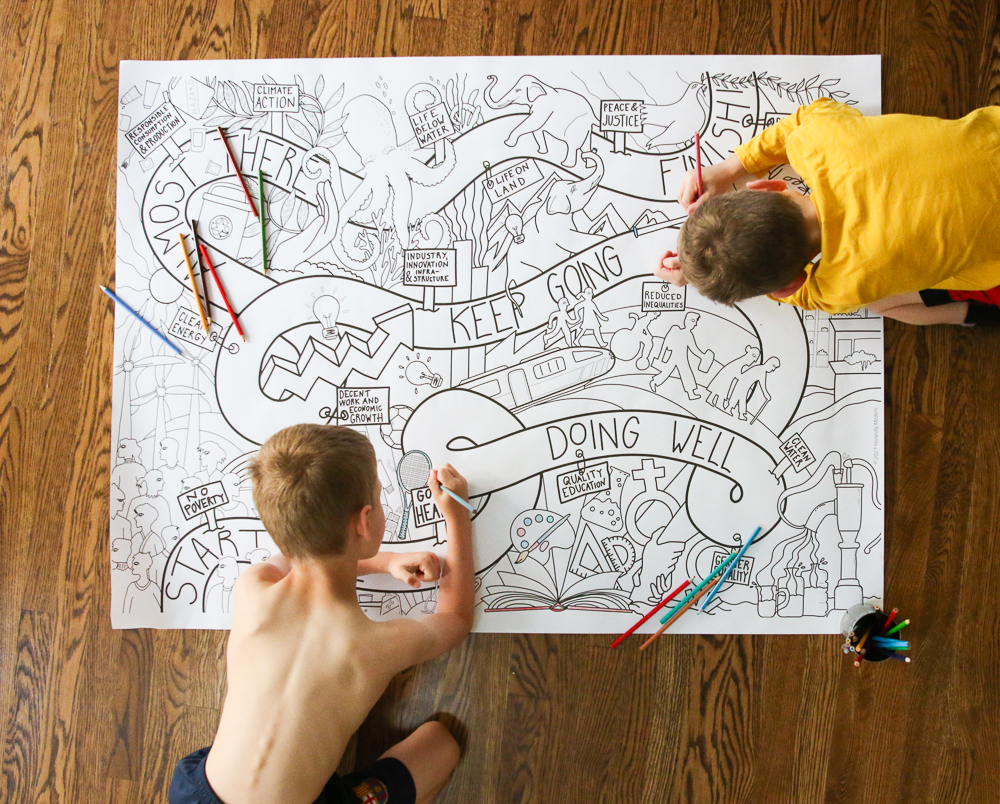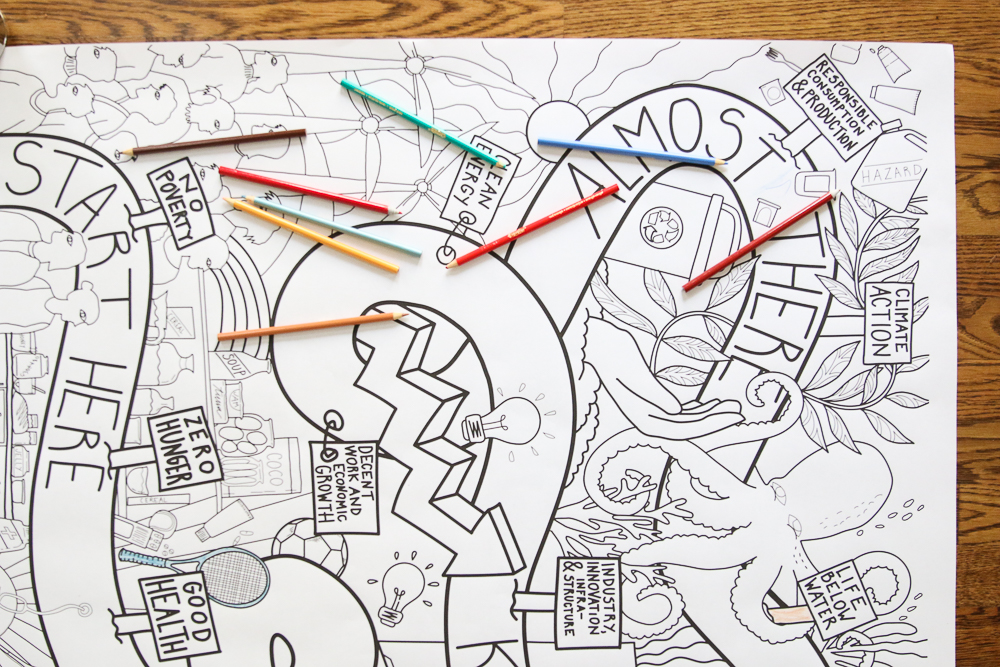 United Nations Sustainable Development Goals Coloring Poster
Along with this list, I've collaborated with an amazing illustrator, Angela Lukanovich, to create a printable coloring sheet to track your progress through the reading lists or just to enjoy as you explore the UN SDGs. As you read various books, the gorgeous and fun illustrations can help connect your little social and environmental justice leaders to each UN Sustainable Development Goal and track their reading progress in tandem.
Color as you make your way through books related to different goals. Color the signs as you complete each reading list (or a part of each reading list). Or color the whole page right away because … who doesn't love coloring?!
And this coloring page isn't just for kids. I hope adults and kids alike enjoy coloring these amazing illustrations from Angela! My husband "borrowed" a copy on a regular letter-size printed page and colors instead of doodling when he's on conference calls sometimes. So really, so many people might enjoy this in a variety of ways.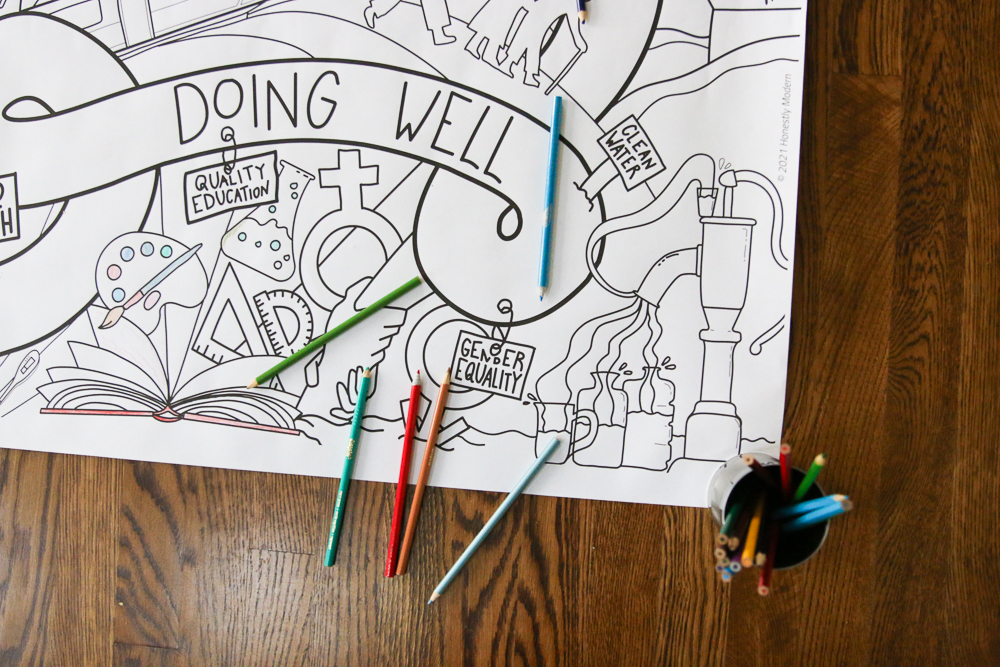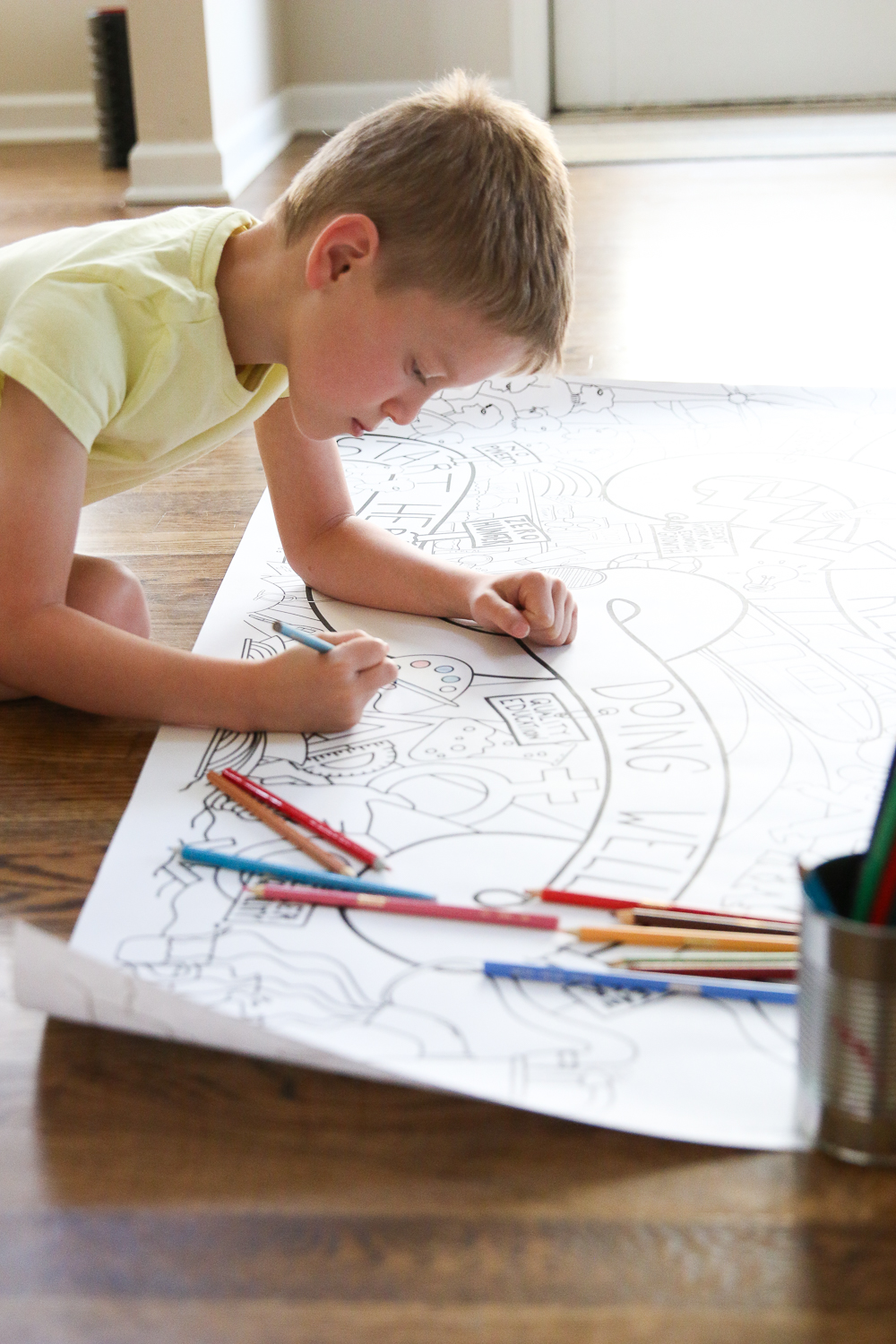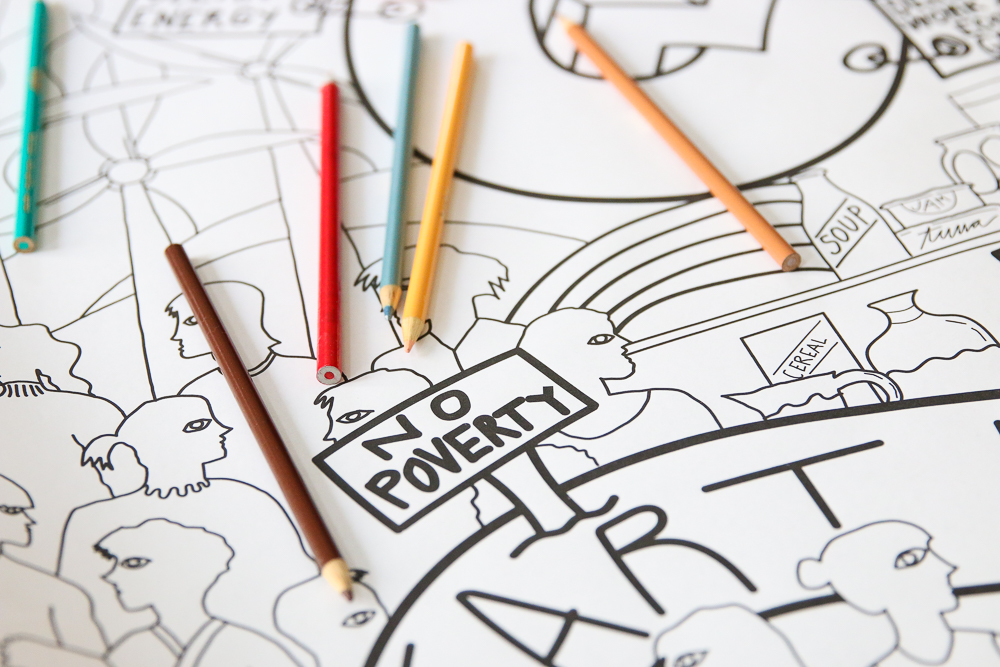 How To Download The Free Coloring Poster
To download the United Nations Sustainable Development Goals coloring poster, simply drop your email in the sign-up form below. You'll be added to our email newsletter and receive information to download the coloring poster!
If you sign up, be sure to check your Promotions or Spam email if you don't get the confirmation email in a minute or two. Sometimes email providers send the email to a different folder where it can be harder to find.
How To Use The Coloring Poster
You can print it as a single page at home or use the single page file to print as a Blueprint or Architectural Print. Angela also created a set of pages you can print out at home and piece together to create a large print without a trip to the local print shop!
When you sign-up, you'll receive access to a single file to print at home or as a coloring poster. You'll also receive two sets of files (one in Letter Size and one in A4 Size), each of which can be printed on 18 sheets of paper taped or glued together to form an enormous coloring poster. Putting together the multiple sheets is like a little puzzle for your kids before they get to coloring!
If you're a teacher, you're more than welcome to use this in class. Feel free to share this with others* for personal use. I would love for as many children as possible to gain exposure to the United Nations Sustainable Development Goals and start asking how they can become activists for a more just and equitable society.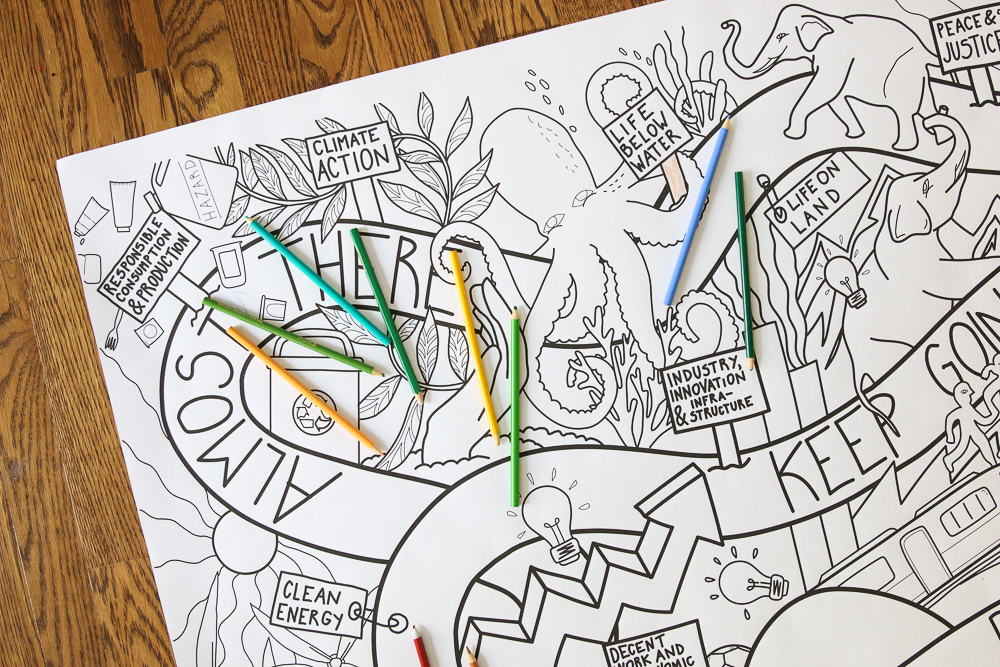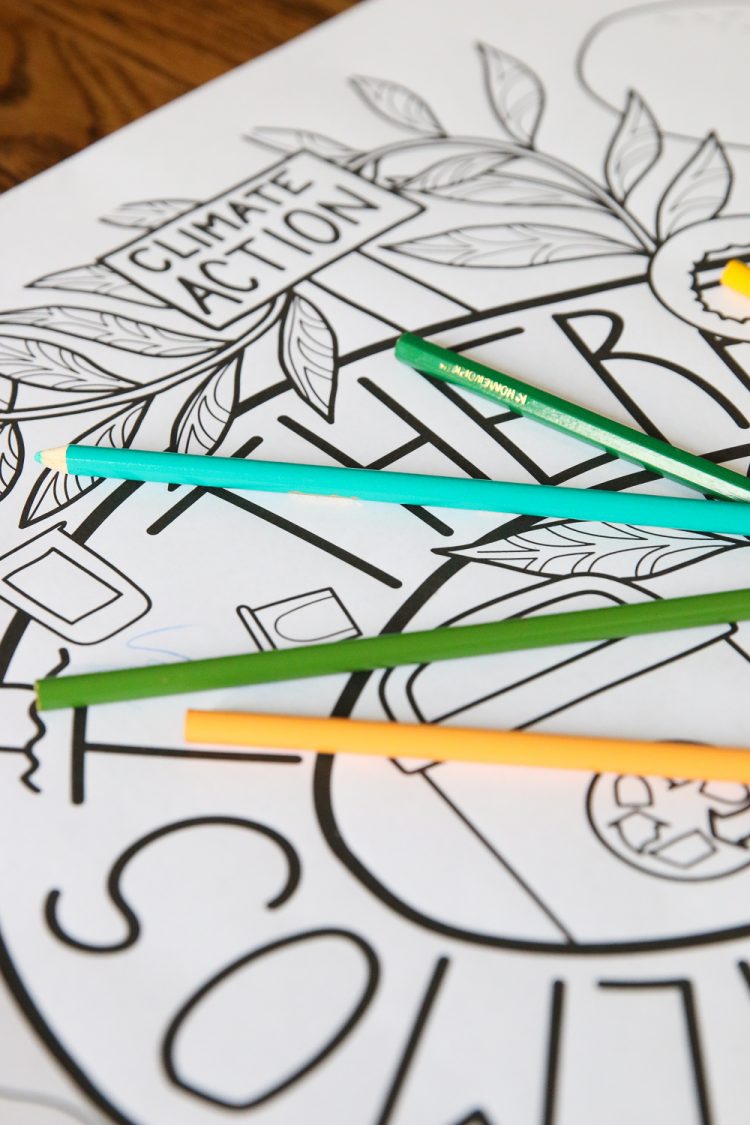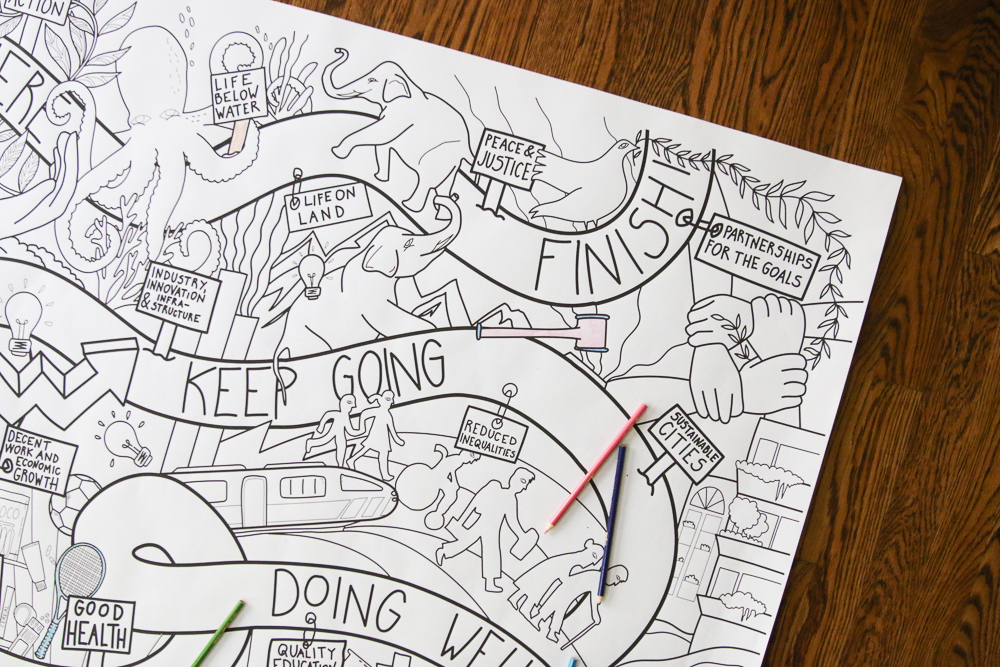 Share Your Coloring Poster and Favorite Books From the Picture Book Lists
Have a blast coloring it. Share it far and wide with friends and family. Tell them to download it too! If you'd be so kind, I would be thrilled if you could share it on social media and tag me @honestlymodern so I can see this coming to life in so many of your own homes and spaces.
Below (starting on Monday) I'll be adding lists of books about each of the UN Sustainable Development Goals. I have been working on putting this project together for a while (checking out hundreds of books from the library to vet them all before I recommend them), and am so excited to share this with you! I hope you and your family love it!
As we progress through the next couple of weeks, I'll be adding many new book lists to eventually have one list that aligns with each of the United Nations Sustainable Development Goals.
United Nations Sustainable Development Goals Picture Book Lists
Picture book lists aligned with each of the United Nations Sustainable Development Goals.
* Please note permission is not granted for this to be resold or used for commercial purposes. Please contact us with any questions related to reproduction for purposes other than personal use.