Book Review of Saving Us by Katharine Hayhoe
Wondering if you should read Saving Us: A Climate Scientist's Case for Hope and Healing in a Divided World by Katharine Hayhoe? Check out the review below.
This post contains affiliate links.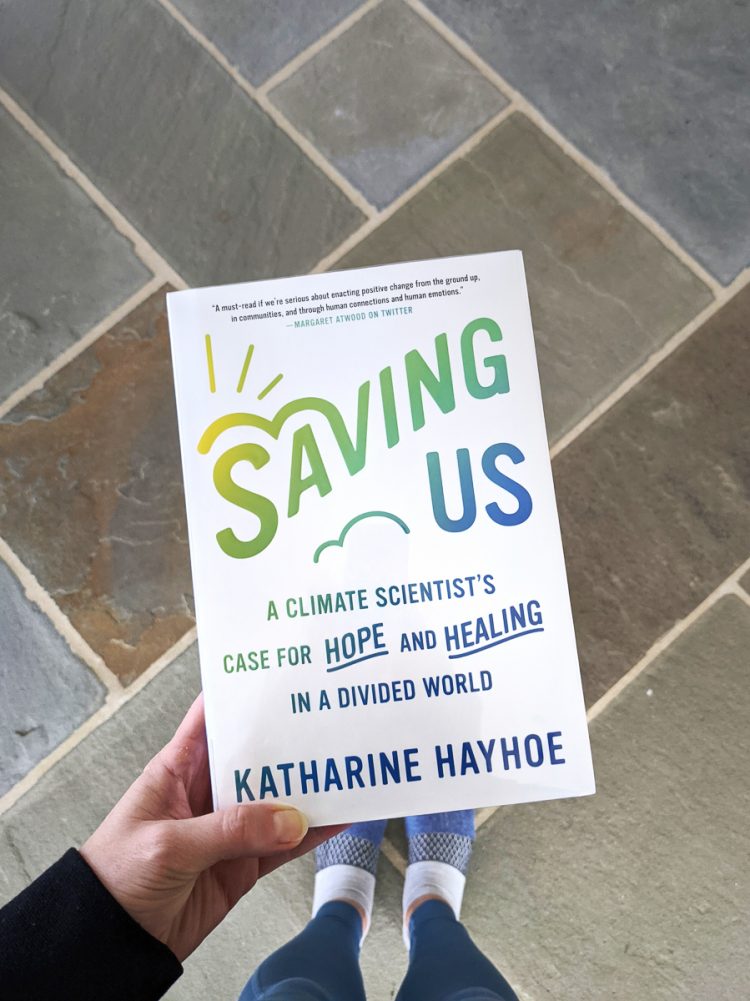 A couple of months ago, I discovered the work of Katharine Hayhoe, a climate scientist with a focus on communicating the importance of climate change (even to those who are skeptical) and the value of conversation to find common ground on matters related to climate action. I wish I had discovered her sooner.
Katharine believes one of the most important actions we can take around climate change is to simply talk about it. However, she fully recognizes that "just talking about it" may not be so easy given that the topic has become so contentious and politically charged in the last decade or so.
Hayhoe's book Saving Us: A Climate Scientist's Case for Hope and Healing in a Divided World, tackles the issue of divisive climate conversations and how to make them more productive. She implores everyone to start talking about climate change and share why she thinks it matters. She also offers several tips, tools, and examples to help guide those difficult conversations to productive fruition.
Throughout the book (and her work more generally), Katharine takes a positive but practical approach to conversations about climate change and helps bring us together on an issue that really shouldn't be so divisive. We're talking about the future of human civilization, after all!
Not long after hearing about her work, I downloaded her book in audio format from Libro.fm (an audiobook platform that supports independent bookstores with each purchase). I listened to the book over the course of about a week and liked it enough to also check it out from the library.
Often, when I like a non-fiction book a lot and want to reference back to it for a bit or take a deeper dive, I check out the hardcopy book from the library and review it after listening to the audiobook.
In this case, I may even buy my own copy of the book to have it as reference material down the road. She includes lots of actionable examples in the book and many articles and books in the reference section that might be worth checking out later.
Combining Facts + Feelings + Values
Hayhoe argues that facts are important when communicating about climate change. But in many cases, the facts don't matter unless people are willing to listen. Because climate change has turned into a political matter, many people will align more closely with their tribes and the emotional connections to those tribes than to any set of facts or figures, no matter how clean and objectives the facts and figures are.
To get people to consider matters of climate change, we have to approach the topic through a lens that both aligns with the listener's current values and self-identity. We have to connect with them first on a topic that is important to them, and then show them how that topic is relevant to climate change in a way that is consistent with their current identity.
Throughout the book, she touches on many aspects of psychology that make topics like climate change so hard to discuss with people who have differing values from our own. More importantly, she offers a host of examples of how to bridge the disconnect and encourage people who don't typically care about climate change to see it in a light that is meaningful to them.
For example, Hayhoe is an evangelical Christian. According to her, evangelical Christians are some of the most ardent climate deniers. Through her faith, she can help connect matters of climate change to values and messages from the Bible and show evangelical Christians why caring about climate change is consistent with their religious beliefs.
Alternatively, we might address climate change through a cost-saving lens with someone who is fiscally conservative and highly concerned about the tax consequences of climate action. Renewable energy is now the same or less expensive than most fossil fuel energy sources, even when considering various subsidies for both types of energy generation.
Specifically, many people save money on energy costs after installing solar panels and recover their investment in just a few years. Wind farms are less expensive to run than most fossil fuel plants. And investment in green technology and infrastructure offers myriad opportunities for good, prevailing wage jobs.
These are just a few examples of ways to connect with people traditionally against or skeptical of climate action in a way that matters to them. More importantly, they don't have to give up their current identity in order to see how climate action aligns with their value system.
Ignore The Climate Dismissives
Hayhoe acknowledges there is a small subset (about 7% of people) who are climate "dismissive," people who entirely dismiss the science under any circumstances. She suggests effectively ignoring and not engaging with dismissives to the extent possible.
While they are disproportionally loud, they are small in number. If we can get the other 93% of people to agree that climate change is human-caused and matters to our future well-being (and potentially existence) enough to invest in change and action, then the 7% of dismissives won't matter.
A Positive Book on Climate Change
Unlike many climate change books full of darkness and despair about the prospects of our planet, Saving Us has a message of hope and strength. Hayhoe recognizes that hope is not an empty feeling or a magic cure from God or nature. Hope doesn't find us. Hope doesn't strike like luck.
Instead, hope is active. Hope is a practice that we must choose to pursue.
Hayhoe says. "Real hope doesn't usually come knowing on the door of our brains uninvited, though. If we want to find it, we have to roll up our sleeves and go out and look for it. If we do, chances are we'll find it. And then we have to practice it."
In this case, Hayhoe's greatest suggestion for welcoming hope about climate change into our hearts is to take action and start talking. Do something in your own life that gives you self-efficacy, or the feeling that you have some level of control or influence over your circumstances. Start having conversations with those in your family and your community to learn about their perspectives and find the common values you share where climate change is relevant.
Because climate change is such a massive issue and affects literally everything and everyone on the planet, climate change shows up in more of our shared values than we might expect, if only we look for it.
She includes many practical tips about how to have conversations as well as examples of different types of conversations she has had to connect with others and encourage climate action in an effective way. In one case, she even tells the story of how she found common ground with executives of a large oil and gas company. With some thoughtful communication, she had a productive conversation with them about matters of climate change and a just transition away from fossil fuels.
Should You Read The Book?
Yes and yes (and yes again). Scientific American whole-heartedly agrees. For anyone who cares about climate change, I am sure you will find this book helpful. At the very least, you'll find some nuggets to help you effectively bring climate change conversations into the spheres of your life and influence in a way that won't destroy your relationships (or make you want to curl up under a blanket and cry).
Have you read the book yet? What did you think?
About The Author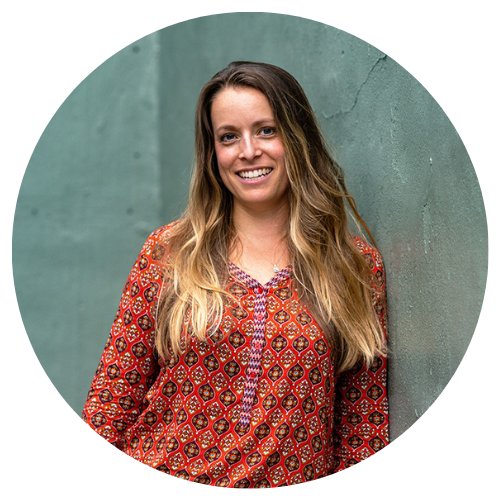 Jen Panaro
Jen Panaro, founder and editor-in-chief of Honestly Modern, is a self-proclaimed composting nerd and an advocate for sustainable living for modern families. In her spare time, she's a serial library book borrower, a messy gardener, and a mom of two boys who spends a lot of time in hockey rinks and on baseball fields.
You can find more of her work at Raising Global Kidizens, an online space to help parents and caregivers raise the next generation of responsible global citizens.