Looking for great chapter books for kids? Check out these recommendations of our favorite chapter books for elementary readers.
While picture book recommendation lists and social media accounts abound, I've struggled to find great chapter books for my kids. They can be finicky readers, but they are happy to dive into a book when they find one they love.
We spend a lot of time at the library browsing books. We read aloud together. And I put a lot of books in front of them. Choosing books with success, however, always feels like such an uphill battle.
Our Chapter Book Recommendations
Without a great resource for our family, I decided to start tracking and sharing the chapter books my boys that they really like. I update this post regularly as they find more books that keep them engaged and yearning for more time to read. In other words, these are our most favorite chapter books for kids, according to my boys. Take that for whatever it's worth. 🙂
Be sure to Pin this page and come back to it periodically if you're on the hunt for great chapter book recommendations. I also share our book recs over on Instagram @chapterbookstagram with two of my sisters.
Your Chapter Book Recommendations
We'd also love to add books to this list that you love, especially sharing them on Instagram! If you have favorite chapter books you want to share to help others find great books to read, email me or DM me on Instagram and we'll get your recommendation up.
For now, here are a few of our favorite chapter book recommendations for kids!
A Note on Buying and Borrowing Books | In each of the summaries below, I include an affiliate link to the book at Bookshop.org, a company that has a huge collection of books and supports independent bookstores, when the book was available on Bookshop.org. This affiliate link does not change your purchase price, though I earn a small commission if you decide to purchase using this link.
If you can find the books from your local library, from a friend, or through a used book shop, those sources are even better. Using the library is zero waste, saves money, and saves space in your home because you can read all the books without storing all the books on your bookshelves. If you're not sure the best way to use your local library, check out these tips. With a little exposure, your kids will learn to LOVE the library!
I intentionally do not link to Amazon, when possible, and you can read more about why I quit Amazon here.
If you prefer to listen to audiobooks, I recommend using Libro.fm, my favorite audiobook app. I've tried several audiobook apps, and I love that Libro.fm supports independent bookstores and offers a great user experience.
Our Favorite Chapter Books For Early Elementary School Kids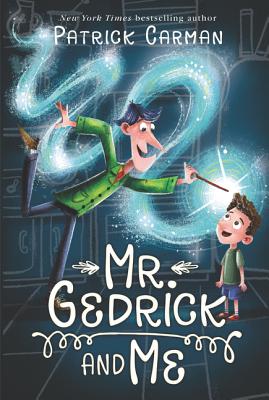 Title // Mr. Gedrick and Me
Author // Patrick Carman
Reading Level // Grades 3-5, 6-8
Summary // After a family loses their father who passed away, family life is messy. The mother is overwhelmed with work and all the responsibilities of raising three children while working full-time for a demanding boss. All the while, the family is quite distant from each other and not spending much time together.
The youngest son submits a request for a nanny, and a magical Mr. Gedrick shows up to fulfill his request. Mr. Gedrick, the "manny", offers a magical touch that brings the family back together again and has a special connection with their father.
Why We Love It // Despite the notes of death of their father, it's a happy book encouraging children to move forward without moving on after losing a parent. It also highlights how much happiness and warmth we can find with family. We read it aloud together (my boys are 6 and 8 years old), though I think the reading levels noted above are definitely on point for independent reading.
Title // Mr. Popper's Penguin
Author // Florence and Richard Atwater
# of Pages // 160
Reading Level // Q
Summary // A simple man becomes interested in penguins and decides to own some as pets. He teaches them how to dance, and his brood becomes quite the traveling show! It's silly and a fun classic story.
Why We Love It // We've read it aloud once and listened to it on audio once. It always makes them laugh! It's a little dated but not so much that we had to take it off our bookshelf. It's just a fun story that always hold their interest.
Also, did you know Eliot Schrefer released a new story for youngsters called The Popper Penguin Rescue that's based on the classic? We haven't read it yet but surely will.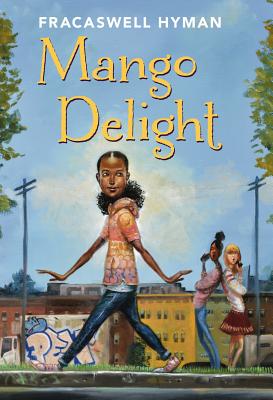 Title // Mango Delight⁠
Author // Fracaswell Hyman⁠
# of Pages // 218⁠
Reading Level // Y
Summary // Mango is a regular seventh-grader who had a bit of bad luck encounter with her best friend. Over several months, Mango experiences many of the typical highs and lows of middle school friendship all while discovering that she may not be the track star she hoped to be but instead has a knack for singing in the school musical. ⁠
⁠
Why We Love It // This is such a great and relatable book for so many middle schoolers. Many kids will recognize themselves in some of the social settings. I love that Mango navigates through a few different friendships throughout the book yet never loses her focus on maintaining her integrity and always doing her best to be a good friend. Further, she sees that you can find friendship in unexpected places. I would definitely recommend this for later elementary and middle school readers.
Title // Crossover
Author // Kwame Alexander
# of Pages // 245
Reading Level // Z
Summary // "With a bolt of lightning on my kicks . . .The court is SIZZLING. My sweat is DRIZZLING. Stop all that quivering. Cuz tonight I'm delivering," announces dread-locked, 12-year old Josh Bell. He and his twin brother Jordan are awesome on the court. But Josh has more than basketball in his blood, he's got mad beats, too, that tell his family's story in verse, in this fast and furious middle grade novel of family and brotherhood.
Why We Love It // Kwame Alexander writes beautifully engaging books for readers of all interest levels. This book is written in verse, which makes it a quick read that also introduces kids to poetry in a way that's more accessible and entertaining. It generally feels easy for kids to read, but when discussing can get deep into the bigger themes of friendships, status, and more. (Oh yes, another series read – and it has both graphic novel AND Spanish versions!)
Title // The Unicorn Rescue Society Book 1: The Creature of the Pines⁠
Author // Adam Gidwitz
# of Pages // 192⁠
Reading Level // Grades 3 – 8
Summary // Two unlikely friends and one odd teacher come together to protect some of the world's mythical creatures. Elliot and Uchenna are about to become part of a secret group of adventurers, The Unicorn Rescue Society, whose goal is to protect and defend the world's mythical creatures. Together with Professor Fauna, Elliot and Uchenna must help rescue a Jersey Devil from a duo of conniving, greedy billionaires, the Schmoke Brothers.⁠
⁠
Our Thoughts // My boys loved this book. We read it aloud over just a few days and they asked for just one extra chapter each night! It was a fun and engaging story with undertones of racial awareness as well as the importance of being kind to schoolmates who are new and seem different. ⁠
⁠
Further, this book is part of a series, so there are many more books to read! We love series because it gives kids a reason to keep reading about characters with whom they are familiar and have come to love.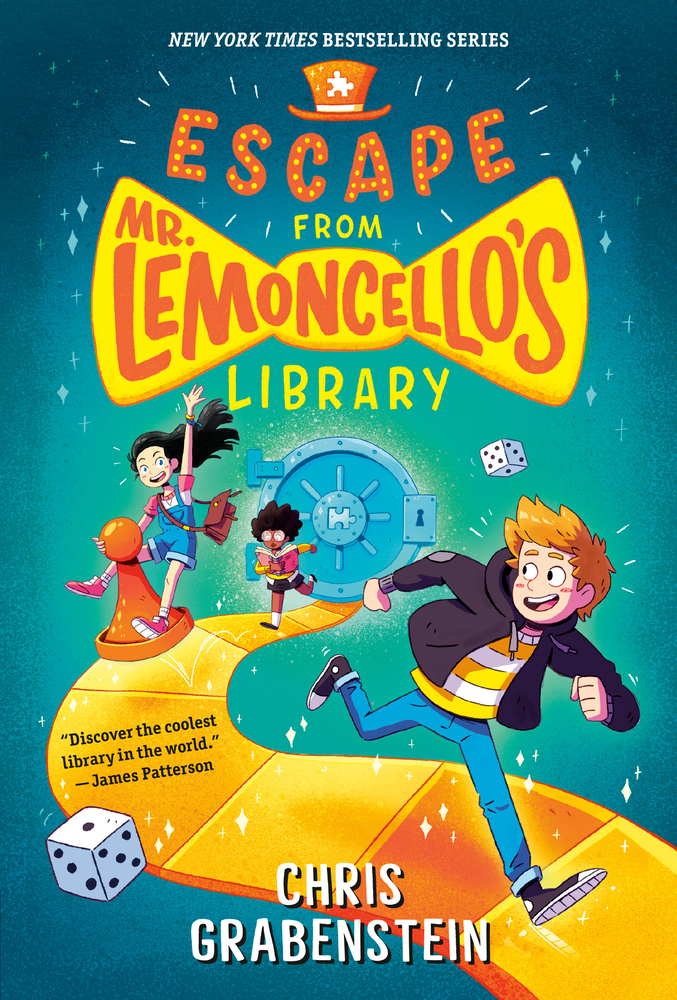 Title // Escape from Mr. Lemoncello's Library⁠
Author // Chris Grabenstein
# of Pages // ⁠290⁠
Reading Level // Q
Summary // This book is a fun story about a quirky man who returns to his home town to open a brand new library full of crazy games and the latest technology. He kicks off the grand opening of the library by having a competition among several middle school students in the town to see who can escape the library using creative clues and solving library puzzles. ⁠
⁠
Why We Love It // We listened to this book on audio with my boys when they were 5 and 7. It's a great book for older elementary-aged students to read on their own and perfect for a fun read-aloud for younger children that also engages older children. This is one of my boys' very favorite books! It has so many twists and turns with great puzzles and plays on words.
This book is part of a series. We've read all four books and each one was as good as the first! Here is the entire Lemoncello series.