14 Amazing Chapter Books For Kids (including several series!) [2021]
Looking for great chapter books for kids? After checking out and reading LOTS of chapter books from the library over several years, we have returned many a book unread. My boys love to read but can be picky readers. Below, I've compiled 14 of our very favorite chapter books for kids. Several of the books are part of a series, which we love and think is an added bonus! Check out these recommendations of our most favorite children's chapter books.
While picture book recommendation lists and social media accounts abound, I've struggled to find great chapter books for my kids. They can be finicky readers, but they are happy to dive into a book when they find one they love.
We spend a lot of time at the library browsing books. We read aloud together. And I put a lot of books in front of them. Choosing books with success, however, always feels like such an uphill battle.
I am a serial library book borrower and have been known to max out my library card (the limit is 99 books). I check out all sorts of books for my boys at various reading levels and let them choose what they want to read. Sometimes they read books on their own and sometimes I read to them. It often depends on the level of the book (and what else is going on in life).
While they occasionally devour a book or a series of books, they pick up and put down A LOT of books. In other words, we've had our fair share of duds pass through their hands. The children's chapter books on this list are only those that the boys really enjoyed reading!
Our Chapter Book Recommendations
Without a great resource for our family to find all the books my boys wanted to read, I decided to start tracking and sharing the chapter books that my boys really like. I update this post regularly as they find more books that keep them engaged and yearning for more time to read. In other words, these are our most favorite chapter books for kids, according to my boys. Take that for whatever it's worth. 🙂
PIN IT // Be sure to Pin this page and come back to it periodically if you're on the hunt for great chapter book recommendations. I also share our book recs over on Instagram @chapterbookstagram with two of my sisters.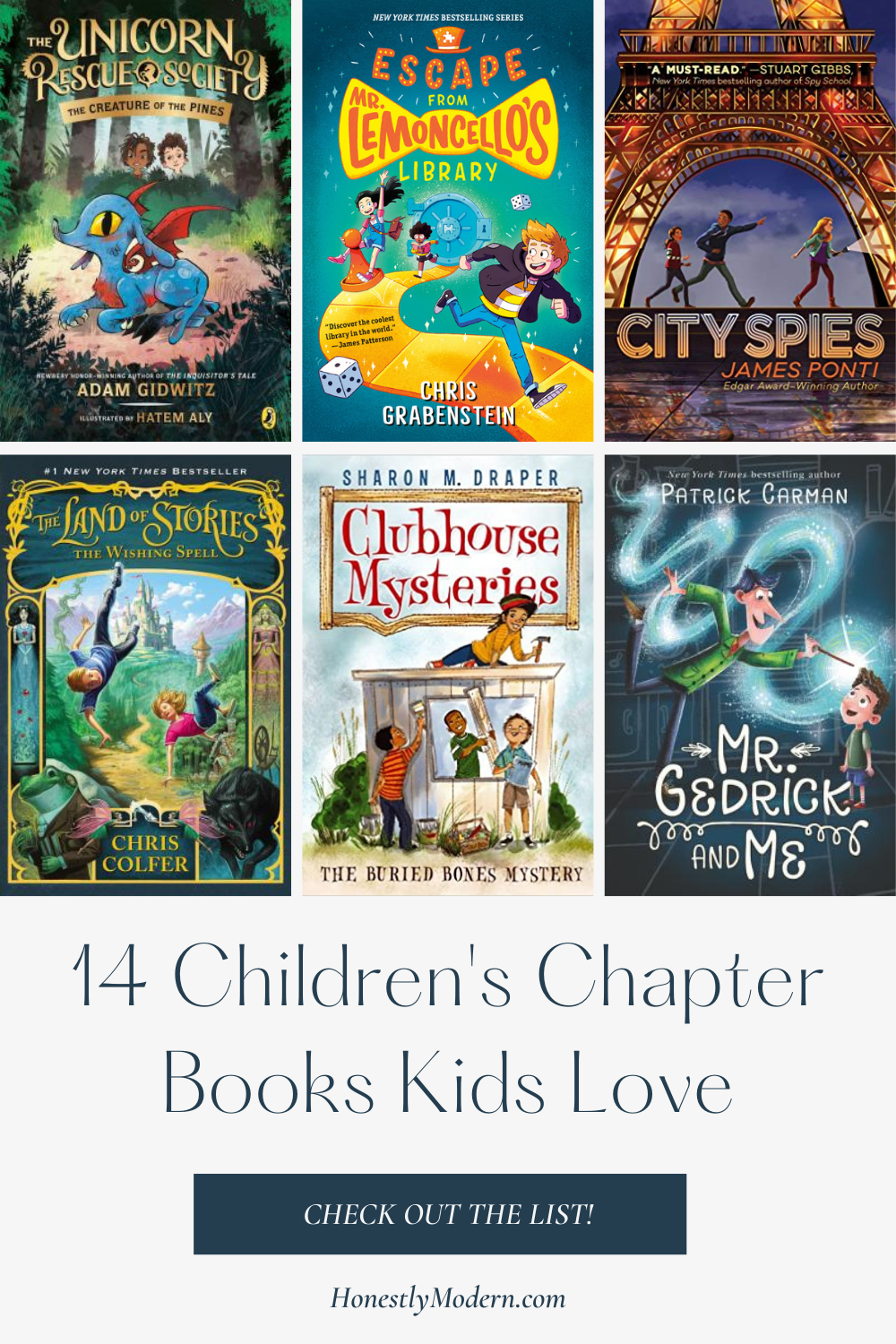 Your Chapter Book Recommendations
We'd also love to add books to this list that you love, especially sharing them on Instagram! If you have favorite chapter books you want to share to help others find great books to read, email me or DM me on Instagram and we'll get your recommendation up.
For now, here are a few of our favorite chapter book recommendations for kids!
A Note on Buying and Borrowing Books
We include affiliate links to books we recommend. If you purchase through one of these links, Honestly Modern earns a very small commission that has no impact on your purchase price.
If you can find the books from your local library, from a friend, at an independent bookstore, or through a used book shop, those sources are ideal. Using the library is zero waste, saves money, and saves space in your home because you can read all the books without storing all the books on your bookshelves. If you're not sure of the best way to use your local library, check out these tips to make the most of your local library. With a little exposure, your kids will learn to LOVE the library!
If you prefer to listen to audiobooks, we recommend using Libro.fm, our favorite audiobook app. We've tried several audiobook apps and love that Libro.fm supports independent bookstores and offers a great user experience.
Our Favorite Chapter Books For Early Elementary School Kids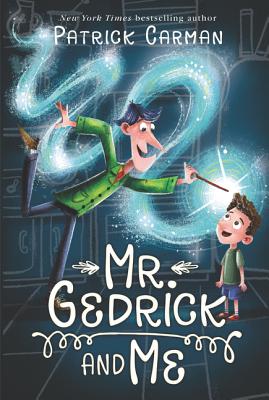 Title // Mr. Gedrick and Me
Author // Patrick Carman
Reading Level // Grades 3-5, 6-8
Summary // After a family loses their father who passed away, family life is messy. The mother is overwhelmed with work and all the responsibilities of raising three children while working full-time for a demanding boss. All the while, the family is quite distant from each other and not spending much time together.
The youngest son submits a request for a nanny, and a magical Mr. Gedrick shows up to fulfill his request. Mr. Gedrick, the "manny", offers a magical touch that brings the family back together again and has a special connection with their father.
Why We Love It // Despite the notes of death of their father, it's a happy book encouraging children to move forward without moving on after losing a parent. It also highlights how much happiness and warmth we can find with family. We read it aloud together (my boys are 6 and 8 years old), though I think the reading levels noted above are definitely on point for independent reading.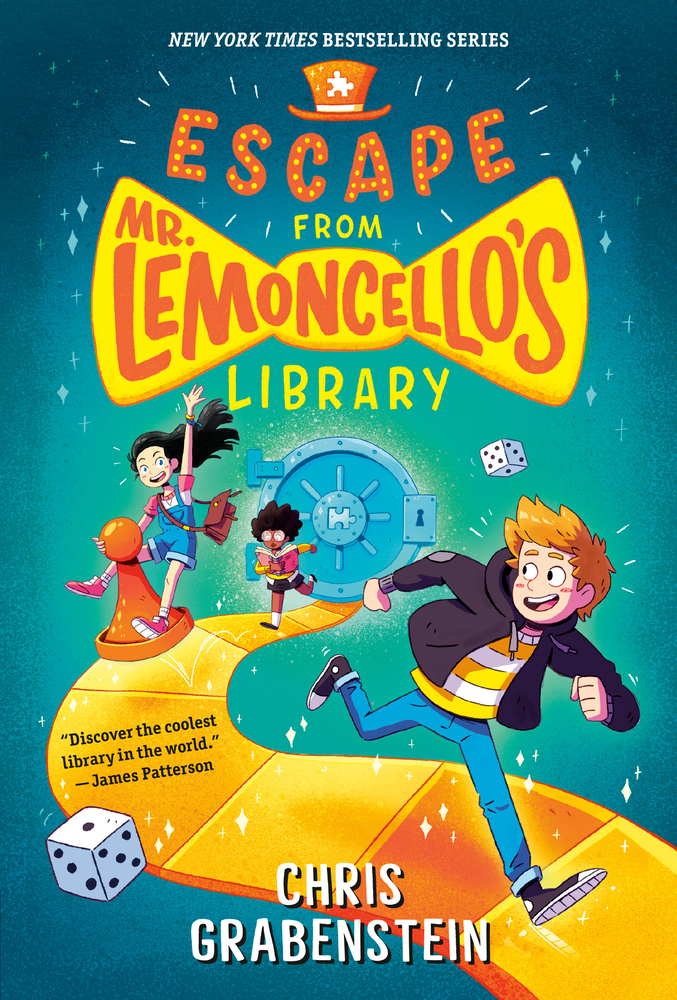 Title // Escape from Mr. Lemoncello's Library⁠
Author // Chris Grabenstein
# of Pages // ⁠290⁠
Reading Level // Q
Summary // This book is a fun story about a quirky man who returns to his home town to open a brand new library full of crazy games and the latest technology. He kicks off the grand opening of the library by having a competition among several middle school students in the town to see who can escape the library using creative clues and solving library puzzles. ⁠
⁠
Why We Love It // We listened to this book on audio with my boys when they were 5 and 7. It's a great book for older elementary-aged students to read on their own and perfect for a fun read-aloud for younger children that also engages older children. This is one of my boys' very favorite books! It has so many twists and turns with great puzzles and plays on words.
Series // We've read four of the five books in the series. We are reading the fifth and recently released book now, and each one was as good as the first! The series includes Escape From Mr. Lemoncello's Library, Mr. Lemoncello's Library Olympics, Mr. Lemoncello's Great Library Race, Mr. Lemoncello's All-Star Breakout Game, and Mr. Lemoncello and the Titanium Ticket.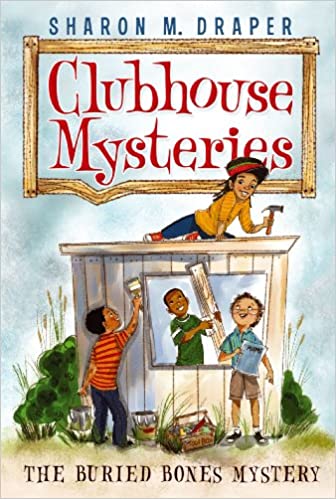 Title // The Clubhouse Mysteries Series
Author // Sharon M. Draper
# of Pages // ⁠110-120
Reading Level // Grades 3-5
Summary // Ziggy and four friends build a clubhouse in their backyard. The four boys start to bury secret treasures and discover a box of bones in the ground. Thus begins their adventure through the mystery to figure out where these bones came from and why they are buried in the backyard.
⁠
Why We Love It // This book is part of a growing series about this group of four boys developing friendships while solving mysteries in the community. Through their adventures, they get to know more about the history of their community as well. I love that there are several books in the series to enjoy once kids are hooked on the first one and connect with the characters. It's also a really fun series with diverse character representation in an everyday setting.
Series // The series includes the following books: The Buried Bones Mystery, Lost in the Tunnel of Time, Shadows of Caesar's Creek, The Space Mission Adventure, The Backyard Animal Shows, and Stars and Sparks on Stage.
Title // Mr. Popper's Penguin
Author // Florence and Richard Atwater
# of Pages // 160
Reading Level // Q
Summary // A simple man becomes interested in penguins and decides to own some as pets. He teaches them how to dance, and his brood becomes quite the traveling show! It's silly and a fun classic story.
Why We Love It // We've read it aloud once and listened to it on audio once. It always makes them laugh! It's a little dated but not so much that we had to take it off our bookshelf. It's just a fun story that always holds their interest.
Also, did you know Eliot Schrefer released a new story for youngsters called The Popper Penguin Rescue that's based on the classic? We haven't read it yet but surely will.
Title // The Wishmakers
Author // Tyler Whitesides
# of Pages // 352
Reading Level // 8-12 years, Grades 3-7
Summary // The main character, Ace, accidentally releases a genie from a penut butter jar and obtains the ability to make wishes. However, his ability comes with responsibility and each wish also comes with consequences. This story is full of unpredictable magic, silly humor, and plenty of adventure.
Why We Love It // My older son, in 3rg grade when he read this book, was excited to head up to his room each night and get back to his book. He often stopped to tell me about funny things that were happening.
Series // This is the first of two books in the series. The second is Wishbreakers.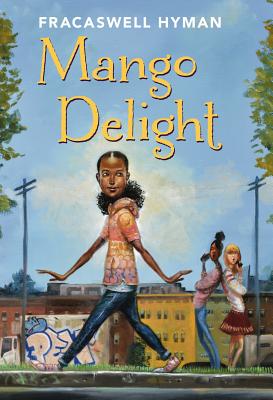 Title // Mango Delight⁠
Author // Fracaswell Hyman⁠
# of Pages // 218⁠
Reading Level // Y
Summary // Mango is a regular seventh-grader who had a bit of bad luck encounter with her best friend. Over several months, Mango experiences many of the typical highs and lows of middle school friendship all while discovering that she may not be the track star she hoped to be but instead has a knack for singing in the school musical. ⁠
⁠
Why We Love It // This is such a great and relatable book for so many middle schoolers. Many kids will recognize themselves in some of the social settings. I love that Mango navigates through a few different friendships throughout the book yet never loses her focus on maintaining her integrity and always doing her best to be a good friend. Further, she sees that you can find friendship in unexpected places. I would definitely recommend this for later elementary and middle school readers.
Title // The Library of Ever⁠
Author // Zeno Alexander
# of Pages // 224
Reading Level // 8-12 years, Grades 3-7
Summary // With her parents off traveling the globe, Lenora is bored, bored, bored―until she discovers a secret doorway into the ultimate library. Mazelike and reality-bending, the library contains all the universe's wisdom. Every book ever written, and every fact ever known, can be found within its walls. And Lenora becomes its newly appointed Fourth Assistant Apprentice Librarian.
She rockets to the stars, travels to a future filled with robots, and faces down a dark nothingness that wants to destroy all knowledge. To save the library, Lenora will have to test her limits and uncover secrets hidden among its shelves.⁠
Why We Love It // My son flew through this book and thought it was so engaging. What's not to love about an exciting book that also celebrates the magic of the library?!
Series // This is the first of two books. The second is Rebel in the Library of Ever.
Title // Crossover
Author // Kwame Alexander
# of Pages // 245
Reading Level // Z
Summary // "With a bolt of lightning on my kicks . . .The court is SIZZLING. My sweat is DRIZZLING. Stop all that quivering. Cuz tonight I'm delivering," announces dread-locked, 12-year old Josh Bell. He and his twin brother Jordan are awesome on the court. But Josh has more than basketball in his blood, he's got mad beats, too, that tell his family's story in verse, in this fast and furious middle grade novel of family and brotherhood.
Why We Love It // Kwame Alexander writes beautifully engaging books for readers of all interest levels. This book is written in verse, which makes it a quick read that also introduces kids to poetry in a way that's more accessible and entertaining. It generally feels easy for kids to read, but when discussing can get deep into the bigger themes of friendships, status, and more. (Oh yes, another series read – and it has both graphic novel AND Spanish versions!)
Title // The Unicorn Rescue Society Book 1: The Creature of the Pines⁠
Author // Adam Gidwitz
# of Pages // 192⁠
Reading Level // Grades 3-8
Summary // Two unlikely friends and one odd teacher come together to protect some of the world's mythical creatures. Elliot and Uchenna are about to become part of a secret group of adventurers, The Unicorn Rescue Society, whose goal is to protect and defend the world's mythical creatures. Together with Professor Fauna, Elliot and Uchenna must help rescue a Jersey Devil from a duo of conniving, greedy billionaires, the Schmoke Brothers.⁠
⁠
Our Thoughts // My boys loved this book. We read it aloud over just a few days and they asked for just one extra chapter each night! It was a fun and engaging story with undertones of racial awareness as well as the importance of being kind to schoolmates who are new and seem different. ⁠
In each book, the author works with a partner to create a story around certain cultural elements of a lesser-known culture (such as certain Indigenous cultures in North America). While young readers enjoy the mystery to be solved by the main characters, they also gain exposure to important elements of cultures that are most-likely new to them.
⁠
Series // The series includes The Creature of the Pines, The Basque Dragon, Sasquatch and the Muckleshoot, The Chupacabras of the Río Grande, The Madre de Aguas of Cuba, and The Secret of the Himalayas.
Title // Dragons in a Bag
Author // Zetta Elliott
# of Pages // 176
Reading Level // T, Grades 3-5
Summary // When Jaxon is sent to spend the day with a mean old lady his mother calls Ma, he finds out she's not his grandmother–but she is a witch! She needs his help delivering baby dragons to a magical world where they'll be safe. There are two rules when it comes to the dragons: don't let them out of the bag and don't feed them anything sweet. Before he knows it, Jax and his friends Vikram and Kavita have broken both rules! Will Jax get the baby dragons delivered safe and sound? Or will they be lost in Brooklyn forever?
⁠
Our Thoughts // My boys have really been into fantasy and magical books lately. This story has an element of magic without being overwhelming science fiction. It's also one of few fantasy books with a Black protagonist. This book is a fun read that gives a small glimpse into the urban lifestyle of a young Black boy while focusing on the magic of the dragons for which he cares.
Series // This book is part one of a two-part series. Check out The Dragon Thief as well!
Title // The Land of Stories: The Wishing Spell (Book 1)
Author // Chris Colfer
# of Pages // ⁠464
Reading Level // 8 – 12 years, Grades 3-7
Summary // Through the mysterious powers of a cherished book of stories, Alex and Connor leave their world behind and find themselves in a foreign land full of wonder and magic where they come face-to-face with fairy tale characters they grew up reading about. After a series of encounters with witches, wolves, goblins, and trolls alike, they realize getting back home is going to be harder than they thought.
Why We Love It // This book so creatively weaves traditional fairy tales into modern-day relevance. The stories are fun and engaging and kept my younger boys interested despite being pretty long stories. I'm always a fan of books that are series because it helps kids really get to know characters through several stories (and gives them plenty of material to conquer before searching for the next new book). This series is a bit like Harry Potter meets classic fairy tales.
Series // Also, check out the Land of Stories box set series that includes all six books: The Wishing Spell, The Enchantress Returns, A Grimm Warning, Beyond the Kingdoms, An Author's Odyssey, and Worlds Collide.
Title // Janitors
Author // Tyler Whitesides
# of Pages // ⁠307
Reading Level // 10 – 13 years
Summary // Imagine if the janitors at your school were magical. And you had to go up against their wizardry to set school straight? That's how the main character in this book spends his time at school.
Why We Love It // My older son loves everything by this author. He loves the magical fantasy that not quite science fiction but a great story about everyday kids. This book fits in a similar genre to Escape From Mr. Lemocello's Library, which both my boys love just as much!
Series // My son is making his way through the entire series now and has loved each of them so far. The series includes Janitors, Secrets of New Forest Academy, Curse of the Broomstaff, Strike of the Sweepers, and Heroes of the Dustbin.
Title // City Spies
Author // James Ponti
# of Pages // ⁠382
Reading Level // 8-12 years, Grades 3-7
Summary // Operating out of a base in Scotland, the City Spies are five kids from various parts of the world. When they're not attending the local boarding school, they're honing their unique skills, such as sleight of hand, breaking and entering, observation, and explosives. All of these allow them to go places in the world of espionage where adults can't.
Before she knows what she's doing, Sara is heading to Paris for an international youth summit, hacking into a rival school's computer to prevent them from winning a million euros, dangling thirty feet off the side of a building, and trying to stop a villain…all while navigating the complex dynamics of her new team.
Why We Love It // We listened to this book on audio and my boys couldn't get enough of it. Every time we got in the car, they asked to listen to it. At only 6 and 8 years old, the book is a little complex for them (especially my younger son), but kids can listen to books at a higher level than they can read on their own. Periodically, we discussed what was happening in the book to ensure both the boys were up to speed. This is a book I enjoyed even as an adult! There are so many exciting twists and turns.
Series // There is a second book in this series, Golden Gate, and probably more to come, as the first book was a New York Times Bestseller.
Title // The Last Last Day of Summer
Author // Lamar Giles
# of Pages // ⁠320
Reading Level // 8-12 years, Grades 3-7
Summary // Otto and Sheed are the local sleuths in their zany Virginia town, masters of unraveling mischief using their unmatched powers of deduction. And as the summer winds down and the first day of school looms, the boys are craving just a little bit more time for fun, even as they bicker over what kind of fun they want to have. That is until a mysterious man appears with a camera that literally freezes time. Now, with the help of some very strange people and even stranger creatures, Otto and Sheed will have to put aside their differences to save their town—and each other—before time stops for good.
Why We Love It // These two boys live in a pretty normal town, but wacky things can happen no matter where you live. I love that this book offers magic in everyday life through the lens of diverse characters.
Series // This is the first of a growing series of books. The second book, The Last Mirror on the Left, is published, and the third book, The Last Change for Logan County, will be released in October 2021.