Things I'm Currently Loving | February
Sometimes the little things make all the difference in life. Maybe it's a special lip balm, a new tiny habit, or the perfect gift that brightens up the day. I hope we all have a few of these things floating around our homes and our lives.
Here are six things I'm currently loving that bring joy to my day. Check out more from the Thing I'm Currently Loving Series.
This post contains affiliate links. If you make a purchase, Honestly Modern earns a small commission that does not impact your purchase price. Thanks for supporting Honestly Modern.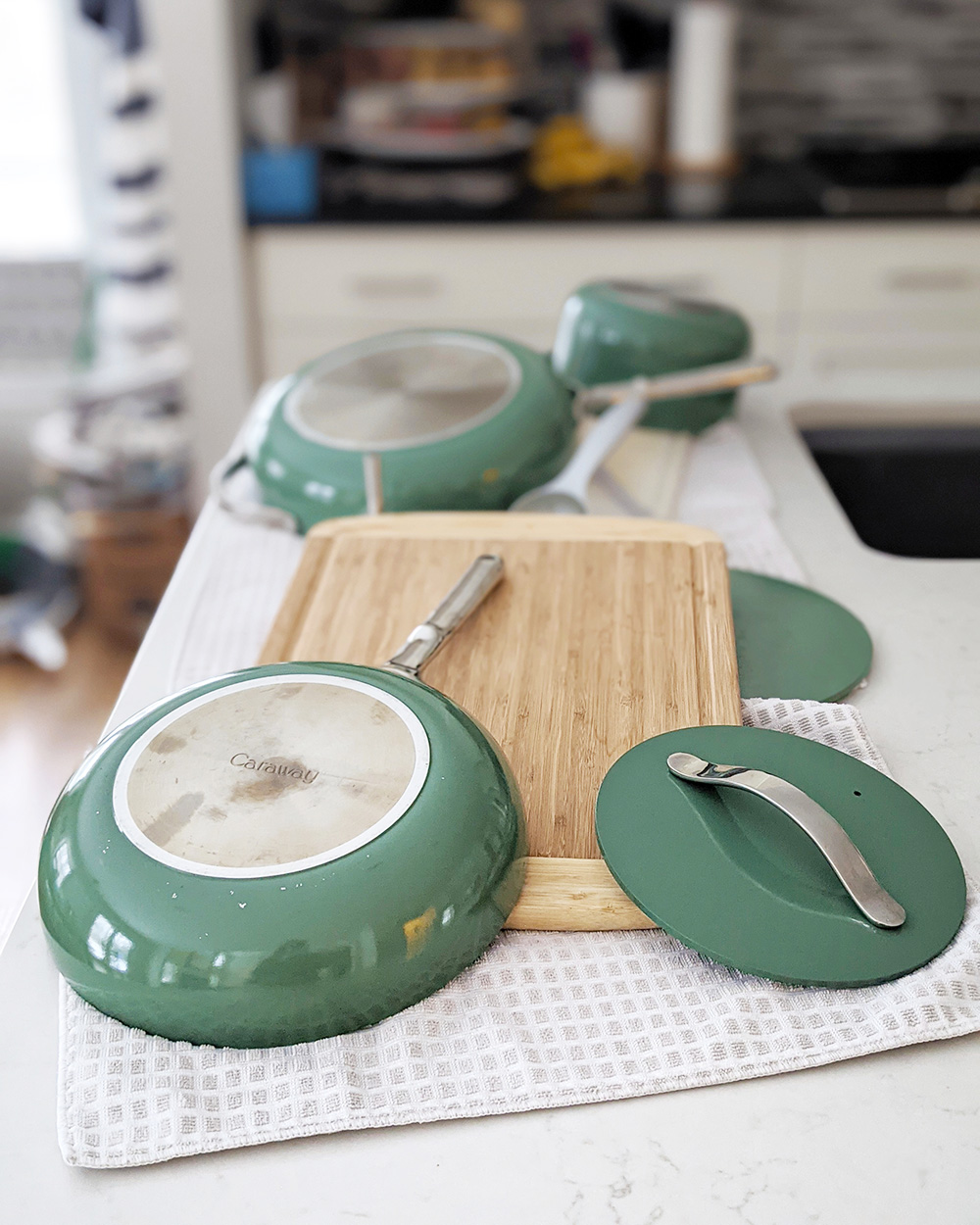 Caraway Pans
The right pans in the kitchen can be total game-changers. I learned this a couple of years ago when I bought a cast iron pan and saw what a difference it made in my cooking. For the holidays this year, I received a full set of Caraway pans, and they've put my cast iron pan to shame. These pans are freakin' awesome.
Caraway pans are non-stick pans without all the gross chemicals in Teflon. The pans are ceramic-coated and made of aluminum, and also really gorgeous. After receiving them, I gave away just about every other pan I have in my Buy Nothing group, and I haven't looked back!
I love that they also come with accessories to store them properly so it's easy to care for them. The best way to a zero-waste kitchen is to take care of our things and make them last.
The pots and pans even arrive in a box made of recycled cardboard with no plastic. The entire box is compostable (and also pretty sturdy if you want to reuse it for something else first).
When you're in the market for new pots and pans, definitely give Caraway a look!
Morning Workout With My Husband
Back in November, my husband and I started working out in the mornings together. He's talked about doing this for years, but my night-owl self declined at every turn.
I finally decided I was on board, and I'm really glad I did. Working out in the morning and showering to start the day gives me so much peace of mind to spend the rest of the day meeting all of the other demands on my time from school, family, WasteWell, and more.
Joseph Joseph Popcorn Maker Set
We've been making popcorn almost every day for the last few weeks, thanks mostly to my little guy who loves popcorn. He asks for it all the time, and I'm starting to love it as much as he does.
We use this awesome Joseph Joseph silicone popcorn maker to pop plain kernels in the microwave in single-serving portions. We buy the popcorn kernels in a bag (and have recently purchased them from Misfits Market), but you can get them in a lot of stores. Maybe you can even find them in the bulk section at your grocery store for a true zero waste snack!
We typically add a little butter and salt, but if you want something fancier, check out these 7 Zero or Low Waste Homemade Popcorn Recipes!
Vegetable & Flower Seeds For the Garden
Last year, I waited too long to buy seeds for our garden and got a really late start on planting. This year, I got my act in gear and already ordered all my seeds for the season. I ordered from Seed Savers, though there are lots of great eco-friendly and non-GMO seed companies from which to choose.
I may or may not have gone a little crazy when I ordered seeds, so I have a bunch of extras. If you want to do a seed swap (or just want me to send you some seeds), check out the Seed Swap highlight on Instagram. I can send you some seeds to grow in your garden this year if you're up for planting them!
Ficus Altissima Golden Gem Tree
I'm slowly becoming a total Plant Lady, and my home is beginning to reflect it. In December, we added this Ficus Altissima Golden Gem tree to our living room. I've been super nervous about caring for it, expecting at any day I will kill it. But it's held up well so far and seems to be quite happy in our home.
It's about 10-12 feet tall currently, though I've read it can grow up to 98 feet tall in ideal outdoor conditions. It's too cold where we live to ever move it outdoors, so it will remain a coddled indoor plant for the foreseeable future. I absolutely love it and am so happy about how it helps the rest of the room feel a bit cozier and more complete.
I even cut off a couple newer branches in an attempt to propagate new trees. Wish me luck!
My Library Card
We took a bit of a hiatus from the library a couple of months ago as we got caught up in so many things. But we got right back on track a couple of weeks ago when I requested tons of books to borrow. I borrowed so many books that I actually maxed out my library card (so the library staff put the rest of the books on my son's library card)!
We save so much money by using our library. If you want to know how much I save, I've been sharing our library receipts on Instagram to show you how much I save with each trip – usually about $100 – $200 per trip! I've fully embraced my library-nerd status.
What have you been loving lately? Let me know if the comments!