How To Make Money Using Facebook Marketplace
Want to make money on Facebook Marketplace? How about earning $3,000 in one month? I am so excited to team up with Kat from Junkyard Journals, an experienced online seller. Recently, she made $3,000 in one month selling on Facebook Marketplace while responsibly decluttering her home, and she's sharing all her best tips and tricks!
This is part of our How To Master Secondhand Shopping Resource Guide.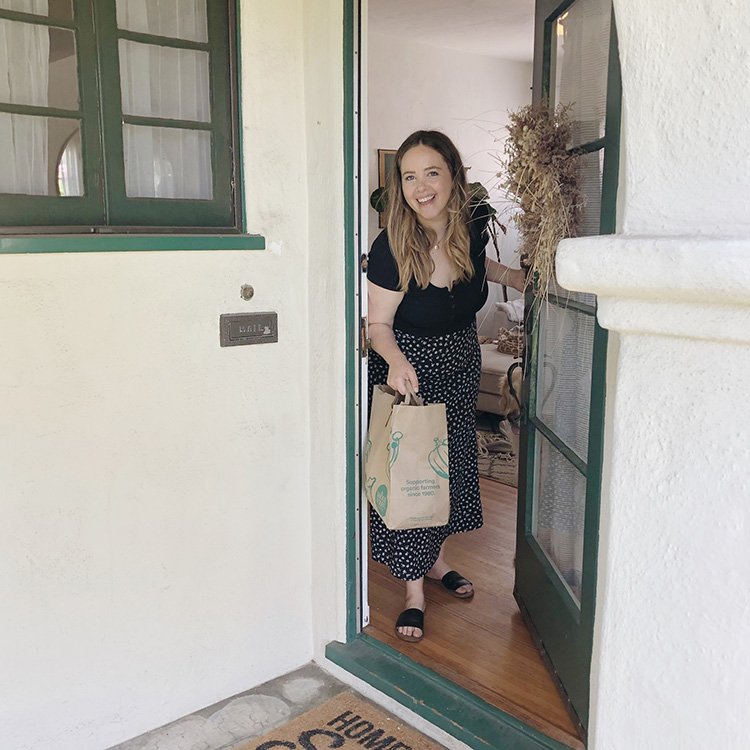 I've been a fan and participant in the secondhand market for many years. However, until recently, I haven't participated much in online resale groups like Craigslist, Freecycle, Buy Nothing Groups, and Facebook Marketplace.
Last week, I decided to take the plunge and figure out Facebook Marketplace. I'm not suggesting it's hard, but I expected there was an art to mastering the marketplace of myriad buyers and sellers online.
As we declutter our homes, dropping boxes of unwanted goods at local thrift shops like Goodwill and the Salvation Army is an easy option. However, many donations to thrift stores are not sold and instead end up in the trash or inundating developing countries around the world.
Consequently, when we cleaned out our garage a few weeks ago, I wanted to be more intentional about finding the right home for any items that could be used by someone else instead of lazily handing off all of my unwanted things to a charitable organization who may not even be able to use them or sell them to support their mission.
We compiled about 50 items, mostly comprised of youth sports equipment, that our boys had outgrown and we no longer needed. To dip my toes into the Facebook Marketplace, I posted all of our items for free.
None of these items were individually all that valuable. Furthermore, it was more important to me to clear out the items from our house and find an appropriate home for them quickly than to earn a small bit of cash in exchange. Had the items been worth more, I may have had different motives.
I recognize the trade-off may not be the same for each person, so prioritize earning income or expediting the disposition process based on your personal needs.
I posted all of our items on a Sunday. By midday Tuesday, all but six items had been picked up from our house. When the success rate at a thrift shop of getting items into the hands of those who can use them is less dismally low, I consider my 96% success rate a big win.
On a side note, the last six items went to two families after I posted them in my local Buy Nothing group. So we ended up finding new homes for everything!
Beyond simply moving the items my family and I no longer needed out of our home, I really appreciated the interaction with my neighbors who could use these items. Through Facebook messenger, many of them shared with me for whom they were obtaining the items and why they were important.
Some shared information about their children who would be so excited to receive a new-to-them bike. Another person mentioned that he planned to send several of the sports equipment items to a nonprofit organization from his home country where he knew the children there would use and love them.
Connecting with the new owners of our things was an unexpected and rewarding benefit of using a platform like Facebook Marketplace to exchange goods and build the fabric of our community through shared interests.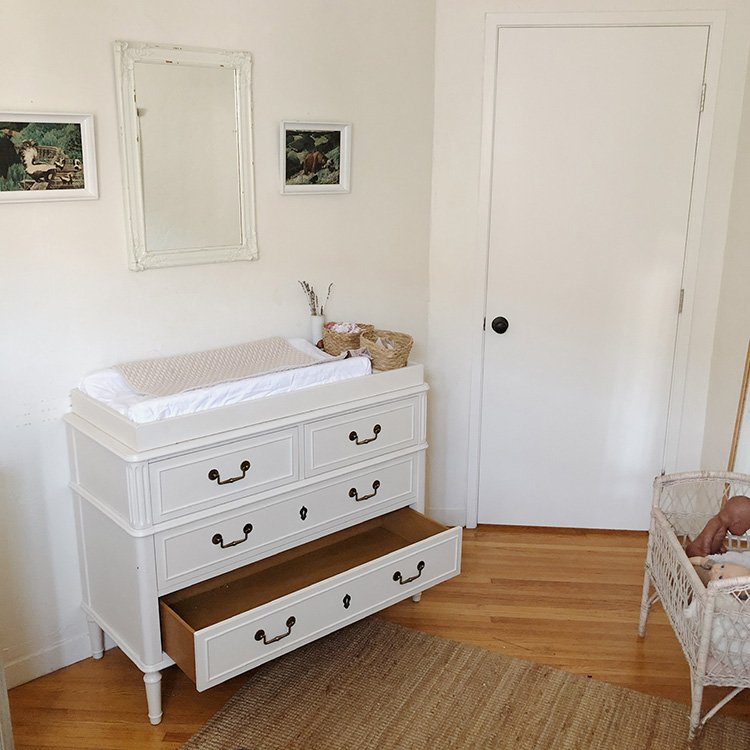 Expert Tips For Using Facebook Marketplace To Turn Clutter Into Cash
I've just started dabbling in the Facebook Marketplace space, so I don't have much expert advice for you. However, Kat from The Junkyard Journals, has a wealth of experience in this area. She's shared myriad tips and tricks on her Instagram account about ways she has successfully used Facebook Marketplace to responsibly declutter her home and make a bunch of money in the process.
I reached out to see if she would share some of her ideas, and she was kind enough to agree to let me pepper her with questions about how to successfully make money using Facebook Marketplace.
Let's get started hearing from Kat.
Q: When did you first start selling secondhand items online? Did you start using Facebook Marketplace or did you use other secondhand platforms earlier?
A: I've been selling online for about a decade now in different capacities. I started out selling on eBay and Craigslist. I have sold on Poshmark, Instagram, thredUP, and too many platforms to even name. I have bought items to resell in the past but no longer do that as I am short on time, storage and, to be honest, motivation. In the midst of a move and minimizing and rethinking what I own, I am loving Facebook Marketplace for getting my unused and unwanted items to happy homes in my neighborhood.
Q: Can you tell us about one of your favorite or most successful selling stories on Facebook Marketplace?
A: I met one of my very best friends selling a glider on Facebook Marketplace. I actually didn't sell the glider. I convinced her out of the purchase because the glider was too low to be comfortable for late-night feedings, but I ended up with an invaluable friendship!
Q: Have you had any experiences that were particularly frustrating or disappointing using Facebook Marketplace to sell your secondhand items?
A: Few and far between, but it does get frustrating when items don't sell or when many people say "I'm interested" and then never follow up. When I am selling my personal items, I accept that the money I spent on the items was already wasted when I bought the item. Thus, if it sells and I earn money back, it's a bonus. But I also have pretty low expectations.
Q: I've found that free items are claimed pretty quickly. However, how long does it take for things to sell that you think are priced at fair market values?
A: It really just depends on the item and the area you live in. Unless it's a really high ticket item, I don't typically hold onto things more than a week after posting. I will mark it as free, give it away on my Buy Nothing group, or donate to a local shelter or charitable thrift store.
Q: Do you have any tricks for relisting things in new postings after a certain period of time? How long before you repost a listing?
A: Reposting or originally posting on a weekend can be helpful because more people are available to pick up items and are sitting around on their phones.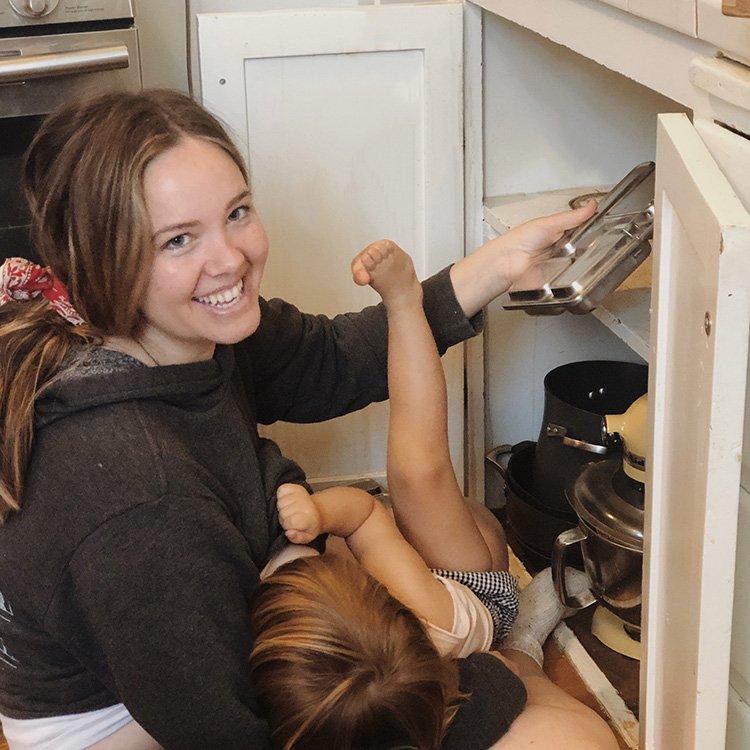 10 Tips For Making Money On Facebook Marketplace
Okay on to the juicy stuff. We know you have lots of tips and ideas to make money using Facebook Marketplace. After all, you've made over $3,000 in the last month selling items on Facebook Marketplace! Tell us your tips and what works to make money selling on Facebook Marketplace.
1. Price Items Well
I stick to at least 50% off the retail price or less depending on the condition and perceived desirability of the item. Remember that just because something is sentimental to you doesn't increase its value for someone else.
If I got something secondhand, I typically price based on the true retail price and not the price I paid. Oftentimes, I'll come out even or earn a little profit to pocket when I sell items I purchased secondhand. Just another reason I love buying secondhand in the first place!
2. Take Clear Photos
Styled photos are great but can be time-consuming. A clear photo holding something up against a white wall will really help buyers see what you're selling quickly as they scroll through.
3. Clean & Fix Items
A wash, a wipe, or a stitch can go a long way. Be honest about the condition of the items and price accordingly.
4. Bundle Like Items
Group items together like books, clothing of similar sizes and styles, kitchen tools, outdoor gear, etc. It can help sell items faster but also might encourage people to come to pick things up when it wouldn't be necessarily worth the trip for just one $3 onesie or one $2 can opener.
5. Use Keywords
Use descriptive keywords to help your item be featured in searches and filters. For example, if you're selling a side table, tag it with as many specific words as possible for which people might search. Some examples include end table, side table, and nightstand. Also use words to describe the colors, materials, design style, brand, and like brands.
6. Crosspost Your Items
If you use the Facebook app and post initially to Facebook Marketplace, the platform allows you to share to other Buy and Sell Facebook groups with the click of a button. Search Facebook for local buy-sell-trade groups to join or create one of your own! Once you have the pictures and description, you could also crosspost to other apps like LetGo, OfferUp, Craigslist, or online resale sitse like Poshmark or Kidizen.
7. Respond Promptly
Making arrangements quickly helps me avoid flakes. I usually get a lot of "I'm interested in this item" and I respond asap with "What questions can I answer?" "When can you come to pick up?" and "Priority to first pick up."
8. Suggest Add On Items
Do you have other items in a similar size or style that you're posting? Send a link to those as well and offer a bundle incentive. I usually say "If you're interested, I have these items for sale as well and can bundle for a better deal!" I don't intend to be pushy, but they may not have seen the items and would be interested in them, particularly if they are driving to pick things up anyway.
9. Be Safe
I appreciate Facebook Marketplace because you can snoop a little at the profile of the buyers, and man do I love a good snoop! I typically give the main cross-street until there is a confirmed pick up time. I am comfortable with porch pickups at my house during daylight hours. I never let people in my home. If you aren't comfortable with that you may consider picking a public place to meet in a place like a police station parking lot. Here are some additional tips to stay safe using Facebook Marketplace.
10. Know Your Intentions
You may alter listings and time of listings longer depending on your intentions. If you are trying to do a quick declutter, bundle more items and price them lower. Change listings to FREE or move them to your Buy Nothing group if they aren't gone in a few days.
On the other hand, if you are looking to get out of debt or are prioritizing the income component, it may be worthwhile to hold firmer on prices and wait a little longer.
Give It A Try and Make Money Using Facebook Marketplace
If you haven't used it before, give it a try. Log on to your Facebook account, use these tips, and find a new home for some of the things in your house you no longer need. Kat's tips are so great, and hopefully, they will earn you a bit of extra income. I assure you that using Facebook Marketplace is not hard and is worth the investment of time.
This week, Kat teamed up with a few other thrifting pros to do a #TurnClutterIntoCash challenge. She shared all the details on her Instagram account, so go check it out. But as a spoiler alert, you could win cash just for trying out the Facebook Marketplace for yourself! (Giveaway goes through 7/26/20 but she has tons of tips on secondhand selling, so stop by her Instagram account even if the challenge has passed.)
I can't thank Kat enough for sharing all her tips to make money using Facebook Marketplace. If you don't follow her already, I highly recommend heading over and following Kat on Instagram. She recently shared another post about successfully using Buy Nothing groups to thoughtfully declutter your home and find new places for things you no longer need.
Do you sell items on Facebook Marketplace? Have you been able to make money finding new homes for things you no longer need? Share your tips in the comments below so we can all make the most of the sharing economy in our own communities.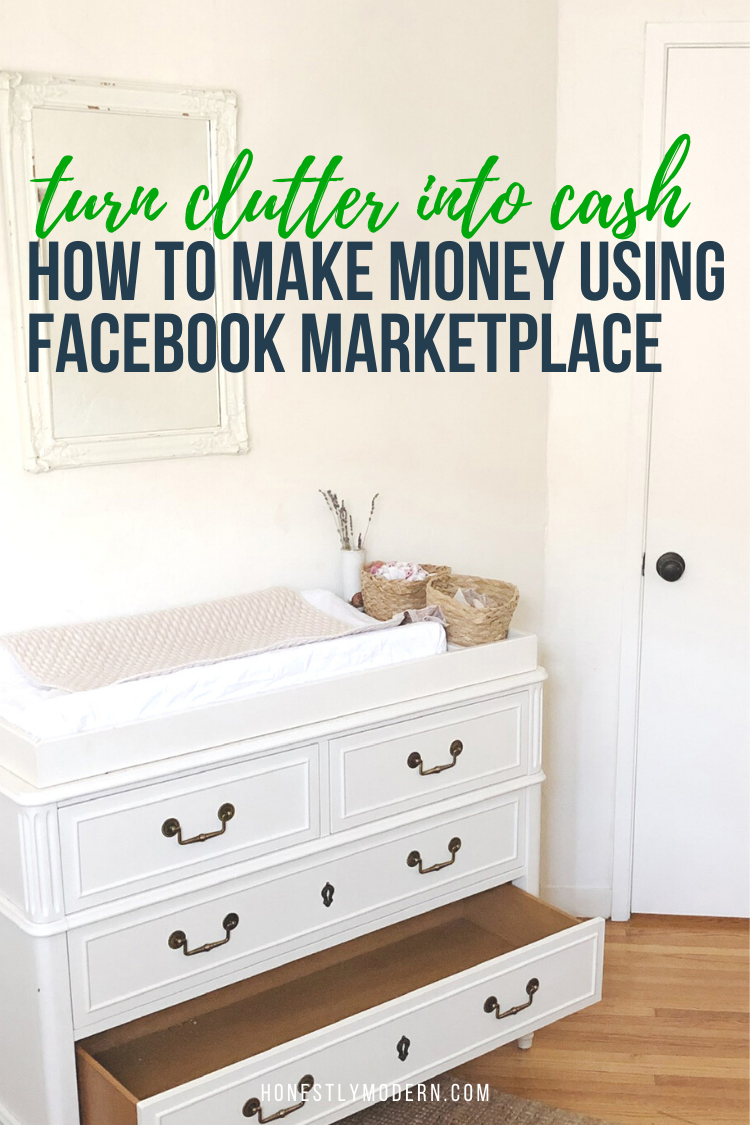 About The Author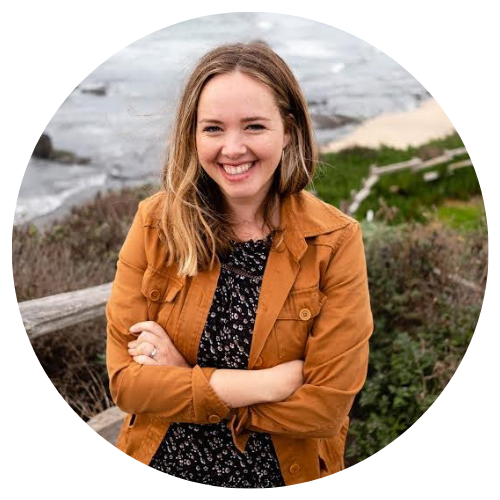 Kat Steck
Kat Steck is a mom of 2, a thrifting addict, and a self-proclaimed jar hoarder living in Los Angeles. She is passionate about helping others (especially moms) opt out of consumer culture, buy less new junk, and use what they have.
After challenging herself for ethical and environmental reasons to buy no new clothes for a year, she realized she could adopt a lifestyle of buying (almost) nothing new and wanted to encourage others to join too! She loves sharing secondhand finds, budget-friendly sustainable living tips, and simple living mom hacks on Instagram at @thejunkyardjournals.
About The Author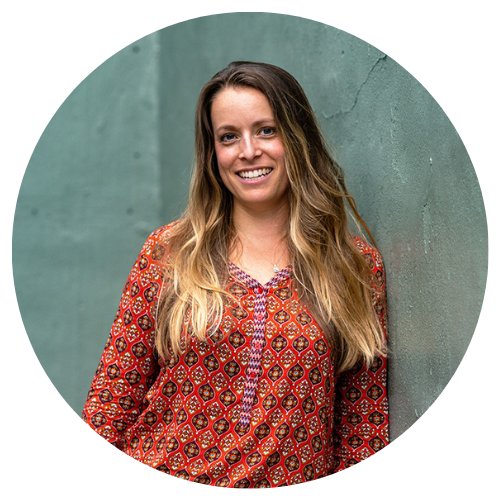 Jen Panaro
Jen Panaro, founder and editor-in-chief of Honestly Modern, is a self-proclaimed composting nerd and an advocate for sustainable living for modern families. In her spare time, she's a serial library book borrower, a messy gardener, and a mom of two boys who spends a lot of time in hockey rinks and on baseball fields.
You can find more of her work at Raising Global Kidizens, an online space to help parents and caregivers raise the next generation of responsible global citizens.