Where To Buy Organic Seeds Online
Looking for the best places online to find organic, heirloom, and non-GMO seeds for your food garden? Check out these great places to buy organic seeds online that can help you on your path to food independence.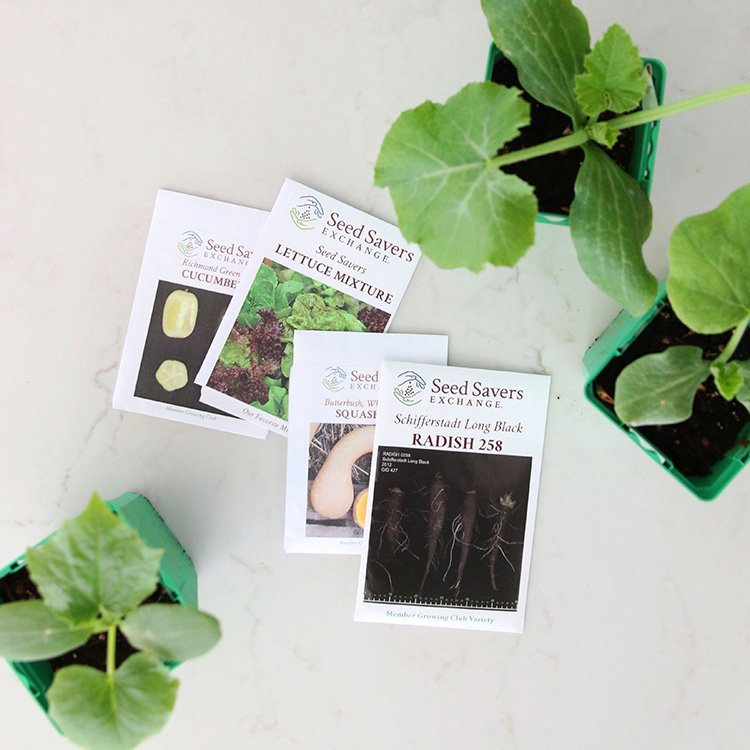 Daffodils popped up last week in our yard and the purple crocuses weren't far behind. This weekend, I plan to start a few of the seedlings for our summer food garden. We are big fans of peppers (spicy and sweet) and those always take a while to get going, so we start them inside about this time of year. I've already laid out our garden plan for the season, so hopefully, we can stick to it.
When it comes to growing food, the food is only as good as the seeds (makes sense, right?). So when I look for seeds, I try to find places to buy organic seeds or heirloom and non-GMO seeds when possible. I don't have too many places around me that sell these in stores, so I tend to look for online seed shops. They often have a great variety of seed choices as well.
I want my garden to be a place that supports and protects biodiversity. Increasingly, large multi-national seed companies have pushed to reduce the variety of seeds that farmers use and encouraged farmers to rely on the technologically-manipulated seeds these companies produce.
While we don't know the full effect of using GMOs (genetically-modified seeds), we do know that the biodiversity of seeds is decreasing significantly. Among other benefits, biodiversity increases the resilience of our food supply by ensuring food security in a year when a single disease or infestation might take out all of one type of crop.
To support biodiversity and out of genuine curiosity, I buy seeds from a variety of suppliers and seed companies each year and do my part to protect diverse and heirloom varieties of plants, vegetables, and flowers in our ecosystem.
Over the years, we've found more than a dozen places to buy organic seeds online. Some are pretty large and established seed sellers while others are pretty small. I hope you find a few online seed outlets that suit your garden needs this season!
18 Places To Buy Organic Seeds Online
As you look to collect seeds for your future garden (no matter how big or small they are), check out some of these online companies to find great organic, heirloom, and non-GMO seeds to fill your garden.
Seed Savers is a non-profit organization that sells seeds and also maintains a seed library to protect the biodiversity of seeds. They have an exchange to allow members and customers to swap seeds and further increase biodiversity. When I signed up to be a member, I received several of their member seed packets to experiment with unique, heirloom varieties of vegetables that were new to me! This has been one of my favorite seed companies since we started growing some of our own food a few years ago.
Territorial Seed Company has a huge selection of non-GMO seeds that include a variety of organic and heirloom varieties. They also include lots of information on their website to help plan your garden and grow a successful harvest.
This small but mighty company is owned by a Black woman who runs the business on her own. She offers all sorts of interesting varieties and keeps prices really affordable. I can't wait to try out some of the seeds she has. Be sure to sign up for her newsletter because restocks sell out quickly.
This company is based in Philly, so I love that it's local for me. Truelove Seeds is a seed company offering rare, open-pollinated, and culturally important vegetable, herb, and flower seeds. The seeds are grown by farmers committed to community food sovereignty, cultural preservation, and sustainable agriculture.
Bentley Seeds is a family-owned seed company based in upstate New York. They offer a variety of seeds from flowers to fruit and vegetables. They sell non-GMO, untreated seeds with simple instructions for even the most beginner gardeners. They also have special seed packets focused on helping pollinators and neat packaging for seeds as gifts or party favors!
Eden Brothers has so many varieties of seeds including lots of vegetable seeds and so many flower seeds! This is our first year purchasing seeds from Eden Brothers, so I'm excited to see how they work out for us.
Sustainable Sprout
This company operates by the motto: "Eat what you grow. Grow What you Eat." This is right up my alley. While flowers are lovely, I enjoy being able to eat the things I spent so much time growing. Sustainable Sprout sells untreated, fresh crop, non-GMO, heirloom varieties of many types of seeds from vegetables to edible flowers.
Johnny's is a much larger company than some of the other companies on this list, so they have a really big collection. Although they are larger, they are a privately-held, employee-owned company committed to non-GMO seeds and protecting the biodiversity of seeds in our food supply.
Not all of their seeds are as "pure and raw" and some others on this list because they use certain treatments that protect seeds from fungi and facilitate germination. However, if that is a priority, you can choose from their untreated seeds and certified organic options.
As the name implies, this company takes a simple approach and sells heirloom vegetable seeds. They have lots of options of really interesting veggies to add to your home garden at affordable prices.
Dollar Seed is a small business that sells non-GMO, organic, and heirloom seeds for $1.00 per pack of seeds. They have a good variety of seeds and also support various communities in need by providing free seeds to help start local community gardens, especially in areas that are food deserts.
Baker Creek is one of the larger heirloom seed companies that has been around for quite some time. They have around 1,200 varieties of vegetables, flowers, and herbs from which to choose when deciding what to grow in your garden.
Another small family-owned business, this company sells a variety of vegetable and other produce seeds that are all non-GMO and mostly heirloom seeds. There were lots of interesting options I wanted to try out in my garden!
This company sells heirloom and open-pollinated garden seeds for vegetables, flowers, and herbs. They even have a special call for art to celebrate the intersection of art and gardening each year.
If you're in the market for tomatoes, Wild Board Farms specializes in all sorts of heirloom tomatoes. Check out their wide variety of gorgeous tomatoes.
This company is a non-profit organization with a focus on protecting the native seeds that have adapted to arid conditions in the southwestern United States, specifically those that support Indigenous communities in the area.
This family-owned company has lots of varieties of organic and heirloom seeds. I love that they sort their seeds by attribute to help categorize seeds that are good for container gardening, grow quickly, are great for indoors, and more.
Local Seed Libraries
You can also try finding seeds at local seed libraries. This local seed library site has a list of many seed libraries around the world. Maybe there is one in your area.
Swap With Neighbors
Do you have a neighbor or two who also have gardens? Consider trading seeds with them and try growing a few things that worked for them. Who knows how it will work out, and it's a great way to connect with your community.
Where do you buy seeds for your garden? Leave suggestions in the comments, so we can check them out!
You Might Also Like
Climate Victory Gardens to Fight Food Deserts
3 Ways To Start a Balcony Garden
How To Make A Pizza Garden with Kids