What to do with all those Amazon cardboard boxes??! Prime Day is Here! For the record, I am not sitting at my computer impulsively buying all the things, but here are some ideas for ways to reuse every cardboard box that shows up at your front door.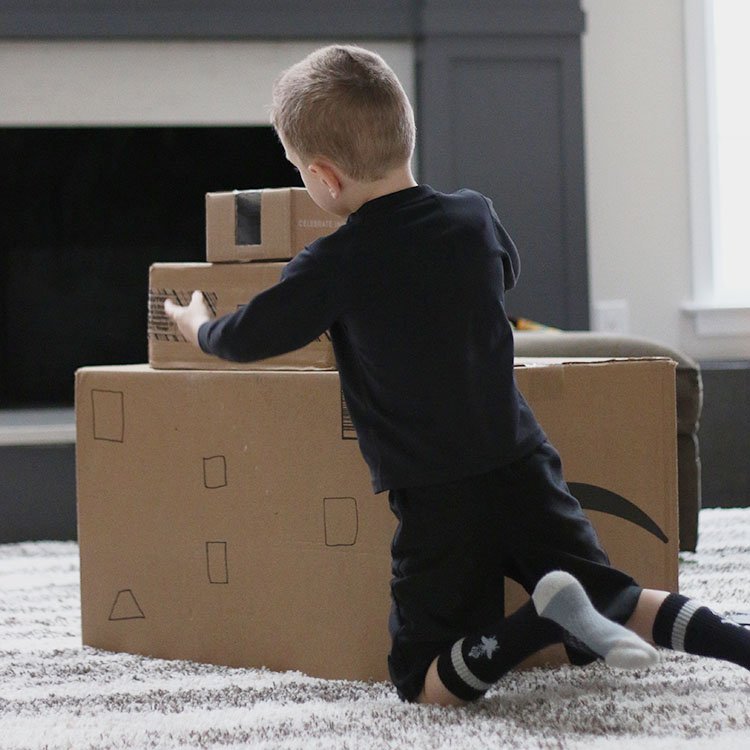 Do you have a lot of cardboard boxes entering your world? We buy quite a few things online, so we have our fair share of cardboard boxes arriving at our front door. While they never end up in our trash, they rarely end up in our recycling bin either. Babies know from an early age that a cardboard box is a magical thing. As adults, cardboard boxes have so much potential that we need to channel the inner child in us and put all our cardboard boxes to good use.
After All, We Produce Tons of the Them
In fact, we generated 30.5 million tons of corrugated boxes, according to the Environmental Protection Agency's latest data from 2014. Nearly 90% of those boxes were recycled while the remaining 10% were either combusted or sent to landfills. That's not too shabby, particularly when compared to the overall recycling rate of a rather dismal 34.6%. However, recycling really isn't the best option. It still takes a lot of virgin trees to make 30 million tons of boxes, even if a large portion of them include recycled material. Recycling also requires a significant amount of energy for transportation and processing.
While Amazon is, by no means, the sole contributor to the crazy volume of cardboard boxes ringing our door bells, they (with the help of us loyal customers and a dangerously easy Buy with 1-Click functionality) are a significant contributor. To put this in perspective, I dug into their financial statements and made a few assumptions and estimates.
Amazon Cardboard Shipping Boxes Around The Globe
In 2017, Amazon reported $108 billion in online sales, which includes both physical and digital products. Let's assume that 75% of those sales are for physical products, an average transaction ranges from $45 -$50, 15 -25% of packages arrive with a box inside the box, and a broken down Amazon box is 1/2″ thick. (As a disclaimer, these are not scientific estimates but rough guesses based on my experience and knowledge.) The average sale price is probably a bit light, but we'll go with it. The model below includes a few different calculations to provide some crude sensitivity analysis.
All in all, when broken down and laid on top of each other, all those Amazon cardboard boxes are almost tall enough to wrap around the Earth! Seriously?!
Maybe I shouldn't be surprised, considering I shop online for many things and have even had two different delivery trucks at my house at the same time.
What Do We Do With All This Cardboard?
I know all the environmentalists and minimalists are screaming under their breath, and sometimes at the top of their lungs, to just stop buying so much stuff. That is an entirely fair conclusion. But in reality, many of us will continue to indulge in the convenience and efficiency of 2-hour delivery at the tip of our fingers.
Did you know Amazon has over 100 million (100 million!!) Prime members? With Prime Day here, those estimated 100 million Prime Members will have an opportunity to buy over a million items at discounted prices. Amazon hypes up the day like crazy, hoping to add dramatically to their 100 million member cohort. Plenty of people take the bait and go nuts buying all. the. things.
If you've got some cardboard boxes headed to your front door, reconsider what you will do with them after you've opened your treasure. At the very least, hopefully you break them down and recycle them. Even better, consider one of the following options to extend the longevity of your cardboard a little (or a lot) longer.
5 Homes For Your Cardboard Boxes Other Than The Recycle Bin
Garden Bed Starter
Full of carbon and not contaminated by many other chemicals, generic corrugated cardboard can serve many purposes for a garden. It creates a great starter for new beds, helps reduce weeds, and can help protect weak or young plants from the elements, among many other uses. Carbon combines with nitrogen in the dirt to create healthy, nutrient-rich soil in which plants can flourish.
Compost Material
Cut the cardboard into strips or tear it into pieces and put them into your compost as brown matter (or carbon additions). Clean corrugated cardboard, typically the material of which Amazon boxes are made, is a great type of cardboard for compost. It has high levels of carbon, one of the components necessary to combine with the nitrogen (from food scraps and such) to break down the compost pile and turn into nutrient-rich humus for healthy soil.
If you're a regular around here, you know I'm a compost geek and love watching as trash and waste transform into healthy soil to support the growth of new life. I've shared a bunch about composting at home and have a You Can Make Dirt series in which I share how other people compost in all sorts of ways and different living styles.

Toy or Art Supply
It may be cliche, but there's a good reason we all joke that babies love a box more than the gift that came in the box. Cardboard boxes are so much fun! These are the best toys and spark creativity. My boys know their way around a cardboard box. I often tell them to "make it" when they ask for something new, and cardboard is one of their favorite materials for creation.
At this point, if my boys see me taking any box out to the recycling, they stop me and beg to keep it because "they want to make something with it". It's hard to argue against this pure desire for creativity, so I have a stash of broken-down cardboard boxes in my closet that come to the rescue any time an art project just MUST be done.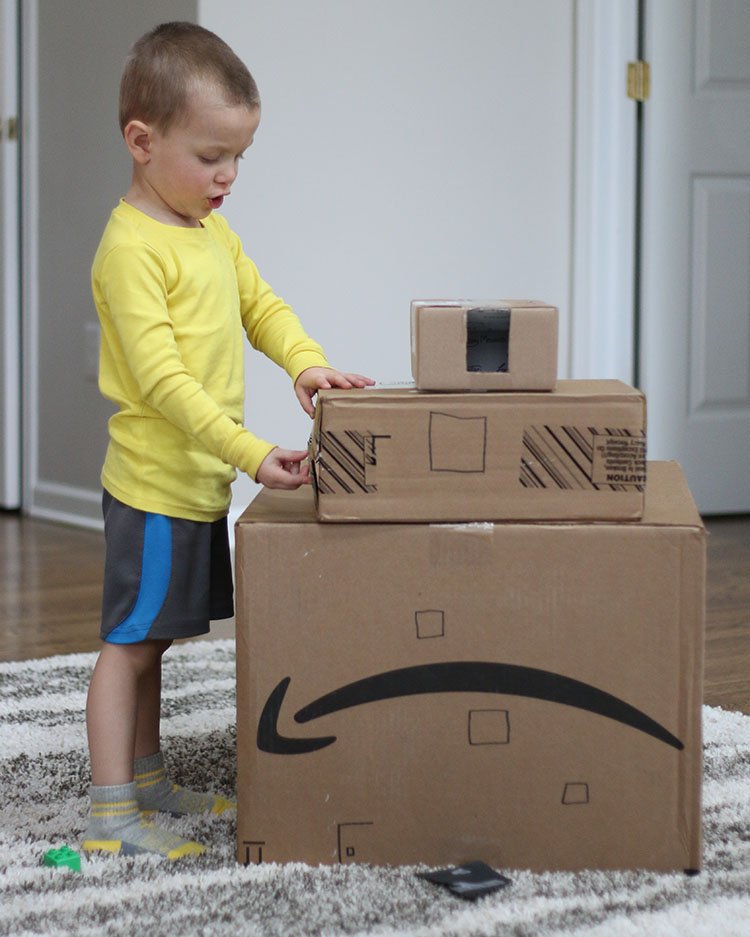 Gift Packaging
I don't think I'll ever need to buy gift wrap again. I have so many great materials around my house that make perfect gift wrap alternatives. The cardboard boxes come in handy for something that can't be wrapped in just paper. If you want some more ideas, I shared a bunch of other holiday-inspired gift wrapping ideas using upcycled material from a bunch of different types of packaging.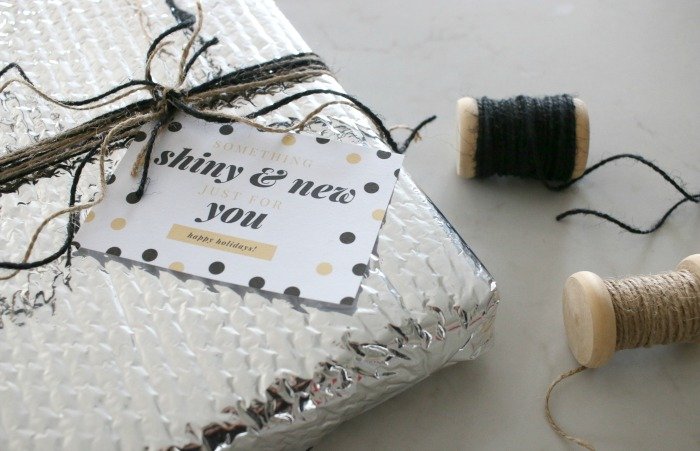 Amazon's Give Back Box
I hesitate to include Amazon's Give Back Box program because I think it requires some meaningful diligence on the part of us, the donors. However, I'm mentioning it anyway with the request that you use it sparingly and only when you have something really valuable to give to a charity that you no longer need.
On the surface, the program sounds fantastic. By typing in your address on Amazon, you can print a shipping label, fill an Amazon box with items to donate, and drop it in the mail for free. We're reusing the box AND donating to charity, which sounds like a win-win. But like most things in life, it's not so cut and dry.
First, the recipient (i.e. the non-profit) pays the shipping costs. Amazon does not bear the shipping costs. I take real issue with Amazon getting all the fanfare for a program they appear to be doing essentially nothing to support. They host a web page to accept your name and email address, so their data mining system can find the right charity address to print on the label. I bet that took one of their brilliant developers 27 seconds to mock up and another 46 seconds to build. (I'm being facetious, but you get my point.) While Amazon had net revenue of $177 billion and made net profit of $3 billion dollars in 2017, they are shifting the cost of the donation transportation to the charities (many of whom are probably struggling to pay their bills and certainly not raking in $3 billion in profit).
This reinforces my notion even further that social good organizations should be for-profit entities.
Additionally, if the donors aren't thoughtful and choose to use this program as a dumping ground for their unwanted and useless junk, the charities end up paying shipping fees only to collect more trash that they need to dispose. Secondhand shops receive far more donations then they are able to sell, and a good portion of the items we think are being productively donated actually end up in landfills or flooding third world countries and harming their economies.
So… take this recommendation with caution. If you have a few great items that you know a thrift shop would love, go ahead and send them along. But please don't make this your lazy excuse to buy more things or not find the right home for things you no longer need.
The Good and The Bad
A lot can be said about Amazon and the role it is playing in harming local commerce and small shops. I don't disagree that it's an issue. That being said, I also love some of what Amazon does. Sometimes I know exactly what I want and have no clue where to find it. I could spend hours searching in my local area and not have a clue if I was on the right track. With Amazon, I can use their ridiculously helpful search function to find what I want and also find 5 comparable alternatives that, oftentimes, are a little better.
Further, one can argue that online shopping is more environmentally friendly, depending on the circumstances. Putting everything in cardboard boxes to be shipped to your doorstep might seem inefficient, but the delivery companies spend millions of dollars ensuring their drivers make the most of every mile and every gallon of gas. Everyday consumers aren't nearly so diligent.
Amazon isn't perfect, but I'm not giving up my Prime membership for now. In time, anything could change. Surely though, I will continue to breathe new life into every single corrugated cardboard box that comes through our front door.
How do you reuse your cardboard boxes? I'd love to hear more ideas in the comments!