How To Enjoy Epic Forts With Kids
Everything is more fun in a fort. If you feel like you've exhausted all the fun things to do with your kids, build a fort, and revisit every item on your list. In a fort, it will be novel again. Check out these tips and tricks for building great forts and lots of fun activities that are more fun in a fort.
My boys LOVE building forts. My sister is pretty good at it, and I've stolen a few ideas from her to make some fun forts with the boys. She's definitely "the fun aunt", and I'm not really "the fun mom".
However, making forts is not rocket science, so don't fret if you're a novice. I am right there with you! I can attest though that you need little more than fifteen minutes, a small dose of patience, and a willingness to experiment with the physics of blankets, sheets, chairs, rubber bands, and clips.
Once you build the fort, you'll buy yourself a bunch of time to do some adulting while your kids realize that everything in life is more exciting in a fort. It's a few minutes invested in a whole lot of creative and imaginative play time for your kids.
When you're ready to turn your family room or bedroom into a cavernous new world, here are a few quick tips for building and enjoying an awesome fort.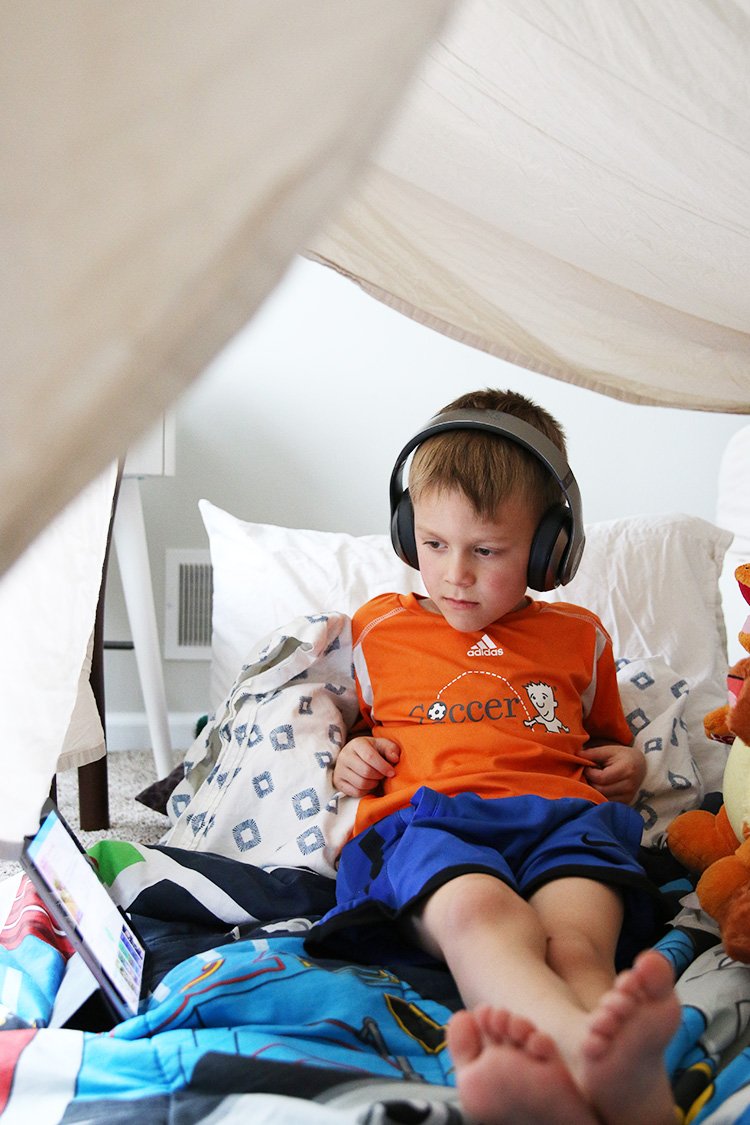 Gather Your Fort Building Materials
We typically use blankets and sheets in our living room with the couch and chairs as walls. We have also built forts in the boys' bedrooms. All sorts of materials will work to turn an ordinary couch or bed into an awesome fort, and here are a few helpful materials.
Fort Building Materials
blankets, sheets, and towels (the bigger the better)
pillows
couches and chairs
cardboard boxes
whatever else creates caves, tunnels, and secret spaces
The world is your oyster when it comes to building forts, so feel free to use any materials that are safe for kids and will connect blankets and sheets to each other, hold blankets and sheets in place, and keep them held up as walls and ceilings. These are our very favorite fort building clips and connectors.
Fort Building Connectors and Clips
fort clips (optional and a little pricey but awesome and worth it if they are in your budget)
binder clips
clothespins
rubber bands
heavy objects (like books)
anything else your imagination desires…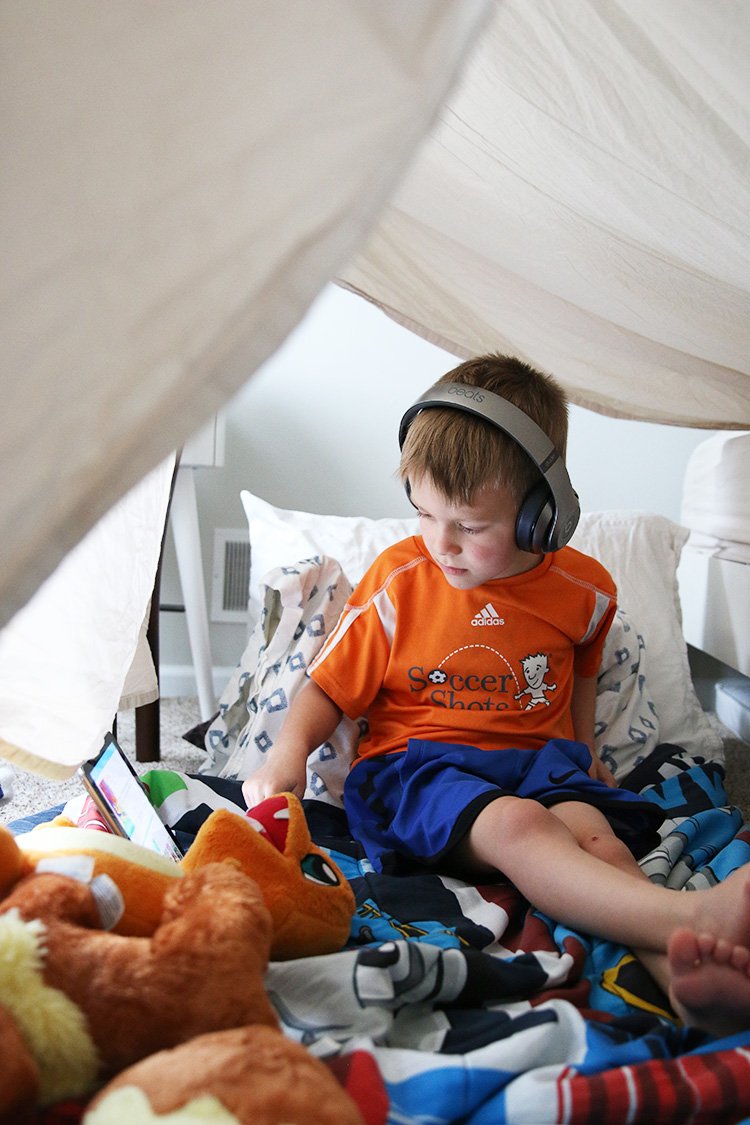 Tips For Building a Strong Fort
No one wants a fort that falls apart every five minutes. To build a strong fort, here are a few fort building tricks we use. I'm sure there are lots more that work wonders, but this should get you started.
Use the back of chairs and couches as walls
When building a fort, use chairs and couches that are facing away from your fort if possible. This helps make the fort bigger because the seats of couches and chairs aren't taking up space inside the fort. Also, seats on the outside are a great place to set books or other heavy objects on top of the edges of blankets to keep them in place. Just be sure they aren't pulled so tight they pull the chair right down into the fort.
Rubber bands to hold blankets to poles or chair backs
As the blanket lays over the back of the chair, wrap the rubber band around the top poles of the chair back (if your chairs have them) to hold the blanket in place. You can also use rubber bands to wrap around poles, door handles, or other hooks that might hold your fort blankets.
Connect blankets and sheets together over the middle of the fort with fort clips or binder clips
It seeems like no blankets are big enough to cover the gigantic fort of every kid's dreams. Clip your blankets or sheets together to make giant covers for large spaces. When it comes to forts, bigger is definitely better, am I right?!
If you have enough blankets, maybe you can even have a fort building competition. Sometimes my boys like to share forts and other times they prefer their own.
Now that you have built your fort, go back to the activities your kids already did that became boring. In a fort, they are all new again!
Simple Activities That Are More Fun in a Fort
If you suggest doing these activities at the kitchen table, your kids might roll their eyes. Same old, same old, especially after months of quarantine. But a fort breathes new life into all these simple actives, many of which don't require heavy parental oversight (hands in the air!).
Reading
Coloring
Drawing
Listening to Audiobooks (here are a few tips to get kids hooked on audiobooks)
Listening to Podcasts (these are our favorite kids' podcasts)
Kinetic Sand – you can make your own but we haven't tried that yet, so I can't vouch for any of the recipes I've seen online.
Building with Blocks or LEGOS
Making Thank You Cards – just prepare blank ones and design the front for now if you do not have a particular occasion for which to make them
Snacking
Sleeping
And… Pretty Much Anything!
Do you makes forts with your kids? Have you made any killer lockdown forts? I'd love to see photos. Share them in social media and tag me @honestlymodern (on Instagram and Facebook) so I can check them out. Or share about them in the comments!
Happy Fort Building!