How To Use The Library | Free Museum Passes for a Family Day in Philadelphia
Your local library probably has a host of benefits you don't know about, such as free passes to local museums in your area. Be sure to stop in and ask your librarian what they have available to check out beyond books!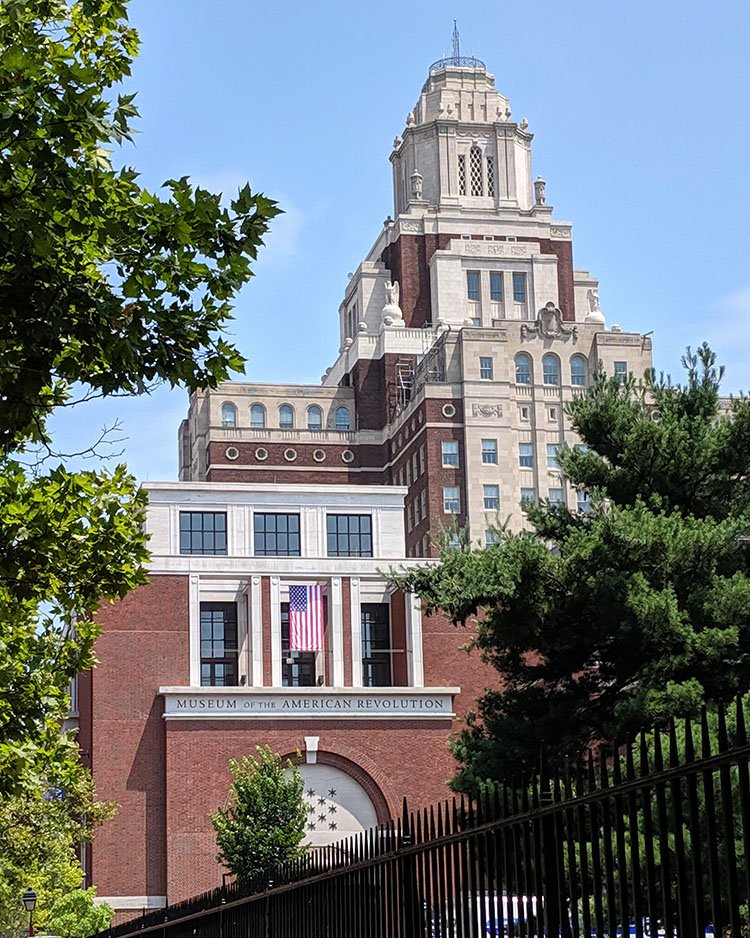 Did you know that many local libraries have free or discounted museum passes for local museums in your area?
Depending on the size of the museum, they may have just a couple or they may have all sorts of museum pass options. In essence, the library owns an annual museum pass that can be used by one patron (or a family of patrons) at a time.
Our library has a handful of museum passes, including one for the Museum of the American Revolution, a relatively new museum in downtown Philadelphia. It's not far from Independence Hall, the Liberty Bell, and many of the other historic monuments for which the city is famous.
Library Passes for the Museum of the American Revolution
While my parents visited over the 4th of July weekend, we borrowed the Museum of the American Revolution passes from our library and headed into the city for a free visit to a museum that I highly recommend. I heard great reviews in advance of our visit and concur that the hype is earned.
We turned our museum trip into a full day adventure. We stopped by Federal Donuts, and then hit up the Joseph Fox bookstore that J has come to know and love. We devoured a quick lunch at Shake Shack, where T read his brand new book while we waited for our food.
Finally, we walked about 15 blocks to the Museum of the American Revolution, enjoyed a couple of hours admiring the exhibits, and rounded out our day with rolled ice cream at Sweet Charlie's, something for which the boys have been asking for months.
Our Visit to the Museum of the American Revolution
The museum isn't particularly large, but I think that's part of its appeal. It's not overwhelming, and we could see the entire museum with the kids before they lost interest.
The museum has a handful of exhibits, many of which are interactive and the boys found really engaging. We walked through each of them, ending in the children's exhibit area just before seeing the pinnacle of the museum's artifacts.
Passed down through generations, the museum owns George Washington's original tent that he used for meetings and residence during the American Revolution. Due to its fragile state, the tenth resides behind glass (and I wasn't allowed to take a picture). Nonetheless, it's pretty fascinating to see a relic from so long ago that played such an integral part in our history.
Diverse Voices from the American Revolution
Living in a world where white supremacy and white privilege prevail, most of us have grown up in a culture and society dominated by the stories, tales, and accomplishments of mostly white men and a few white women or non-white people. I'm not an expert on the American Revolution, but I appreciated that the museum reflected the voices and contributions of more than just the white men we traditionally read about in school history books.
It can be uncomfortable to reflect on the limitations and narrow scope of the content in our school history books, but it's also important to recognize there are so many stories untold, particularly those of minorities.
The museum dedicated a portion of the exhibits to the significant contributions made by the Native Americans, who played an integral role in the American Revolution for both sides. They also highlighted the experiences of black people in various aspects of life during the time of the revolution.
Of course, no museum can cover everything about any particular event or period of time, but I appreciated the museum's efforts to incorporate more diversity into the people covered by their exhibits than I have traditionally seen in standard history books.
Library Museum Passes Opening Doors to Expensive Experiences
Museum admission can be pricey. I understand the tight financial circumstances of most nonprofit organizations like museums and the importance of charging a fair fee for admission to high-quality exhibits, managed by educated docents and curators. Yet, it's unfortunate that the cost of admission precludes so many people in our communities from visiting.
Libraries exist primarily to garner a sense of community and foster an environment of never-ending learning for everyone, regardless of race, religion, ethnicity, financial means or any other distinguishing factor. Museum passes are a prime example of libraries living up to their missions of opening doors to new worlds for all curious minds in their communities.
I might be biased. I'm a heavy library user and also sit on the board of my local library. But I've seen the wonder and excitement so many of the library's resources have created for my boys and believe in their mission.
Libraries have so much more than books on their shelves. They provide a host of programs, resources, activity groups, and other sources of education and community engagement. Some think the Amazon behemoth can simply replace libraries, but I know that libraries offer so much that Amazon will never provide. Not to mention, libraries provide most of their resources to all members of the community for next to nothing or for free. I suspect Amazon has no plans to match that mission.
Museum passes and more make libraries such a valuable, albeit an underutilized, piece of our communities. Do you use your local library? What's the most interesting resource or program you've used or seen at your local library? Be sure to tell me all about it in the comments!
You Might Also Like
Our Very Favorite Podcasts for Kids
5 Ways To Support Your Local Library & Why It Matters
10+ Ways To Make the Most of Your Library