How To Make Homemade Bath Bombs With Kids
Before putting away the Easter eggs, the boys and I whipped up these simple DIY bath bombs. With simple and clean ingredients, most kids can make these DIY bath bombs with just a bit of supervision from adults. Those Easter eggs that collect dust in our closets can be put to good use any time of year.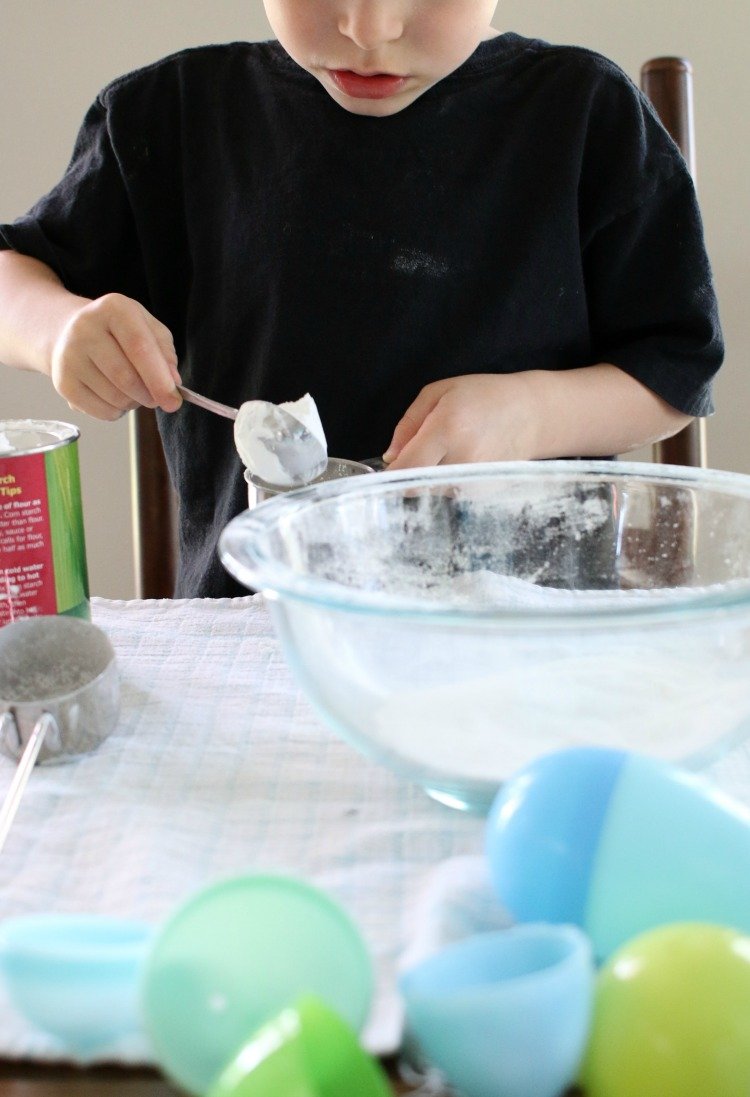 You've probably already put away all the Easter decor and baskets. Even so, you can always dig them back out because they're the perfect size and shape to make fun bath bombs with the kids.
A couple of weeks ago, in the grocery store, T saw a shelf of bath bombs individually wrapped in plastic. If you're not familiar with bath bombs, they're concoctions of ingredients that, when dropped in a bath, fizz up and release nice, relaxing aromas into the air and water. As of late, they've been all the rage.
Depending on how they are manufactured, they're sometimes made of mostly clean ingredients. But it's not uncommon for them to include a whole bunch of ingredients that really aren't that great for us. So much for a relaxing and restorative bath full of chemicals and junk?!
As an alternative to decoding a bunch of ingredients and (sometimes) overpaying for commercial bath bombs, the boys and I decided to make our own. They're so easy, and the boys have a blast doing these types of projects. T and I made a batch years ago from a Green Kid Crafts kit, and he couldn't get enough of the fizzing in the tub.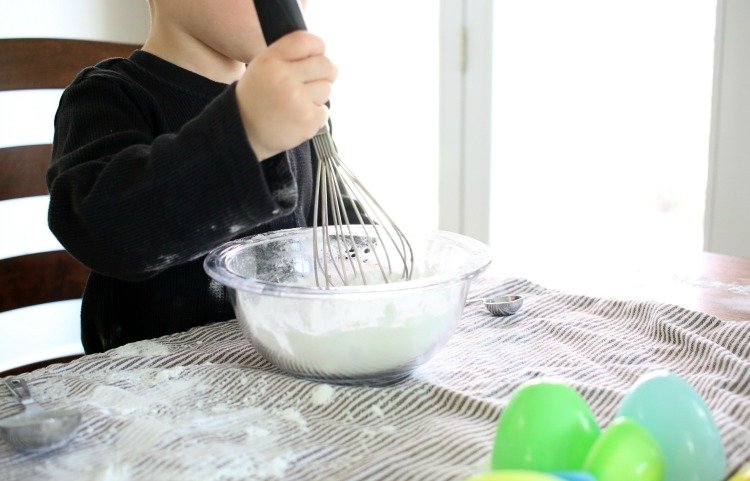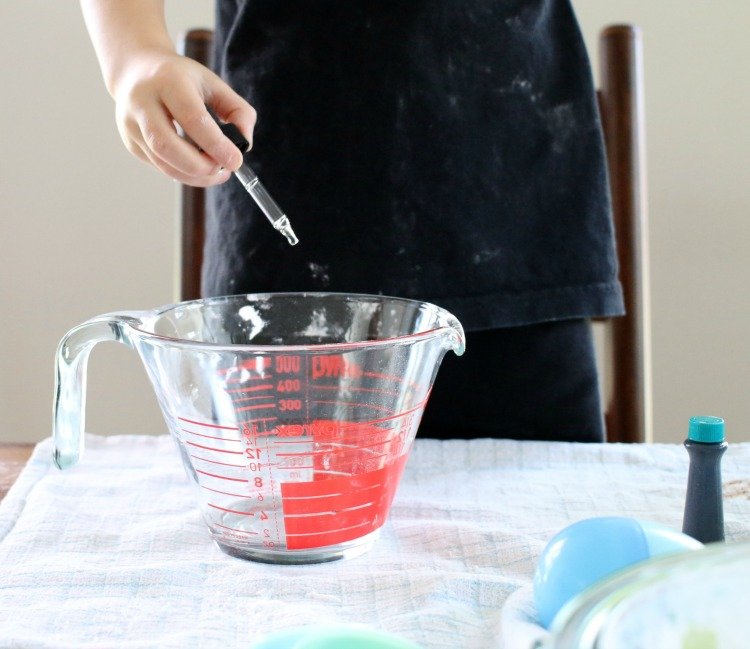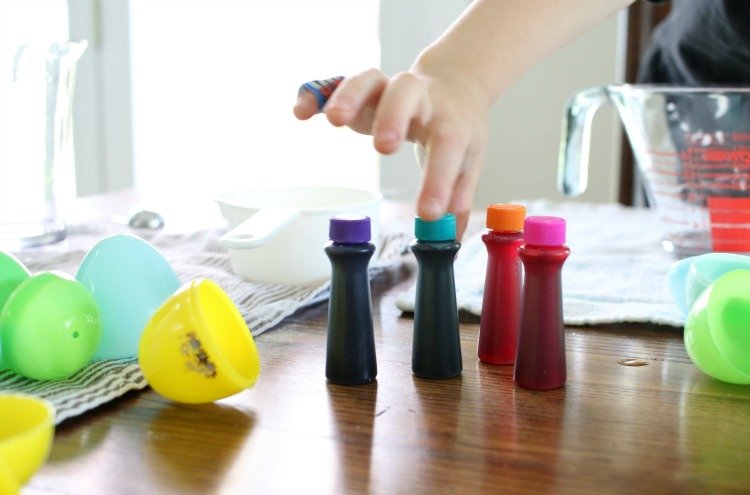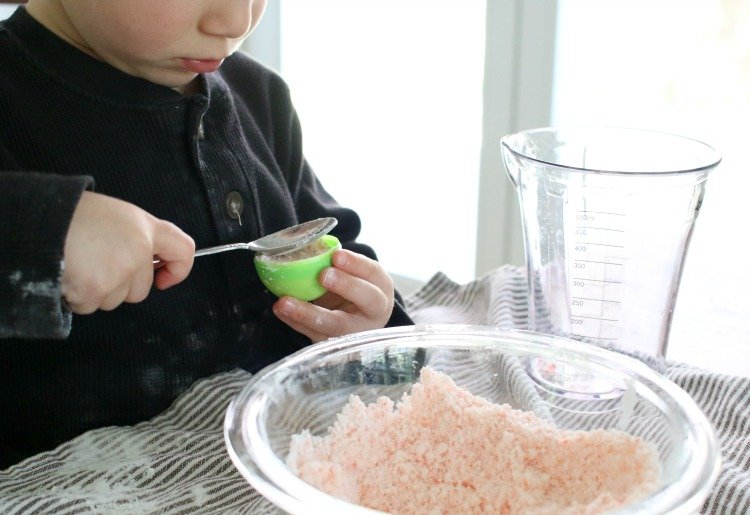 I don't have the recipe for the Green Craft Kids kit anymore, so we decided to use an adaptation of a recipe I received from ConsumerSafety.org.
Consumer Safety is an organization that "strives to make information about recalls and safety-related news about drugs, medical devices, food, and consumer products accessible to everyone in a transparent, easily understandable way." The site provides myriad avenues for obtaining recall and safety information, government policy activity related to safety, and more.
Consumer Safety researches all sorts of products and helps consumers understand, as in the case of bath bombs, what common ingredients we should do without. For example, some bath bombs include, among others, things like:
Fragrances ~ phthalates, which are hormone disruptors
Parabens ~ a preservative that's a known endocrine disruptor
Glitter ~ not only does this send small pieces of plastic into our water system, but do we really want that in our baths??!
Increasingly, holistic and natural beauty companies are introducing new products to the market that offer more opportunities to avoid the junky ingredients that we should be avoiding. But making our own, particularly because they are so easy, is such a fun and simple, healthier alternative.
You Might Also Like: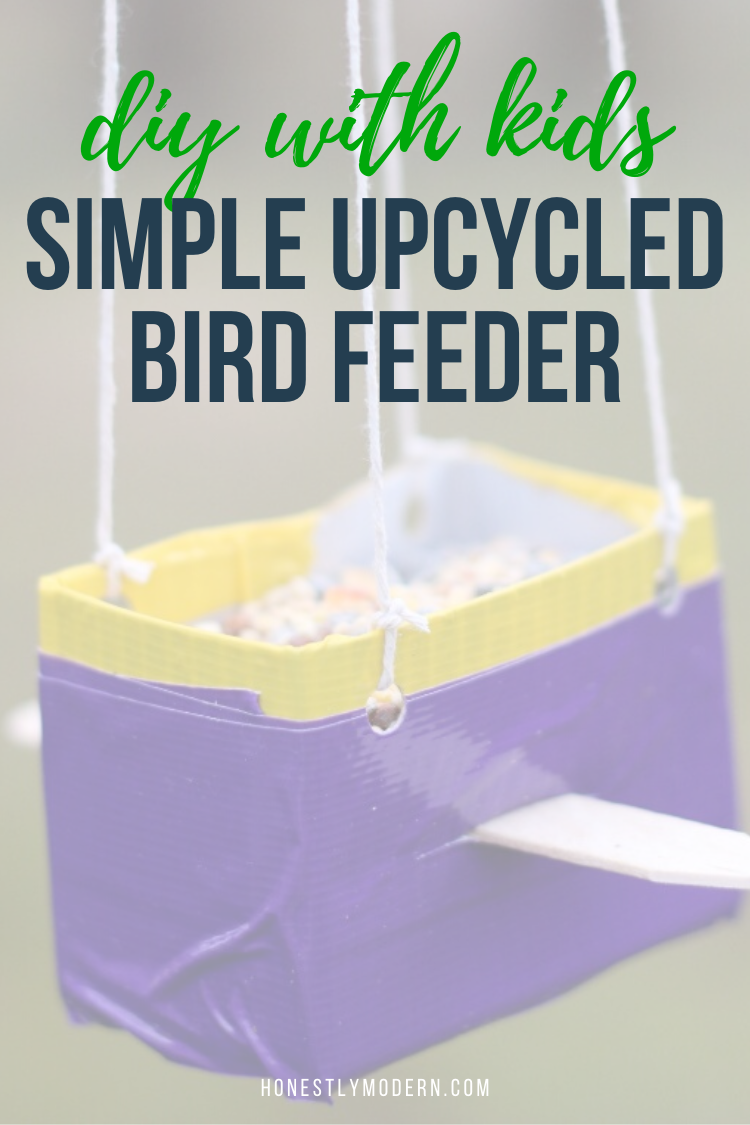 With nearly all the ingredients on hand (we had to buy cornstarch), the boys and I made our own batch of bath bombs a couple of weekends ago. We put all the chocolate covered raisins and chocolate covered pretzels from the eggs into a container (after eating quite a few, of course) and used the eggs as molds.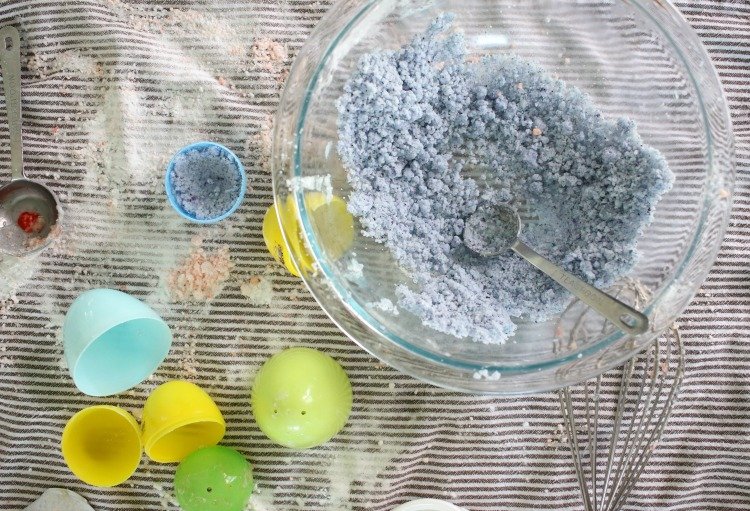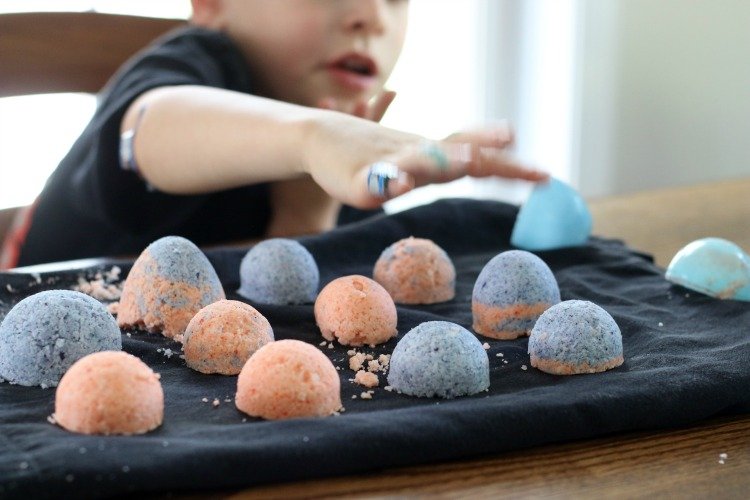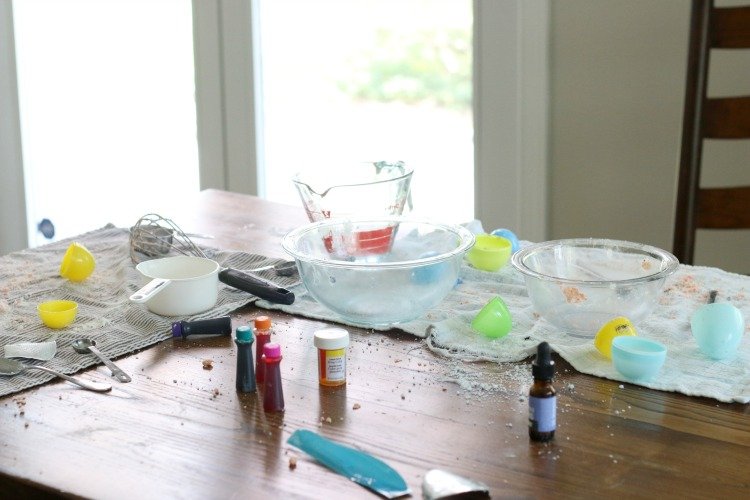 We let the bath bombs dry overnight and then the boys couldn't wait to try them in their baths the next day. It kept them entertained for quite a while, so no complaints from me about that.
If you need ingredients, I've linked to them below. Here are all the ingredients and tools we used.
Try this project and renew the life in the plastic eggs that almost all of us have collected over the years. The eggs are a perfect shape and size for bath bombs, and it's a fun way to put the seasonal toys to work outside of the Easter season.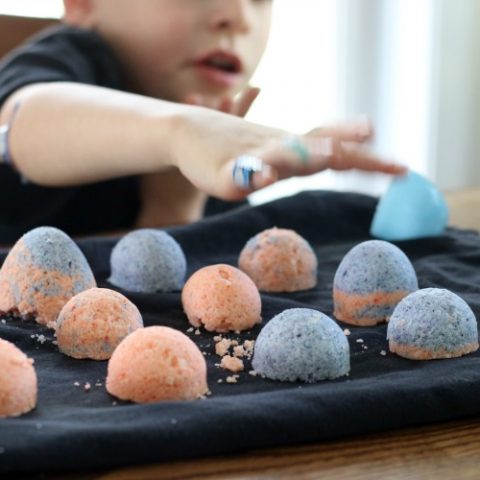 Homemade Bath Bombs
Total Time:
1 day
30 minutes
Easy homemade bath bombs to make with kids.
Materials
1 cup baking soda
1/2 cup cornstarch
1/2 cup epsom salts
4 tablespoons cream of tartar
2 tablespoons coconut oil (melted) you can replace with vegetable oil if desired
5-10 tsp water amount varies, see instructions for adding slowly
Food coloring or food coloring gel (optional)
Tools
Plastic Easter eggs
Measuring cups
Bowl
Instructions
1. In one bowl, mix together the dry ingredients (baking soda through cream of tartar)
If you're using regular food coloring, mix with the coconut oil. If using food coloring gel (like we did, because it's what we had on hand), mix in after combining wet and dry ingredients.
Slowly mix together the dry ingredients and the coconut oil.
Whisk together all ingredients until the mixture forms a crumbly texture. It should be fairly dry but just wet enough to hold its shape when molded together. Use fingertips, as needed, to knead together the mixture after whisking. Add water as need to obtain this texture, but be sure to add the water slowly (about 1/2 tsp at a time and then mix in) otherwise the ingredients will fizz up in the bowl before you make the bath bombs.
Fill the eggshell with the mixture, patting down tightly after to ensure it sticks together It has to be really tightly packed or it will fall apart when you remove it from the egg shells. My boys needed an adult to help with this step.
Gently squeeze the eggshell together to remove the bath bomb from the mold. It helped to squeeze and twist a bit, then squeeze again and twist the eggshell a bit more to slowly allow the bath bomb to release from the eggshell. Be patient. 🙂
Allow to sit and dry overnight on a towel.
Enjoy in the bathtub!
Notes
Water: Be sure to add the water slowly, bit by bit, or else the mixture will fizz up in the bowl. We have made these several times and each time the recipe ends up needing a slightly different amount of water, so we have to modify the amount of water and add slowly to ensure we get the right consistency.
Fizziness: Please be aware that these bath bombs don't fizz as much as store-bought ones. We wanted to remove some of the ingredients in store-bought alternatives that we didn't love and chose bombs that don't fizz quite as much as a result. If you're looking for really fizzy bath bombs, these probably aren't the ones. They do a great job of adding color to the water and also leave the boys' skin nice and moist, which is great particularly in winter and for my son that has really dry skin.