5 Quick Mending Tricks for Kids Clothes
Help your kids' clothing last longer with these five simple mending tricks that don't require a sewing machine or any special skills.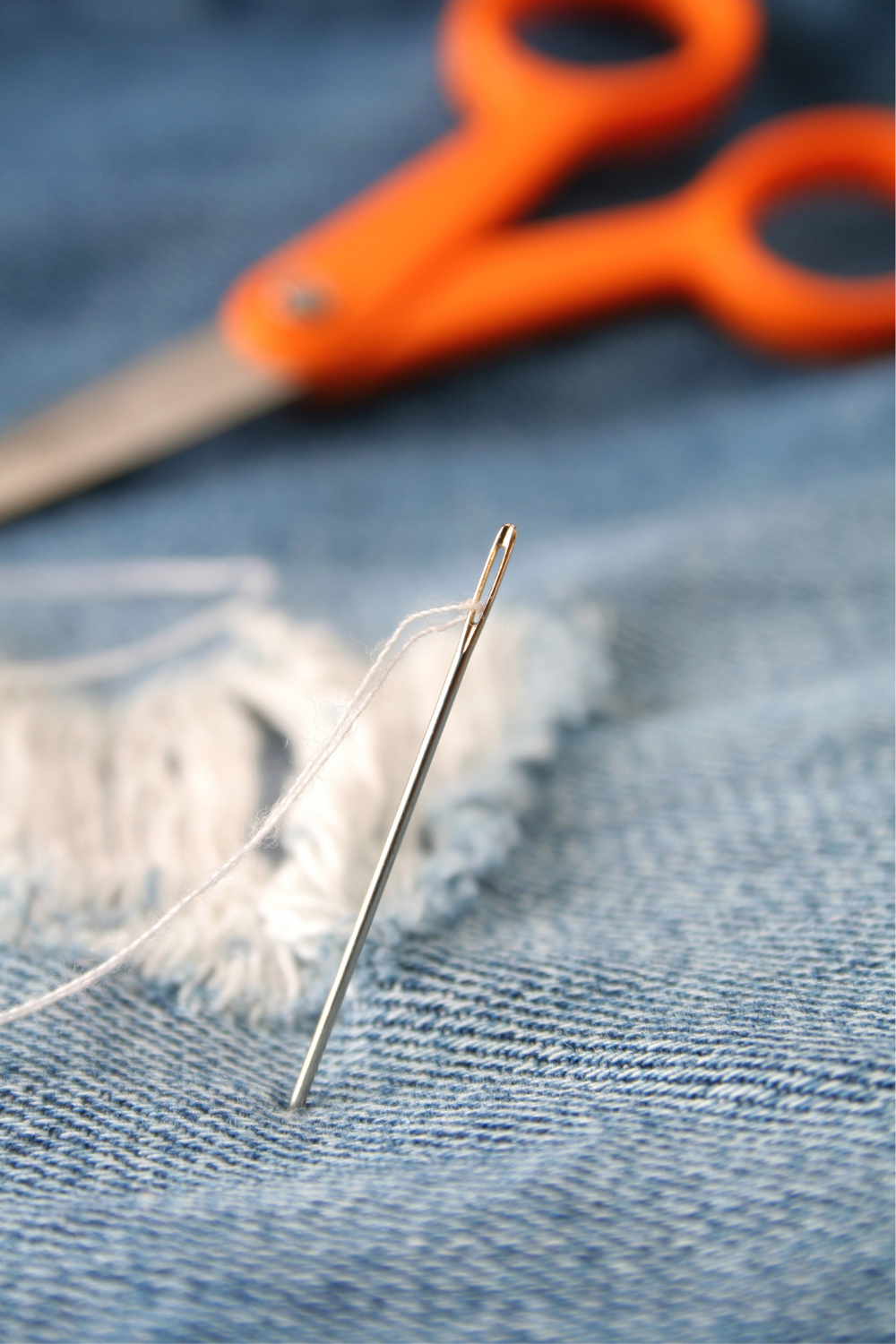 Decades ago, kids' clothes were built to last. In the last twenty to thirty years, the quality of children's clothes took a turn for worse, and now we have atrocious amounts of clothing languishing in landfills. Children have been rough on their clothes and growing like weeds for all of eternity, yet only recently did clothing become trash-bound after just a few wears.
A few sustainable kids clothing companies have stepped up to create high-quality kids' clothing that can endure more than a few washes and wears. Nonetheless (and thankfully), children continue to play their little hearts out and give every tiny garment a run for its money. From baby blowouts to big kid brawls and grass stains to growth spurts, every fabric, thread, and notion has to stand up to the endless energy of young children.
5 Quick Mending Tricks for Kids Clothes
In an effort to limit the textile waste piling up around the globe, you can extend the lives of your children's clothing with just a few basic mending and refashioning skills. You do not have to be an expert seamstress or couture fashion designer to save money, save your children's clothes, and chip in to help save our planet. With these few tricks, none of which require a sewing machine, make the most of the eco-friendly and ethically-made clothes we buy for our children and ensure they last far longer than a single ride through the mud.
Patch a Hole
It doesn't take long for kiddos to create holes in the knees of their pants. Sometimes, after just a single wear or two, they've burned through the new of nearly-new pants. Patching a hole, especially in the knee of a pair of pants, is quite easy and requires nothing more than a needle and thread. If the hole is large or you prefer the look of a cute patch, a patch helps reinforce the mend and also adds a touch of character.
Try Visible Mending
Visible mending is the practice of adding intentional, decorative stitch patterns on the face of the garment. It can be both functional and stylish. Visible mending is becoming quite popular, particularly on denim, and is another great way to add interest to a garment while also extending its life. Many visible mending projects use white stitching, but visible mending on children's clothing is a great excuse to get creative with color.
Stitch a Torn Seam
Fixing a ripped or broken seam might be one of the easiest mending skills because you can simply follow and restitch the original seam to repair it. Additionally, most seams are stitched from the inside, so you don't have to worry about whether or not your work "looks nice". No one will see it!
Manufacturers typically use sergers and more advanced sewing machine stitches to stitch seams. These stitches are stronger, but it's not necessary to have special tools to fix a broken seam.
Hem Pant Legs and Turn Pants To Shorts
Growth spurts definitely don't have to signal the end of life for everything in your children's closets. Good-quality clothing, especially when it's gender-neutral, can always find a new home with a younger sibling, family member, neighbor, or local charity. However, certain articles of clothing can serve a new purpose for the same sprouting child.
Depending on the fabric, many pants can become shorts with a quick snip of the pant legs. Knit fabric, like jersey, won't unravel when trimmed., so it doesn't require hems. Just a simple pair of scissors to clip off the bottom of the legs will do the trick. The ends of the shorts may roll slightly when washed, but many articles of clothing are manufactured like this by design. Denim develops a nice fringe after a few washes that is right on trend and adds character to the clothes.
Fabric scissors suffice to make the cut, but a rotary cutter is quite a bit easier to use to make straight cuts. When making the first cuts on a pair of pants, be sure to cut a bit lower than you plan and have your child try the 'new' shorts on to see how they fit. You can always cut again, but you can't add length back to the shorts.
Dye Stained Clothing Dark To Cover Stains
Lighter-colored clothing, in particular, attracts a variety of stains from the everyday adventures of youngsters. Using stain-remover detergent or stain-treating products on clothes shortly after the stain occurs helps reduce the number of stains that can't be removed, but you can't prevent all stains.
If an article of clothing collects a long-lasting stain, consider dyeing the article of clothing darker to hide the stain. This doesn't work with all clothing, particularly clothing covered in logos, designs, or embellishments. Clothing dye is a perfect solution, however, for light, solid-colored garments. If they are old enough, kids can even help dye their own clothing and get excited about the renewal experience.
It's a bit harder to find great-quality clothes for kids today than a few decades ago. These sustainable brands for kids stand up to the test of child-size adventure. Further, executing this handful of simple and effective mending tricks that take no special skills can significantly extend the life of children's garments the world over. Mother Nature knows full well all of our landfills could use a break from the barrage of mini-garments tossed into the trash.
If You Like Mending Tricks For Kid Clothes, You Might Also Like
5 Mending and Maker Style Projects To Try At Home
4 Easy No-Sew Upcycled Style DIYs in Under 15 MInutes
9 Creative Ways To Reuse Single-Use Items