7 Tips For Easy Litter Pickup Outings With Friends
Skip the drinks and food. Swap "ladies who lunch" for "ladies who pick up litter"! Read on for all the details on picking up litter with friends.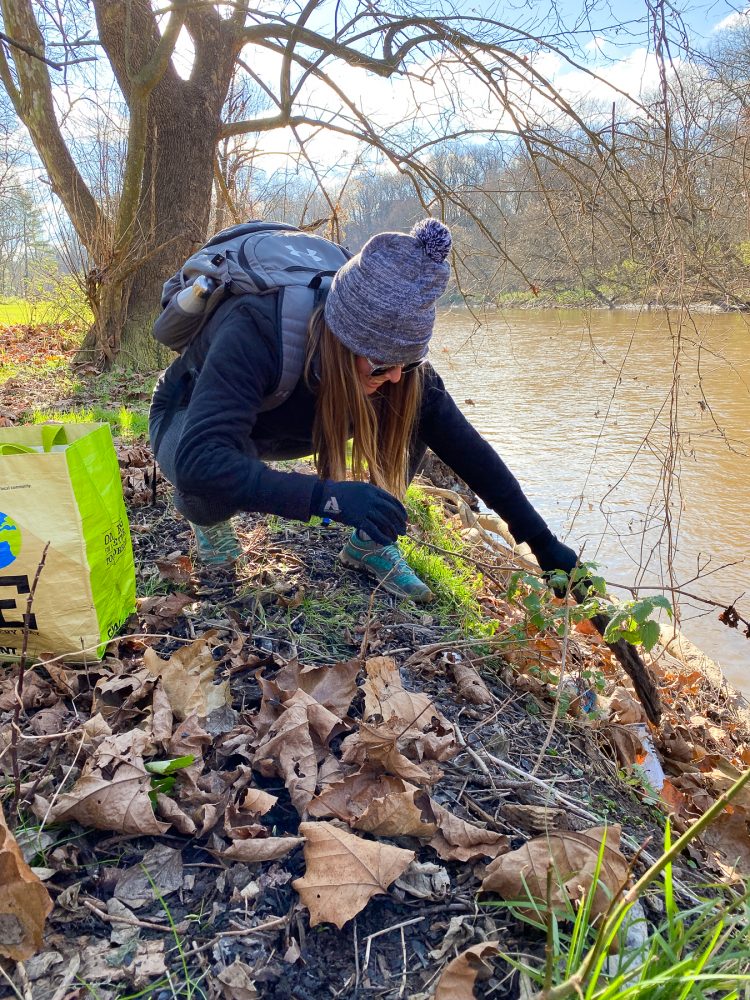 I don't drink or swear. I don't rat my hair.

I get ill from one cigarette (cough cough cough). Get your filthy paws off my silky drawers.

Grease Movie
Okay, I do swear. And maybe Jess put her silky paws on some filthy drawers (it's worth watching the video – I'll wait).
But I'm not a big drinker. I don't love hanging out at bars. And I'd much prefer to spend time with a couple of friends outdoors than hit up a big party on a Friday night.
When I make plans with friends, as you might expect, I don't ask them to go out for a drink. Do you want to know what I ask them to do instead? I suggest we meet up at a park and pick up trash, including on this particular occasion, a pair of filthy men's underwear someone left in the muck.
I am not the life of the party, but you better believe I enjoyed my Sunday morning with Jess last weekend when we met up to hang out. Ever wonder what a hangout between two eco mom bloggers looks like? Here you go. I'll let you in on all of the inside secrets.
Jess and I met through Instagram. Yes, you can make real-life friends via social media. We live just over an hour apart and meet up every couple of months or so.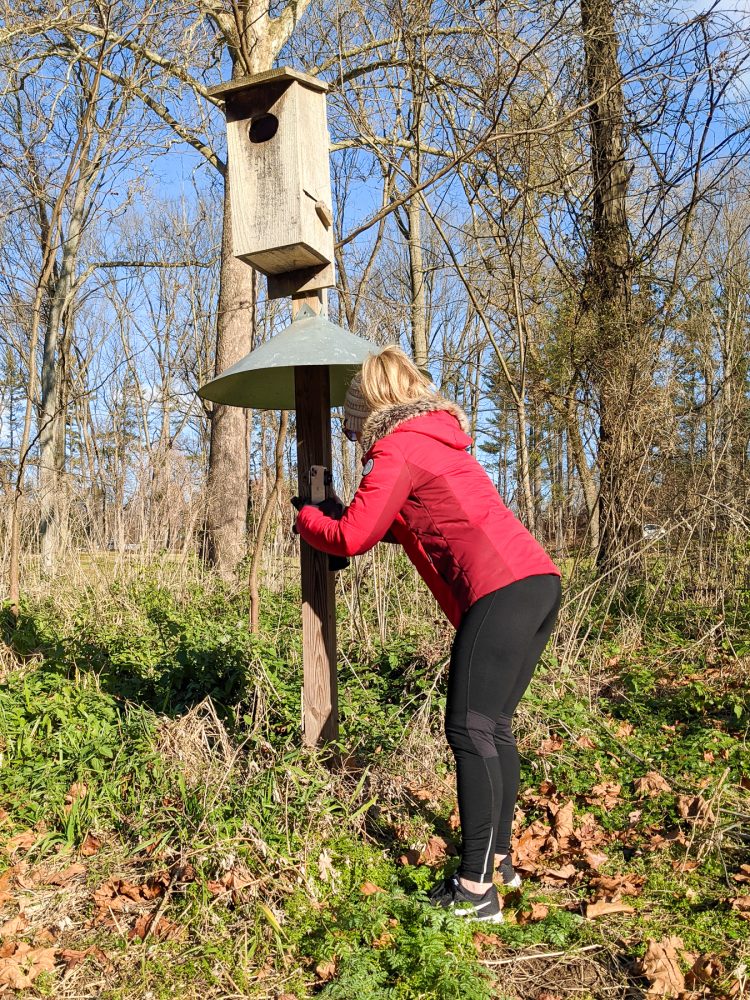 Our meetups are almost always outdoors, and I don't think that would change even if we weren't in the middle of a pandemic. We both just love a good excuse for a nature walk or a farm adventure.
On this last meetup, we scheduled time to hike through a state park and exchange some trash. Totally normal, right?
Before heading out for our hike/litter picking date, Jess stacked two wooden pallets leftover from her kitchen renovation into the back of her minivan to give to me so I could build another compost bin in my yard. Apparently, we make plans around exchanging upcycled building materials.
The night before our nature walk/pallet exchange, I texted her and suggested we bring reusable bags to pick up trash while walking through the park. Not only is it the right thing to do, but I wanted to support the Just1Bag2020 project run by Sarah, another eco mom blog friend.
We agreed to bring reusable bags, gloves, and… wait for it… a tripod. Because what is a litter pickup among bloggers without photos to document the process?
We truly did spend most of our time enjoying the outdoors and chatting about life, but we also stopped a couple of times to take fun photos and videos of our trashy finds. I mean, is it not worth the video Jess whipped up?
We found plenty of beer cans and beer bottles, which was no surprise. Admittedly, however, I did not expect to find pieces of a toilet, a broken headlight, or a pair of men's underwear. I'm pretty sure I can guess why those came off in the woods.
Before leaving, we assessed our collection and tossed into the trash items that belonged in the landfill. Without a recycling bin at the park, we brought home the cans and bottles to throw into our recycling bin.
During our walk, we also joked about how much our husbands would probably make fun of us when we get home. The trash pickup. The photos of the trash pickup. And the trash pickup coming home with us. We knew we would get a good quality eye roll as they laugh about the eco nerds we have become and the company we found in each other.
I know. You're jealous. You totally wish you could be at our trash pickup parties. Our husbands think we are super cool. But you know what? We really like it!
It's great to get outside, enjoy the crisp air of a cool but not cold morning, and bask in the glow of the warm winter sun. For me, this beats getting drunk 100 out of 100 times.
If you like wine night, own it. That's awesome. If you want to meet up and chat over coffee, do it. That's a great way to spend time with friends.
But if you prefer to meet up in hiking boots, gloves, and a toasty jacket, tromp through fields, peruse park paths, and collect other people's garbage, then do that too. You're not alone, and we're always looking for new members to join our eco nerd club.
Lastly, if you're up for a good nature hike, bring along a reusable bag and snap a quick photo to share with Sarah at @eco_expat on Instagram for @just1bag2020 campaign to help her complete her project before year-end!
7 Tips For Easy Litter Pickup Outings
If you want to help out Mother Nature and do a favor for the environment, consider doing a litter pick up on your next walk. It doesn't have to be a special trip to a fancy park. You can do a litter pickup in your own neighborhood. Here are some tips to remember for a successful and easy litter pick up adventure.
Dress For The Weather & The Location
Don't let a little heat or cold weather get in the way of protecting plants and animals. Be sure to dress for the weather. We picked up trash on a day that was a bit chilly, but we were plenty warm (and even took off our jackets) after we started moving and working.
Be sure, however, to wear pants if you'll be walking through long grass or prickly weeds. Even if it's hot, don't forget to protect your legs from the wonky thorns of nature. Look at what we found on our adventure!
Bring Reusable Bags
Instead of creating more waste with your bags, use reusable bags to collect the litter. You can easily wash them when you are finished to reuse them for other purposes if they get dirty. We found it easiest to use reusable bags that could be wiped down (as opposed to fabric reusable bags) but either will work.
Wear Gloves
Be sure to wear gloves for your litter pick up. You may even prefer to use a litter picker, though we didn't use them for our park clean up adventure. Gloves not only help keep your hands clean but can protect you from shards of broken glass or other substances that might be on the litter you find.
Find Appropriate Receptacles For The Litter You Collect
After cleaning up the waste from your local nature path, be sure to find the right waste streams for the items you pick up. Put trash items in a trash bin and recyclable items in a recycling bin.
The park we visited only had trash cans, so we sorted out the trash and left it in the bins. Then we brought the recyclables home and put them in our own bins to be picked up that week.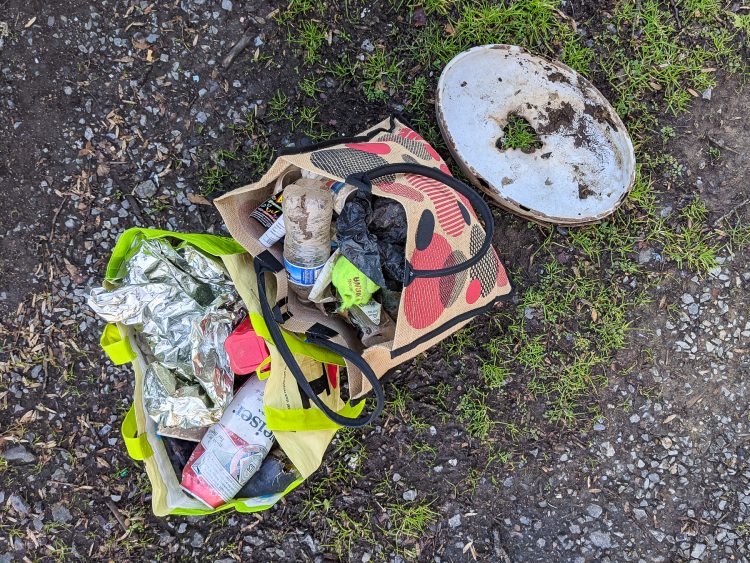 Kids Can Do It Too!
No one is too small to participate in cleaning up their local park or outdoor space. Include the children in your life to help them understand from an early age the importance of caring for nature and protecting our planet. Seeing how much trash people leave around will likely also be a reminder for them to reduce their own waste and ensure their trash ends up in the proper waste stream.
Take Some Photos To Share & Encourage Friends To Do It Too
Sometimes peer pressure is a good thing when we're encouraging friends to do the right thing. While you're out picking up trash from your local parks and natural spaces, take a few fun photos if you'd like. Share your photos with friends to show them what fun you had and encourage them to clean up their local outdoor spaces too! You never know when your little nudge might be the change that heads them down a new path.
Have Fun!
A litter pickup might seem like a weird way to have fun, but it's all about what you make it! Enjoy the time. Make a few jokes about the things you find. Create stories about the origins of the trash and imagine how it arrived where you found it. This could be a really great exercise for kids' creativity too!
Now get out there and clean up some trash! Your local park and neighbors will thank you (and hopefully join you).