100+ Great Picture Books for Earth Day
Here is a huge collection of our favorite picture books for Earth Day and all things nature. Check out this list of eco-friendly and Earth Day picture books for kids, find a few you love, and then check out some of these books from your local library. Picture books are a great way to celebrate Earth Day every day as a family and foster a shared love of our planet and our communities.
Earth Day is next week (April 22nd)! While I'm a fan of celebrating and taking care of our planet every day of the year, it's a great time to focus on stewardship to planet Earth on this annual day and all of Earth month.
Over the last year or two, I've put together several lists of picture books about Earth Day, nature, gardening, bugs and pollinators, and more. I have several more lists of Earth Day books for young readers coming that I will be adding to this post as well!
Picture Books for Earth Day for Independent Readers
Even if your kids are a bit older, many picture books remain engaging and age-appropriate for children who can read on their own and read chapter books. Heck, I love many of the picture books I read to my boys, especially a lot of the newer ones that have amazing illustrations and address current topics in innovative and creative ways.
Related Reading: Tips For Reading Environmental & Social Justice Books With Kids
Although they seem simple with fewer words than chapter books, picture books can include advanced vocabulary and language structure that serve young readers well beyond the time they learn to read on their own.
Whether your children are still sitting on your lap for reading or old enough to nestle their noses in their own book, don't discount the value of great picture books, especially those that tackle more complex issues like climate change and environmental issues.
I've shared several lists of Earth Day picture books and nature-related books we love that I have posted on the blog thus far. I even included our favorite books about the library, because loving the library is about Earth-friendly as we get when it comes to reading and books.
A Note on Buying and Borrowing Books
We include affiliate links to books we recommend. If you purchase through one of these links, Honestly Modern earns a very small commission that has no impact on your purchase price.
If you can find the books from your local library, from a friend, at an independent bookstore, or through a used book shop, those sources are ideal. Using the library is zero waste, saves money, and saves space in your home because you can read all the books without storing all the books on your bookshelves. If you're not sure of the best way to use your local library, check out these tips to make the most of your local library. With a little exposure, your kids will learn to LOVE the library!
If you prefer to listen to audiobooks, we recommend using Libro.fm, our favorite audiobook app. We've tried several audiobook apps and love that Libro.fm supports independent bookstores and offers a great user experience.
My Favorite Earth Day Picture Books
If you're looking for a few Earth Day books for your budding little environmentalist, you can start by checking out my top eight favorite Earth Day picture books and nature picture books. It's hard to choose just a few to showcase the beauty and wonder of the natural world. (I planned to choose just five but got a little carried away). I think you'll find that these Earth Day picture books are sure to please.
The Planet We Call Home by Aimee Isaac
This lovely picture book is a lyrical and loving ode to Planet Earth and the ways in which its many features are interconnected–to each other and to us–told in the cumulative style of "This Is the House that Jack Built." It has lovely illustrations to pair with each page spread that highlight amazing features of our beautiful planet and encourage young children to care for the Earth.
Reading Age 4 – 8 yrs | Pages 32
The Boy Who Spoke to the Earth by Chris Burkhard
The Boy Who Spoke to the Earth is a tale about a young boy who asks the Earth where he can find happiness. The Earth responds and sends the boy on a journey to some of the landscapes that make the Earth proud. The bold illustrations are based on amazing photographs from the collection of the author, a prominent travel and nature photographer.
In the end, the boy learns that happiness is harder to find than he expected as he discovers so many amazing and beautiful sites around the Earth. While you can find this book online, you can also find it at many National Park (which I think is such a cool place to sell picture books that highlight the beauty of our planet).
Reading Age 2 – 6 yrs (though it could be great for older children)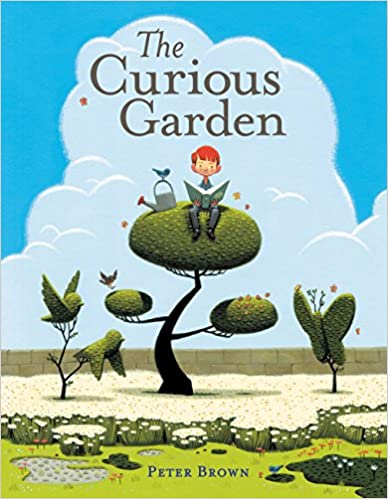 The Curious Garden by Peter Brown
This is a lovely story about a little boy who lives in a city of concrete and bricks, void of nature's beauty. One day, on his adventures, he finds a few little plants struggling to survive near old, unused railroad tracks. He decides to start caring for the plants and begins to grow a garden.
His garden flourishes and, ultimately, he shares the beauty of his curious garden with so many other dwellers in his city. This book shows how cities can think green and support beautiful vegetation and plant life if they think about solutions creatively.
Reading Age 4 – 8 yrs | Pages 40
The Good Garden: How One Family Went From Hunger To Having Enough by Katie Smith Milway
One family living in a small village does not have enough food or money, so the father must leave to go find work. The family gets much of their food from a small piece of land next to their home. At school, a new teacher arrives and teaches the older daughter about composting and other practices to increase the health of their soil and the output of their land.
These new practices greatly increase the health and wealth of the garden, even giving them enough food to sell some extra items at the market. The money from the extra food is enough that her father no longer has to leave for work and they get plenty of food from their own garden to feed their family. A small change in teaching the local villagers more sustainable farming methods transforms the prosperity of their families.
Reading Age 8 – 12yrs | Pages 32
Song of the River by Joy Cowley & Kimberly Andrews
One little boy who lives in the forest near a stream longs to see the sea. One day, he follows the stream as it becomes a babbling brook, turns into a river, and eventually flows out into the sea. His dream comes true as he takes in the breadth of the ocean and grows even more enamored with the water that starts as a tiny stream near his house. I absolutely loved this book and thought it had great illustrations.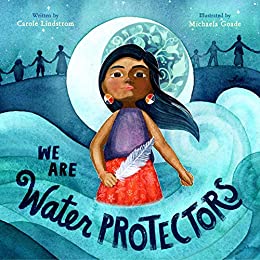 We Are Water Protectors by Carole Lindstrom
Inspired by the many Indigenous-led movements across North America, this beautiful picture book issues an urgent rallying cry to safeguard the Earth's water from harm and corruption. The Indigenous people know the importance of water to their communities and their culture, and they show they are willing to fight to protect the land and water that is so important to them and to everyone.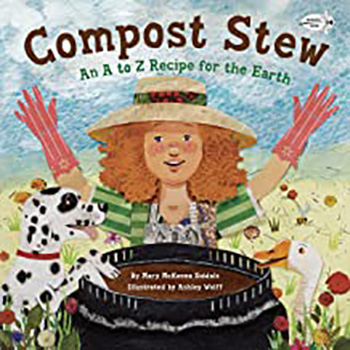 Compost Stew: An A to Z Recipe for the Earth by Mary McKenna Siddals
Written in the form of a poem, this nonfiction picture book is about all the things that can go into a compost bin and how to care for it. I love that it helps kids (and me!) learn about the extensive list of items that can rot and turn into nourishing soil instead of continuing to fill our landfills. This book also has really great, colorful pictures.
Greta and the Giants by Zoe Tucker
Inspired by Greta Thunberg's activism, this story shows the power of young children and animals to protect their forests from the onslaught of giants (i.e. those causing some of our gravest environmental challenges). Without being scary or overwhelming, the giants represent big governments and corporations who are destroying the environment through the pursuit of endless growth and advancement without realizing the collateral damage they are causing. This is a great book to inspire young children to stand up for their space.
Ages 4 – 7 | Pages 32
The Green Mother Goose: Saving the World One Rhyme at a Time by Jan Peck and David Davis
If your young readers are a bit younger, this is a great Earth Day picture book to check out first. To the rhythm of famous nursery rhymes, the book discusses very reducing waste, shopping at thrift stores, other ways to be a good environmentalist, and factors related to climate change. It's light and fun while introducing some of the basic tenets of environmentalism.
Ages 4 – 8 | Pages 32
More Lists of Earth Day Picture Books
Do you have any favorite Earth Day picture books or picture books that celebrate nature and all its creatures? If so, share them in the comments below so we can all check them out from our local libraries!