Picture Books About Environmental Advocacy
Books are a great medium to teach children about the current climate crisis by presenting the issues in ways that are accessible to them without creating fear. Children can also be important voices in the fight for climate action. Check out this list of books that encourages children to activists for the community and their environment, even if they are young.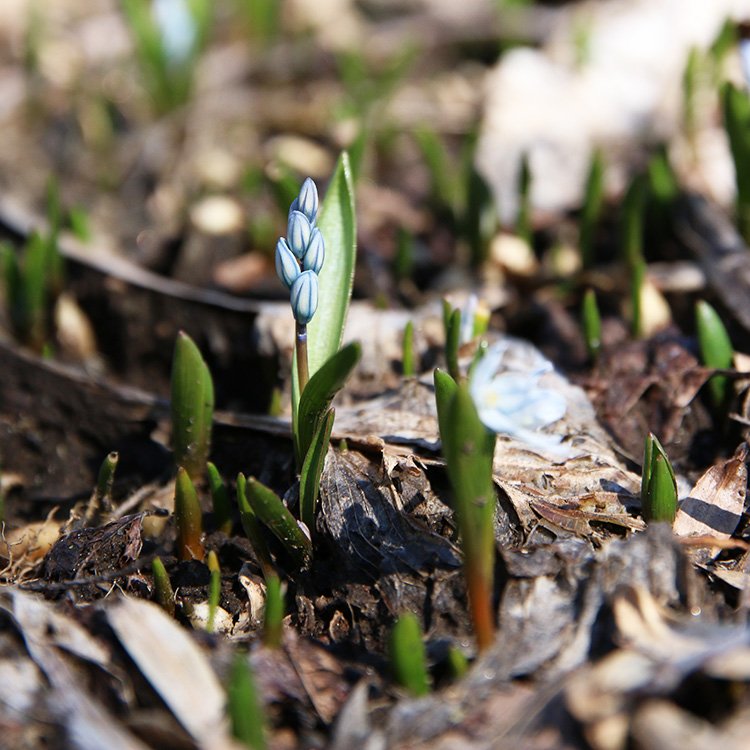 Children may be little, but their voices can be loud. Especially during the last year or so, we've seen a significant increase in activism led by children and young adults. They are the future, and they are quickly coming to realize that they will inherit the mess governments, corporations and (frankly) adults are leaving behind.
My boys and I have read several books that reflect and highlight the stories of children who have acted as environmental activists and advocates in their communities. Some stories are simple while others feel more intense, but all present climate action issues in terms children can relate.
Picture Books About Environmental Advocacy
These are a few of our favorite picture books we've read lately that remind kids they can be part of environmental advocacy and climate action. Young people's voices matter. They can influence change even if they are small and still learning about the vast nature and extent of the climate crisis considerations.
The Secret Of Black Rock by Joe Todd-Stanton
Too often, we often don't appreciate nature when we can't understand it. Such is the case when a seemingly large rock formation routinely creates apparent danger for local fishermen. The town residents decide to destroy the rock, but a little girl advocates to save the rock after discovering how much life it supports just below the surface of the water.
The book encourages children to respect our environment and look beyond what something might initially appear to be. It's also a great reminder that children can have power and influence to protect and care for what matters to them.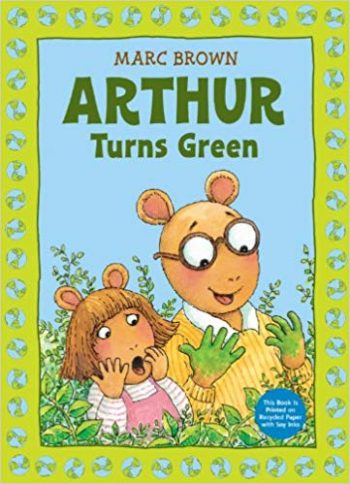 Arthur Turns Green by Marc Brown
I love all the Arthur books and think they are such a fun and light series that always has a good message for kids. My boys seem to really enjoy them as well. In this book, Arthur and his class receive assignments from their teacher to find ways to make our planet a better place. Arthur and his classmates share lots of ways children can create an impact on the environment and help encourage our communities to take better care of the Earth.
Greta and the Giants by Zoe Tucker
Inspired by Greta Thunberg's activism, this story shows the power of small children and animals to protect their forests from the onslaught of giants. Without being scary or overwhelming, the giants represent big governments and corporations who are destroying the environment through the pursuit of endless growth and advancement without realizing the collateral damage they are causing. This is a great book to inspire children to stand up for their space.
Follow The Moon Home by Philippe Cousteau and Deborah Hopkinson
As one little girl learns about the baby turtles that hatch on the beach in her community, she realizes that many turtles are dying because the lights from homes on the beach are confusing turtles and causing them to travel in the wrong direction to find water and home. She leads her community to educate and spark action among her neighbors to help solve this problem. This is another story that encourages children to be activists in their community without making activism feel too large to tackle.
The Streets are Free by Kurusa
A group of young children growing up in a poor neighborhood in San Jose, Venezuela really want a playground in their community. They fight for it and the town leaders agree to create a playground in an open area. However, this does not happen. Eventually, the community gathers together and the children get the playground that they deserve.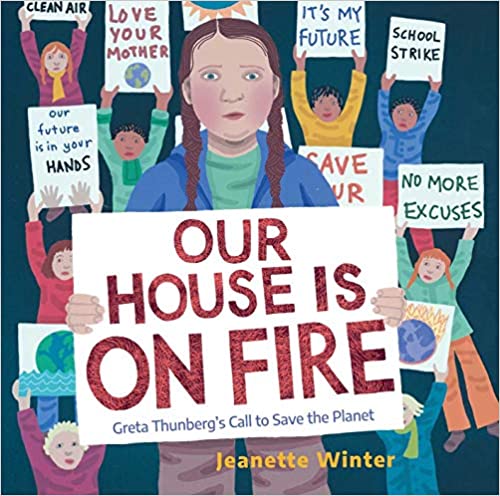 Our House Is On Fire: Greta Thunberg's Call to Save the Planet by Jeanette Winter
This book shares the story of who Greta Thunberg is and how she came to lead a world of young people in advocating to save the Earth. It highlights several of the key moments she has experienced to date as an international icon for young climate activists.
If Polar Bears Disappeared by Lily Williams
Starting with the polar bears, this book travels through the food chain in the Arctic discussing what would happen if the polar bear disappears. It discusses how certain impacts of global climate change are hurting the polar bears' homes and causing them to suffer. It's a little technical for young children but is a great introduction for elementary-aged children to the chain of events that can happen from climate change matters that may not seem all that meaningful in our everyday lives.
The author has also written If Elephants Disappeared and If Sharks Disappeared.
The Tree Lady: The True Story of How One Tree-Loving Woman Changed a City Forever by H. Joseph Hopkins
A leader and change-maker in so many ways, Kate Sessions grew up loving nature and the trees around her. When she moved to San Diego, she found a dry dessert as well as a handful of trees surviving quite well in the arid conditions. She wanted to change the landscape of San Diego, so she quit her teaching job to become a gardener and began planting trees around the city.
Her efforts led to many city parks, the most notable of which is the current Balboa Park that spans a large part of the city. This book shares the true story of her journey in a fun and enlightening way for children and adults alike.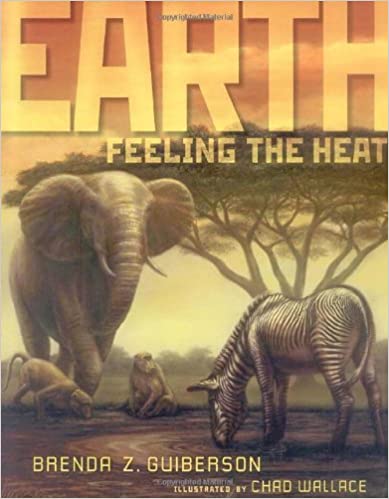 Earth Feeling The Heat by Brenda Z Guiberson
Each page tells a simple story of one animal around the world who is facing trouble from climate change and poses the question of who can help this animal. The book ends by placing the power to help in the hands of the people, and even children. Hopefully, this story can help highlight for children how climate issues are harming animals around the globe and empower them to be the force of change.
Miss Fox's Class Goes Green by Eileen Spinelli
In this story, a school teacher shares with her students all the ways they can be more green. Then each child shares the idea they tried with their family to make a small but meaningful impact on the environment.
As the students practice being green, others join in the fun and the whole school community gets involved. I liked that it creatively offered lots of actionable ideas that kids can implement in their own homes.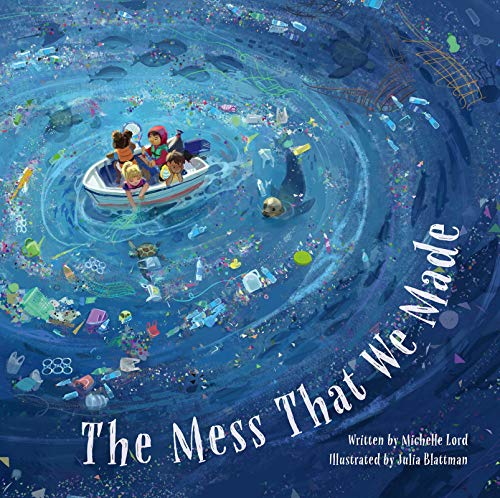 The Mess That We Made by Michelle Lord
This book explores the environmental impact of trash and plastic on the ocean and marine life, and it inspires kids to do their part to combat pollution. The first half of the book portrays the growing magnitude of the issue, and the second half rallies children and adults to make the necessary changes to save our oceans.
Jingo in the Jungle: Saving the Jewels of the Earth by Serena Lane Ferrari
Venture deep into the rainforest to meet an orangutan who loves his beautiful jungle habitat. One day, he sees bulldozers arrive and gathers together his friends to protect their precious home from destruction. Parents will enjoy an engaging story that speaks directly to kids showing what deforestation can do to animals and wildlife habitats.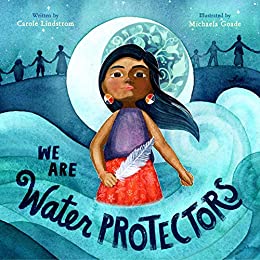 We Are Protectors by Carole Lindstrom
Inspired by the many Indigenous-led movements across North America, this book issues an urgent rallying cry to safeguard the Earth's water from harm and corruption. Clean water is paramount to health and wellness, and we need to be sure we are protecting our clean water around the country and the globe.
Greta's Story: The Schoolgirl Who Went on Strike to Save the Planet by Valentina Camerini
This book shares the story about how Greta Thunberg became frustrated with the lack of political action for environmental protection, started protesting in front of the Parliament building, and eventually become a world figure for youth participation in climate action.
Do you have any favorite picture books for kids about environmental advocacy and climate action driven by children and teenagers? If so, share them in the comments so we can all read them and pass along the important message to our children.
You May Also Like
Eco-Friendly Picture Books for Earth Day and Every Day | Over 100 of Our Favorite Eco-Friendly Picture Books for Kids