Looking to foster a love of gardening with your kids? Check out these picture books about gardening in a variety of ways that will help you and your family find the beauty and magic of gardening and growing your own food, no matter where you live.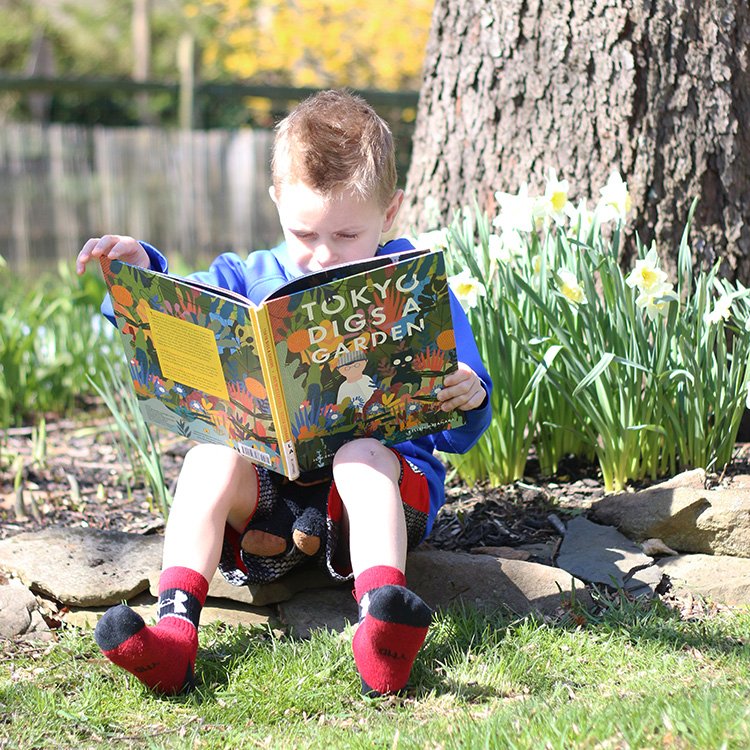 Gardens come alive in so many forms and are such a wonderful way to spend time in nature. Gardening connects us with our food. It reminds us of the importance of soil health and strong roots. Gardens thrive when filled with diversity. Tending to plants and vegetable gardens can teach children (and adults) so many life lessons!
As a society, we also spend far too much time indoors and in front of screens. Gardening is a great excuse to get outside and embrace nature or even bring nature into our homes.
Letting kids get their hands dirty might be the best way to encourage children to embrace gardening, but reading them a slew of great picture books about gardening is another avenue to foster a love of gardening for our kids.
Gardening doesn't have to happen on a large, open plot of perfect land. We can garden indoors and outdoors. We can grow fresh food in fancy gardens or in pots on our patio. We can even garden between the streets and sidewalks of urban Los Angeles.
No matter where you live or your lifestyle, check out a few of these books from your local library and share them with your little ones. These are a few of our favorite picture books about gardening that I think you might love as well!
Our Favorite Picture Books About Gardening
This sweet book tells the story of a young girl who moves from the country into the city. She misses all the plants and trees now that she lives among the concrete. She finds a small plant and a flower shop, and ends up turning her little city square into a flourishing garden.
This is a lovely story about a little boy who lives in a city of concrete and bricks, void of nature's beauty. One day, on his adventures, he finds a few little plants struggling to survive near old, unused railroad tracks. He decides to start caring for the plants and begins to grow a garden. His garden flourishes and, ultimately, he shares the beauty of his curious garden with so many other dwellers in his city. This book shows how cities can think green and support beautiful vegetation and plant life if they think about solutions creatively.
Due to family hardship, a young girl moves from the country into the city to live with and work for her uncle. She loves gardening and discovers an empty roof just waiting to become her rooftop garden. She attends school, works for her uncle, and keeps up with her responsibilities for a year while living in the city. In the end, she finally brings her uncle up to see the gorgeous garden she created on the rooftop. It's such a great reminder that beautiful green spaces can be created right in the middle of the city and without a lot of money.
A little boy living in the city plants a small garden that quickly takes over the entire city. What once was a concrete jungle is now lush with plants and filled with animals. The boy discusses with his family how the area used to be filled with nature before the city took over and cleared out all the trees and animals. The little boy soon realizes how important it is to learn to live with the animals and plants instead of pushing them aside without a care.
City Green by DyAnne DiSalvo-Ryan
Right in the middle of Marcy's city block is a vacant lot, littered and forlorn. Sometimes just looking at it makes Marcy feel sad. Then one spring, Marcy has a wonderful idea: Instead of a useless lot, why not a green and growing space for everyone to enjoy?
Rooted in real life, this story highlights the life of George Washington Carver, a slave who had a passion for plants from a young age. Carver ultimately attended college, became a botanist, and made significant contributions to the sustainable and regenerative agriculture practices that still hold true today.
On a rainy day with nothing to do in the house, three young children and their grandfather go out to the grandfather's garden to pick all sorts of fruits and vegetables. The produce represents the colors of the rainbow, and they use it to make a delicious stew. They find out that having a garden is not only fun but also tasty.
A fun rhyming book that highlights the magic of the bugs, bees, and birds that make the garden such a busy place. In the meantime, we slowly see a small flower changing, and in the end, it blooms to life!
Each year, Strega Nona grows a beautiful garden. One year, her son Big Anthony decides he wants to plant a garden as well but does not tell Strega Nona. His garden flourishes and he secretly leaves the fruits of his garden on Strega Nona's doorstep each night. She runs out of space to hold all the food, so she hosts a dinner for everyone in the village to share in a feast of abundance.
A little groundhog is stealing food from his friends' gardens. His friend, a squirrel, suggests he learn how to grow his own food so he doesn't have to steal it from friends and neighbors. Over the course of a year, Squirrel teaches Groundhog how to save seeds, plant vegetables, and harvest the food so he has plenty to eat throughout the year. It's the most creative yet informative book I've seen sharing with kids how to create their own garden and the process by which fresh produce ends up on our tables. My boys loved this book and so did I.
With a little budging from Mama Bear, the cubs get involved in the family garden. They expect it will be boring but come to find that it's really interesting and exciting to watch the plants thrive and grow. Unlike many books from this series, the book also includes clips along the bottom of the pages that offer information about the science behind growing plants, why it's important for the environment, how it's healthy for our bodies, and more.
We can find space for gardening no matter where we live. This story highlights a community that joined together to create a garden in their urban neighborhood for everyone to share.
I love that this book highlights the value of a window box as a garden. We can't all have expansive gardens in our yard, but the little girl in this story loved her window box garden just as much. Although it was small, it was beautiful and very special (particularly as a gift to her mom for her birthday!).
A little girl helps her mother in the garden and then daydreams about the magical garden she could create if she could have plants that turned color just by thinking about how they should change, seashells that grow more seashells when planted, and jelly beans that grow jelly bean bushes. It's a fun way for kids to imagine what a garden can become.
One family living in a small village does not have enough food or money, so the father must leave to go find work. The family gets much of their food from a small piece of land next to their home. At school, a new teacher arrives and teaches the older daughter about composting and other practices to increase the health of their soil and output of their land.
These new practices greatly increase the health and wealth of the garden, even giving them enough food to sell some extra items at the market. The money from the extra food is enough that her father no longer has to leave for work and they get plenty of food from their own garden to feed their family. A small change in teaching the local villagers more sustainable farming methods transforms the prosperity of their families.
A farmer and her son plant seeds in the ground. The story follows the journey of this and many other seeds through the four seasons, showing how nature will take care of its own regeneration and reproduction when we allow it to.
Alice, a little girl in the story, learns all about planting a garden and watching it come to life in the context of the food chain. She learns about the science of the garden and the ecosystem that makes it thrive.
Little Critter, a familiar face to many children, works with his family to plant their first garden. As expected in these stories, he makes a few mistakes along the way but all's well that ends well. This is a My First Read book so it's great for new readers excited to read on their own.
I love this book! In this book, we learn about the life of a seedling through the eyes of the tiny animals living under and around where the seed lands and starts to grow. At first, the animals feel frustrated that the roots are taking over their space. In the end, they realize that the new plant provides many benefits like shade and fruit, and they come to love their "new neighbor" despite how it changed their community.
This book celebrates the magic of a garden that flourishes when one tiny little gardener finds so much joy in the hard work he endures to create beautiful blooms all around him.
Miss Maple gathers lost seeds that haven't yet found a place to sprout. She takes them on field trips to explore places to grow. In her cozy maple tree house, she nurtures them; keeping them safe and warm until it's time for them to find roots of their own, and grow into the magnificent plants they're destined to become.
Told in a poetic form, this book tells the chronological story of how a garden evolves throughout the season and all the plants and animals that share the space and call it home.
This is such a lovely story that takes the reader along the life of a garden through all four seasons. It hops between things going on under the dirt like roots and worms to the things taking place up in the garden such as sprouting seeds and a mother and daughter tending to the garden.
Gardening isn't easy. It's a lot of trial and error. This story highlights all the lessons a family can learn when they start a garden together and tend to it through ups and downs.
Just like people, seeds come in all shapes and sizes. Seeds grow at different rates, under different conditions, and into a wide variety of fruits, vegetables, flowers, and trees. This book is a whimsical story about friendship, diversity, and the natural world that surrounds us.
Errol loves gardening, but he doesn't have a proper garden. His home is full of beautiful plants, but he longs for an outdoor space where he can grow things. This is a heart-warming and inclusive tale about how one small boy's dream of a garden unites a diverse community in a positive and enriching experience for everyone.
In this lushly illustrated story that celebrates life and growing up, a mother and daughter plant a garden to see how something small blooms into something as beautiful and strong as their love.
One day, William discovers that the tree outside his window has been sculpted into a wise owl. In the following days, more topiaries appear, and each one is more beautiful than the last. Soon, William's gray little town is full of color and life. And though the mysterious night gardener disappears as suddenly as he appeared, William—and his town—are changed forever.
The first zucchini of a summer garden is always exciting, but what happens when the plants just keep growing…and growing…and growing? Zora soon finds herself with more zucchini than her family can bake, sauté, or barbecue. Fortunately the ever-resourceful girl comes up with the perfect plan–a garden swap!
New city. New school. Michael is feeling all alone—until he discovers the school garden! There's so many ways to learn, and so much work to do. And the garden is much more than activities outdoors: making school garden stone soup, getting involved in community projects such as Harvest Day, food bank donations, and spring plant sales. Each season creates a new way to learn, explore and make friends.
All the green peas split for town; the tomatoes stewed and stirred. Celery and her friend sweet corn stalked off without a word. What made the snap beans snap? How did the berries get into a jam? What happened to the cauliflower's head? Read along as Grandpa spins a tale about the night that all the plants in the garden get up and run away. At first, they think running away is fun, but it isn't long before things go terribly wrong.
Do you have any other favorite picture books about gardening for kids? Share them in the comments so we can all check them out!