Reading Lately | 7 Books I've Enjoyed This Fall
What have you been reading lately? Here are some books I've checked out from our local library or listened to on audio from Libro.fm lately. This post is part of a recurring series of book reviews of things I've been reading and listening to lately. Check out past editions of Reading Lately.
This post contains affiliate links.
This post contains affiliate links.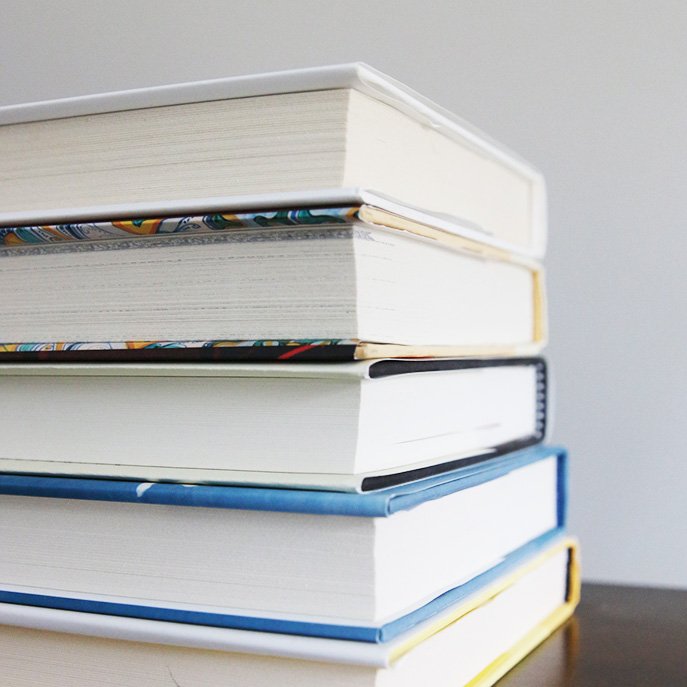 I go through spurts where I dive into lots of books. Then for a while, I take a reading break and do more writing than reading. I also ebb and flow between stretches of fiction and non-fiction. Lately, I've been reading mostly (though not all) non-fiction while mixing in some of the Harry Potter series.
I read the first Harry Potter book in high school, though not right when it came out. I haven't come back around to the rest of them. But now my older son is cruising through them, so I'm following along and we occasionally talk "book club" about the stories.
Here are a few books I've had on my bedside table lately. Let me know what you've been reading. I'm always up for book recommendations.
A Note on Buying and Borrowing Books
We include affiliate links to books we recommend. If you purchase through one of these links, Honestly Modern earns a very small commission that has no impact on your purchase price.
If you can find the books from your local library, from a friend, at an independent bookstore, or through a used book shop, those sources are ideal. Using the library is zero waste, saves money, and saves space in your home because you can read all the books without storing all the books on your bookshelves. If you're not sure of the best way to use your local library, check out these tips to make the most of your local library. With a little exposure, your kids will learn to LOVE the library!
If you prefer to listen to audiobooks, we recommend using Libro.fm, our favorite audiobook app. We've tried several audiobook apps and love that Libro.fm supports independent bookstores and offers a great user experience.
Recent Books I've Read
The Arbornaut: A Life Discovering the Eighth Continent in the Trees Above Us by Meg Lowman
This memoir from Meg Lowman documents her journey from a nature-loving young girl in upstate New York to the canopies of rain forests in Australia, South America, and Africa. Due to their immense biodiversity, she and her colleagues have come to call the tree canopies of our forests around the world the Eighth Continent.
Meg was one of the very first field research scientists to explore tree canopies. She began her career rigging cave diving equipment to climb up and hang around trees for hours at a time while studying the insects and leaves on all sorts of trees.
She was also one of the first female field researchers in her industry, so she experienced a good bit of sexism throughout her career. At times she endured it and, at other times, she chose alternative paths to avoid the unfair treatment or was denied opportunities entirely.
As her career progressed, she came to understand the importance of connecting her research findings and published papers to the communities and everyday people impacted by them. As a result, she's been instrumental in helping create citizen science opportunities in various rain forests, building canopy walkways to help people connect with the forests, and helping Indigenous and local communities generate a living through eco-tourism so they don't have to rely on alternative income sources like logging and clear-cutting for agriculture.
This was a really insightful book about a woman who has been a champion for the trees around the world. I'm thinking about including this book in the 2022 Eco Reading List.
Related: 2020 Eco Reading List
A Curse So Dark and Lonely by Brigid Kemmerer
This modern and magical twist on Beauty and the Beast was such a fun read. The main character is pulled between her family in the human world and the magical world of a beastly prince who lives the same sad reality over and over again. I really enjoyed this one and stayed up way too late on way too many occasions because I wanted to read just one more chapter.
White Ivy by Susan Yang
This book brings together love, lust, and lies through the story of an immigrant girl who falls in love with her privileged schoolmate. She loses touch with him but eventually reconnects and will go to great lengths to be in a relationship with him. The story intertwines with another more impulsive relationship she develops with a friend from their childhood. The author did a great job of creating characters that you like and root for despite their bad behavior.
Malibu Rising by Taylor Jenkins Reid
Although it's fiction, I suspect this story isn't far from the larger-than-life reality of some of the hottest celebrities and influencers. In the book, four famous siblings throw an epic party to celebrate the end of the summer each year. But this year, over the course of twenty-four hours leading up to the party, loads of family drama take place that creates tension between the siblings and, ultimately, ends up with a childhood home that goes up in flames.
This was a pretty popular book over the summer. I listened to it on audio and really like the narrator, so you can't go wrong if you get it on Libro.fm and listen to it instead of reading it yourself.
Eat Like A Fish: My Adventures as a Fisherman Turned Restorative Ocean Farmer by Bren Smith
Bren Smith grew up in a fishing town in Newfoundland, Canada. After several years of dangerous and intense jobs working on fishing boats, he begins to see the damage commercial fishing is doing to the oceans and the wild fish populations that once sustained his town.
This memoir follows Smith through his journey to leave the commercial industry, struggle to find a place in a more sustainable fishing operation, and ultimately start his own regenerative aqua farming operation on the East Coast of the United States. He has a depth of experience that gives him a valuable voice in the conversation about how we can choose more sustainable oceanic food options that support environmental healing.
Related Content: If you have interested in sharing more with your young learners about regenerative kelp farming and the science behind why it can help our planet, check out this Regenerative Kelp Farming Activity Book we put together for Raising Global Kidizens.
Laundry Love: Finding Joy in a Common Chore by Patric Richardson
I'm not a big fan of laundry. I definitely consider it more of a chore than a pleasure. But Patric Richardson, the author of this book, developed a love of clothes and caring for his clothes at a young age (led in large part by his relationship with his grandmother).
Today, he's a laundry evangelist. He teaches people how to take better care of their clothes so they last longer, wear better, and bring joy to their owners. Although not specifically driven by environmental benefits, Richardson offers many suggestions and solutions that use fewer harsh chemicals, limit washing and wearing (which in turn reduce wear and tear on the clothes), and generally provide more sustainable alternatives for caring for our clothes without sacrificing quality.
I listened to this book on audio, but I think I might also check out the book from the library. There were several lists and recipes that I'd like to take a second look at because I think it's hard to capture all those details from an audiobook.
Harry Potter and the Sorcerer's Stone by J.K. Rowling
I re-read the first book to get reconnected with the story. I've finished books 2 and 3 now, though my older son has left me in his dust while he's in the middle of Book 4. I think they're fantastic. What's not to love about them, right? I mean the whole world is infatuated with them. Have you read any of the Harry Potter series?