25+ Fun Picture Books That Encourage Children To Care for the Earth
Teaching kids about the importance of caring for the environment and finding ways to practice eco-friendly habits aren't always straightforward. These picture books offer engaging stories to simplify ways that kids can make a difference and help them appreciate taking care of the environment.
Earth Day is just around the corner and spring is in the air. I can't wait to get back outside, plant our garden, and hopefully enjoy reading a book on a sunny afternoon soon.
Throughout the year and especially in this season, I love including some picture books in our reading rotation that celebrate nature, the Earth, gardening, and appreciating our environment. We often talk in our home about eco-friendly living, and I like to reinforce these practices through books.
We've taught the boys about which items go into the recycling bin versus the trash can. We remind each other to turn out the lights that we aren't using. I encourage them to help me garden. We talk a lot about not wasting the things we have. And I love that they even help with our compost bin (… sometimes…).
We make efforts and have conversations that hopefully have an impact on their respect for the world around them. But it's not always easy to put into "kid speak" how we appreciate butterflies and flowers or why we can't just throw our trash on the ground wherever we feel.
In honor of Earth Day (and just because it's a good thing to do), we checked out a bunch of picture books from the library this week about recycling, the environment, being green, and planting trees. Here are a few of our favorites that your family might enjoy as well.
A Note on Buying and Borrowing Books
We include affiliate links to books we recommend. If you purchase through one of these links, Honestly Modern earns a very small commission that has no impact on your purchase price.
If you can find the books from your local library, from a friend, at an independent bookstore, or through a used book shop, those sources are ideal. Using the library is zero waste, saves money, and saves space in your home because you can read all the books without storing all the books on your bookshelves. If you're not sure of the best way to use your local library, check out these tips to make the most of your local library. With a little exposure, your kids will learn to LOVE the library!
If you prefer to listen to audiobooks, we recommend using Libro.fm, our favorite audiobook app. We've tried several audiobook apps and love that Libro.fm supports independent bookstores and offers a great user experience.
25+ Fun Picture Books That Encourage Children To Care for the Earth
Earth Day, Birthday
by Maureen Wright
This cute story celebrates Earth Day in the jungle when each animal shares an idea about how to be better stewards to our environment while a little monkey keeps telling everyone it's his birthday (but no one believes him!). I'll let you read the book to find out if the monkey is telling the truth.
Order
The Secret Of Black Rock
by Joe Todd-Stanton
Too often, we often don't appreciate nature when we can't understand it. Such is the case when a seemingly large rock formation routinely creates apparent danger for local fishermen. The town residents decide to destroy the rock, but a little girl saves the rock after discovering how much life it supports just below the surface of the water. The book encourages children to respect our environment and look beyond what something might initially appear to be. First impressions aren't always true.
Order
The Boy Who Harnessed The Wind
by William Kamkwamba
Based on a true story, this book explores the accomplishments of a young boy in Malawi, in Africa, who watches his family's farm die off due to drought. Using his local library and teaching himself English, the language in which all the scientific books are written, he figures out how to use trash and miscellaneous parts lying around his community to create a windmill. He uses the windmill to create electricity and, eventually, power a well for his family's garden. This story is so wonderful for children on so many accounts; it discusses environmental issues of drought, poverty, innovation and creativity, and highlights characters from another part of the world. That it's based on a true story also helps children connect with the reality of the issues addressed.
Order
Bee: A Peek-Through Picture Book
by Britta Teckentrup
Peek into this bright and lively book and discover the big ways this little insect contributes to the beauty of the environment, from pollinating colorful flowers to buzzing about the bright and beautiful meadow.
Order
Miss Maple's Seeds
by Eliza Wheeler
Miss Maple gathers lost seeds that haven't yet found a place to sprout. She takes them on field trips to explore places to grow. In her cozy maple tree house, she nurtures them; keeping them safe and warm until it's time for them to find roots of their own, and grow into the magnificent plants they're destined to become.
Order
Worm Weather
by Jean Taft
Join in the rainy-day fun, as kids splash through the puddles, affecting another weather enthusiast, a nearby worm.
Order
Wangari's Trees of Peace
by Jeanette Winter
After growing up in Kenya and attending school in the United States, woman returns to her hometown in Kenya to realize that nearly all of the trees and lush vegetation she knew as a child was gone. The books tells the story of her mission to bring trees back to the barren Kenyan landscape and how her efforts spread across the country to revive the tree landscape in many parts of the country.
Order
The Curious Garden
by Peter Brown
This is a lovely story about a little boy who lives in a city of concrete and bricks, void of nature's beauty. One day, on his adventures, he finds a few little plants struggling to survive near old, unused railroad tracks. He decides to start caring for the plants and begins to grow a garden. His garden flourishes and, ultimately, he shares the beauty of his curious garden with so many other dwellers in his city. This book is written well and has really great illustrations.
Order
Florette
by Anna Walker
This sweet book tells the story of a young girl who moves from the country into the city. She misses all the plants and trees now that she lives among the concrete. She finds a small plant and a flower shop, and ends up turning her little city square into a flourishing garden.
Order
Tokyo Digs a Garden
by Jon-Erik Lappano
A little boy living in the city plants a small garden that quickly takes over the entire city. What once was a concrete jungle is now lush with plants and filled with animals. The boy discusses with his family how the area used to be filled with nature before the city took over and cleared out all the trees and animals. The little boy soon realizes how important it is to learn to live with the animals and plants instead of pushing them aside without a care.
Order
The Tree Lady: The True Story of How One Tree-Loving Woman Changed a City Forever
by H. Joseph Hopkins
A leader and change maker in so many ways, Kate Sessions grew up loving nature and the trees around her. When she moved to San Diego, she found a dry dessert as well as a handful of trees surviving quite well in the arid conditions. She wanted to change the landscape of San Diego, so she quit her teaching job to become a gardener and began planting trees around the city. Her efforts led to many city parks, the most notable of which is the current Balboa Park that spans across a large part of the city. This book shares the true story of her journey in a fun and enlightening way for children and adults alike.
Order
The Dumpster Diver
by Janet S. Wong
Three young friends living in an apartment building befriend a fellow resident who dives through the dumpster routinely to discover treasures that other people considered trash. With him, they learn to look at trash in new ways and use it to build new things that are very useful to them. My boys love this book because it's a fun read, and I love that it sends such a great message about reconsidering what is really trash and the value of something that someone else may no longer love.
Order
The Ugly Vegetables
by Grace Lin
A little girl watches her mother plants "ugly" vegetables while her neighbors all plant gorgeous and lovely smelling flowers. She is disappointed that their garden doesn't look as beautiful as all of their neighbors, until she smells the homemade soup her makes with all of their homegrown veggies.
Order
In The Rain
by Elizabeth Spurr
This little board book is a simple story about a girl who steps out into the rain to enjoy it in all its glory.
Order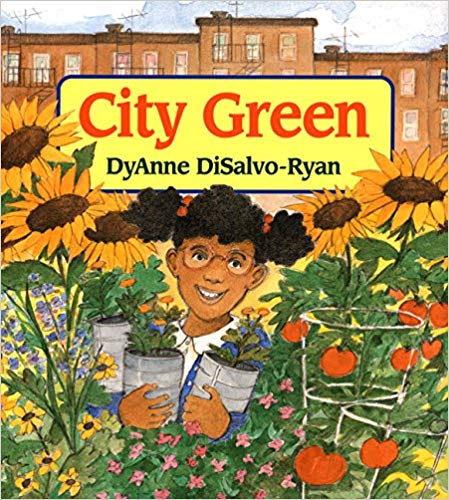 City Green
by DyAnne DiSalvo-Ryan
Right in the middle of Marcy's city block is a vacant lot, littered and forlorn. Sometimes just looking at it makes Marcy feel sad. Then one spring, Marcy has a wonderful idea: Instead of a useless lot, why not a green and growing space for everyone to enjoy?
Order
The Gardener
by Sarah Stewart
A Caldecott Honor book, the little girl in this story moves from the country into the city to live with her uncle. She misses all the gardens she had back home and finds a way to turn her new city home into a beautiful garden that makes even her grumpy uncle smile.
Order
Jack's Garden
by Henry Cole
Told in a poetic form, this books tells the chronological story of how a garden evolves throughout the season and all the plants and animals that share the space and call it home.
Order
A Seed is Sleepy
by Dianna Hutts Aston
This non-fiction book shares about so many ways that small seeds are unique and special while also very interesting. My little guy had lots of questions about seeds while we read this together.
Order
Up in the Garden and Down in the Dirt
by Kate Messner
This is such a lovely story that takes the reader along the life of a garden through all four seasons. It hops between things going on under the dirt like roots and worms to the things taking place up in the garden such as sprouting seeds and a mother and daughter tending to the garden.
Order
Flower Garden
by Eve Bunting
I love that this book highlights the value of window box as a garden. We can't all have expansive gardens in our yard, but the little girl in this story loved her window box garden just as much. Although it was small, it was beautiful and very special (particularly as a gift to her mom for her birthday!).
Order
Rain
by Sam Usher
A little boy can't wait to go play in the rain with his grandfather. Although his grandfather makes him wait, he realizes the best things in life are worth the wait.
Order
The Berenstain Bears Don't Pollute (Anymore)
by Stan Berenstain
When careless citizens pose a threat to Bear Country's environment, Brother and Sister Bear form the Earthsavers Club. Their spirited ecological efforts deliver a timely message about the urgent need to mend our polluting and wasteful ways.
Order
Arthur Turns Green
by Marc Brown
Arthur comes home from school and begins sneaking around the house, taking notes and talking about a Big Green Machine. It turns out Arthur is making a poster listing all the ways to save energy at home–and go green!
Order
The Berenstain Bears Grow-It! Mother Nature Has Such a Green Thumb!
by Stan Berenstain
Inspired by their neighbor Farmer Ben, Brother and Sister decide–with Mama's help–to plant seeds, cuttings, and tubers. The Do-It! section includes instructions for the propagation of numerous food plants in water and/or soil, plus some simple plant science.
Order
One Tree
by Leslie Bockol
A story for young children about the seasons of one tree's life over the course of the year. It has nice, simple illustrations and is even made with 98% recycled materials.
Order
Miss Fox's Class Goes Green
by Eileen Spinelli
In this story, a school teacher shares with her students all the ways they can be more green. Then each child shares about the idea they tried with their family to make a small but meaningful impact on the environment. As the students practice being green, others join in the fun and the whole school community gets involved. I liked that it creatively offered lots of actionable ideas that kids can implement in their own homes.
Order
What Does It Mean To Be Green? Eco-Pig Explain Living Green
by Lisa S. French
The eco-friendly pig drops into a very clean and beautiful town. Not long after he arrives, he starts to see some of the neighbors doing things that aren't so great for the environment. He helps teach the town why the practices are not so great and offers more eco-friendly alternatives. This book is part of a series of books starring Eco-Pig that includes titles like The Terrible Trash Trail: Eco-Pig Stops Pollution and Who Turned Up The Heat?: Eco-Pig Explains Global Warming.
Order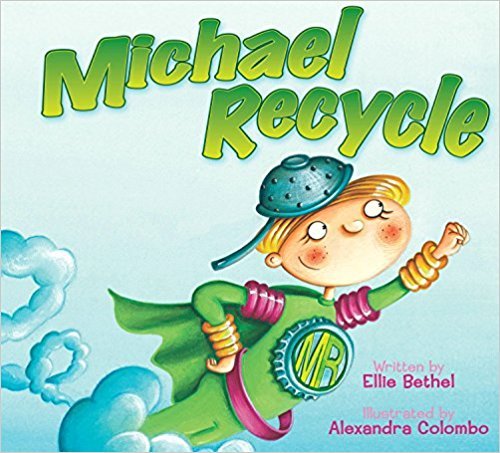 Michael Recycle
by Ellie Bethel
Dressed in green, Michael Recycle is a kid super hero that travels to a town full of filth. He teaches the town residents how to recycle and, more importantly, why it's so important. He encourages the town to take ownership of the cleanliness of their town and, ultimately, is no longer needed because the town is so clean and everyone recycles. With bright, colorful pictures, and written in rhymes, this is a cute story that highlights the community-building benefits of recycling.
Order
A Place for Butterflies
by Melissa Stewart
This book teaches children all about butterflies: what they eat and where they live, why they are important to the environment, and how they transform from caterpillars into butterflies. I've been thinking about creating a little butterfly garden in our yard, so this was a great place to start that adventure.
Order
Busy Buzzers Bees in Your Backyard
by Nancy Loewen
This pretty picture book helps children understand the importance of bees in our yards and gardens. In an engaging story with nice illustrations, the author also includes a fun fact about bees on each page. Even I learned a lot.
Order
Curious George Plants a Tree
by Margaret & H.A. Rey's
In this story, Curious George learns and gets excited about all the ways he can help take good care of the planet and the environment. As usual, he gets into a little accidental mischief along the way, but he ends up planting several trees in a park with a community group to make for a happy ending. The book also includes 20 ways kids can help keep our planet a little greener and healthier.
Order
Compost Stew: An A to Z Recipe for the Earth
by Mary McKenna Siddals
Written in the form of a poem, this book is about all the things that can go into a compost bin and how to care for it. I love that it helps kids (and me!) learn about the extensive list of items that can rot and turn into nourishing soil instead of continuing to fill our landfills. This books also has really great, colorful pictures.
Order
Michael Recycle Meets Doug Litterbug
by Ellie Bethel
Our little boys could definitely relate to this story that translates environmentalists and polluters into a super hero and little boy villain, respectively. The story isn't mean at all and doesn't encourage hatred or disdain for the little boy that litters. Instead, the super hero comes to show him how being a steward of his community and caring for the environment will help him make more friends and, ultimately, make him a 'super hero' as well. It's a fun and cute story that definitely puts the concepts into a context kids can understand and appreciate.
Order