Car-Free Transportation for Families: Our Suburban Bike-Centric Life with 3 Kids
If you're used to driving a car to move your family around town, can you imagine swapping your car for a bike? While the United States and many other countries are designed around car-centric infrastructures, lots of people in other countries live in communities where biking and walking are the primary modes of transportation.
Not only are these types of transportation better for our health than cars, but they're also good for the planet. Read on to learn more about car-free transportation for families and how one suburban mom gets around town with her three young children on her e-bike, with an occasional trip on public transportation.
This post is part of our series on showcasing family biking as a regular mode of transportation and how it can benefit both people and the planet.
I am a suburban mom with three kids ranging in age from 7 months to 7 years. While my partner and I grew up in the western United States, we now live in the Netherlands after spending several years in Switzerland, all without ever owning a car once we got to Europe. I take kids to soccer practice and do school pick-ups. I go to the grocery store, run errands, and go to doctor's appointments, all on my "minivan with two wheels", a bakfiets, the Dutch word for a cargo bike.
Growing Up With Cars
Growing up in Los Angeles, California, a city where the car is king, I never guessed I would be living in the Netherlands with three kids using a bicycle as my primary mode of transportation. But here I am, and I love it.
Recently my partner and I discussed how we got here. When we met in college, we were by no means world-saving fanatics. We cared about helping the earth but didn't wear hemp clothes or drive vegetable-run cars, a reality in California.
We wore fast fashion and lived pretty "regular" lives. When my inherited first car died, I replaced it as fast as I could scrounge up the money for something that fit in my budget. My partner was car-less until his last year in college simply because he didn't have a family car to use or cash to buy his own.
Testing out the Train Systems
My partner and I dabbled in train travel during college and the early years of our marriage. With budget restraints, my old car was not reliable enough to make the 3.5-4 hour trip home often, so I took the train on a couple of occasions. My partner did the same.
Taking trains for travel like this isn't the most conventional option in the United States, especially in the sprawling western part of the country. But I vividly remember riding the train home one time in the rain while reading Harry Potter. It is one of my most cozy memories.
Early in our marriage, we took an overnight train from Denver back to our home in San Francisco just because we wanted to do it. Something has always pulled my partner toward train travel. And for me, it makes sense.
My grandfather drove trains for the Army in Southern California during World War II since a heart murmur kept him from the front lines. I was raised with tons of model trains and visited every train museum in California. My grandparents often traveled across the country by train and told romantic stories of their adventures in dining cars and sleeping cars. I knew I wanted to experience that magic.
When I was 12, I went to New York City. The city captivated me. I loved the thrill of the subway, getting on in one place and emerging in another completely different location.
As an early teen, I asked my mom if we could take the public bus in our city. While that experience was less magical, public transportation has always drawn my affection.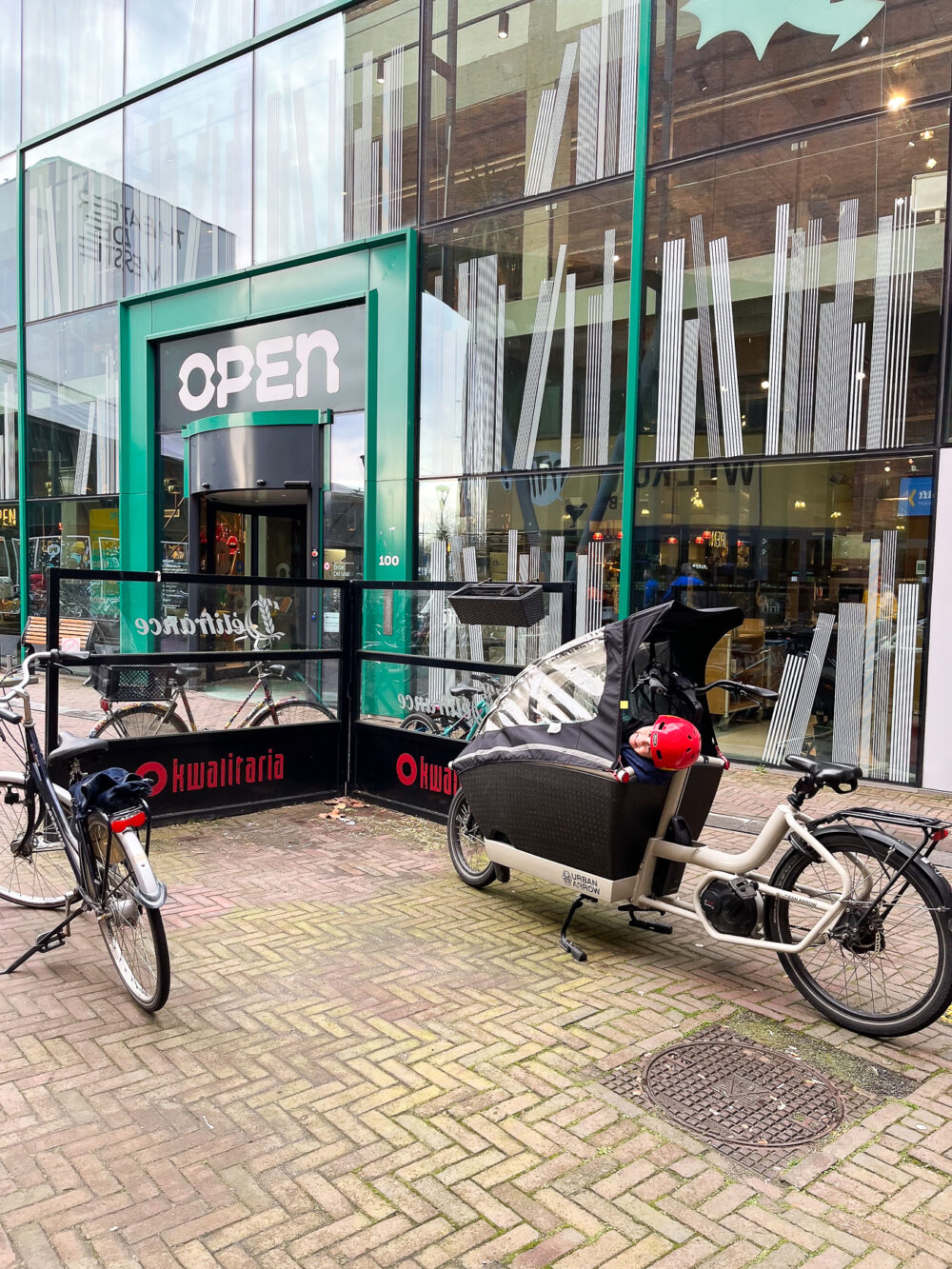 The Beginning of Our Family Biking Adventures
Like public transportation, bikes have held a special place in my memories as well. My mom had lots of mental and physical health issues. When we went for walks, she walked and I rode my bike. I felt free and happy with her on these excursions. She was calmer, and I was free to be independent but safe. We had our favorite route and I pretended my bike was my pony. It was amazing.
My partner's college roommate with a guy from Davis, California, a college town where everyone bikes. He introduced my partner to mountain biking and then road biking. By the time we met, our prior experiences laid an invisible foundation on which to build our car-free, bike-centric life.
After marrying, we moved to San Francisco. At the time, we had two cars, something we certainly didn't need in a city like San Francisco. We sold one car before moving and sold the second car not long after arriving in our new city.
We chose an apartment on a tram line so we could more easily get around. A year later, we moved to an even more central location near three or four bus stops and a tram line. It was a ten-minute walk to the Bay Area Rapid Transit (the underground subway system in the Bay Area known as BART), which connected us to the broader Bay Area, and a ten-minute bike ride to Cal Train (the above-ground train), which connected us to Silicon Valley.
I learned to ride a bike for everyday transport in San Francisco. This was not for the faint of heart. Today, San Francisco has some of the best biking infrastructure in the United States. But at the time, the biking infrastructure was just developing, so you often had to ride confidently next to fast-moving cars and navigate around tram lines.
And San Francisco is not flat (an understatement). Thankfully there were ways to go around the hills, but I had to learn the routes ahead of time or face very steep climbs.
We had our first child while living in San Francisco, and I continued to get around by bike regularly. Riding on Market Street to the Farmer's market at the Ferry Building on the wharf and with a child on the back of my bike gave me the confidence to face my next urban city on a bike.
Public Transportation and Biking in Europe
In 2018, we moved to Switzerland. I was soon pregnant with a two-year-old kid. In the Mission District of San Francisco, I rode with him on the back of my traditional bike. But the Mission in San Francisco is flat, which made riding with a child more accessible.
Switzerland does not have any flat spots. A traditional bike towing a kid in a trailer or a mounted bike seat on the rear rack was not an option for me. Between the hills and being pregnant, I did not ride my bike when we first arrived.
Fortunately, I didn't need my bike because public transportation is world-renowned. It is fantastic and has ruined me for every other system. It is clean. It runs on time. It runs frequently. It runs in all kinds of weather. There is a bus in every village. No matter where you are going, you're probably only about a ten-minute walk from a bus, tram stop, or train. There is one system in the whole nation, so it feels overwhelming at first due to the breadth. But once you learn it, it is intuitive and efficient.
Public transit passes in hand, we did not ride bikes for the first couple of years in Switzerland. Not even once.
We talked about getting an e-cargo bike for me and the kids, and my partner wanted to start using his traditional commuter bike to climb the hill to his job. He missed commuting by bike. For five years while earning his Ph.D. at Stanford, he rode 15 minutes on his bike to CalTrain, rode the train an hour down to Palo Alto, and rode another 15 minutes on his bike to campus. It was his time to think and decompress. But the public transit in Switzerland worked so well for us, we just never felt compelled to make the investment in bicycles.
Buying our E-cargo Bike for a Family of Five
In March 2020, while living in Switzerland, the pandemic lockdown was looming. We faced many new uncertainties about how public transit would work for us. If we couldn't or didn't want to use public transit, would we be able to meet our everyday needs on foot without a car?
The only grocery store was down the hill, so even regular trips to the store would be a hard four blocks uphill with all those groceries.
Suddenly, the e-cargo bike we casually pondered seemed like a lifeline. We could use it to carry a week's worth of groceries and take the kids out without having to get on public transport. It guaranteed mobility when public transport did not feel very safe.
The hills of Zuirch kept me from towing the kids in a bike trailer with a traditional bike. It is just not feasible. An e-bike and trailer may have worked for us, but we prefer the way the cargo bike rides over that option. So we made the investment and bought an Urban Arrow, a Dutch brand of cargo bike that has been perfect for our family.
The bike was a dream, just what our family needed. I remember loading my then 1.5 and 3.5-year-old into the bike's cargo bucket and riding down the hill to throw sticks in the river. I filled the cargo bike with our week's worth of groceries. And I found the cargo bike easier and faster than the tram or bus to transport two kids around town.
Getting Around with Our Cargo Bike in the Netherlands
We have since left Switzerland and now live in the Netherlands. It's pretty common to rely heavily on a bicycle for transportation in many cities in the Netherlands. The Netherlands hasn't always been so bike-centric, but they've shifted infrastructure design (particularly in urban areas) to make it much more bike-centric in recent decades.
I love that we get most places on our bicycles, but I know that's not accessible for many communities. If you live in a place where bicycling isn't such a common mode of transportation for families, you might be wondering what it's like to get around on two wheels instead of four. Come along with me on a typical weekday day riding our cargo bike as a family of five in the Netherlands.
Riding to School and Runnings Errands on Bicycles as a Family
After going through our typical morning routine at home, it's time to head off to school and work.
We store our UA bike in a typical parking garage, sandwiched between two cars. While my partner takes the older two kids to school and then heads off to work, I take the baby to visit a friend. Our baby is too small to sit up and wear a helmet, so she sits in a car seat. The car seat snaps into adapters on the side of the bike. All three kids can fit in the bike with the car seat when we travel together, but it is squishy!
On this particular day, the weather was cold, 3 degrees Celsius (37.5 degrees F). I put the rain flap on to protect the baby from the cold and wind even though there was no rain. She stays nice and toasty in her full-body jacket from Reima Finland, which was gifted to us by our Finnish friends.
To help prevent bikes from getting stolen, they have internal locks and removable control panels. I unlock the internal lock, pop the control panel on, put on my helmet and head off to meet my friend before school pick-up at noon.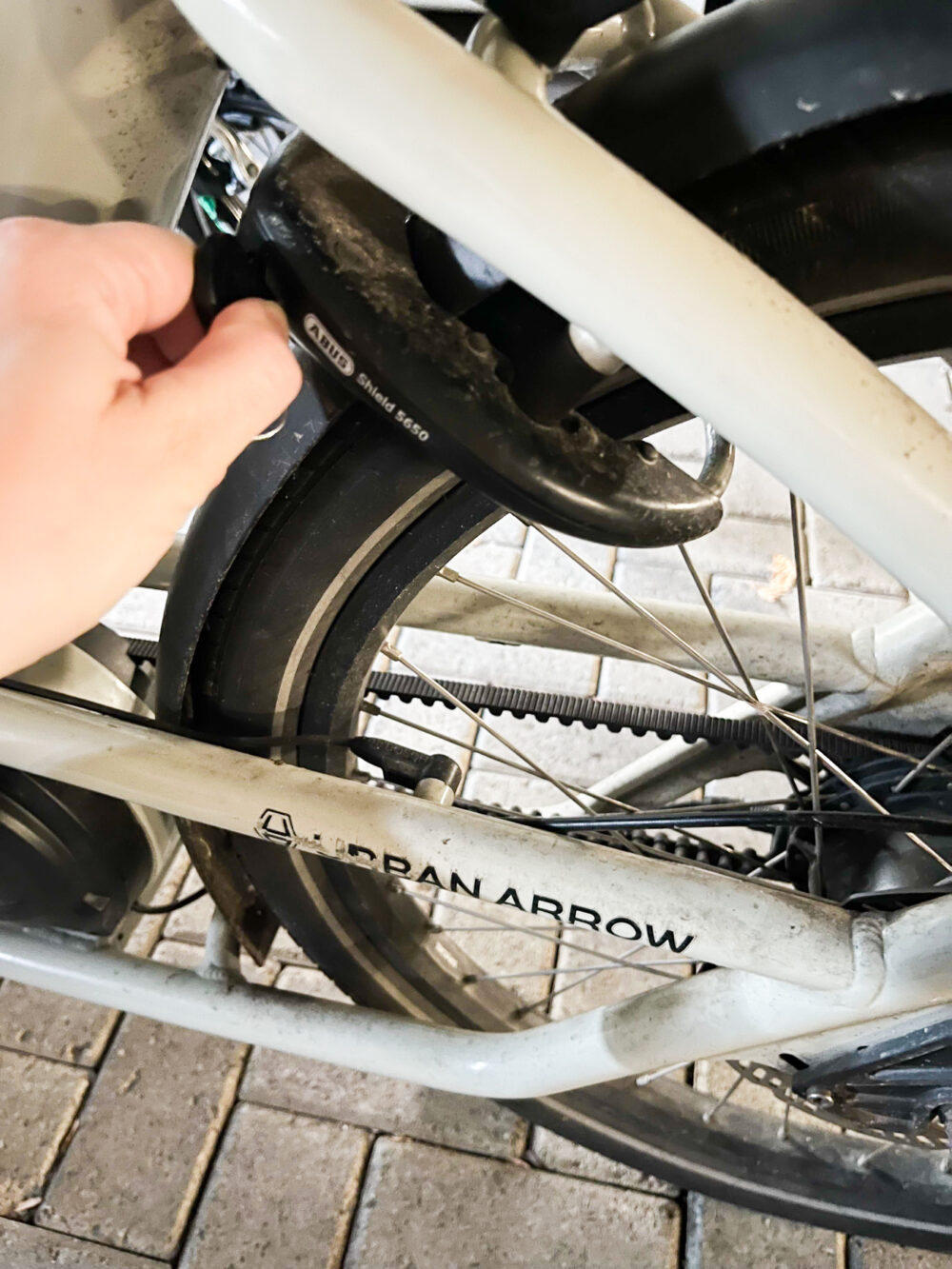 Cities Built Around Bicycles
Unlike most cities in the United States, many cities in the Netherlands are designed to be bicycle-centric. They are built with the intention to serve bicyclists (and pedestrians) before serving the needs of cars.
For example, we have designated bike lanes here that are not shared with cars. Sometimes they are one lane that follows the direction of traffic or can be two lanes with both directions of travel for bikes. Bike riders have their own stop lights, which are triggered when a bike pulls up. In many ways, this transportation infrastructure makes cycling easier and safer than in a city designed first for vehicles.
On our ride to my friend's house, I see a group of middle schoolers who are traveling somewhere for a school event all on their bikes. Kids of that age have been riding on their own for years, so it is not uncommon to see a class riding two-by-two with just one adult in the front of the group and another in the back.
The baby and I arrive at my friend's house for a short cup of coffee before we are off again to pick up my middle child. My oldest is staying at school for an extracurricular activity. Once we have helmets on, we return home for lunch.
Our afternoon activity takes us to the library before we return to school to pick up my oldest. The library is a 5-minute bike ride from our house. Bike parking is right in front of the library, so we pull right up. We don't have to search for parking, get a stroller out of the car, or walk far with the baby and preschooler. We park the bike and are in the library in less than 5 minutes.
After the library, we bike about ten minutes back to school to get my oldest child. Even though I have been back and forth twice to school today, it doesn't take that much time. We live in a small town, and the bike is so much faster to park and get in and out of compared to a car.
In our town, cars cannot travel very fast, since they must yield to bikes, pedestrians, and transit. The Dutch have designed their roads to make it easy to drive between towns and cities, but really difficult to drive cars once you are inside the town. They purposefully wanted the inner parts of towns to be more pedestrian and bike-friendly than car friendly.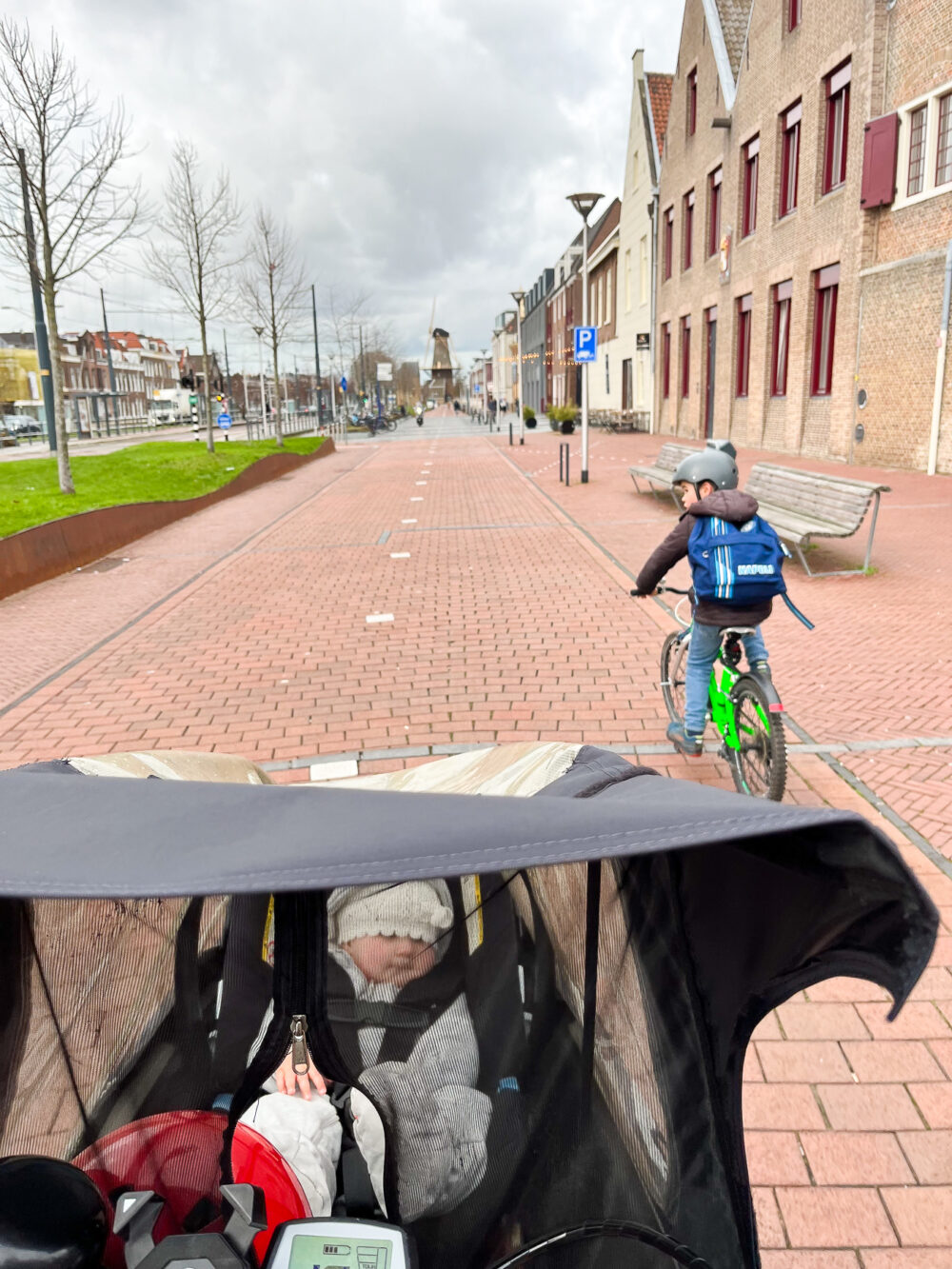 My oldest rides his own bike most days. Because bike lanes are entirely separated from the cars, it feels very safe. Cars go slower due to city design and are watchful for kids on bikes. Dutch parents also ride side-by-side with younger kids for added protection.
Some of my favorite moments are talking with the kids while we ride home. My oldest loves the independence and the chance to burn some energy after sitting at school. On days like today, when I am running back and forth to school, I like that the hour or more I spend picking up kids is also the time I am moving my body.
Riding a bike everywhere as a parent might seem really different, but my bakfiets is my minivan. My kids fall asleep while riding around town. They eat snacks in transit and leave wrappers on the floor. Dirt from the park and soccer ends up all over the floor. In terms of how it functions for us, it's not that different than a car. However, my "minivan" is a lot cheaper to maintain, is more sustainable, is better for my health, and, I would argue, is more pleasant for my kids than a car.
In the coming weeks and months, I'll be sharing more about how biking is a central component of transportation for many people where we live. It hasn't always been that way, so you'll learn more about how the Netherlands transitioned many cities from car-centric to bike and pedestrian-centric design.
I'll also tell you about how we handle bad weather while biking, how my kids feel about biking instead of riding in cars, and so much more about how bike culture supports our health, our local economy, the health of the planet, and more. Biking as a core component of transportation might not be as hard as you think, especially if you can get your local community to support small shifts to make roads and infrastructure more conducive to biking.
About the Author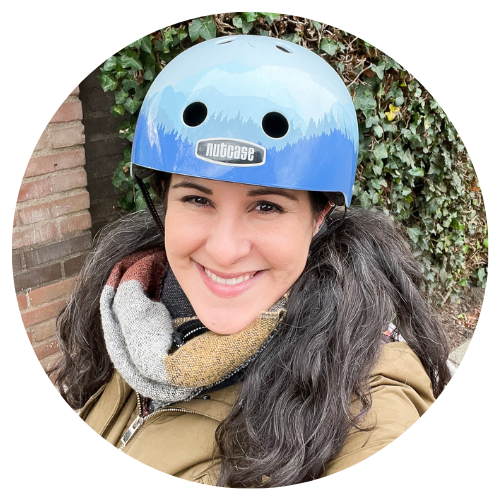 Robyn Chevalier Hall is a California girl who has called Europe home for five years. She currently resides in the picturesque city of Delft, Netherlands, where she is thrilled to use her bike as her main means of transportation. In her spare time, Robyn can be found reading, gardening, cooking, or running. Throughout her career, she has worked in various roles, including a teacher, a mom to three kids, and nonprofit leadership.