10 Fun Picture Books About Libraries
I love a good picture book that highlights for children how the library can be an engaging and fulfilling place to visit. In that spirit, head to your library and check out some of these awesome picture books about libraries and many characters who love their libraries for a variety of reasons.
Taking your kids to the library to see the wealth of books available to them on all sorts of topics is so much fun. The library can take them on adventures through books and their imagination. Exposing children to lots of books and taking advantage of the library might be the best way to help foster a love of reading for our children.
Below, I've shared some of our favorite picture books about libraries. New picture books about libraries seem to be coming out regularly too, so I'll try to keep the list updated with any additions we find and enjoy. (Be sure to pin this post so you can come back later and find any updates!)
If your library is like mine, there's a good chance it won't have all of these books on the shelves the day that you visit. However, most libraries coordinate with other libraries and their county or area to share resources. If you reserve or put these books on hold prior to visiting your library and wait for them to arrive, there's a pretty good chance you can get just about any book you want through your local library system and their inter-library lending programs.
So… go put a few of these on hold, and then take your kids to the library to read great picture books about libraries.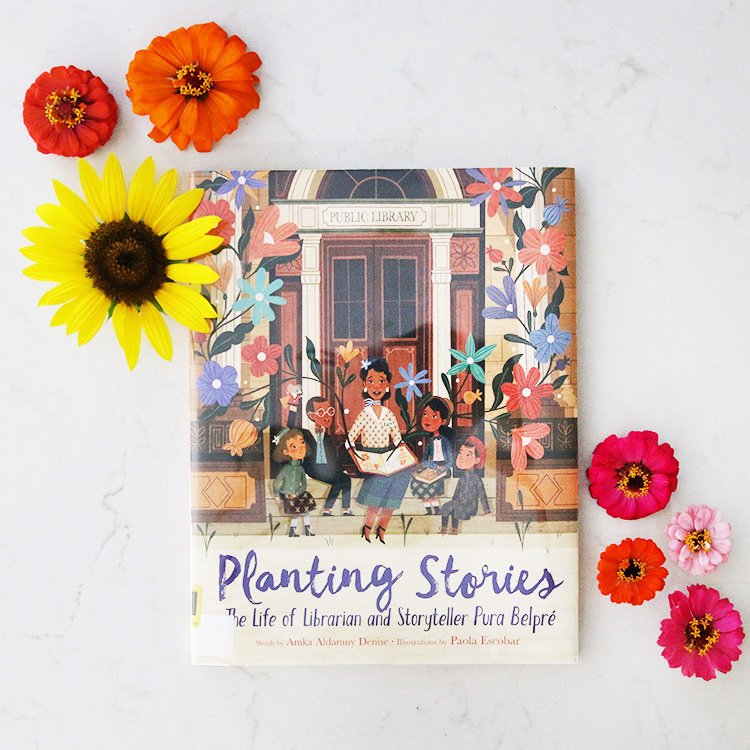 A Note on Buying and Borrowing Books
We include affiliate links to books we recommend. If you purchase through one of these links, Honestly Modern earns a very small commission that has no impact on your purchase price.
If you can find the books from your local library, from a friend, at an independent bookstore, or through a used book shop, those sources are ideal. Using the library is zero waste, saves money, and saves space in your home because you can read all the books without storing all the books on your bookshelves. If you're not sure of the best way to use your local library, check out these tips to make the most of your local library. With a little exposure, your kids will learn to LOVE the library!
If you prefer to listen to audiobooks, we recommend using Libro.fm, our favorite audiobook app. We've tried several audiobook apps and love that Libro.fm supports independent bookstores and offers a great user experience.
10 Great Picture Books About Libraries
Tomas and the Library Lady by Pat Mora
A young boy and his family are migrant workers, so they move between Texas and Iowa during different times of the year to work on farms during harvest season. With such a transient life, he feels very alone. He also doesn't speak English. One day, he discovers the local library and a very welcoming librarian. The librarian helps him check out books, and he's thrilled he gets to bring books home to share with his family. The librarian helps him learn English and explore the world through the stories in the library as well as help him feel welcome in the community.
Ages 3 – 7 years | Pages 40
The Library by Sarah Stewart
Sarah loved reading and spent her entire life with a nose in a book. One day, she realized she had far too many books. She walked to town and donated all her books to the community to create her own free library to share her love of reading with everyone around her.
Ages 5 – 9 years | Pages 40
Book Fair Day by Lynn Plourde
A little boy, wittily named Dewey Booker, can't wait for the book fair at his school's library. He saves up his money all year, only to find out that his class won't be going to the book fair until the end of the school day. He just can't wait! Several times throughout the day, he sneaks into the library to check out the books for sale. In the end, he runs into a little dilemma that the librarian kindly helps him sort out.
Ages 5 – 8 years | Pages 40
Library Lily by Gillian Shields
Lily falls in love with reading and visiting libraries. She sees every book as a new adventure, and reads everywhere she goes. One summer, she meets a friend who doesn't love reading but adores adventures outside. The two girls share their respective loves with each other and show readers that adventure can be found in many ways and we can all enjoy adventures in books and with friends.
Ages 4 – 8 years | Pages 26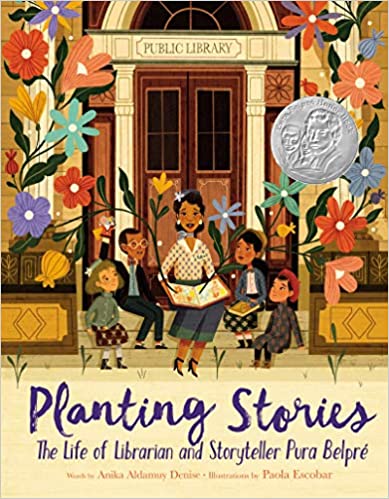 Planting Stories: The Life of Librarian and Storyteller Pura Belpre by Anika Aldamuy Denise
Based on a true story, this book highlights the life of a Puerto Rican woman who immigrates to New York City. Not long after arriving, she finds a job at the New York Public Library and becomes a beloved librarian. She writes book and travels with her husband, sharing her stories and his music, while championing the importance of storytelling and bilingual literature.
Ages 4 – 8 years | Pages 40
The Book of Gold by Bob Staake
A young boy wanders through his early life not particularly curious. His parents take him to the New York Public Library in hopes he will find something he loves among the collections of endless books, but to no avail.
One day, a shopkeeper tells the boy that there is one book in the world that will turn to gold when the little boy opens it. Enamored, he begins his quest to find the book of gold.
He never finds the book but learns to become curious and explore the world through books. As an old man, he enters the New York Public Library and sees a young boy sitting near a stack of books. He passes on the story of the Book of Gold and pays forward his learned passion for books and reading.
Ages 4 – 8 years | Pages 40
Building Books by Megan Wagner Lloyd
Katie loves building, and Owen loves books. They cannot understand each other's passions until their interests collide and they learn that they can love both!
Ages 3 – 7 years | Pages 32
No T. Rex in the Library By Toni Buzzeo
One little girl can't sit still in the library until she dives into a book and imagines exploring the library with a rambunctious T. Rex!
Ages 4 – 8 years | Pages 32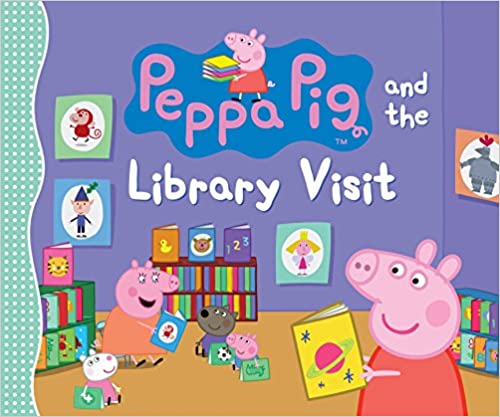 Peppa Pig and the Library Visit by Candlewick Press
Peppa runs out of books to read at bedtime. They decide to go to the library to find new books, and there are so many to choose from she doesn't know where to start. She immediately loves her library.
Ages 3 – 7 years | Pages 32
Lottie Paris and the Best Place by Angela Johnson
Two little kids, Lottie and Carl, both love the library but sometimes they have a hard time following all the rules of the library. When they become fast friends, they share their interests with each other and love the library even more.
Ages 5 – 9 years | Pages 32
Do you have any other favorite picture books about libraries that you enjoy? If so, share them in the comments!