Bees, butterflies, worms and so many types of bugs are really important to a growing garden and the overall health of our soil and ecosystem. Check out this list of fun picture books about bees, butterflies, worms and other bugs to help kids learn about and develop an appreciation for the little guys that do such important work on our Earth!
This post contains affiliate links. That means I earn a small commission should you decide to purchase through these links below. Affiliate links do not change your purchase price.
As a kid, bees were not really my friend (and I suspect most of us can relate). Until recently, they've had a pretty bad rap. My primary recollections include getting stung at my birthday party and swatting them with my tennis racquet while on the court during practices and matches. If only I knew then what I know now…
These day, I'm teaching boys that bees and other pollinators are really important for our ecosystem and food supply. We planted two pollinator gardens last summer in our yard (and will nurture them again this year) to attract the little creatures that I so vehemently despised before I knew better.
As with many topics I teach my boys about, books are a great avenue for education (thanks Captain Obvious). If you are in the market for some books to help your kiddos foster an appreciation for bees, butterflies, bugs, and worms, check out these books and learn more about the good work these little guys do for humans and the planet.
Bee: A Peek-Through Picture Book
by Britta Teckentrup
Peek into this bright and lively book and discover the big ways this little insect contributes to the beauty of the environment, from pollinating colorful flowers to buzzing about the bright and beautiful meadow.
Order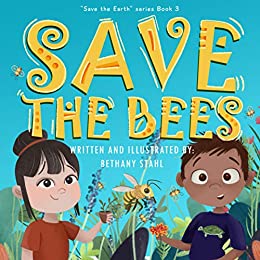 Save The Bees
by Bethany Stahl
The book tells the story of three friends working together to make Clover's pollination route easier! It has great illustrations and provides a lesson for kids to consider the importance of bees and pollinators in our ecosystem.
Order
Bizz Buzz Boss
by Natalie McKinnon
In this story about so many creatures in a garden, one bossy bee thinks she's in charge. But the other bugs in the garden play a trick on her to help her realize that everyone plays an important role in the garden and she should be nicer to her neighbors.
Order
Busy Buzzers Bees in Your Backyard
by Nancy Loewen
This pretty picture book helps children understand the importance of bees in our yards and gardens. In an engaging story with nice illustrations, the author also includes a fun fact about bees on each page. Even I learned a lot.
Order
The Beeman
by Laurie Krebs
Written as a poem, a little boy shares all about his grandfather, who is known in town as the Beeman, and the things the boy and his grandfather do together to care for the bee hives. Healthy land relies on many components, one of which is a healthy and flourishing bee population. My boys and I really loved this book a lot, and my older son asked to read it many times.
Order
Follow That Bee: A First Book of Bees In The City
by Scot Ritchie
A group of friends offer to help their neighbor, a bee keeper, look after his hive. Throughout their journey, they learn all about honeybees and how important they are for our food supply. They also learn how bee colonies work and some common challenges bee populations currently face that humans can help overcome.
Order
Worm Weather
by Jean Taft
Join in the rainy-day fun, as kids splash through the puddles, affecting another weather enthusiast, a nearby worm.
Order
A Place for Butterflies
by Melissa Stewart
This book teaches children all about butterflies: what they eat and where they live, why they are important to the environment, and how they transform from caterpillars into butterflies. I've been thinking about creating a little butterfly garden in our yard, so this was a great place to start that adventure.
Order
Worm Loves Worm
by J. J. Austrian
Did you know that all worms are hermaphrodites and have reproductive organs for both male and female? This book tells a story of two worms who fall in love and can't decide who's the bride or groom. In lots of ways these worms challenge understandings about falling in love and getting married. Although I think this book is written to highlight the gender neutrality of worms, it also struck me as a great discussion starter for gender identity and non-heterosexual marriage.
Order
Good Trick Walking Stick
by Sheri Mabry Bestor
From eggs buried in an ant colony under the winter snow, to the shedding of exoskeletons, to growing a replacement appendage, the amazing insect introduced in this book will fascinate budding entomologists and nature lovers of all ages.
Order
The Honeybee
by Kirsten Hall
Buzz from flower to flower with a sweet honeybee in this lovely book with gorgeous illustrations. Written it prose, it's a fun story about the days of a honeybee dancing from flower to flower.
Order
There Are Bugs Everywhere
by Britta Teckentrup
There are bugs everywhere! Some of them live in jungles, some of them underwater, and some certainly live in your house. This fun story with colorful illustrations introducers readers to all the bugs around us and reinforces that they are wonderful and weird.
Order
Do you have any favorite picture books for kids about bugs, bees and other pollinators? If so, share them in the comments so we can all check them out!