How do you teach your children about the importance of caring for and conserving water. Why is it really that important? Those of us living in countries like the United States take for granted the abundance of generally clean water. However, it's more important than we might realize to start conversations with our children about caring for the water we have on our Earth.
Books are a great way to start these conversations, and I've compiled a list of two dozen books you can explore with your children to help them understand why we need to take good care of and conserve our water.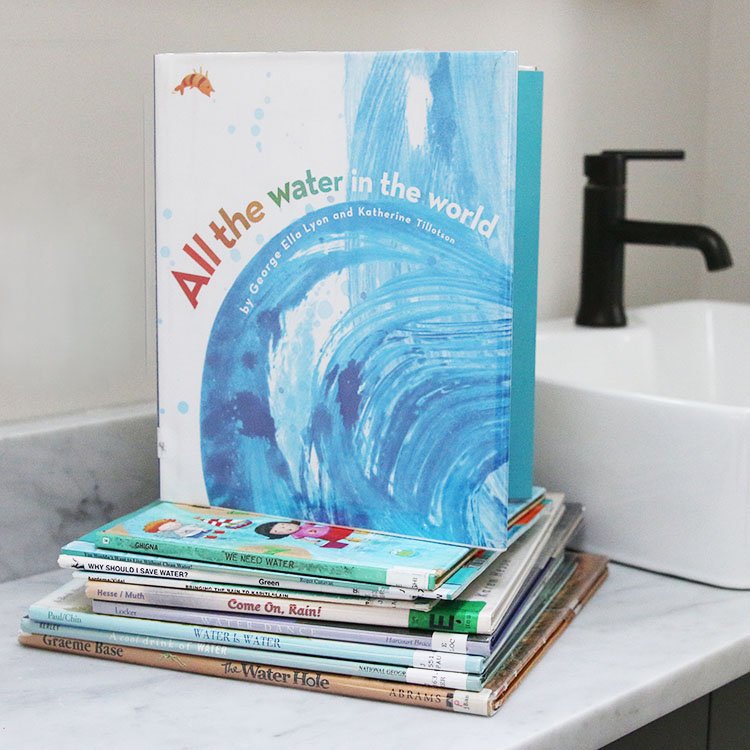 A couple of weeks ago, a good friend of mine reached out to ask about resources to help teach her young son about water conservation. Apparently, he was wasting a lot of water, which is totally understandable. Prioritizing water is a big, complex topic that is really hard for adults to comprehend, not to mention young kids. Specifically, she asked about book recommendations to help her talk to and teach her young son about the importance of our water.
So… you ask and I deliver! Over the last few weeks, I checked out so many books from the library about water that the employees at the circulation desk started to get a little concerned. I think they thought I was a tad bit crazy. However, I really wanted to vet all the books before I recommend them to you. There were a few that I didn't much care for, so they aren't included on the list below. Scan through the list and then check out a few to start the conversation with your kids about caring for and conserving our very important water supply.
24+ Wonderful Picture Books To Encourage Children to Conserve Water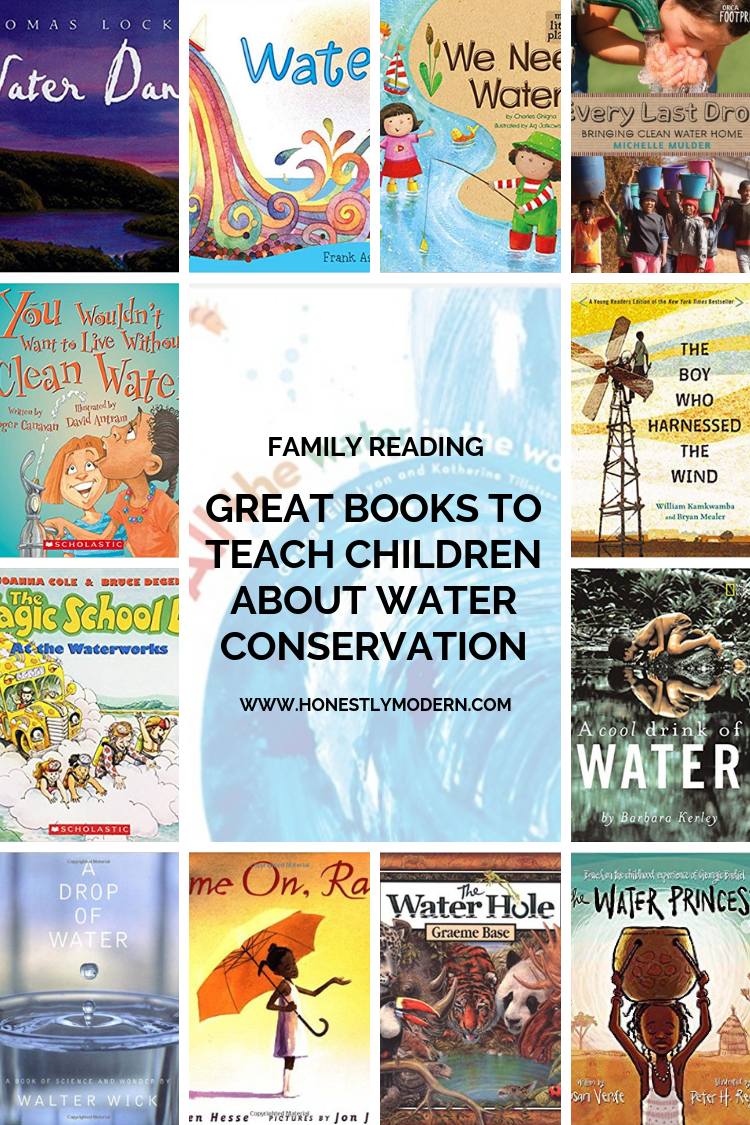 Poetic Stories About Water and Rain
A Cool Drink of Water by Barbara Kerley
I love this book. From the National Geographic Society, this book is not illustrated but has gorgeous photographs (as to be expected from National Geographic). The book has few words but focuses on how people all over the world are drinking water in all sorts of ways. This book is great for children of all ages.
All The Water In the World by George Ella Lyon and Katherine Tillotson
Another favorite of mine from the books we explored, this book includes abstract and colorful illustrations to accompany a story about how we use water and where it comes from. This book is great kids of all ages.
Water Dance by Thomas Locker
Told from the perspective of the rain, this story poetically highlights all the places we can find the rain. It lives everywhere and we experience it in some many different ways. This book can be enjoyed by children of all ages.
Water by Frank Ashe
This simple story is perfect for children of all ages and celebrate how water is all around us. Vibrant illustrations draw in readers as they see many reasons to appreciate water and why it's so important to us.
Fictional Stories About Water
Water! Water! Water! by Nancy Elizabeth Wallace
This is a cute story of Walter and his adventure creating a book all about the wonderful properties of water. It's written in the format of a story but also includes some simple and fun experiments kids can try as they learn to understand the various properties of water. It was one of my favorites that I thought conveyed scientific information at the right level for children and in a more engaging way than some other books.
The Magic School Bus at the Waterworks by Joanna Cole
Many of us are familiar with Ms. Frizzle and the crazy Magic School Bus stories. This story takes the class on a fun adventure through the life of water into the sky, down into our streams and rivers, and then through the municipal water processing system into their school faucets. I think this is such a fun book for kids and is great for children that are about preschool age and older.
Why Should I Save Water? by Jen Green
This is a great book for young children to hear the story about saving water through the eyes of a little boy and his neighborhood friend. His friend stops by and they talk about why they need to be careful about how much water they use and all the ways kids can save water in their own home. This is great for children of all ages and includes bright, engaging illustrations as well.
Water Is Water by Miranda Paul
This fun and quick story teaches children how water is part of everything: babies, apples, and so much more. It follows water through the seasons, and is great for kids of all ages.
A Good Trade by Alma Fullerton
A little boy wakes early every morning to go to the local well and gather water for his family. This is great to start discussions with our kids about where water comes from and how not everyone has access to running water in their homes. The book is not long so it's suitable for children of all ages.
Fictional Stories About Rain
Come On, Rain! by Karen Hesse
I love this story! A little girl and her friend wait on a hot summer day for rain to come. Finally, the rain comes and she and several kids from the neighborhood put on their swimsuits and dance in the rain. I also love that this everyday story includes a diverse cast of characters.
Ethan The Raindrop by Sean Patrick Guidera
Ethan is a little raindrop comfortable living in the sky with his family. He becomes nervous when he learns he will be falling to the ground, but he enjoys the excitement of the journey through the water cycle. This is a fun story that brings to life the journey of rain droplets from the clouds back down to the Earth.
The Little Raindrop by Joanna Gray
Such a fun story about one little rain drop traveling through the sky, it has great illustrations for little ones and a story we can all enjoy.
Bringing The Rain To Kapiti Plain by Verna Aardema
This African folktale story walks through a season of drought and how one woman used her bow and arrow to pierce the cloud and allow the rain to fall. Without rain, all the animals and plants suffered. Once the rain came, everything was thriving and happy again.
The Water Hole by Graeme Base
This is a counting book as well as a story about how water is a universal need that brings us all together. The water hole is a meeting place that, over time, becomes empty with drought. Once it rains, however, the animals all return to the water hole and it is a colorful and diverse place.
Biographical Stories About Change Makers Related To Water
The Water Princess by Susan Verde
Teach your little ones about others around the world who don't have such easy access to water. This book shares the true story of one young African girl who walked with her mom to collect water for their family every day. She spent nearly the entire day trekking back and forth to the water. It discusses her frustration with the lack of accessible water and also her appreciation for the community of women and girls she develops around the water.
The Boy Who Harnessed the Wind by William Kamkwamba
After experiencing a severe drought that cost his family their entire harvest in one year, William, the main character, learned from his local library how to make a windmill. He used scraps and metal from around his community to build the windmill which ultimately powered the well to bring water to his village. Based on a true story and filled with great illustrations, this was a favorite in our house each time we checked it out from the library.
Non-Fiction Books About The Water Cycle and Water On Our Planet
We Need Water by Charles Ghingna
Perfect for the toddlers and younger children, this "My Little Planet" book highlights all the different ways we use water in our everyday life. It's a simple book with straightforward and colorful illustrations. Although my boys are a bit older, this was a great book for them to try to read themselves.
Follow The Water From Brook to Ocean by Arthur Dorros
This book is great for preschoolers and early elementary aged children learning about how water cycles through our world. It's not too complicated but gives a realistic view of how water travels through our world, where it gets polluted and why we need to keep it clean. It's also nice that it has a diverse set of characters.
You Wouldn't Want To Live Without Clean Water by Roger Canavan
This book takes a more social look at water. Although it includes some of the scientific matters related to the water cycle, each page focuses on a particular question related to water. Some of the questions include:
How Long Could You Go Without Water?
Can Dirty Water Make You Sick?
How Far Could You Carry a Bucket of Water?
Would You Go To War Over Water?
You can tell just from these titles there are some heavy social issues related to water that are addressed at a very high level so children can begin to think about these. I really like that this book takes a much different approach to the matter of water and digs into why we really want to preserve our water (without scaring children).
A Drop In The Ocean: The Story of Water by Jacqui Bailey
This book doesn't have a main character or plot, per se, but it does have more of a story feel relative to some of the other non-fiction books on this list. It discusses elementary-level scientific topics about water like molecules, water vapor, and the path of water through the water cycle. The book includes some appendices and an experiment kids can try. This was one of my favorite non-fiction choices from the list and one my kids enjoyed as well.
Water: Up, Down, and All Around by Natalie M. Rosinsky
Great illustrations accompany this story perfect for teaching budding scientists all about water and the cycle it travels through on the Earth.
The Drop Goes Plop: A First Look at the Water Cycle by Sam Godwin
This is the best book I found to introduce younger children to the water cycle. It does a great job of keeping the water cycle, from vapor to clouds to rivers and then into our water system, simple enough not to overwhelm younger children. This is great for preschool level readers through early elementary age children.
Did a Dinosaur Drink This Water? by Robert E Wells
This story takes an elementary look at the science behind our water cycle. It touches on water in its three forms (solid, liquid and gas) and how it cycles through the earth and atmosphere as rivers and oceans, clouds, and rain in different parts of the world. I think it's a great introduction to water and how it is recycled over and over again. It might be a little advanced for preschoolers but is great for early elementary students and above.
The Drop in My Drink by Meredith Hooper
This book discusses all the ways water is present in our lives and has been a part of world for millions of years. The book is a bit long so I think it's best for older preschool children and above. It might be a little heavy and long for toddlers and younger children.
A Drop of Water: A Book of Science and Wonder by Walter Wick
The photographs of water in this book are really amazing, lots of close up images of water in its various forms and different contexts. The written content is fairly dense. While it doesn't include language that is particularly scientific or technical, it is written for older children. The photos might be interesting to young children, but it's probably not a book younger children would enjoy listening to.
Every Last Drop: Bringing Home Clean Water by Michelle Mulder
This book discusses, in a way accessible to elementary and middle school age children, a variety of different ways people have gotten water throughout history. it also touches on why it's important and why we need to protect it and keep it clean. This feels like more of a reference book than a story book, but is interesting enough for older children to learn more about this important resource.
After reading each of these with my boys, we were sitting at the counter eating dinner. Each of the boys told me about a book they were writing, and my younger son decided to write his book all about saving water and ensuring we aren't wasting any water. My heart melted a little bit, and I was pumped to see that these books really did have an impact on how they see water and our world.
If you have any other favorite picture books about water, be sure to share and let me know. I'm always up for new recommendations!