8 Chicken of the Woods Mushroom Recipes
You've foraged chicken of the woods mushrooms and now you're looking to eat them? Here are eight chicken of the woods recipes to try with your own found food.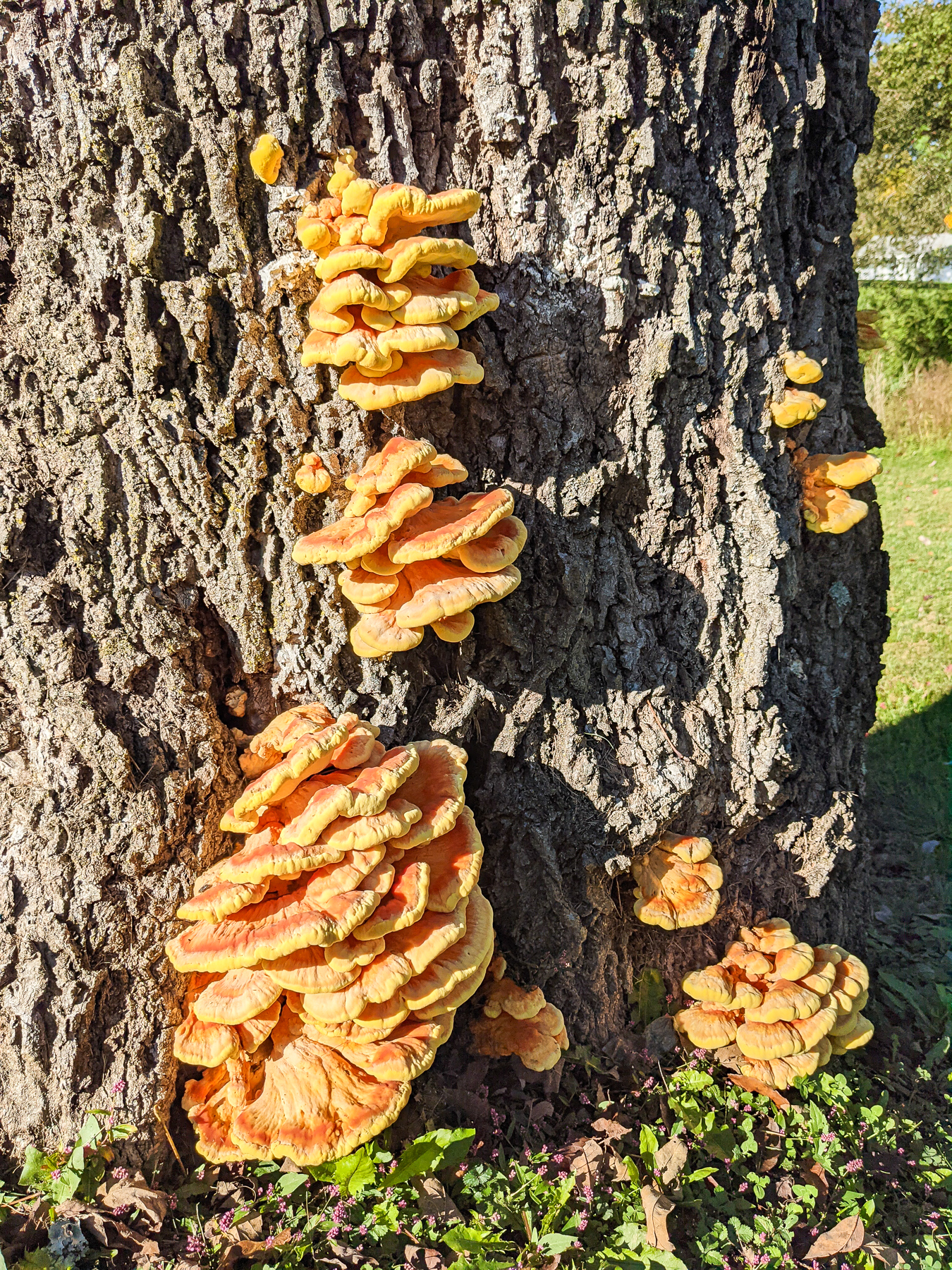 About a year ago, as my husband played baseball in our front yard with our two boys one evening, a young man walked onto our lawn with a knife and baking tray. A little suspicious, as you might imagine, my husband approach this guy and asked if he needed something. This man, who ended up being quite friendly, was hoping to forage the fungus growing on the dead tree in our yard.
Yes. You read that correctly. He wanted to eat the fungus on a tree slowly rotting to its death in our front yard.
Unbeknownst to us, we had a sizeable amount of chicken of the woods mushrooms growing on a dying ash tree in our front yard. We have no experience foraging food and thought little of the orange and yellow shelves of spongy 'shrooms adorning our tree.
This guy regularly drove past our house and noticed the bright-colored mushrooms from the street. Apparently, the chicken of the woods mushroom is pretty easy for an experienced forager to identify due to its very unique appearance.
We thought about cooking up some of the mushrooms ourselves. My husband loves mushrooms, but I hate them. I just can't get past the spongy texture. Ewww.
Instead, I offered them up on our Buy Nothing group, and the interest shot up in a matter of hours. A couple of people ended up coming to take some of the mushrooms, including a local chef, and they apparently made some delicious delicacies.
The Chicken of the Woods Mushrooms Are Back
Not surprisingly, the chicken of the woods mushrooms are back this fall. Once they grow in a location, they tend to leave their spores and come back each year. This year, we are going to forage a few ourselves and try to cook them up. (Well… I'll probably have a hand in cooking them, but I'm not sure I will eat them. I just can't get past that mushroom texture...)
Eating Chicken of the Woods Mushrooms
While we plan to eat these mushrooms, please understand I am not a foraging expert or food science guru. Some random guys and ladies I've found on the Internet all seem to agree that foraged mushrooms should be cooked before consuming, so don't eat them raw.
Also (and obviously) be sure you know exactly what type of mushroom you're eating. Lots of mushrooms are poisonous, and some people even have reactions to chicken of the woods mushrooms. Forage and eat at your own discretion. I'm just another one of those random ladies on the internet sharing some recipes with you that you might like if you're certain it's safe for you.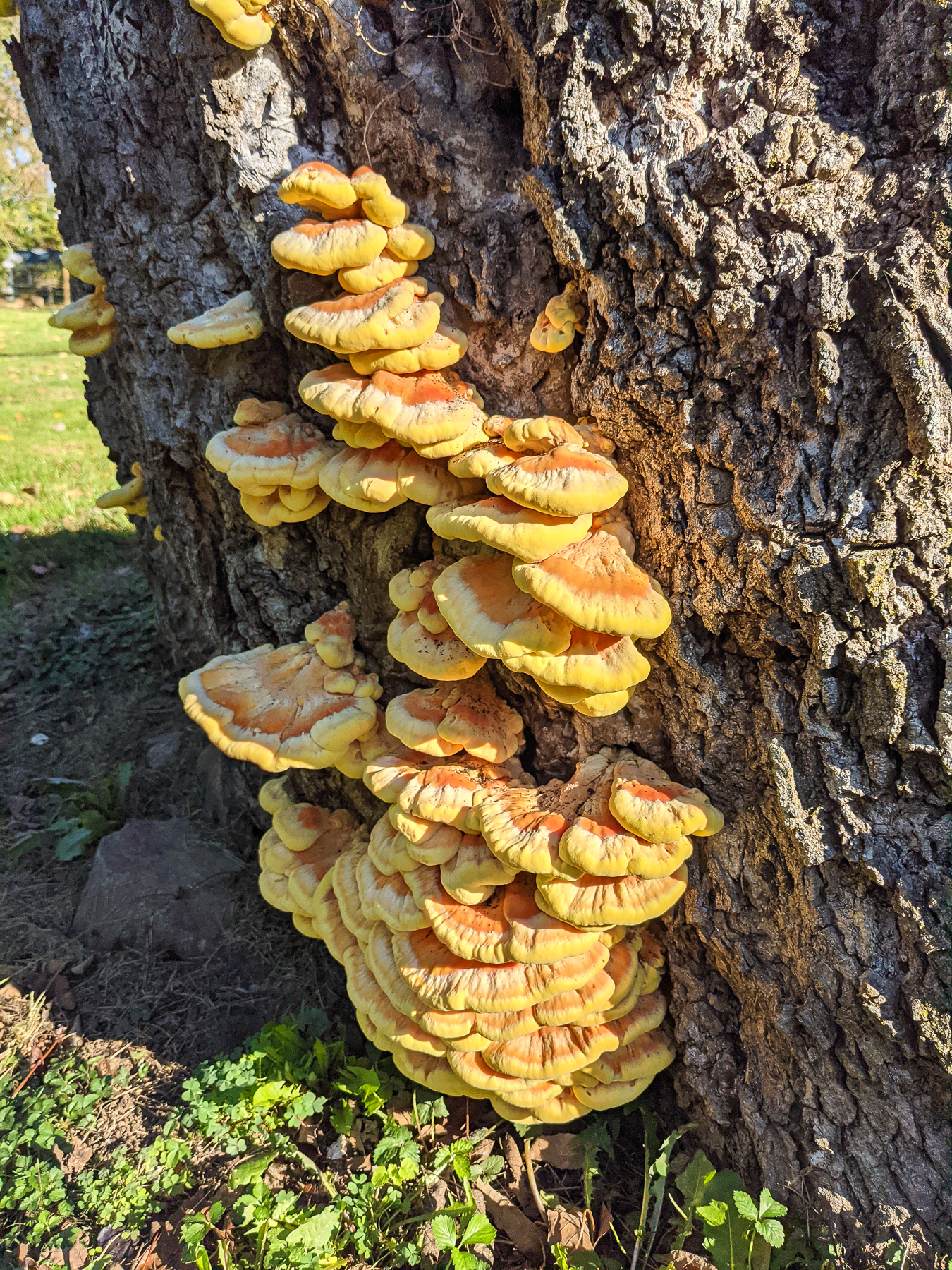 Cooking Chicken of the Woods Mushrooms
There are many ways to cook these edible wild mushrooms. You can saute, fry, bake, grill, boil… you get the idea. Not being a voracious consumer of mushrooms, I'm not the expert on making these delicacies. In addition to the recipes I've shared below, you can also check out chicken of the woods cooking instructions from The Chopping Block.
The Chopping Block offers cooking classes in downtown Chicago, not far from where we used to live. I attended a few cooking classes at The Chopping Block and they were amazing. I learned so many great culinary skills and had a few new recipes to take home. While I digress, I do think they have lots of great tips about cooking, and I suspect their suggestions for cooking chicken of the woods mushrooms won't let you down.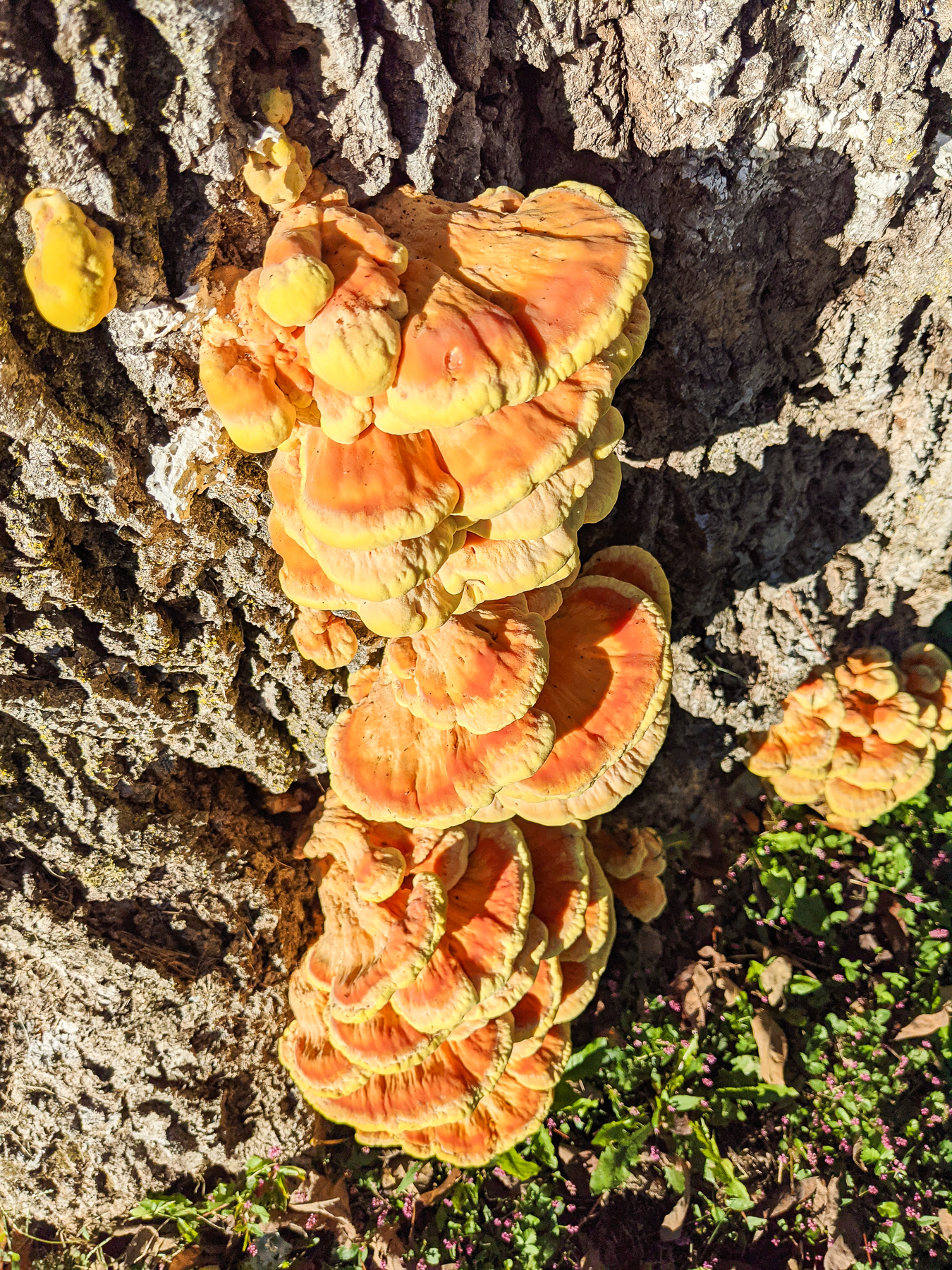 8 Chicken of the Woods Recipes
Below, I've compiled a handful of chicken of the woods recipes you might like that I thought looked interesting as I decided how to fit our foraged mushrooms into a meal. They seem to make a decent replacement for many types of meat in a variety of recipes. I imagine you could replace mushrooms in most of your favorite recipes with this foraged alternative as well.
The Sophisticated Caveman seems to be quite familiar with these mushrooms, so you may want to check out his suggestions first. He even calls himself a certified mushroom forager on Instagram (for whatever that's worth), and I'm certain he knows more about foraging mushrooms than I do, which is next to nothing.
Have you ever foraged chicken of the woods mushrooms? What did you make with them? I'd love to hear!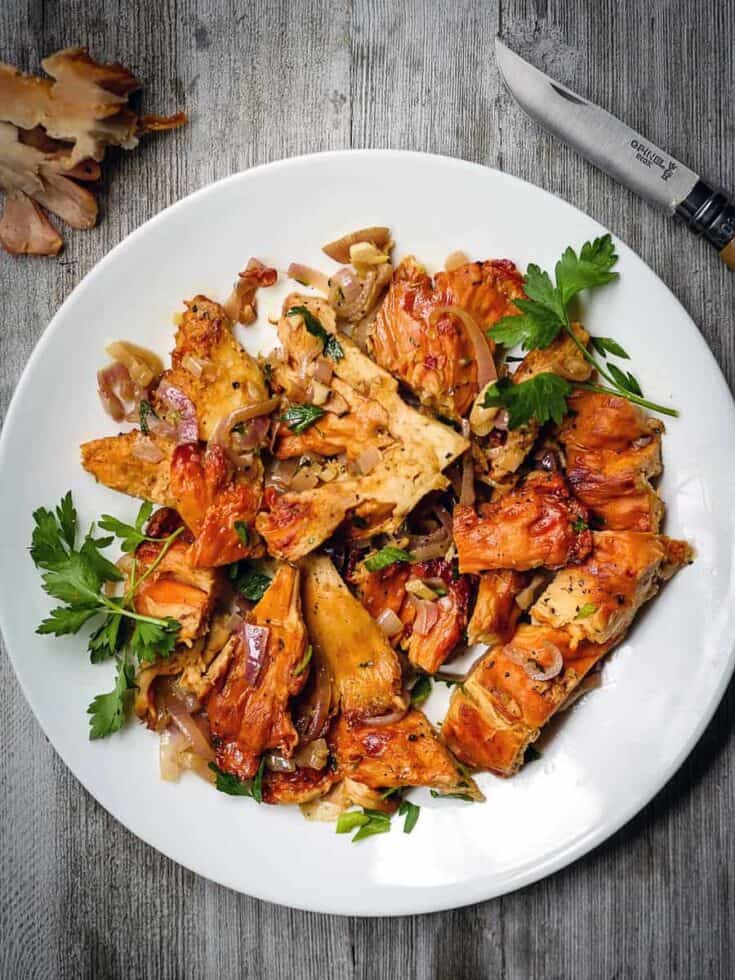 This looks like a pretty simple and straightforward way to enjoy this fancy food. Simply slice and saute the mushrooms with some onions, garlic, and simple seasoning. You'll really get a taste of the mushroom itself without too much sauce, seasoning, or other consistencies overtaking the edible experience.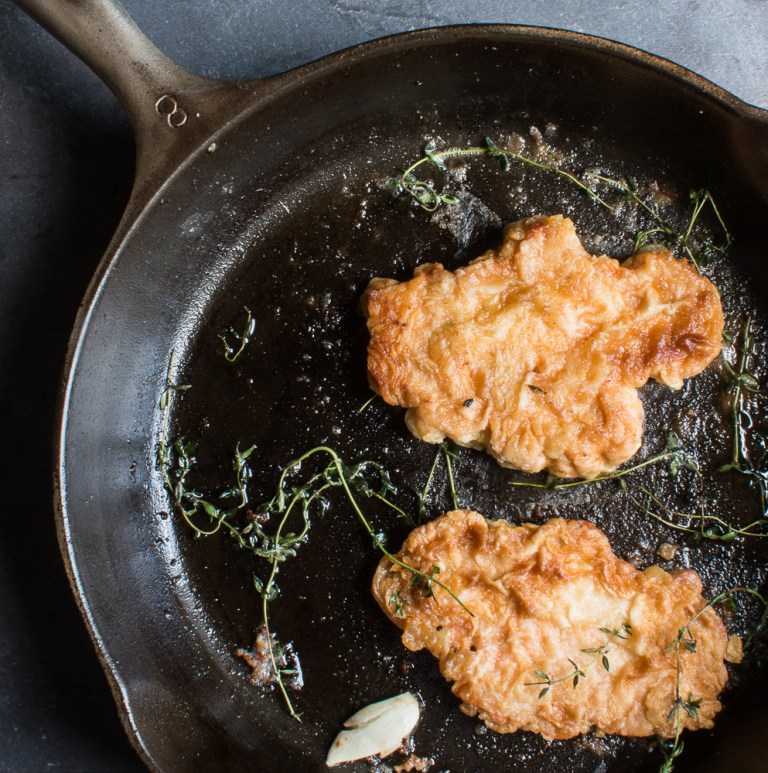 How about this take on a classic southern recipe with foraged mushrooms? It sounds pretty interesting. Check out the recipe for all the details to make it at home.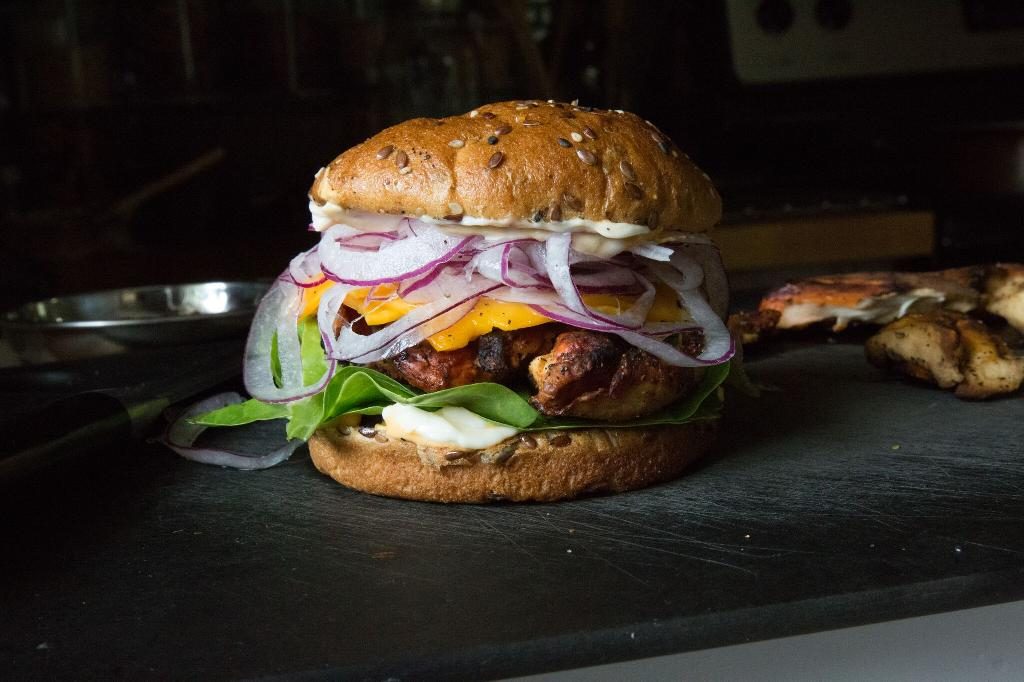 I like a good burger, and this meatless alternative looks pretty delicious. Maybe this will be lead my foray into foraged fungus as food. The artisans of this recipe simply grilled up some foraged mushrooms and stuffed them between two buns and some delicious toppings.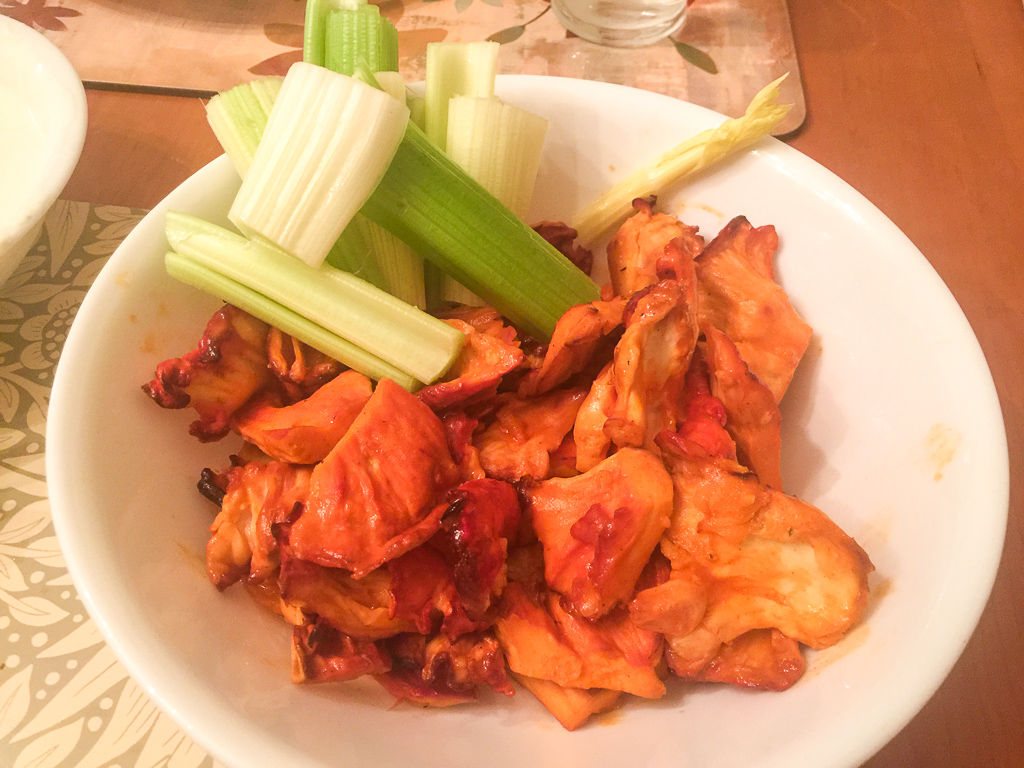 Buffalo is everything in our house. My husband and boys put buffalo sauce on all the things. This recipe suggests baking chicken of the woods mushrooms and then coating them in a buffalo wing sauce. If they really do taste like chicken, this seems to make sense, right? Like buffalo wings but without the bird?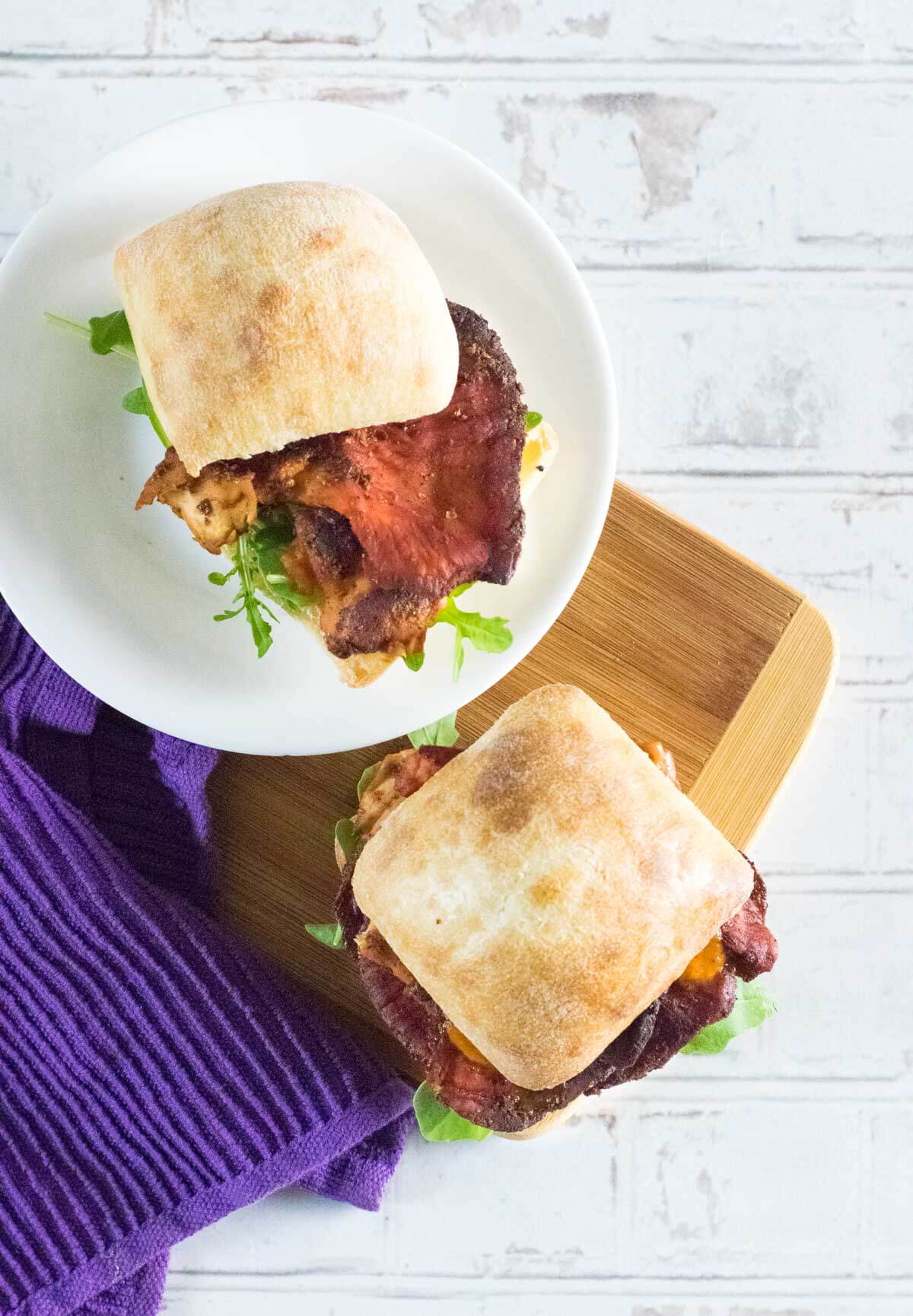 How about chicken of the woods on a classy ciabatta roll, some Worchestershire sauce, and a bit of Dijon mustard? I'm a fan of those flavors, so this recipe looked decent too. I'm still a bit on guard about the texture of mushrooms, but these flavors are enticing.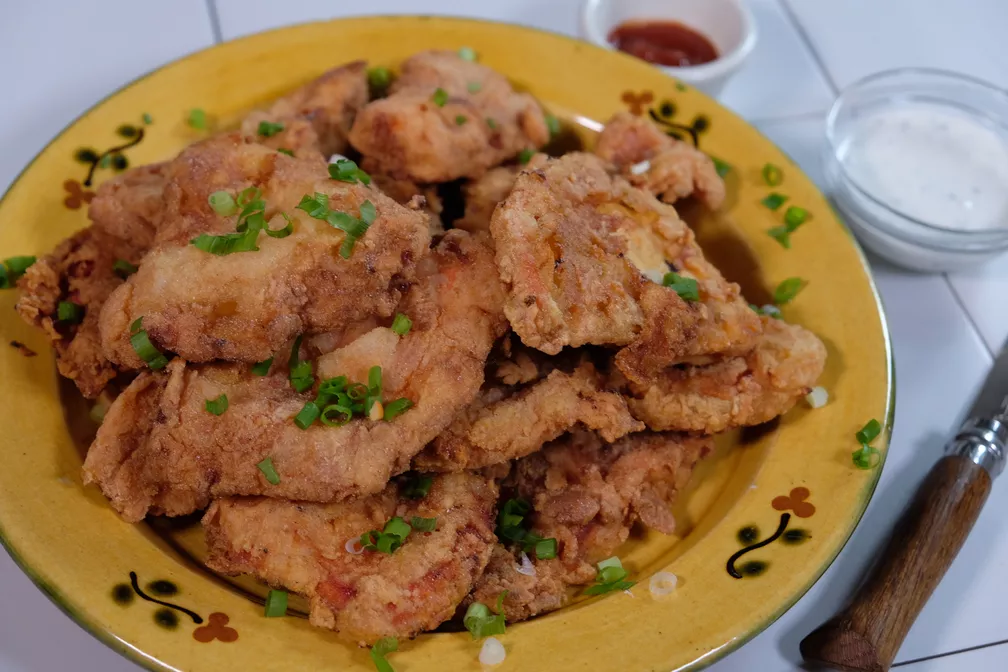 If you're looking for something a bit more indulgent, consider these fried chicken of the woods mushrooms. If the mushrooms really do taste like chicken, this could be a pretty interesting vegetarian option.
If chicken teriyaki, then why not chicken of the woods teriyaki? This is another really simple way to try these foraged mushrooms with just a few ingredients you probably already have on hand.
If you're feeling fancy, this recipe grills up the chicken of the mushrooms after boiling the mushrooms with creole flavors. The recipe calls for a grapefruit juice drizzle during the grilling process, which sounds pretty interesting and unique.
About The Author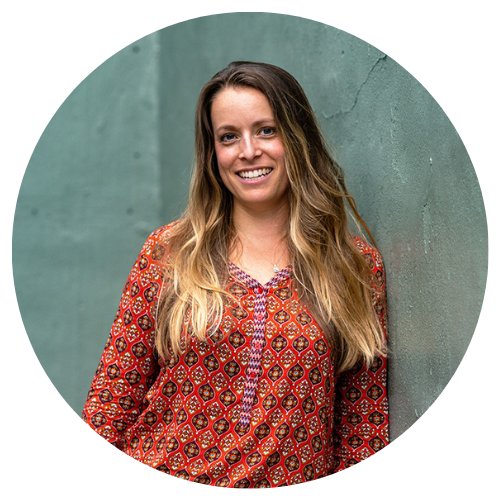 Jen Panaro
Jen Panaro, founder and editor-in-chief of Honestly Modern, is a self-proclaimed composting nerd and an advocate for sustainable living for modern families. In her spare time, she's a serial library book borrower, a messy gardener, and a mom of two boys who spends a lot of time in hockey rinks and on baseball fields.
You can find more of her work at Raising Global Kidizens, an online space to help parents and caregivers raise the next generation of responsible global citizens.