How Much Do You Think About What You Eat and WHY?
How much do you think about what you eat? Do you consider its origin or contemplate how it got from the fields to your table (or the processing plant to your cabinet…)? Do you care about its life after leaving your kitchen if you don't eat it? Health topics aside, food sparks a host of ethical questions along every step of its trek from production to consumption to decomposition.
I've teamed up with a handful of ethical influencers from Ethical Writers and Creatives to gather perspectives about the food we eat and WHY we eat it. Let's dig in.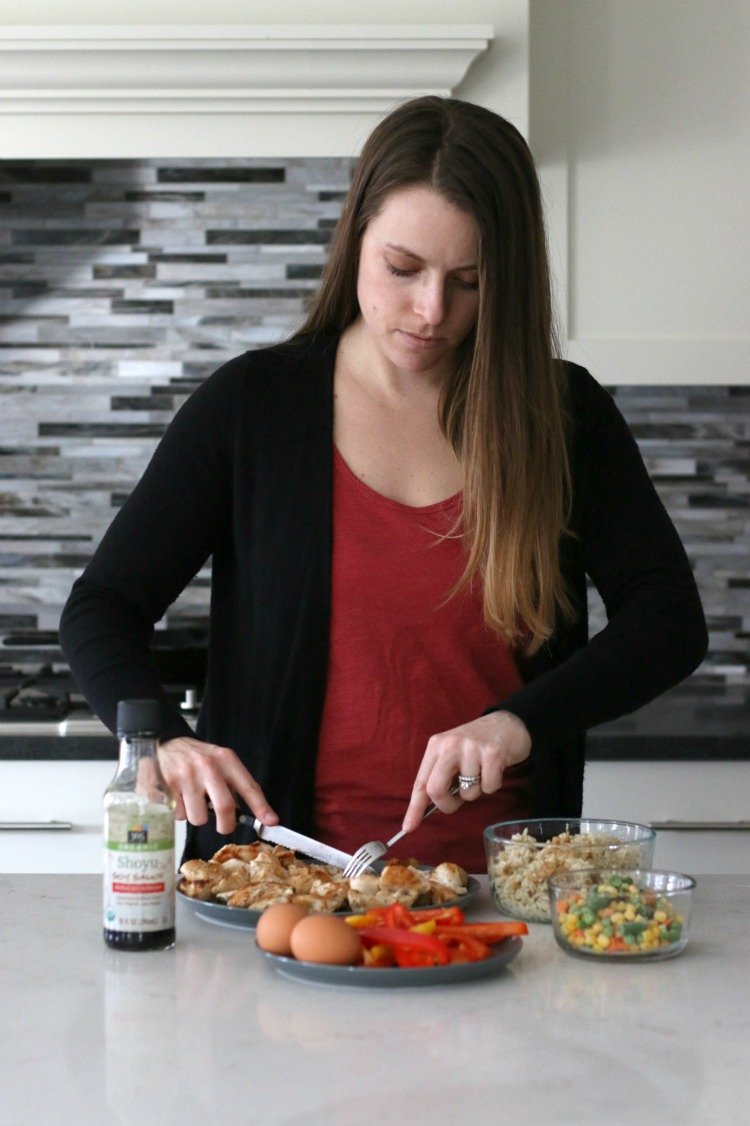 The last time you took a stroll through the aisles of your grocery store, what thoughts filled your mind? For most families, cost is king. Food comprises a large percentage of many families' budgets. If financial freedom permits, convenience and health concerns likely rank second and third on the list of matters to weigh. Next, we might consider our schedules and what we have time to prepare.
Truth be told, most of us are probably rushing through the aisles throwing things into our carts and racing to get to our next commitment because we've jammed packed our schedules.
Our eating habits and the food we consume, however, play a significant role in a host of important social and cultural issues like climate change, food waste, and migrant workers rights (just to name a few). Understandably, these topics often receive little consideration when planning our next meal. They are outweighed by the more immediate and personal impacts of our grocery shopping practices like those affecting our finances, our own health, and our demanding schedules.
Limiting Food Waste In Our House
I am not an expert on any of the social and cultural issues related to food cycles and consumption, but some are closer to my heart than others. For our family, personal health implications are of most concern and limiting food waste is our second priority.
"Healthy" means something different for everyone; for us, we define healthy primarily as "whole or real" food. The closer it is to unaltered or unprocessed, the better. We don't follow any strict guidelines or dietary restrictions but use "whole food" as a guiding principle.
We also focus on using up what we make and have on hand before it spoils. I make a weekly meal plan for our family and choose meals based on ingredients already in our fridge. Further, we routinely switch up our lunch or dinner plan to use up leftovers or ingredients that are nearing spoilage (usually a result of life getting in the way of following the original meal plan in the first place).
I kind of pride myself on making my grocery list as small as possible. It's become a bit of a game that I play … against myself? How few things can I put on the list whilst still buying enough to fulfill our meal plan and get through the week eating (generally, let's be honest) healthy food?
We also keep a small compost container on our counter to help limit food waste. We add the scraps to the compost pile in our garden. I'm a newbie gardener, so our yields aren't large. Hopefully with each passing year, we'll learn the ropes and harvest more from our garden.
What Do I Eat On a Typical Day?
Some days I'm more diligent than others about eating healthy foods and preventing food waste.
Breakfast
Breakfast varies. Some days, including week days, I make scrambled eggs with bacon and avocado or spinach, garlic, and a bit of mozzarella cheese. It's not unusual to make extra eggs and bacon to warm up for breakfast two or three days in a row. Other days, I might just have a piece of whole wheat toast with peanut butter, a staple in my breakfast arsenal for as long as I can remember.
I've always been a big fan of breakfast and had a tendency to eat more in the morning and less as the day goes on, so breakfast in my house gets a lot of respect. I always eat breakfast, even if I only have time to squeeze in something really simple, and I ensure my kids eat breakfast as well.
Lunch
Lunch? I'm terrible about lunch. I've never really liked lunch. I often work through lunch or snack so much throughout the day that it completely slips my mind, especially on days I'm working from home by myself. My snacks might be a few bites of vanilla greek yogurt, a couple slices of cheese with crackers, a handful of grapes, some cashews, or… chocolate.
Chocolate gets me all too often. I have a self-diagnosed chocolate addiction that I feed with milk chocolate Ghiradelli chocolate chips, homemade cookies, or chocolate bars (when we have them). I don't indulge in entire chocolate bars all at once but will grab a few bites here and there throughout the day… and then, it's gone.
Around 1 or 2 pm, I might grab an organic honeycrisp apple with cheese or a peanut butter sandwich and grapes.
Sidenote: Yes… I love peanut butter. I ate a peanut butter sandwich every day for lunch throughout middle and high school. While pregnant with each of my boys, I joked that I wanted a return policy allowing me to exchange my children if they had peanut allergies. Of course I was only kidding, but I eat a lot of peanut butter.
Lately, I've been making sautéed organic zucchini, cooked in olive oil and seasoned with salt, pepper and garlic powder. I top it off with some crumbled feta and celebrate eating at least one serving of vegetables that day. I've never been a huge fan of vegetables, so I'm not great about working them into our meals as often as I should.
On days when I'm home with the boys, I have to watch the clock to remember to feed them a decent lunch at a reasonable time. No matter what they eat, I typically sit with them and eat one of my aforementioned staples (along with their leftovers).
I suspect most parents can relate to my habit of eating whatever portion of a meal my children ignored (especially at lunchtime when M isn't around to play garbage disposal, a responsibility probably held more often by dads). Dinner leftovers have a chance of being put in the fridge as real leftovers for another meal. A couple remaining bites of a peanut butter sandwich or two slices of a clementine at lunch, however, aren't worth saving for later so I often just eat them myself.
Dinner
Our dinners have the most diversity with respect to what we eat, the complexity and prep time involved, and the balanced nature of the meal. It depends heavily on the activities of the evening, the day of the week, and whether or not M or I are traveling. Sometimes I choose a recipe from our Whole30 (this or this) or 100 Days of Real Food cookbooks and pair it with a cooked vegetable and a starch (rice pilaf, baguettes, homemade cornbread).
Some days I fall back on easy staples like homemade personal pizzas on naan or beef tacos with homemade seasoning. I make a large batch of taco seasoning and store it in a mason jar in my spice drawer, so making tacos without store-bought mixtures is super simple. If I'm feeling ambitious, we might also have fruit or raw vegetables like carrots and red peppers with a bit of ranch dressing to go along with the tacos. (Clearly, I'm not expending energy on matching genres and flavors… no apologies for that… ha).
Other days, dinner is an assorted mixture of using up leftovers and mixing and matching to fill our stomachs. We definitely waste some food, but we're pretty good about using up our leftovers (and M gets the most credit for that).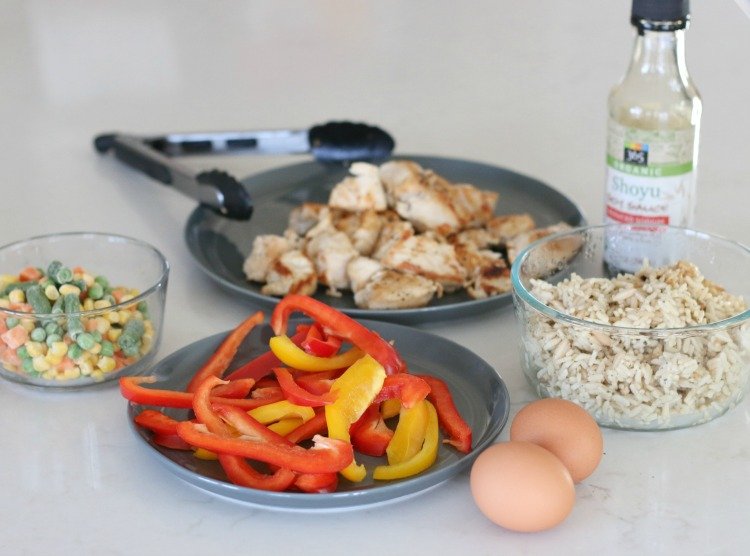 Just last week, I got extra creative and made a stir-fry with chicken, leftover rice from earlier in the week, red and yellow peppers that needed to get used up, and a few frozen veggies. I'm always pretty pumped when I can pull together something interesting with a handful of ingredients on their last leg in our kitchen.
I use our cast iron pan almost every day for something and absolutely love it. It's definitely my most used kitchen item. While it takes a bit of getting used to, it's well worth the investment of both time and money and much better for the environment and our bodies than the non-stick pans I used to use (and destroy routinely…). After learning to use cast iron, I'll never go back to non-stick pans.
What Do I Buy At the Grocery Store?
While meal planning itself isn't glamorous, I love having a plan and I stick to my list while I'm shopping.
I place a priority on organic alternatives in just about every section of the store, where they are available. I know there are differing opinions on exactly what organic means and how much better it is for us compared to conventional alternatives. There's always more to learn but, for now, we're on the "organic bandwagon."
I'd love to buy more of our food locally, but I've had trouble getting clarity on use of hormones and pesticides in products from local markets (at least where we live). Consequently, I buy much of our produce and meats at Whole Foods because they offer more details about the organic nature of the food. Additionally, the farmer's markets are seasonal, so during this time of year, we're fairly limited to the big grocery chains.
I am generally willing to spend more money on "the good stuff". We are fortunate that budget isn't one of the primary concerns when we grocery shop, so I'm willing and able to buy the 'nice cheese' or the 'good chocolate' or the 'organic produce'. I'm more than grateful for this luxury.
I make a concerted effort to buy items with less packaging. I buy loose produce and don't use plastic produce bags. I buy what I can from the bulk sections. I recently starting bringing my own small bags to use in the bulk section so I don't have to use the plastic bags they offer. We don't have a store near us that specializes in bulk or package-free products, so I shop primarily at Wegmans and Whole Foods, both of which have reasonable bulk sections. Given their customer-base, Whole Foods is a little more 'zero waste friendly' than Wegmans, but Wegmans hasn't balked at use of my own mesh or fabric bags. I haven't yet been brave enough to ask someone at the meat or deli counter to put my products in a reusable container… not there yet.
We don't eat a lot of highly processed food, but we do have a handful of favorites that always end up in the cart. I also like to bake and we all like to eat homemade baked goods, so we are no stranger to sugar in our house.
We aren't vegans. We don't follow Paleo principles. We don't have an abundance of allergy restrictions. We just do our best to eat real, wholesome foods (most of the time) and not let good food go to waste.
There's So Much More To Think About
Food is such a complicated topic and there are so many valid opinions, perspectives and preferences. I've teamed up with a handful of other ladies, all of whom have an expertise in conscious consumption, to share more perspectives on food in our daily lives. In the group, you'll find women and families with a variety of priorities driving what they eat and why. Be sure to check out all their posts and learn more about why what we eat matters.
EcoCult | What This Sustainable Travel Blogger Eats in a Typical Day
Leotie Lovely | What Sustainable Bloggers Eat In A Day
StyleWise | What Sustainable Bloggers Eat: A Week of Easy Vegetarian Dinners
My Green Closet | What Eco-Influencers Eat
The Wasted Blog | My Week of Meals – Food Inspo for Health Nuts
Going Zero Waste | What I Eat in a Day
Conscious by Chloe | A Day of Home Cooked Meals
Sustaining Life | How To Eat Sustainably: Being "Vegan" and Other Decisions
World Threads Traveler | Eating Sustainably: What I Eat in a Day and Why I'm Not a Vegetarian
Model4GreenLiving | What I Eat in a Day, As a Paleo-Vegan