Secondhand Shopping and Street Art in Manhattan
If you're heading to New York City soon and looking for a few fun ways to enjoy all it has to offer while supporting the local community, read on about our weekend adventures supporting the local shops and art scenes.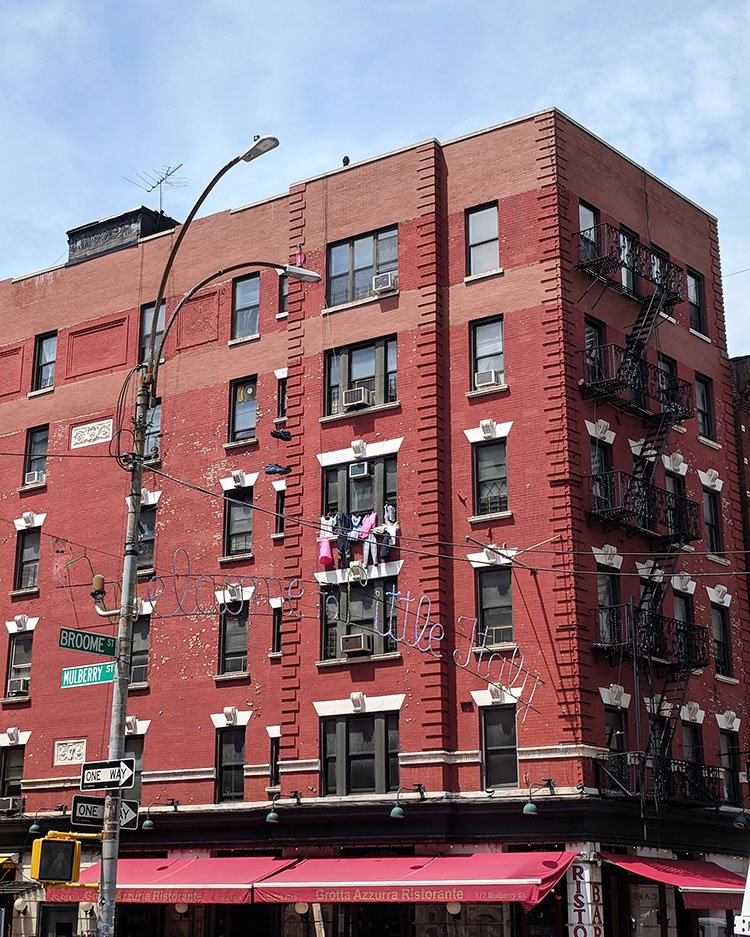 I'm a big fan of finding ways to be more intentional and impactful with our actions without really changing the desired outcome. For example, I appreciate the opportunity to buy or experience something I already planned to purchase while adding a socially conscious component to the "transaction". I'm sure I'm not alone in this camp.
As the socially conscious movement grows, more opportunities are popping up to benefit others with consumer actions like purchases and traveling. I definitely don't believe in consumption for the sole sake of social activism. I don't think that will really swing the pendulum much. When I'm spending my dollars anyway though, it's worth considering if I can make them stretch a little farther to help others in the process.
Last weekend, M and I grabbed the train up to New York for two days and enjoyed forty eight kid-less hours meandering through the city. Despite being in the city that never sleeps, we got two nights of good sleep. Let's be real. We're parents of young kids, so solid sleep trumps endless nightlife whenever the option presents itself. (or… I'm totally not cool, and I fully embrace this. Both are likely possibilities.)
We wandered around the city, grabbed dinner with friends, and just enjoyed each other's company. That alone is reason to celebrate when we're typically shuffling between work, school, sports and bedtime with but a few minutes to hang out at the end of a long day.
We've been to New York several times as we have a bunch of friends that do and did live there, so we didn't plan to make any traditional tourist stops. Instead, we hit up some secondhand shops and took a stroll through the graffiti scene of lower Manhattan.
Shopping Secondhand in Manhattan
Always a fan of a good thrift shop, I reached out to some friends from Ethical Writers and Creatives for recommendations. I know New York is a gold mine for thrift stores, but I wasn't really sure where to find the great ones. If you'll be visiting, Brooklyn has loads of good vintage and secondhand shops, but we didn't have any plans to head over in that direction. We did, however, hit up a couple of great spots in Manhattan.
Faye, from Sustaining Life, who also shared all her behind-the-scenes composting secrets on the blog recently, recommended Beacon's Closet and totally killed it with this recommendation. I spent nearly an hour in the store, and M was a great sport about the whole adventure. He sat outside the fitting rooms and offered his opinions on everything I tried.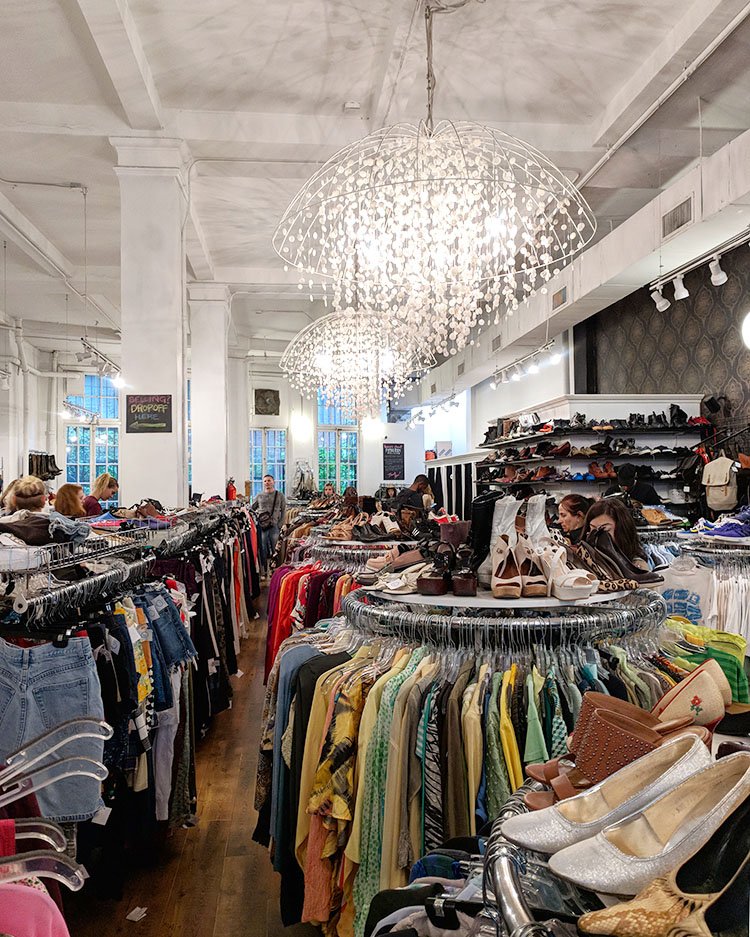 I ultimately brought home 10 items for only $192. I don't do much shopping, so I had some space in my shopping budget for a few new things. My "haul" (even though I hate the gluttony that word implies) included DVF and Rag and Bone dresses, a handful of really great t-shirts, and some sweaters that are perfect for my "work-at-home and dress comfy without looking like a slob" style I sport several days a week.
If you're in New York, I highly recommend checking out Beacon's Closet. The prices were very reasonable, and they had a variety in their collection of everyday style to more quirky or eccentric style.
I also stopped by The Vintage Twin, thanks to advice from Annie of Terumah. They have a smaller collection than Beacon's Closet that, as the name describes, is a bit more retro. I was most enamored by their custom vintage, distressed Jeanious Bar. Stylists hand pick a pair of jeans from their secondhand collection to fit your body and style and then distress it and tailor it for you. I didn't have a chance to try it out, but it looked pretty cool.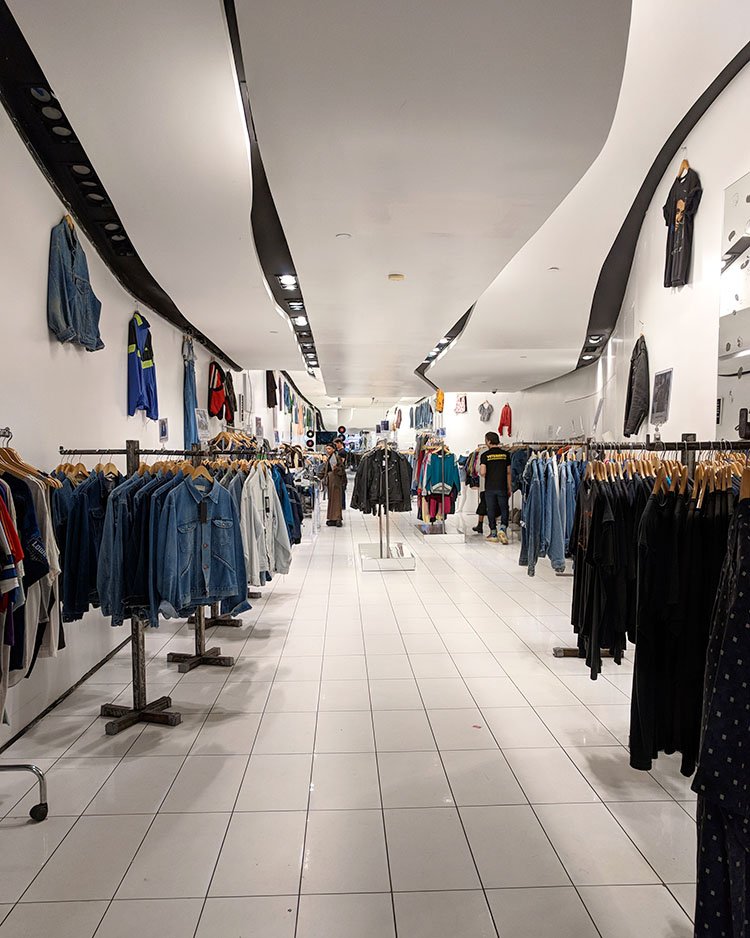 Alden, from EcoCult, recommended 10 ft by Stella Dallas. It's in Brooklyn, so it's on my list for our next trip when we can hopefully spend a chunk of time in that area. If you're not familiar with Alden, she definitely knows her New York ethical and secondhand style scene.
Supporting the Street Art Scene in Lower Manhattan
Aside from dinner plans with friends, the only activity we planned during the day was a street art tour through lower Manhattan. Airbnb recently started offering social impact experiences. When signing up for these activities (which happen throughout the world), proceeds benefit a predetermined non-profit organization. In our case, a member of the L.I.S.A. Project, who was definitely a street art scene aficionado, hosted the Street Art With an Insider Tour and led us around several neighborhoods. She pointed out various projects and shared about their origins, the artists, and the street art sub-culture in general. It's definitely a world to which I have no everyday exposure, so it was really interesting to hear more about it.
The L.I.S.A. Project raises money to support local street art and graffiti artists and also sponsors large projects to help increase the amount of colorful and planned street art around town. They have become such a prominent organization that they're even working with multi-national companies on campaigns. Can you "Guess" who sponsored this incredible work of art?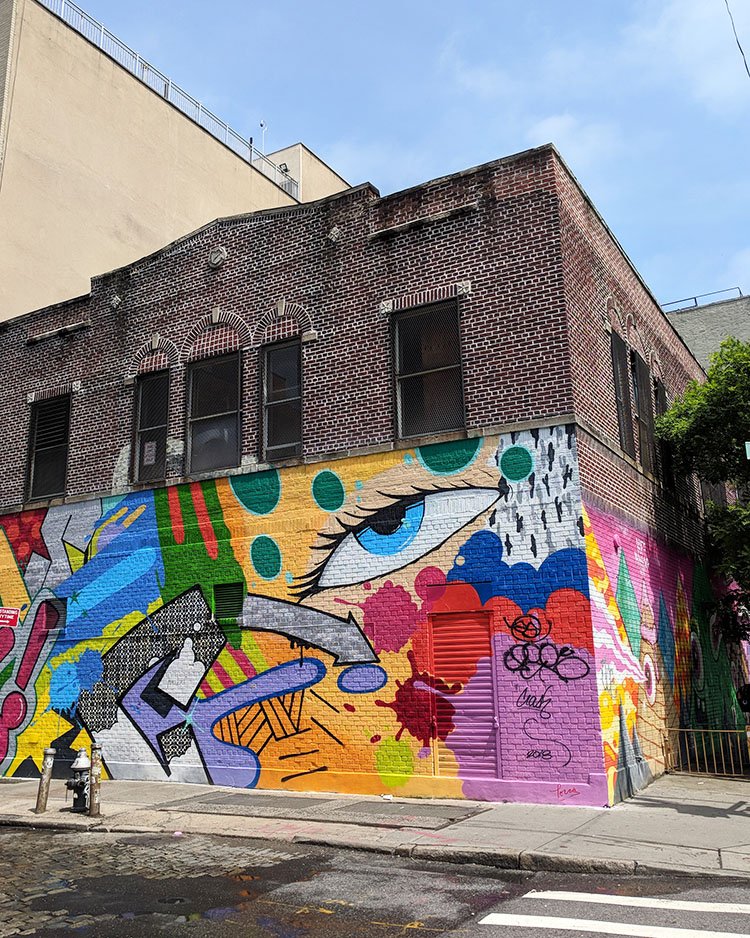 Without a doubt, the most interesting part of the tour for us (because we live in Philadelphia) were these little stick men floating around the neighborhood. The artist discreetly places them all over the country when he travels to different cities. He's from Philly and there are apparently a large collection of them around the city.
I had never noticed them until the guide mentioned that he sometimes creates them in the crosswalks in Philadelphia. When she mentioned that, I definitely remember seeing them. I always assumed they were something set there by the city as part of a guided walking path, though I noticed they didn't always lead anywhere specific. To have that personal connection to something she described as one of the more well-known collections of street art was pretty neat.
Miles and Miles On Our Feet
One thing we really miss about living in Chicago is the ability to walk nearly everywhere we go. While there are many redeeming qualities of our new home, we can't even leave our neighborhood without getting in a car. In New York, we returned to our walking ways and walked or took the subway almost everywhere we went. I'm a big fan, if that wasn't already obvious. Only on the way to the train to head home did we jump into a Lyft, so we didn't get sweaty before sitting on the train back home for two hours.
Check out our previous trip to New York City.
Being a Conscious Traveler
Stepping away from the daily grind is a great way to spend special time with family, and there are many ways we can give back to our communities while making memories with our families. With a little planning, we can skip many of the tourist traps and find socially-impactful adventures, support the local businesses, and enjoy the things the locals love about their home.
Where are you headed on your next adventure?